11 Best Parks in Colorado Springs With Stunning Views
This website may contain affiliate links and we may be compensated (at no cost to you!).
Colorado is home to some of the most beautiful outdoor attractions in the world, offering unlimited exploration and fun.
And one of the most popular outdoor activities is hiking. Thanks to the hundreds of picturesque trails throughout the state and with numerous trails, Colorado Springs is a favorite choice for day hiking explorations.
Whether you plan to hit the trails, enjoy a relaxing picnic, or simply take in Colorado's unmatched natural beauty, check out the best parks in Colorado Springs.
1. Garden of the Gods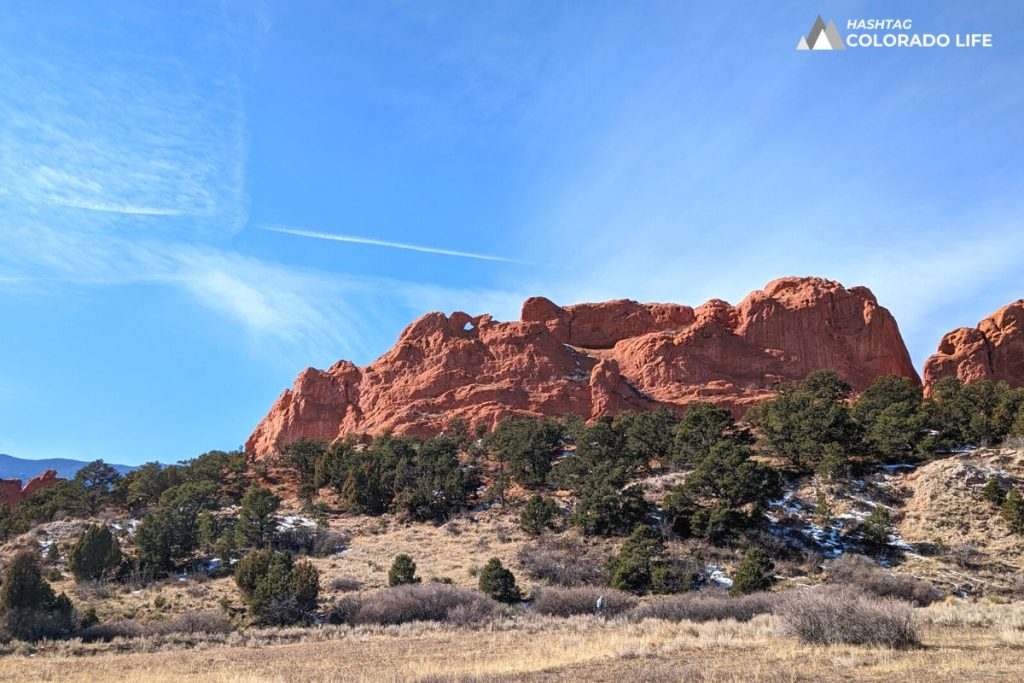 Garden of the Gods is by far one of the best parks in Colorado Springs thanks to the wide array of activities it offers.
Visitors can enjoy a plethora of things to do at Garden of the Gods, no matter what season or time of year.
Some of the top activities include hiking, biking, rock climbing, horseback riding, and exploring the many rock formations spread throughout the park.
Not only that, there are also world-class tours available at Garden of the Gods from rock climbing to segway tours.
Donated to the state in 1909 by the children of Charles Perkins, the 480-acre natural area offers breathtaking views and non-stop fun. In fact, it's one of the most photographed destinations in the state!
Located near Manitou Springs, a town known for its artsy feel and quaint local shops, you could spend multiple days in and out of the park.
This National Natural Landmark is home to a newly updated Visitor & Nature Center, Geo-Trekker theater, and souvenir gift shop. Plus, jump into a Jeep or old-school trolley tours ensuring a day's (or more) worth of excitement.
Be sure to pack plenty of sunscreen and a picnic lunch while you're at it, because once you enter the Garden of the Gods you won't want to leave.
Some of the most popular destinations within the park include Balanced Rock, Cathedral Spires, the Siamese Twins, and Dillon Pinnacles. So, be sure to check them out on your next visit to this geolithic location.
Address: 1805 N. 30th Street, Colorado Springs, CO 80904
2. Helen Hunt Falls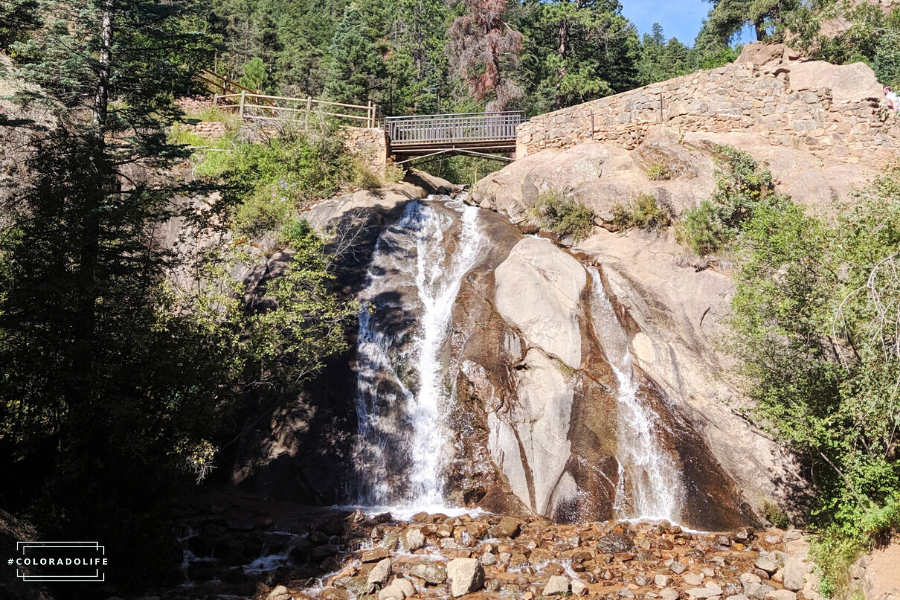 Helen Hunt Falls is located within North Cheyenne Canon Park and offers beautiful views and unlimited adventure opportunities near Colorado Springs.
For those who prefer to take it easy during their visit, there are open spaces to enjoy the beauty of the water falls from its base, which allows you to appreciate their beauty.
For the more adventurous, a short hike to the top leads to a stroll across a breathtaking bridge that brings you on top of the falls.
There are views galore and so much to do for the outdoor lover. The park opens at 5 am and closes at either 9 or 10 pm daily, depending on the time of year.
There's no doubt that Helen Hunt Falls is one of the best parks in Colorado Springs!
Address: 3440 N Cheyenne Canyon Rd, Colorado Springs, CO 80906
3. Memorial Park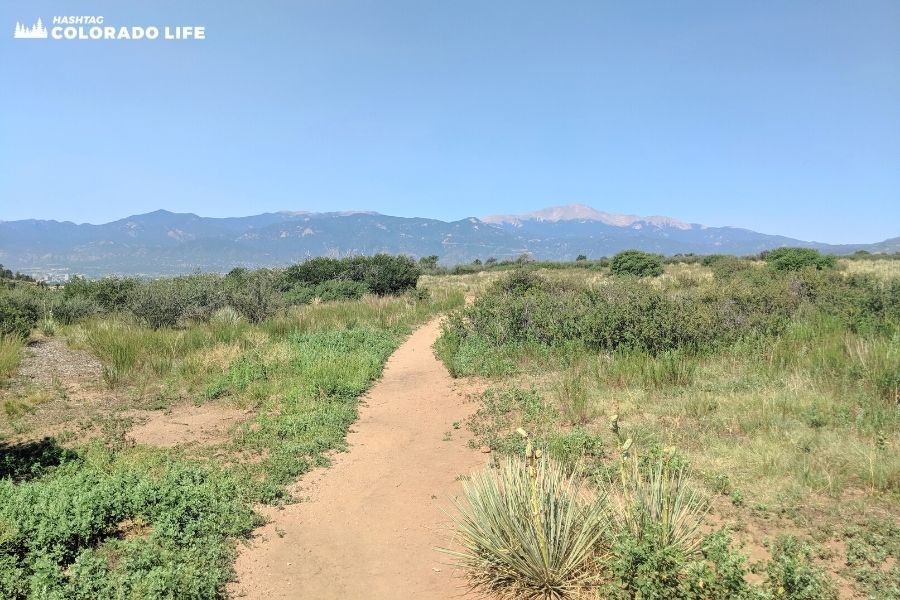 Memorial Park boasts some of the most gorgeous views in all of Colorado.
From its position near downtown Colorado Springs, you can enjoy views of both Pikes Peak and Cheyenne Mountain while relaxing on the immaculately pedicured lawn.
This beautiful park is home to many amenities, including a Sports Center, soccer fields, ice skating rink, fitness room, and more.
Inside the park, visitors can stroll around Prospect Lake which offers a 1.25-mile paved walking trail, swimming, paddle boarding, and fishing.
The Beach House features outdoor and indoor learning spaces, a gathering area, a concession stand, and beach access, making it easy to enjoy your day outside.
Memorial Park is also the location of Colorado Springs annual balloon festival for the Labor Day Liftoff, where dozens of hot air balloons take to the skies in an incredible display.
You won't want to miss everything that Memorial Park in Colorado Springs has to offer.
Address: 1605 E. Pikes Peak Ave, Colorado Springs, CO 80909
4. Ute Valley Park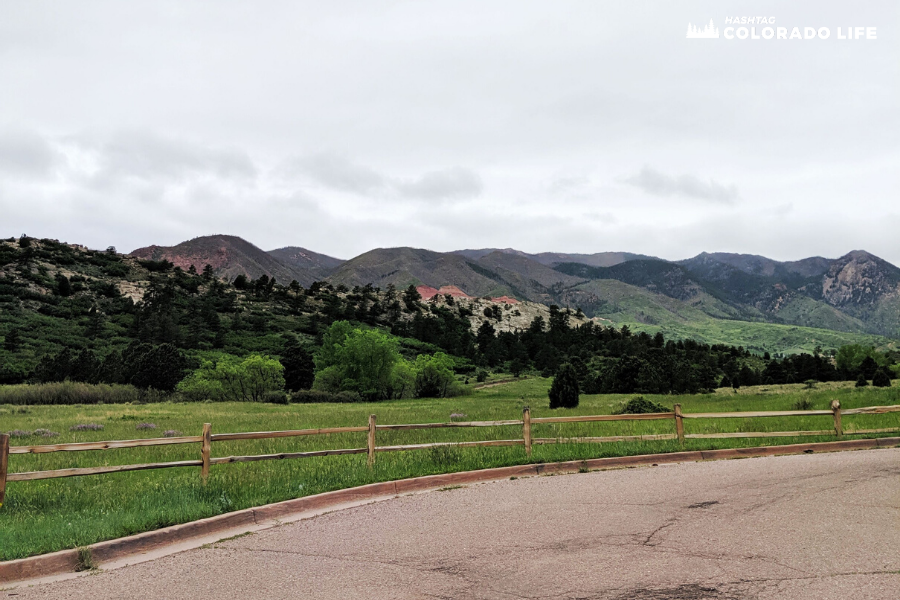 Ute Valley Park is one of our favorite parks in Colorado Springs and one that we hike often, no matter what time of year.
With miles of trails to explore, it's an excellent location for anyone seeking to spend the day exploring the outdoors. It offers mountain biking, running, hiking, and dog walking along its many diverse trails.
There's so much to see in Ute Valley Park, including rock formations and other interesting geological features, hiking trails, vistas, and abundant wildlife.
The many archeological features bring to life the wonder of the Colorado landscape, with rocky-forested hogback formations that are famous in the area.
For those looking to surround themselves with the beauty of nature, there are dozens of hiking trails for every experience level, beginner to advanced.
There are also portable toilets available near the free parking lot as well as sporadic seating suitable for picnicking and resting among the forested pathways.
Discover the wonder of Colorado's unique geographical landscape at one of the area's most gorgeous city parks.
Address: 1705 Vindicator Dr, Colorado Springs, CO 80919
5. Palmer Park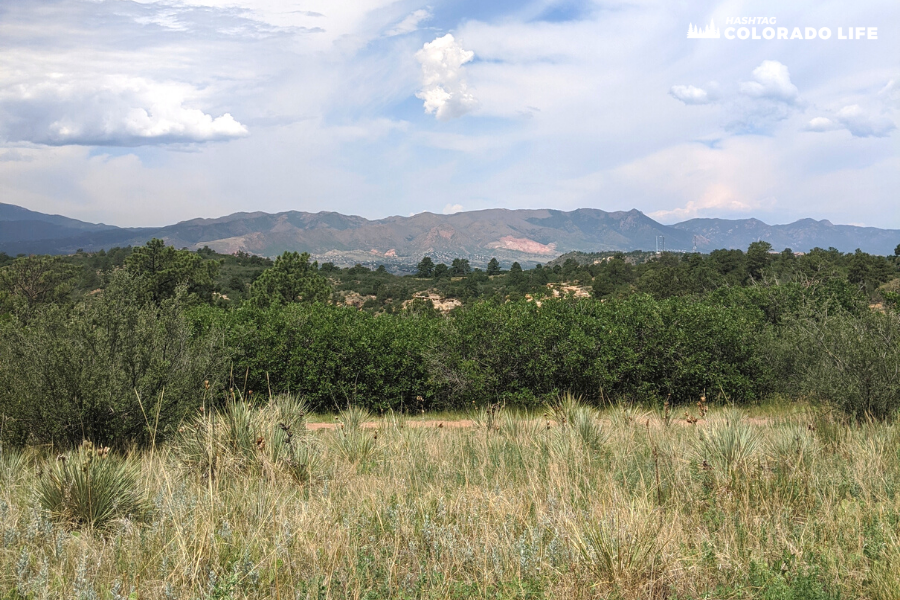 Palmer Park is the ideal family destination and one of the best state parks with walking paths in the Pikes Peak region, thanks to the endless fun activities it offers.
The park boasts two softball & baseball fields, three volleyball courts, soccer and football fields, basketball court, as well as a community playground.
There are multiple picnic areas for both large and small groups making it easy to enjoy a BBQ with your friends.
For those who enjoy horseback riding, there is a stable on-site as well as restrooms to make your visit more comfortable.
Meander your way through the botanical reserve or explore the Seven Castles geological point of interest.
There are over 25 miles of multi-purpose trails for outdoor enthusiasts as well as a dog park that ensures even your fluffy friend has a blast!
Enjoy an incredible day with friends and family at Palmer Park, one of the best parks in Colorado Springs.
Address: 3650 Maizeland Rd, Colorado Springs, CO 80917
6. Red Rock Canyon Open Space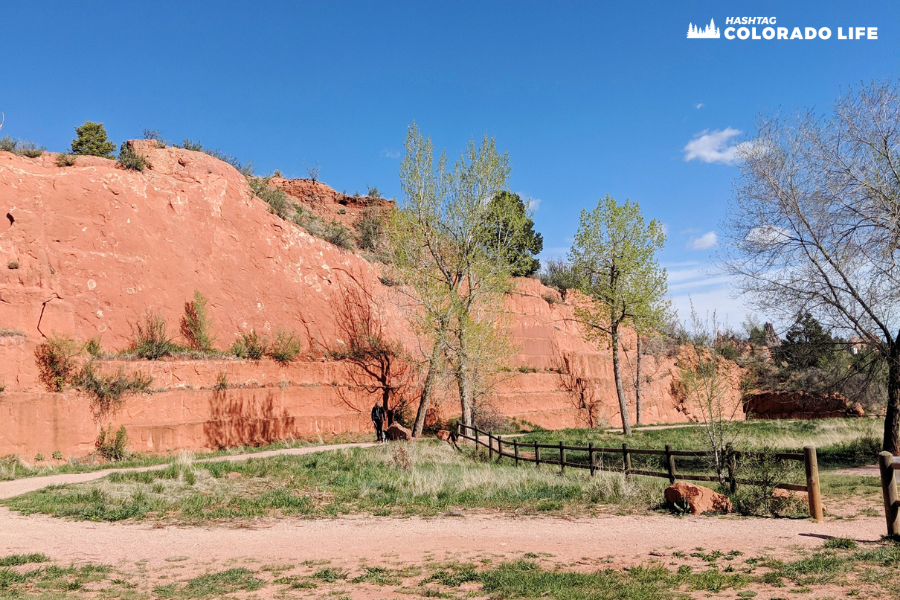 Another one of our favorite regional parks in the Springs is Red Rock Canyon Open Space.
Whether you're planning a day out horseback riding or want to hit the trails on an exhilarating hike, this mini Garden of the Gods Park hits the spot!
Spread out over 1,474 acres of land, this massive park stretches between Colorado Springs and Manitou Springs.
Explore any of the 11 marked trails that range in length from 1.7 to 5.4 miles, letting you come up close and personal with great views, ancient rock formations, and native botanicals.
There are off-leash areas for your canine friend, as well as stunning views of Pikes Peak and Garden of the Gods nearby.
Climbers can scale the towering hogbacks but be sure to register with the Garden of the Gods Visitor center before you set out.
Address: 3550 W High St, Colorado Springs, CO 80904
7. North Cheyenne Canon Park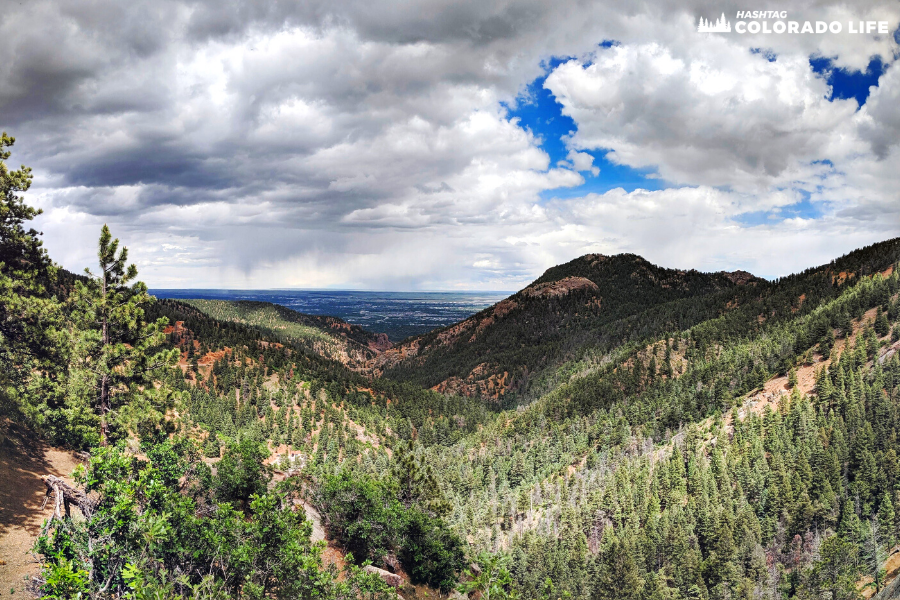 If you enjoy exploring unique, ancient areas within Colorado Springs parks, you'll love North Cheyenne Canon Park.
Set 1,000 feet deep inside a massive granite rock, this 1,600-acre public park is like none other open space in North America.
The natural space is home to diverse wildlife, including Kingfishers, Broad-tailed, Hummingbirds, American Dippers, Mule Deer, Mountain Lion, and Black Bears.
For those who want to try their hand at fishing, North Cheyenne Creek is located at the bottom of the deep canyon.
Explorers can make their way through the park all the way to Helen Hunt Falls, a breathtaking hike full of beautiful scenery and bright blue skies.
Don't forget to stop by the Starsmore Nature and Visitor Center before you leave to complete your exciting day out.
If you love hiking and discovering unique locations, this one-of-a-kind gorgeous park is for you!
Address: 2120 S Cheyenne Canon Rd. 80906
8. Bear Creek Regional Park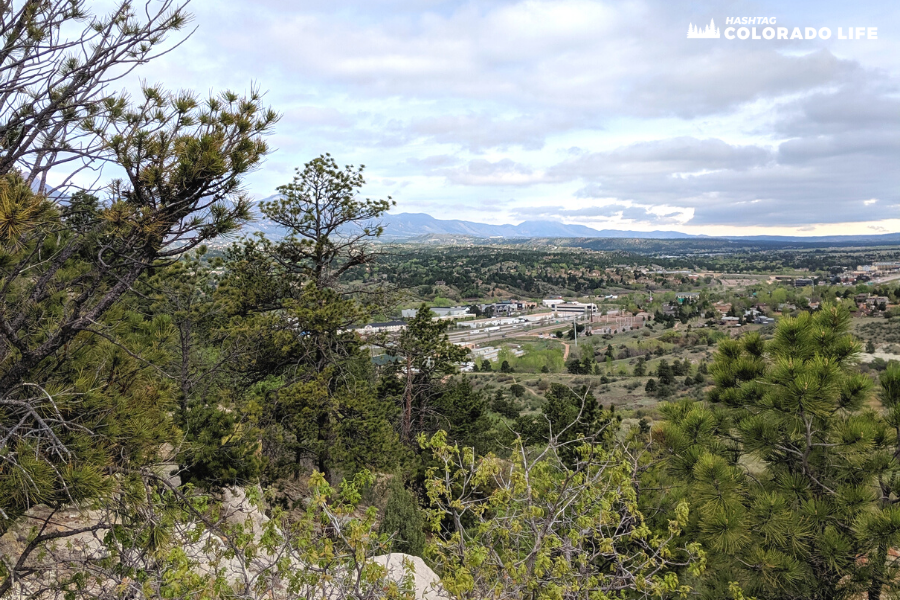 When it's time to pamper your furry friend or spend the day with your kids, head on out to the Bear Creek Dog Park.
This outstanding off-leash dog park boasts 25 acres of fully fenced open space for your canine companion.
There is every amenity you could imagine to ensure your dog has the time of its life, including splash areas, an agility training section, and separate spaces for large breeds and small dogs.
Bear Creek is an incredible park for dogs but they didn't forget about the humans who tag along too. This park offers heated restrooms, picnic tables, trash cans, water fountains, and bag dispensers.
There are multiple landscapes that act as enrichment for dogs, including woods, open prairies, and a 1/2 mile creekside trail.
There are multiple hiking trails that allow dogs to cool off in the creek or roll around in the mud.
All dogs must be fully vaccinated to enter and must get along well with other dogs, adults, and children.
Let your furry friend get their zoomies out at this dog-friendly park that also offers great trails and amazing views.
Address: 1704 S 21st St, Colorado Springs, CO 80904
9. Seven Falls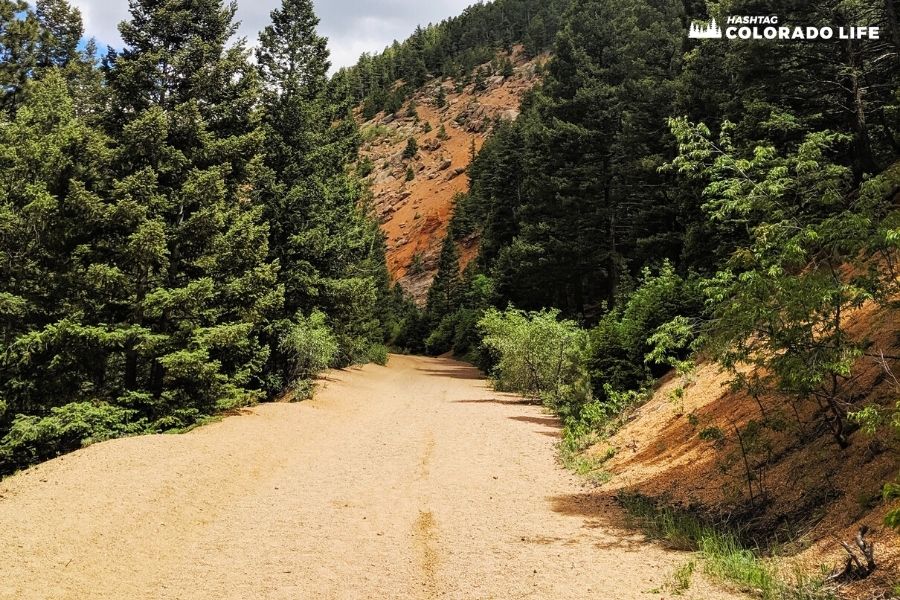 Seven Falls has been a popular Colorado Springs landmark for over 140 years.
As the name suggests, there are seven falls that make up this must-see destination, spanning throughout the length of the park.
Due to its location at the base of Pikes Peak, you are welcomed by massive granite rock formations as you enter the park.
Follow the footsteps of those who climbed the massive staircase before on your way to the top of the falls.
Once you arrive, you're welcomed with breathtaking views that span for miles in every direction. Along with checking out the falls, there are many other fun things to do on your visit.
Head over to the on-site restaurant for delicious food, or come up close and personal with some of the wildlife that roams in the area.
There are seasonal activities held here, including Trick or Treating and more. You are required to purchase a ticket to enter the park, which can be done online or in person at the visitor's center.
Or if you're looking for an easier hike, consider the Seven Bridges trail and open space nearby. Get ready to step back in time and visit one of Colorado Springs' oldest parks at this historic location.
Address: 1045 Lower Gold Camp Rd Colorado Springs, CO 80905
10. Cheyenne Mountain State Park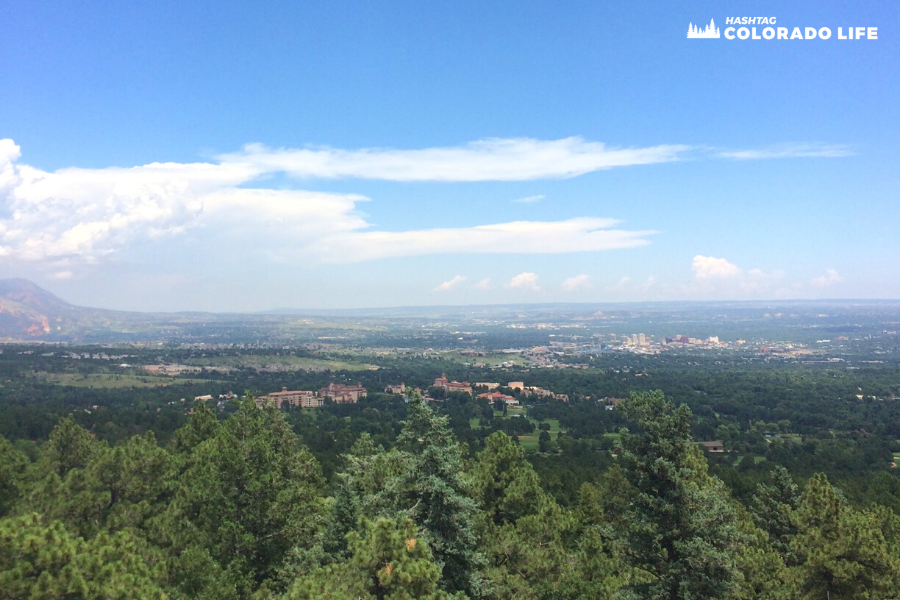 Cheyenne Mountain State Park is a great location for year-round fun. When you enter, be sure to stop by the Visitor's Center to pick up your park passes, licenses, and registrations, or if you're camping, check-in.
You can spend the day hiking one of the 28 trails or extend your stay by renting out one of the 51 full-service campsites.
If you prefer to "rough it," there are 10 basic tent sites that let you get up close to nature.
There are multiple facilities on the property, including restrooms, playgrounds, laundry, picnic tables, and more, making your stay comfortable and inviting.
While not every trail allows dogs, there are specified ones that are canine-friendly, as well as multiple equestrian, biking, and hiking trails.
Year-round educational programs are available, including guided hikes, junior ranger programs, archery, and animal education. There's fun for the whole family at this exciting adventure park.
Address: 410 JL Ranch Heights Rd, Colorado Springs, CO 80926
11. Eleven Mile State Park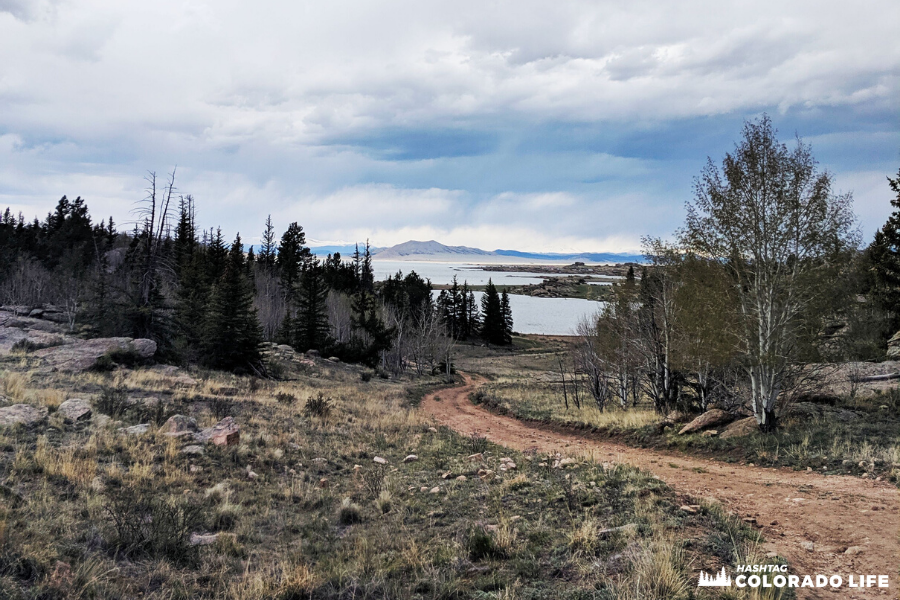 A short drive outside the city of Colorado Springs is Eleven Mile State Park. This is a fishing lover's paradise with dozens of species swimming in the cold reservoir waters.
Cast out and reel in Pike, Kokanee, Cutthroat, or Rainbow Bass before heading out along the five miles of scenic biking and hiking trails.
If you enjoy being on the water, try your hand at windsurfing, sailing, kayaking, or winter ice boating and take in the beautiful scenery.
In fact, it's one of the most beautiful lakes in Colorado for summer or winter fun. And there is ample wildlife and something for everyone at this fun-filled aquatic destination.
Address: 4186, 4344 Co Rd 92, Lake George, CO 80827
Be sure to check out the best parks in Colorado Springs and experience all the beauty this breathtaking city has to offer.