7 Fantastic Dog Friendly Places in Colorado Springs
This website may contain affiliate links and we may be compensated (at no cost to you!).
Are there dog-friendly places in Colorado Springs? Yes, and there is an abundance of destinations to take your pup, both indoors and outdoors.
In recent years, Colorado Springs has been consistently ranked as one of the most pet-friendly destinations in the country.
This is thanks to awesome dog parks, pet-friendly hotels, and even restaurants that allow you to bring your canine indoors.
If you are planning a vacation to the Springs and want your dog to come with you, then keep reading.
Here at the best places to take your dog when exploring Colorado Springs.
1. Red Rock Canyon Open Space
Red Rock Canyon Open Space is the perfect dog-friendly place to bring your pet for an epic outdoor experience.
This hiking destination offers over 700 acres of open space and surrounding trails to explore.
And the best part is that there is an off-leash dog park located near one of the main parking lots.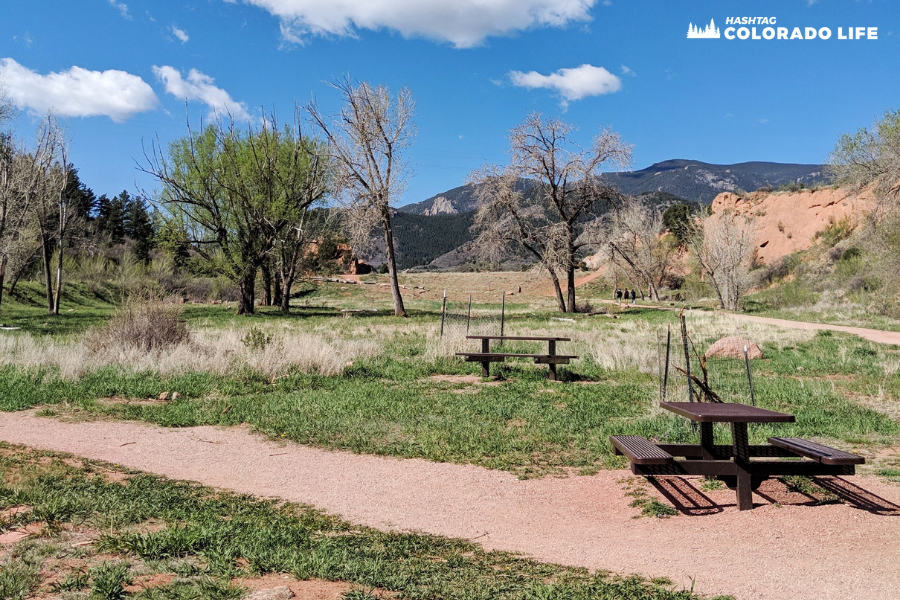 It's a great spot to toss a ball or frisbee around so your dog can run around free.
Or head up Mesa Trail until you reach Lower Dog Loop and Upper Dog Loop trails for some fun hiking.
These are off-leash trails so your dog can roam free.
However, they must be leashed on other trails within the open space.
There is also a lake that's easily accessible using the main trail from the second parking lot. Dogs love to jump in the lake and cool off and play in the water during the hot summer months.
There are not a lot of off-leash places for your dog in Colorado Springs, but this is one you can add to your list. It's a great spot for horses too!
2. Manitou Cliff Dwellings
Dogs are a welcomed guest at the Manitou Cliff Dwellings. This outdoor museum makes a fun and historical spot to take your dog.
This well-preserved replica of cliff dwellings dates back to the early 1900s and offers a unique look into the life of Ancient Puebloan culture.
Dogs are allowed to walk around the site while exploring the authentic dwellings and buildings.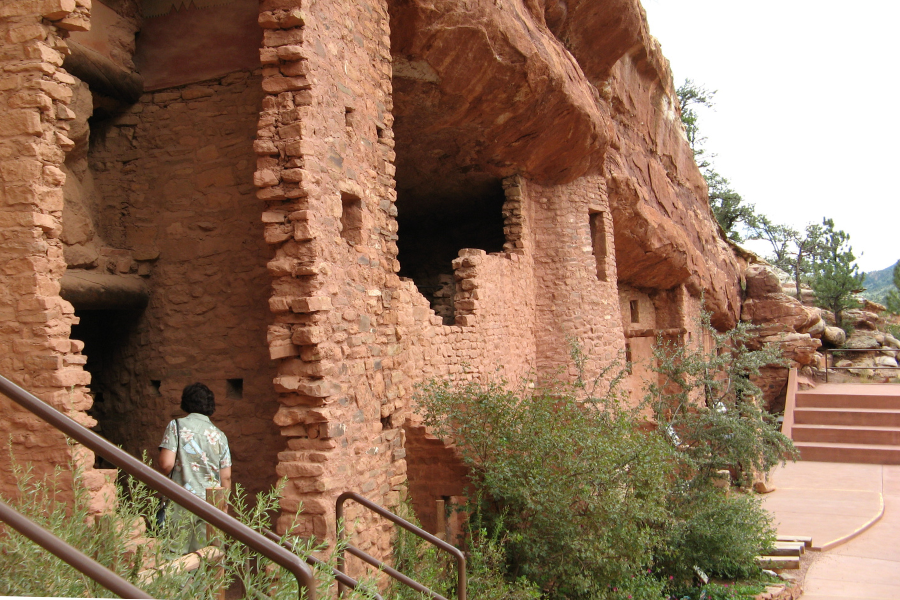 There is also a nature walk along the cliffs with signs detailing the local agriculture and history.
Then check out the gift shop for some amazing souvenirs or stop for a break at the snack area.
And don't forget about the museum which is a three-story building designed in the traditional Anasazi style.
It features artifacts and architecture from inhabitants who lived in this area over a hundred years ago.
3. Royal Gorge Bridge
Known for being the highest suspension bridge in North America, Royal Gorge Bridge is a must-see.
And you can explore the outdoor areas with your dog! This includes the Canyon Rim Trail which has incredible views of the canyon below.
Dogs are also allowed on the bridge, if they are brave enough to cross. It's over 900 feet above the canyon floor!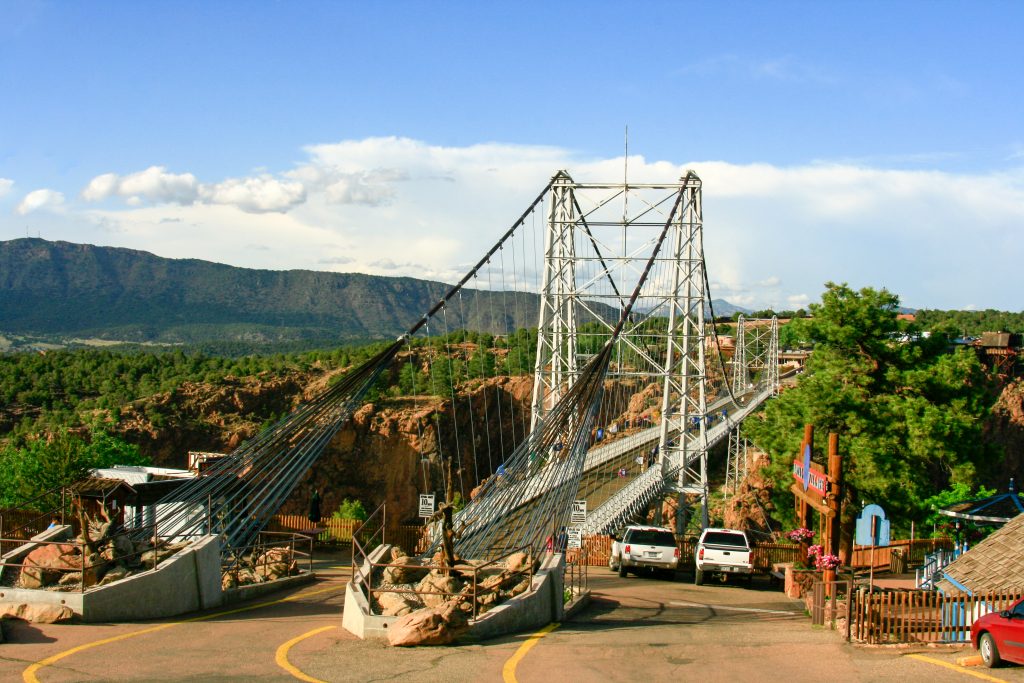 If you decide to take the gondola across the canyon, your dog is welcomed inside as long as they are on a leash.
Or they can relax in one of the free kennels available. But these kennels are on a first-come, first-serve basis so reserve yours early.
Located at the Royal Gorge are the Colorado Jeep Tours, which is also a great day adventure for your dog.
Dog-friendly guided jeep tours are provided for every breed and size dog that you choose to bring with you.
This is a perfect destination for family vacations since you can bring your dog along.
4. Garden of the Gods
Another must-visit location that is dog-friendly in Colorado Springs is Garden of the Gods.
Leashed pups are allowed throughout the park and on all of the trails and open spaces.
Or they can roam freely in the off-leash area located near the main entrance to Rock Ledge Ranch.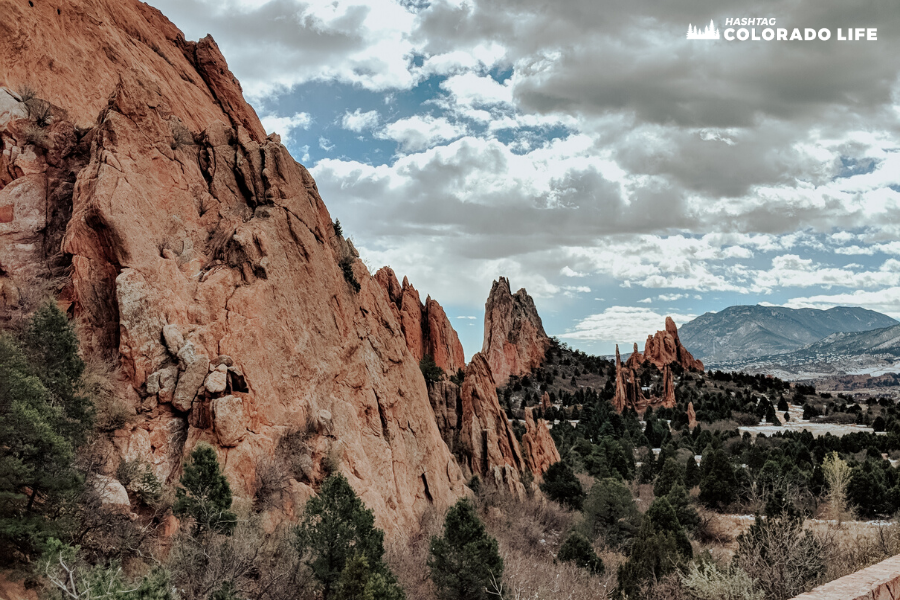 Free parking is available at the Nature & Visitor's Center or at one of the many parking lots within Garden of the Gods Park.
You can spend the whole day exploring this majestic site with your dog. Book a jeep tour, go rock climbing, or refuel at the Trading Post.
At the Garden of the Gods Trading Post pets are welcome in the store and on the patio at the restaurant. Just make sure they remain on a leash.
5. Promenade Shops at Briargate
If you are looking for a dog-friendly shopping destination in Colorado Springs, check out the Promenade Shops at Briargate.
This outdoor shopping mall was voted "Best Place to Shop with Your Pet" by the Gazette.
Treat yourself to some retail therapy while enjoying some time with your dog too.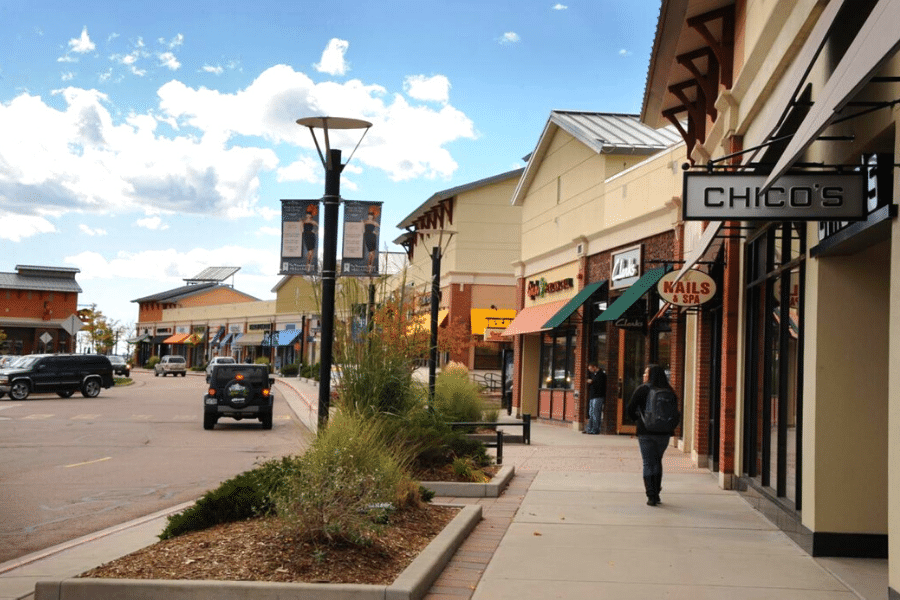 Photo Credit: The Gazette
Here you will find lots of yummy places to eat and retail shops for clothing, furniture, home decor, and even beauty supplies.
Some pet restrictions do apply but stores that allow pets inside will have a "Pets Welcome" sticker on the window. These restaurants and shops are considered pet-friendly.
Throughout the shopping mall there are water bowls and pet waste stations provided for your convenience.
In the summer the Promenade Shops hosts the "Bark at Briargate" outdoor pet expo.
At this event dog lovers can socialize with each other and their owners, while chatting with over 40 pet-related vendors.
Take in the beautiful mountain scenery and enjoy some retail therapy without having to leave your pup at home.
6. Bear Creek Dog Park
If your dog loves the outdoors they're going to like Bear Creek Dog Park.
This park is very popular among pet owners thanks to the fully-fenced 25 acres available for dogs to run and play.
It also offers an agility course, a 2-acre small dog play area, picnic tables, benches, and a creek with multiple swimming areas for dogs to splash and play in.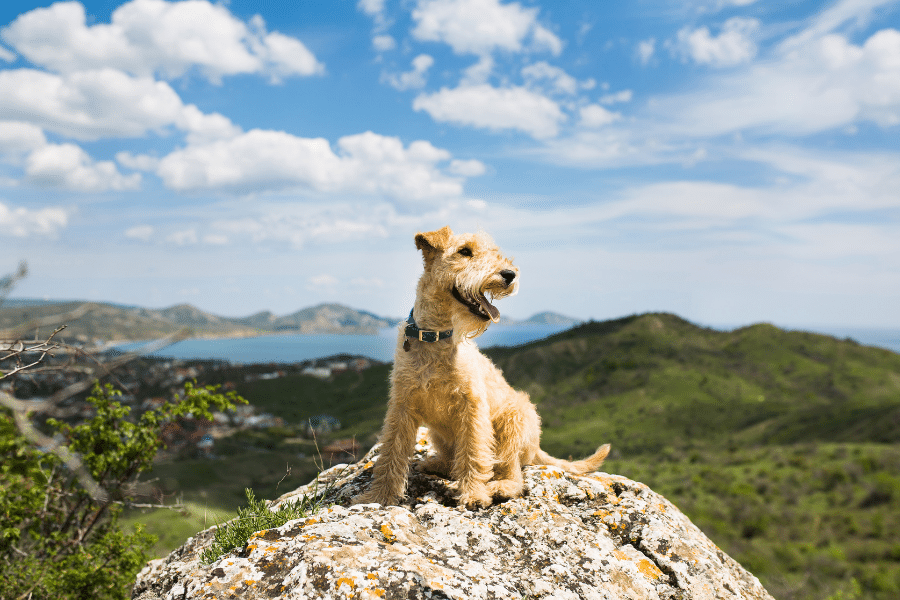 Water is provided for thirsty pets as well as a dog washing area for pups that like to get down and dirty outdoors.
The nearby Bear Creek Trail is an awesome trail for both dogs and their human companions.
Dogs must be kept on a leash when on the trails, but are able to fully roam off-leash within the Dog Park.
Free parking is available across from the Bear Creek Dog Park area.
7. Pub Dog
Pub Dog is the first and only unique dog-friendly dining experience in Colorado Springs.
The restaurant allows dog owners to bring their furry friends indoors to eat with them.
In addition to the patio dining area, the pub also provides a 3,000 square foot fully fenced outdoor area for dogs to run around off-leash.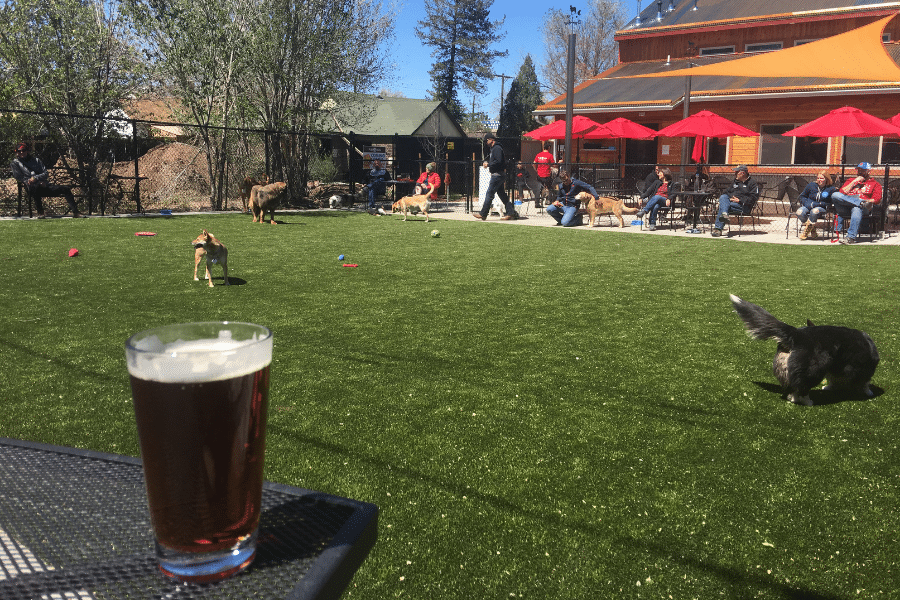 Photo Credit: Imgur
Your dog can socialize safely with other dogs while you take a break to eat some delicious food and drink some brews.
Pub Dog serves up food like pizza, sandwiches, appetizers and salads, as well as a full bar featuring local craft beer on tap.
They are open seven days a week from 11am to 8pm.
If you are looking for a fun dog-friendly hike after your meal, the pub is also within walking distance of Bear Creek Dog Park and Red Rock Canyon Open Space.
When looking for places to take your dog in Colorado Springs, these are just a few of the best destinations.
The city really does cater to a dog-friendly atmosphere and there is always something to do or explore.
If you are looking for dog-friendly lodging or hotels in Colorado Springs, we recommend checking out this guide.