10 Simple Tips for Hiking in the Snow in the Winter
This website may contain affiliate links and we may be compensated (at no cost to you!).
Hiking in the snow in the winter months is a fun and totally unique experience versus hiking in the summer.
In higher elevations, long winter conditions can lead to icy terrain and bad weather. And this can mean unsafe trails if you're not careful or don't know what to do.
If you are someone who enjoys hiking in the cold, there are some must-know tips for staying safe and warm.
As a couple who lives in Colorado, we're sharing our best winter hiking tips for cold or icy outdoor outings.
And be sure to check out our list of these easy and safe winter hikes in Colorado.
1. Check the weather
Winter weather is always changing, especially in a state like Colorado, so it can be tough to accurately predict the weather.
Before going for a winter hike it's important to know what the conditions will be like.
If snow is in the weather forecast, you should expect reduced visibility and shorter daylight hours. The trails may become more difficult to walk on as the snow makes them uneven or icy.
Always check the weather conditions before hiking in the snow. This will give you the best idea of what to wear, what to pack, and what to expect while outdoors.
Always have a flashlight or headlamp and a paper map with you so you can find your way even if you lose the path or have less visibility.
2. Dress in layers
One of the things that sets apart a novice hiker from an experienced one is how they dress. Hiking in the snow requires wearing not just extra layers but the right kind of layers that are warm but not too warm.
As you continue hiking your body heat will warm up and you may want to shed some clothes to regulate your temperature.
When hiking in cold weather there are typically 3 types of layers you should wear:
The base layer, aka long underwear, needs to be thin but thick enough to keep you warm even when outside for several hours.
The insulation layer should be made of fleece, down, or other synthetic materials so you don't overheat.
In both cases it's best to avoid cotton and choose layers that wick away moisture and are quick-drying. Even when hiking in cold weather you will want to shed layers as your blood gets pumping.
Finally, your outer shell should be waterproof and very insulated to keep you warm and dry.
This is especially important when hiking in the snow, hiking with a wet shirt or socks is dangerous and uncomfortable.
Always wear thick winter-weight wool socks, like Merino wool socks, and bring multiple pairs of gloves and hats.
3. Bring basic equipment
Basic hiking equipment is a must when prepping for a successful long hik, day hike or anything in between. You need to be prepared for anything!
Depending on how rigorous your hike is going to be, a helmet is a good choice in case you slip or fall.
Here is a must-have list of basic hiking items safety gear we recommend bringing.
For additional recommendations, check out our list of the top ski essentials and items to pack.
4. Pack quality hiking poles
When hiking in the winter there are few safety items everyone should carry in case of emergencies.
Snow-covered trails can make for muddy or icy paths, so it's best to always have a few things on hand. One of those main safety items is quality hiking poles.
You can grab a really nice pair of cheap but good hiking poles for any price range. They will help steady you on icy trails or steep inclines with lots of snow.
5. Stay hydrated and bring snacks
No matter what time of year, going for a hike outdoors means getting hungry, tired and thirsty.
And you'll get hungry and thirsty faster during a winter hike versus a normal summer hike (see point above).
Bring lots of snacks to fuel your body and stay hydrated throughout the day. Granola bars or energy bars are easy to pack and they offer a good boost of protein.
Nuts, seeds, fruit leathers and jerky also make perfect options for healthy snacks on the go.
Fill up multiple water bottles before your hike, and bring more than you think you need. Add some hydration packs to your water to replenish electrolytes and keep you hydrated.
We recommend these Revival & Recovery hydration packs on Amazon.
6. Use microspikes or snowshoes
If you think your hike will involve icy trails, snow-covered paths, or difficult terrain, seek out extra traction in your footwear.
Microspikes, crampons, and snowshoes are three of the best footwear options for hiking in the snow.
It depends on the conditions of the trails and the weather you're expecting, as each of these traction devices can serve a different purpose.
Microspikes are made of tiny chains and spikes that slip on over the outside of your hiking boots. They are more lightweight and less intense than crampons or even snowshoes.
Crampons are for serious ice and winter hikers as they come with larger spikes perfect for steep slopes and inclines. They are more heavy duty than microspikes and can weigh down your feet a lot more.
Finally, snowshoes can be used practically and recreationally. They are lightweight and have wide frames that allow you to step into them before attaching to your shoes.
The wide base increases the surface area of your feet, allowing you to cruise on top of areas with deep snow.
All three of these options are great for hiking in snow. It just depends on the conditions of your hike and what your preference is.
In addition, you may also want to bring some decent hiking poles to help steady your balance while hiking.
7. Hike with the sun
During the cold winter season, the best time for cold weather hikes is when the sun is highest in the sky.
Early morning hikes or late afternoon excursions can be cold and some of the trails may still be covered in ice or snow.
This is when the weather will be the warmest, and when it's easiest to see the snow-covered pathways.
Winter in Colorado means the sun usually drops behind the mountains starting as early as 3-4pm.
When this happens trail conditions will become shady and temperatures can drop significantly.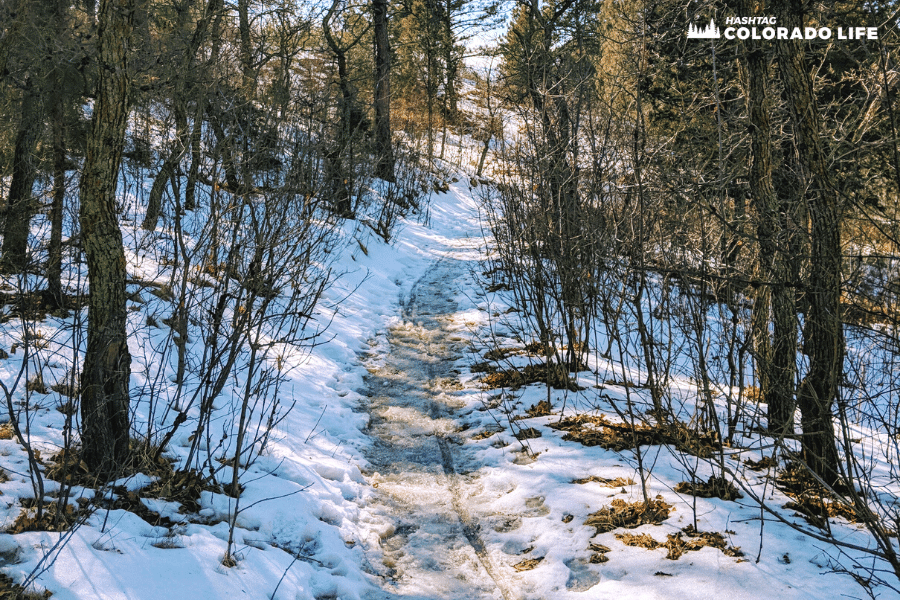 Make your hiking trip during the warmest part of the day and plan to hike with the sun!
You will be able to enjoy the warmer weather and beautiful scenery, without exposing yourself too much as night approaches.
8. Prepare for avalanche danger
Anyone who spends time hiking in the mountains in the winter should be aware of avalanche risks.
Avalanches are more common than you might realize, so it's smart to understand some of avalanche basics.
There are two different types of avalanches; loose-snow and slab. Loose-snow avalanches can occur in both wet or dry snow that has recently fallen or is less compact.
Slab avalanches on the other hand occur when an entire shelf of snow breaks free and slides down the mountain. This usually consists of more compact snow and can be lethal.
The causes of an avalanche consist of four different factors:
A steep slope
Snow cover
Weak layers of snow
A trigger
Don't take risks when hiking on snowy or icy trails. Even if you see footprints from other hikers doesn't necessarily mean that path is secure or safe.
And stay away from trails or areas that have common avalanches so you don't put yourself or your family at risk.
9. Take breaks often
Don't overexert yourself while hiking in the snow. Surprisingly, hiking in the snow burns a decent amount of calories and can take a lot of effort.
In fact, according to an exercise physiologist and scientist, walking on packed snow can increase the amount of calories you burn by up to 60% compared to walking on a paved road.
The added resistance of the snow helps firm and tone more muscles than simply walking the same speed on a treadmill.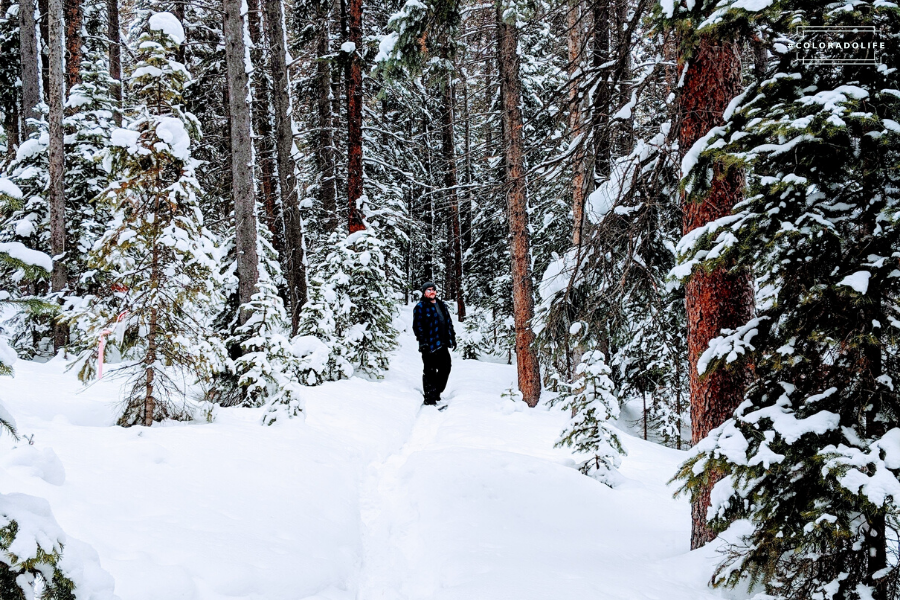 Your body is working harder to stay warm and you're concentrating more on placing your feet on steady ground to avoid holes and icy patches.
Take time during your hiking trip to enjoy breaks and allow your body to rest between long stretches of walking.
The more energy you exert during a hike, the more tired you will become. So, give your body the chance to rest and get refreshed between long hikes.
10. Don't hike alone
Hiking is always better with a partner or with a small group, especially in the winter. We don't recommend hiking alone in snow unless you are an experienced hiker and very familiar with the terrain.
Avalanches and loose snow can be very dangerous. You don't want to get caught outside in the cold weather with a broken leg or worse.
Having a partner with you can increase your safety chances, and ensure a good time for everyone.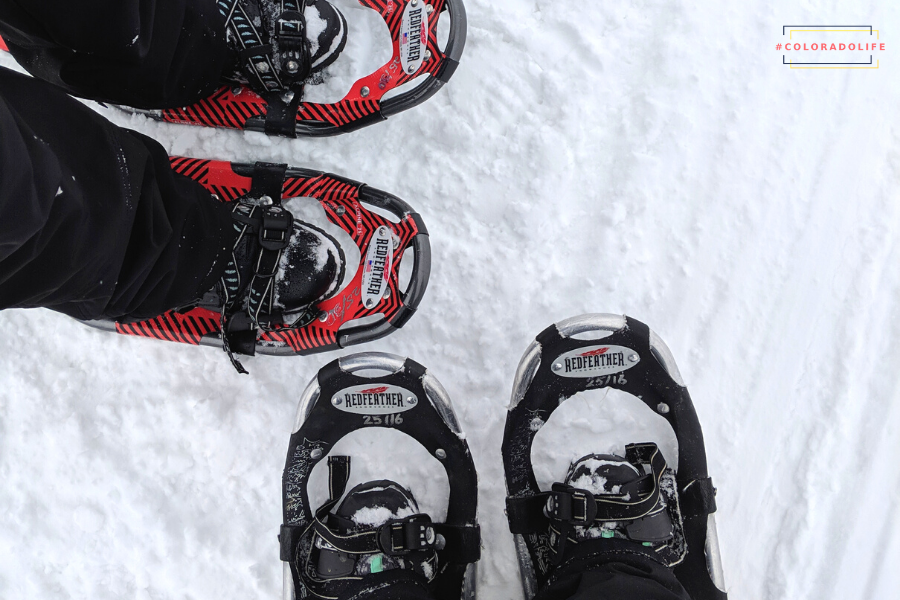 If you get turned around, they may be able to help you find your way back. Or if injuries do happen, they can go back and call for help.
Don't take risks when it comes to snow or ice travel, so avoid hiking alone whenever possible.
When planning your next hike in the snow, we hope these tips will help you have a fun but safe journey.
The Colorado landscape can be ruggedly beautiful, and too many people have been lost or seriously injured while out in the Rocky Mountains.