by Carrie Nicholson
|
Last Updated:
September 5, 2021
The content of this website may contain affiliate links and we may be compensated (at no cost to you!). Thank you for your support!
It's no secret that some of the best places to retire in Colorado allow retirees to enjoy nature and live out their golden years.
The state also offers a plethora of mountain ranges, golf courses, beautiful lakes, hiking trails, and outdoor activities that are perfect for seeing wildlife.
Common amenities among the best places to retire in Colorado include affordability, outdoor accessibility, year-round festivals, and easy access to healthcare facilities.
Here are the best places to retire in Colorado in 2021.
1. Holly Hills
According to Niche.com the best place to retire in Colorado in 2021 is a suburb of Denver called Holly Hills.
Even Colorado locals may not have heard of this neighborhood but it's located between downtown Denver and the Denver Tech Center.
Holly Hills has been rated as a rare "triple crown". It boasts the best place to live in Colorado, the best place to raise a family, and the best place to retire in the state.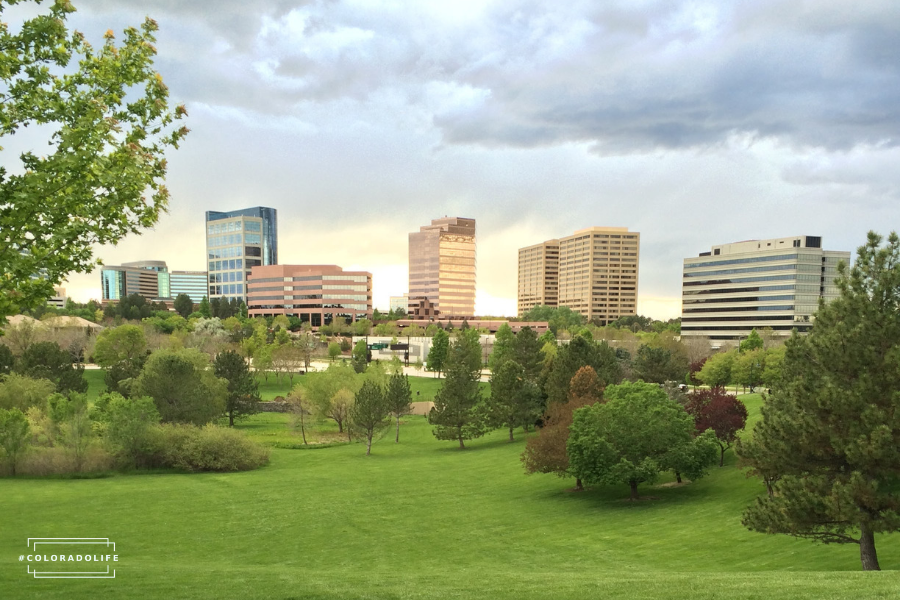 The neighborhood is a very family friendly place thanks to the highly rated Cherry Creek schools.
The median household income in Holly Hills is $136,176 and residents here tend to be more conservatives here.
Anyone who lives in Holly Hills is said to enjoy the close proximity to the light rail, Highline Canal, and nearby shopping centers, restaurants, bars, and coffee shops.
It also is said to have an easy morning commute.
2. Fort Collins
In the past, Fort Collins was an overlooked town for retirees in favor of bigger cities like Denver or Colorado Springs.
These days though, Fort Collins holds its own by being listed in the top 5 best places to live in the United States by U.S. News.
Located about 65 miles north of Denver, the town offers an easy escape from the increasing traffic from the Mile High City.
It has many amenities thanks to having a population of 167,830 residents, making it the 4th largest city in Colorado.
Fort Collins is home to Colorado State University with over 33,000 students in attendance every year.
The town is also known to locals as the Napa Valley of craft beer, which produces about 70% of Colorado's craft beer.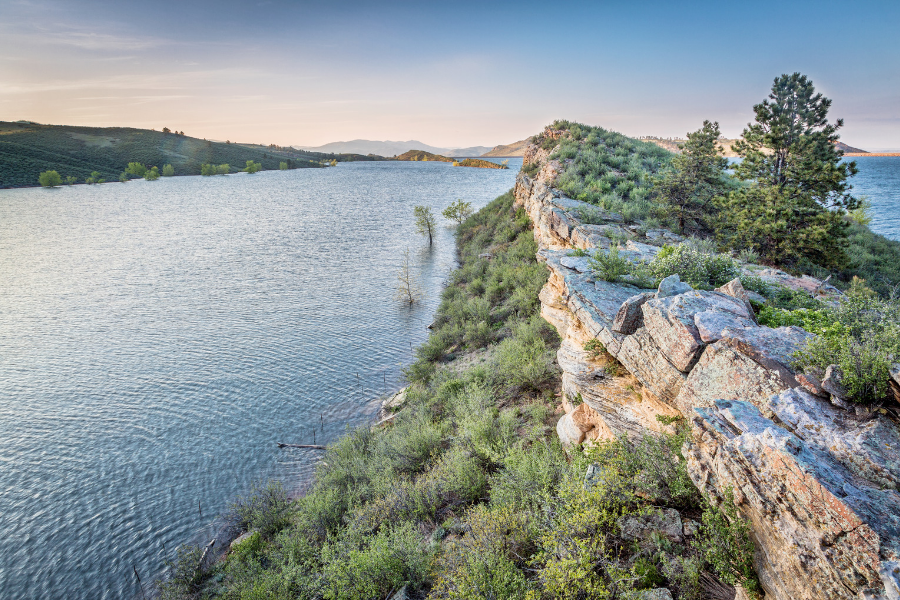 Outdoor enthusiasts will love the Horsetooth Reservoir in the warmer months, which is located just a few minutes from downtown.
Rocky Mountain National Park is also within about an hours drive, with lots of trails, wildlife, and backroads to explore.
Speaking of downtown Fort Collins, it's said that Disneyland's Main Street, U.S.A. was modeled after the town due to it's quaint and charming nature.
The main portion of the city's residents are ages 45-64, making up 24.2% of the population. The next popular age range is 20 years old or younger, making up 23.7% (source).
3. Estes Park
If you want access to some of Colorado's most rugged landscape with lots of privacy, then you will love living in Estes Park.
Of the 6,300 people who live in Estes Park more than 40% of the population are seniors with a median age of 59 years old.
And nearly 70% of the population are married with no children.
Thanks to its proximity to Rocky Mountain National Park, there is a never-ending list of things to do in Estes Park.
There are hundreds of hiking trails, day trip excursions, and local classes that are perfect for retirees.
Walk down the popular Riverwalk in downtown Estes Park and learn about the history of the town and see local landmarks.
And during September, Estes Park hosts the annual Elk Fest which celebrates the hundreds of local elk that migrate through the town during this time of year.
It's quite a sight to see!
Because of these features and it's senior-friendly lifestyle, Estes Park has been named in the top 5 on Niche.com's list of the best places to retire in Colorado.
4. Pueblo
Pueblo makes our list of the best places to retire in Colorado due to its affordability while still being close to the mountains.
In fact, Pueblo is #2 on our list of the cheapest places to live in Colorado due to the median home price coming in under $200,000.
More than 113,000 residents currently call Pueblo home with the average age of 37 years old.
The city is well-known for its Mexican culture and farming heritage. And every year the city hosts the annual Chile & Frijoles Festival, as well as the Colorado State Fair, to celebrate this history.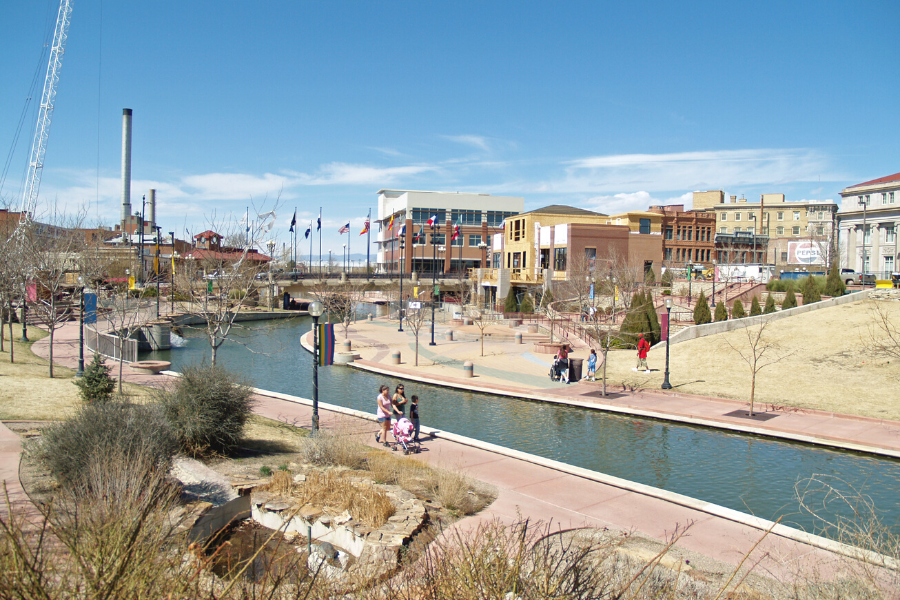 The Arkansas River runs through Pueblo and the Historic Riverwalk is located downtown with local shops, restaurants, and bars.
There are 54 beautiful pieces of art that are easily viewed along the Riverwalk.
The city is also home to Lake Pueblo State Park which has over 10,000 acres of land, 60 miles of shoreline, and two full service marinas.
The Pueblo Reservoir has a dedicated swim beach and is one of the most popular swimming spots during the summer.
If you want to retire close to the mountains but still want an affordable place to live, then Pueblo is a great choice!
5. Monument
Monument, Colorado stands out on this list thanks to great access to healthcare with more than 14 medical facilities and senior living communities in the area.
Located in El Paso County, there were just over 7,000 residents in 2020 with a median age of 35 years old. The city itself is small, spreading out over 6.8 square miles.
But thanks to its proximity to Colorado Springs, you get to enjoy the small town lifestyle with big city amenities and all of the major attractions.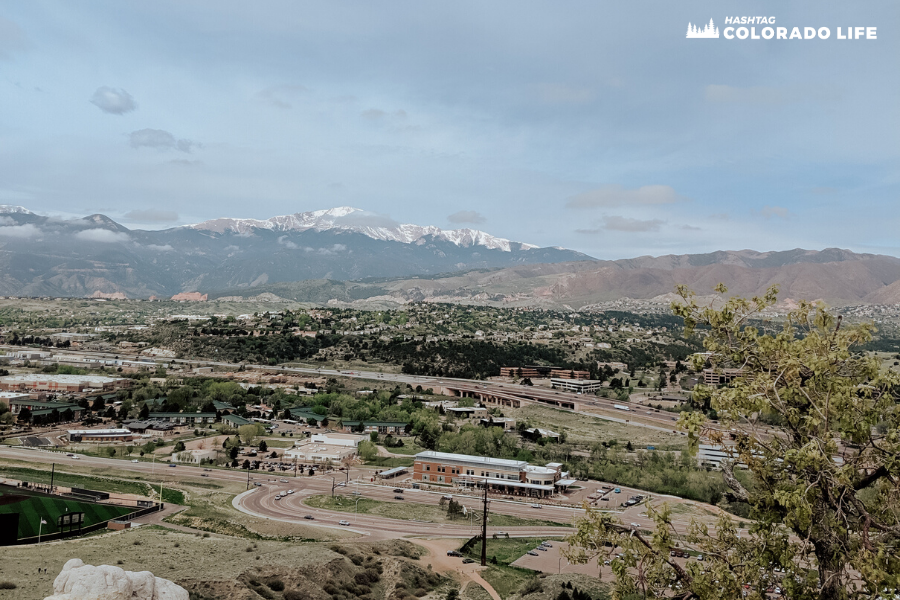 One of the main things to do in Monument is the historic 15-mile Santa Fe Regional Trail, which is a very easy trail that runs through the heart of the city.
This trail is great for biking, hiking, and even horseback riding. During the winter locals enjoy cross-country skiing and snowshoeing.
Monument is located just south of Palmer Lake Recreation Area which is perfect for swimming and fishing.
In the summer and fall, it hosts many popular festivals and outdoor events including large 4th of July celebrations.
6. Woodland Park
While Woodland Park is considered a suburb of Colorado Springs it definitely deserves a spot on the best places to retire in Colorado list.
The city sits "above the Clouds" at 8,465 in elevation with about 8,300 local residents in 2020.
The median household income in Woodland Park is $64,248 per year, which is pretty comparable to the national average of $53,482 a year.
This makes Woodland Park a relatively affordable city when compared to other mountain towns.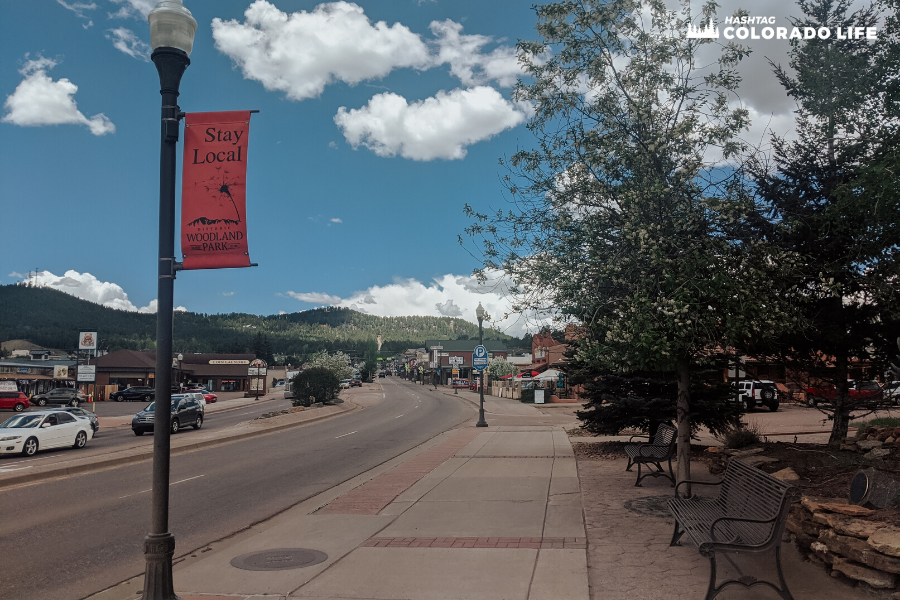 The median age for residents in Woodland Park is 46.5 years old which makes it very appealing for retirees and those looking to escape to nature.
With views of Pikes Peak and the Rocky Mountains, it's no wonder that residents love the scenery, fresh air, and quaint downtown area.
Woodland Park offers an escape from the busy city life of Colorado Springs without being too far from the amenities.
In fact, when my parents visited Woodland Park for the first time, they mentioned how they liked the vibe and would consider retiring here.
7. Evergreen
Evergreen is another beautiful town to retire in Colorado. It's located at the base of the Front Range along the Rocky Mountains with gorgeous views.
The median age in Evergreen is about 47 years old with about 18% of the 8,600 residents being senior citizens.
With a median income of $78,500, Evergreen does come in over the national average, however, it's access to outdoor activities is like nothing else.
Hiking and biking trails are easily accessible from all over the town, with quiet neighborhoods and excellent school systems.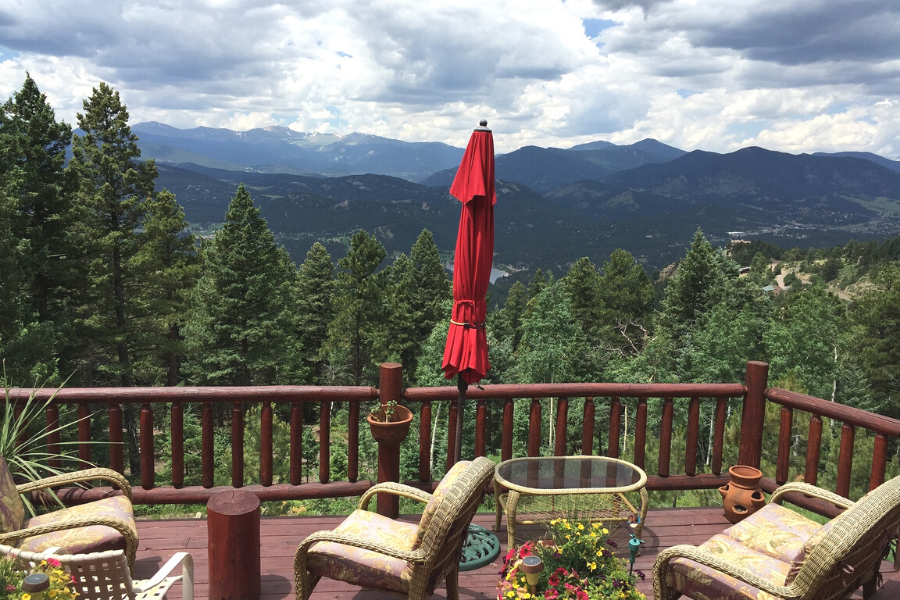 Evergreen Lake and Park is situated in downtown Evergreen and is popular year round for swimming, fishing, and even ice skating and ice hockey in the winter.
Locals can also enjoy canoeing, paddle boating, kayaking, and fishing during the summer months.
Another popular attraction for retirees is the Evergreen Golf Course which is located directly across from Evergreen Lake.
During the fall the golf course is abundant in wildlife as the animals prepare for the winter months.
And since Evergreen is located near Denver, residents can enjoy all of the awesome amenities that a big city has to offer.
8. Golden
In 2018, Golden was listed within the top 20 best places to retire in the United States.
Nearly 10% of the town's 22,000 population is made up of seniors and offers plenty of healthcare facilities and doctor offices.
Golden has a unique history in that it was founded in 1859 as a gold rush town. It was originally called the "Golden City" and is conveniently located between North and South Table Mountains with views of the foothills.
It is also located within a 20 minute drive of Boulder, and only takes about 25 minutes to drive to Denver.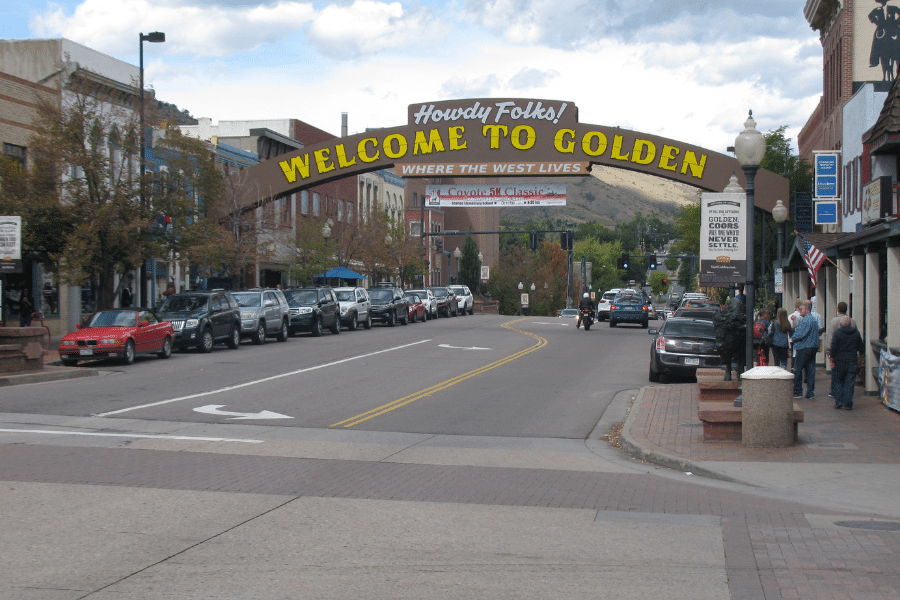 Golden is likely most well-known for being the home of the original Coors Brewery, which is now part of the Molson Coors company.
Visitors can go on a free tour of the brewery and even sample a few beers.
The city is home to a popular Mines Museum with mineral, fossil, and meteorite specimens on display. Golden also has vintage trains and an 1800s-style railroad depot.
The Triceratops Trail is a fun and historic 1.5-mile hiking trail with large vertical walls of sandstone and clay pits. The hike is perfect for kids and older adults as it is very easy.
The trail stops at several locations showcasing fossils from dinosaurs, insects, and mammals, as well as detailed plant impressions.
If you prefer to explore the Golden area in a car instead of on foot, check out the Lariat Loop National Scenic Byway.
This 40-mile looped roadway connects several historic Colorado towns: it starts in Golden and ends in Morrison.
9. Greeley
Greeley rounds out this list thanks to being pretty affordable, having a low crime rate, and vibrant culture. It was actually one of the fastest-growing cities in Colorado in 2019.
Located between Boulder and Fort Collins, Greeley has beautiful views of the mountains and offers close access to Rocky Mountain National Park.
In 2020, the population in Greeley was nearing 112,000 residents with nearly 12% of the population over the age of 65.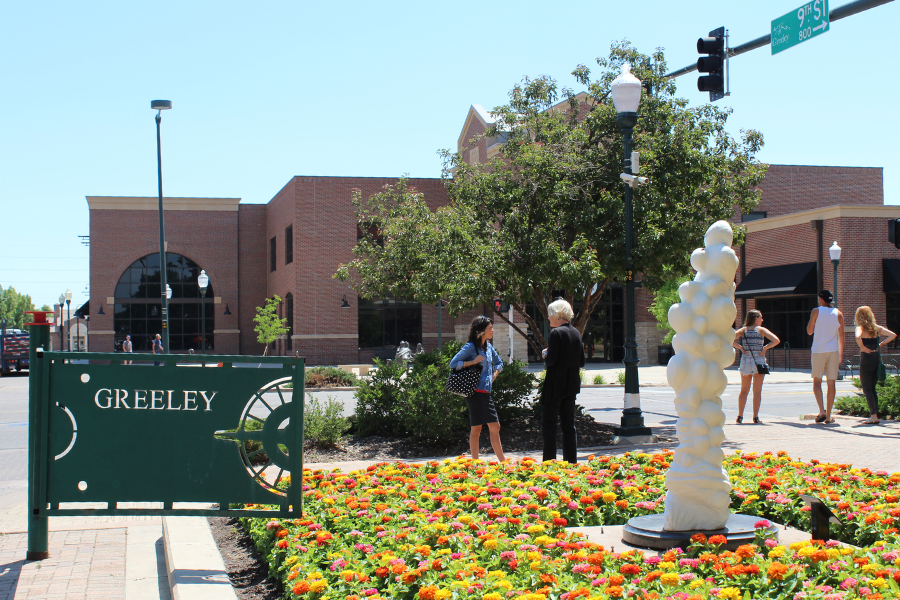 Greeley is most well-known for its quirky history and is home to many museums. The city also hosts events like the Colorado Farm Show and the Greeley Blues Jam.
There are many areas to hike, camp, bike, picnic, and enjoy nature in and around Greeley.
The Pawnee National Grassland is located 25 miles northeast of Greeley and covers 193,060 acres, perfect for outdoor recreation.
The Grassland is a popular bird watching area during the day and offers epic stargazing at night.
Carrie Smith Nicholson is one of the co-founders of Hashtag Colorado Life. After living in Texas for her whole life she moved to Colorado 5 years ago. As a travel blogger and entrepreneur for the past 10 years, her writing has been featured on NBC News, HuffPost Live, Glamour Magazine, Inc Magazine and many other media outlets. When she's not writing about new travel locations, she enjoys spending time outdoors hiking, camping in her NuCamp teardrop trailer, and trying new foods. You can follow her outdoor adventures on Instagram, @hashtagcoloradolife.