12 Best Hot Springs Near Grand Junction, Colorado
This website may contain affiliate links and we may be compensated (at no cost to you!).
Grand Junction, Colorado, is one of the most interesting cities in the country. It offers some of the best views in western Colorado thanks to national parks, and the Rocky Mountains.
A favorite spot for hiking, rock climbing, biking, and rafting The Colorado River, there are also some incredible hot springs only a short drive away.
While there are many relaxing destinations around Colorado, including hot springs in Durango, you won't want to miss these impressive geothermal getaways near Grand Junction.
1. Orvis Hot Springs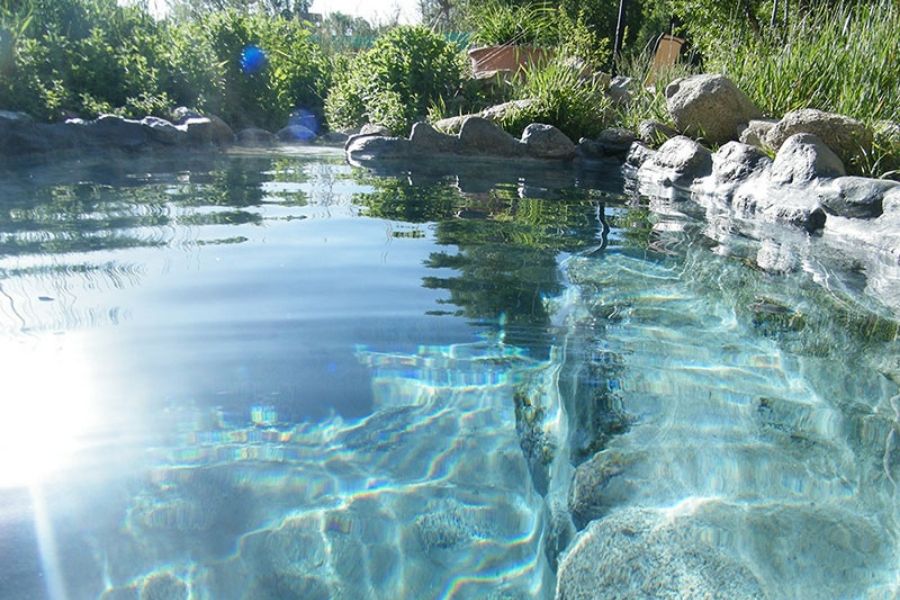 The Orvis Hot Springs is a favorite among locals for the best hot springs near Grand Junction.
Take a dip in one of seven clothing-optional geothermal pools, ranging in temperature between 65 degrees and 114 degrees F.
Nestled within the San Juan mountains, you will find yourself surrounded by rustic rock walls, dense forests, and all the bright blue sky you could ever want.
During rainy days, you can enjoy soaking in the indoor tub or opt for one of two private tub options.
Only a short drive from the city of Ridgway, this remote hot spring location is the ideal way to unplug and ground your mind and body.
Distance: 89.4 miles
Travel Time: 1 hr 44 mins
2. Yampah Spa Vapor Caves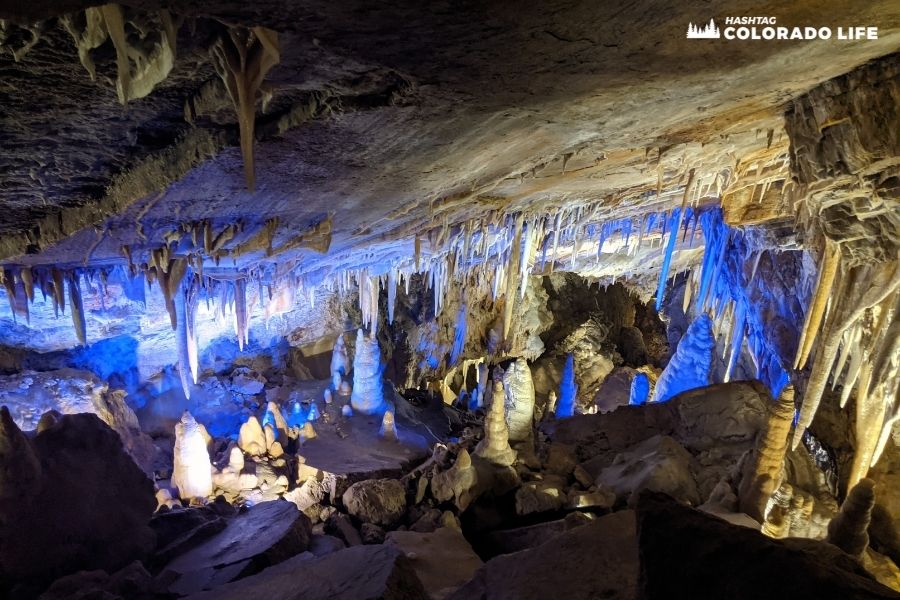 Discover a location like no other at the Yampah Spa Vapor Cave in Glenwood Springs.
Soak in the 125 degree mineral waters situated inside three adjoining underwater rock chambers, which create a natural steam bath to detoxify your body.
You will pass through an impressive stone corridor to access these unforgettable geothermal pools.
There are 34 minerals and trace elements in these restorative waters, thanks to the Yampah Spring, which have been used for centuries to clear the mind and body.
Once you're done enjoying the mineral-rich water, don't miss out on the wide selection of spa treatments, which include facials, massages, herbal body treatments, private natural mineral baths, and salon services.
We recommend checking out the Yampah Spa Vapor Caves as an alternative to the popular Glenwood Hot Springs Pool.
The ideal spot for a once-in-a-lifetime experience, you have to check out these prehistoric hot springs.
Distance: 86.7 miles
Travel Time: 1 hr 53 mins
3. Glenwood Hot Springs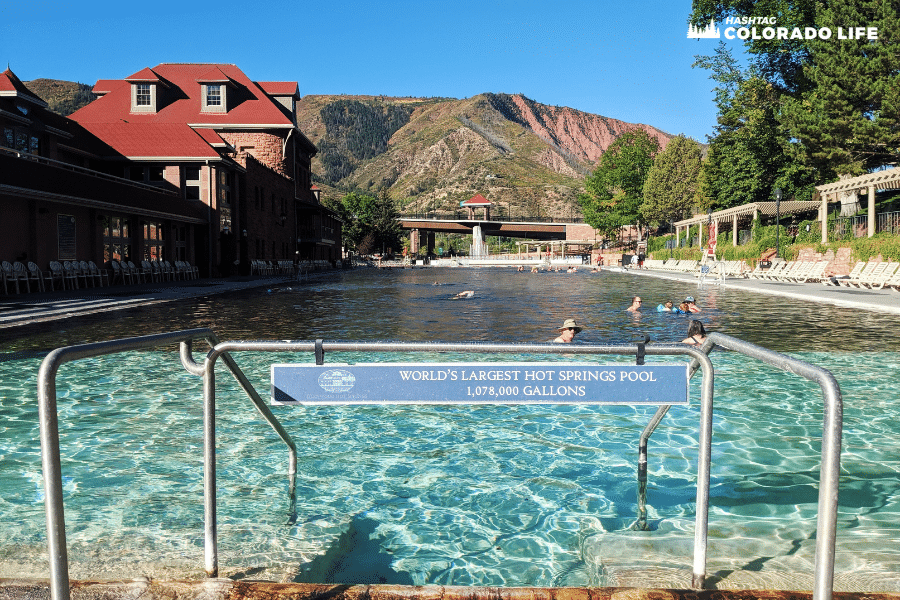 For another closer option for visiting hot springs near Grand Junction, check out Glenwood Hot Springs. It allows you to relax in your ideal amount of remote privacy.
An active resort for over 130 years, the geothermal waters have been a favorite among locals and tourists seeking to relax and heal.
Glenwood Springs is home to the world's largest hot spring pool, which features a poolside lounge where you can enjoy delicious food and drinks.
Kids will love the diving board and water slides, while adults can bask in the hot springs pools of various temperatures and sizes.
Take advantage of the additional amenities, including an Athletic Club and fitness center, boutique shop, and grill.
Be sure to head into town to take in the historic buildings and shop with the locals; you're sure to have an awesome time.
You'll love the ambiance at these historic hot springs at the Glenwood Hot Springs Resort..
Distance: 86.8 miles
Travel Time: 1 hr 20 mins
4. Iron Mountain Hot Springs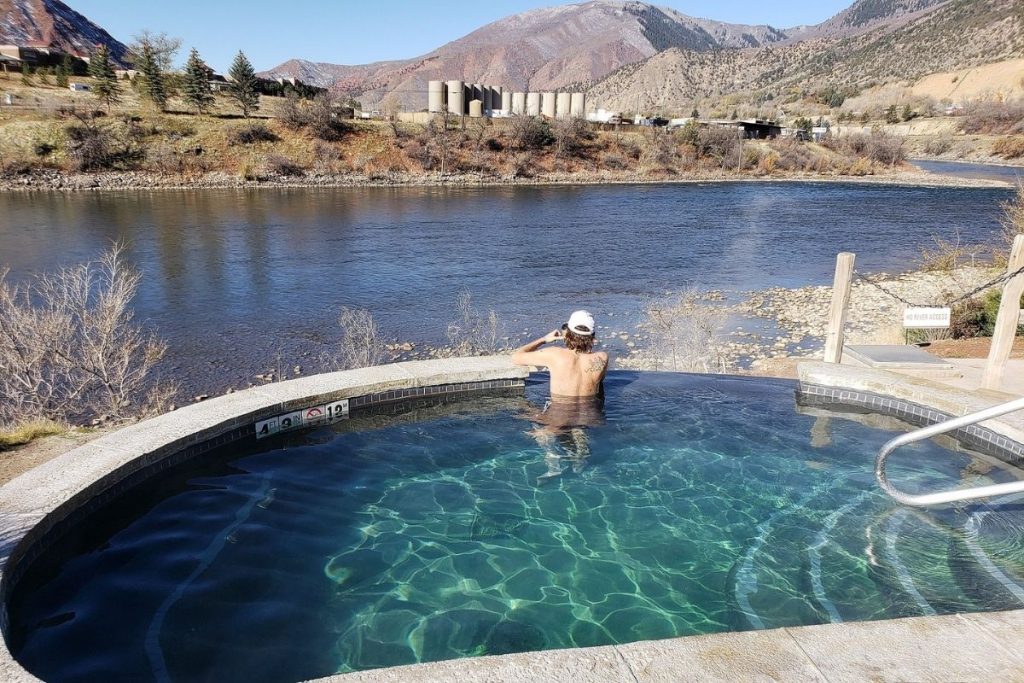 For some of the best natural hot springs near Grand Junction, take a dip in one of the 32 pools located throughout Iron Mountain Hot Springs.
The geothermal mineral pools are made to blend in with nature, offering an immersive experience like no other.
Enjoy access to the family-friendly freshwater pool, World Experience pools, jetted spa, Bathhouse, cafes, and bar.
Located within Glenwood Springs, one of Colorado's most beautiful historic towns, you'll want to spend some time exploring the city, tasting the local fares, and shopping at the many boutiques.
The numerous pools boast varying temperatures, making them ideal for the entire family.
Whether you're seeking the healing and restorative properties of mineral water or simply want to relax and unwind in a beautiful resort nestled amongst nature, you can't go wrong with this breathtaking hot springs destination.
Distance: 86.2 miles
Travel Time: 1 hr 21 mins
5. Ouray Hot Springs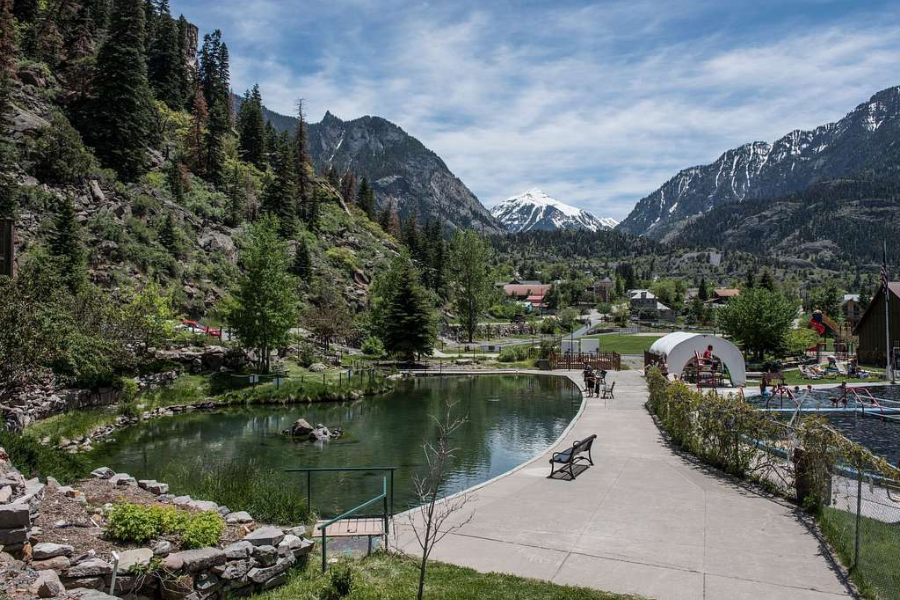 Located within the "Switzerland of America" is the historic city of Ouray, Colorado. Within the town you'll find the Ouray Hot Springs which is a favorite destination among locals and tourists seeking unmatched relaxation.
There are five spacious geothermal pools with varying temperatures ranging from 92 degrees to 106 degrees F and waterslides that take your vacation to the next level.
Children under four and seniors over seventy-five get in free, making this a family-friendly location you'll want to visit again and again.
Check out the variety of pools all of which are sulfur-free, eliminating smells and helping make for a more enjoyable experience.
They are fed from an underground aquifer, which pumps mineral-rich geothermal water with many healing and restorative qualities.
The picturesque location is great for a day trip or to spend the weekend soaking up the sun and renewing your mind, body, and soul.
Distance: 96.5 miles
Travel Time: 1 hr 51 mins
6. South Canyon Hot Spring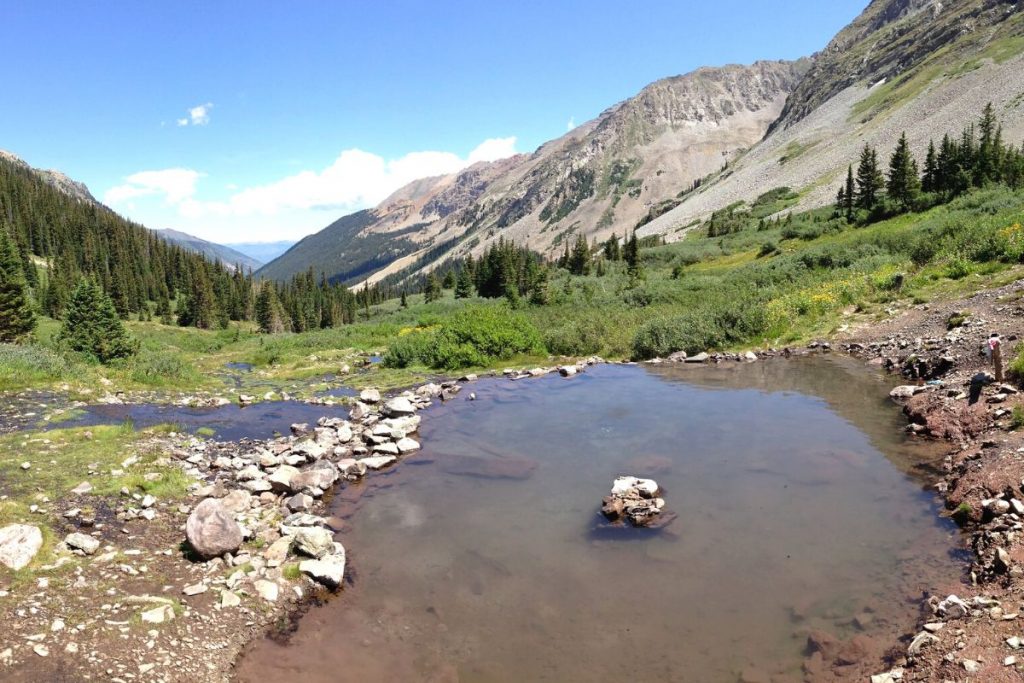 South Canyon Hot Springs is the perfect location for anyone seeking to soak in mineral-rich geothermal waters without being at a spa or established location.
Nestled in the wilderness on the outskirts of Glenwood Springs, this isolated destination is sure to please outdoor lovers in search of springs off the beaten path.
Situated on a hillside overlooking mountains and open areas, there are two pools to soak in and pass the day away.
While the springs are more isolated, they are reachable with a short hike, and parking is available at the trailhead.
Once you're done, head back to Grand Junction to explore the town, or continue hiking and see what natural wonders you can find.
If you want to reconnect with nature and leave the world behind, you have to check out this isolated hot spring.
Distance: 82.2 miles
Travel Time: 1 hr 14 mins
7. Hot Sulphur Springs Resort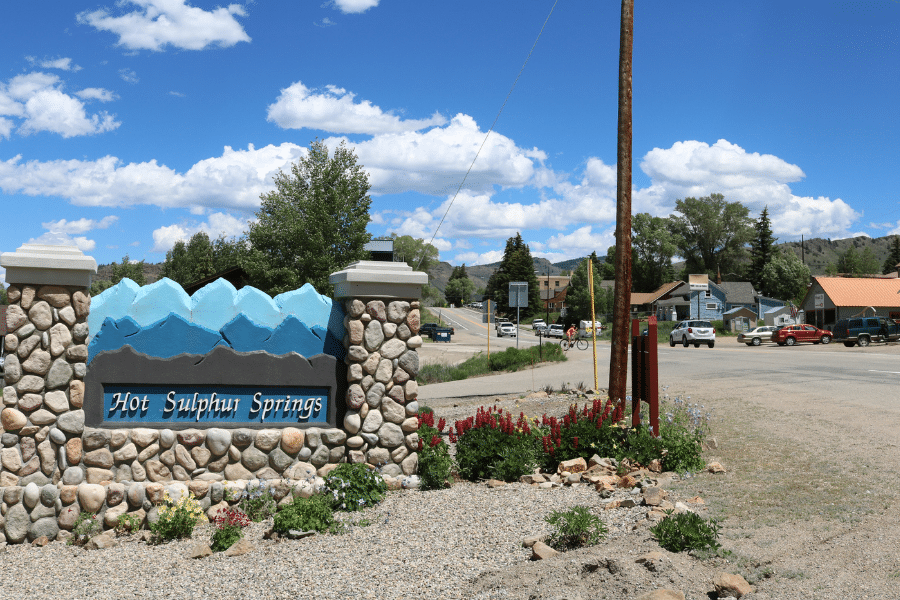 Choose from over 20 mineral-rich on-site pools at the Hot Sulphur Springs Resort. This destination is perfect for a day trip or an overnight stay with your partner or family.
There are never any chemicals added to the geothermal waters, which naturally flow and renew themselves at a rate of 5 gallons every 40 seconds.
All mineral levels have remained constant since 1946, making this a trusted location for over fifty years.
When you book a message, you receive a complimentary pass to all of the hot spring pools, making for a perfect day of relaxation.
There is lodging available, both on-site and off, for those looking to extend their stay.
Once you're done enjoying the hot springs, be sure to check out some of the exciting nearby activities, including hiking in the Rocky Mountain National Park.
A short drive away is historic Grand County, containing six authentic mountain towns and the perfect place to grab a bite to eat, shop, and explore.
There's so much to do at Hot Sulphur Springs for the whole family.
Distance: 185 miles
Travel Time: 3 hrs 15 mins
8. Desert Reef Hot Springs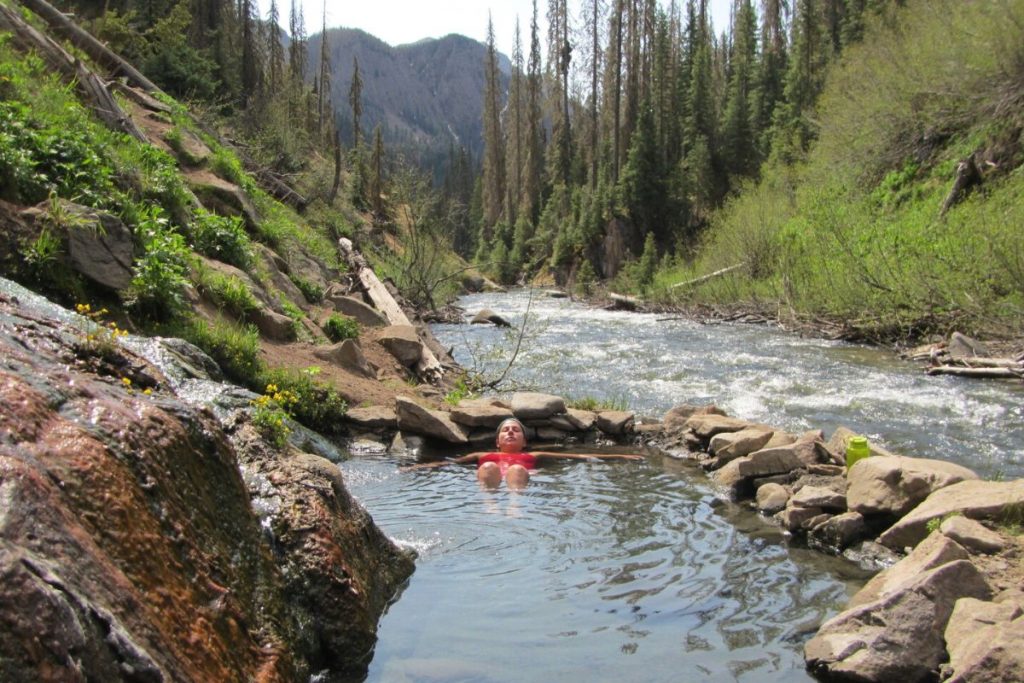 Enter an incredible desert oasis at the Desert Reef Hot Springs. This little known hot springs getaway is quite a trek from Grand Junction, but it can make a great stop along your trip.
Stay the day or enjoy the weekend, relaxing in the main soaking pool or in your own private hot tub or pool rental.
The geothermal water reaches a very high temperature, between 125 and 135 degrees F, ensuring exceptional purity and maximum health benefits in these healing waters.
The beautiful blue hue showcases the water's high mineral content, making these regenerative hot springs a favorite destination among those seeking to renew their mind, bodies, and spirits.
Everyone will love soaking in the hot mineral water that's perfect for soothing sore muscles, achy joints, and generally reducing stress.
Distance: 296 miles
Travel Time: 5 hrs 16 mins
9. Indian Hot Springs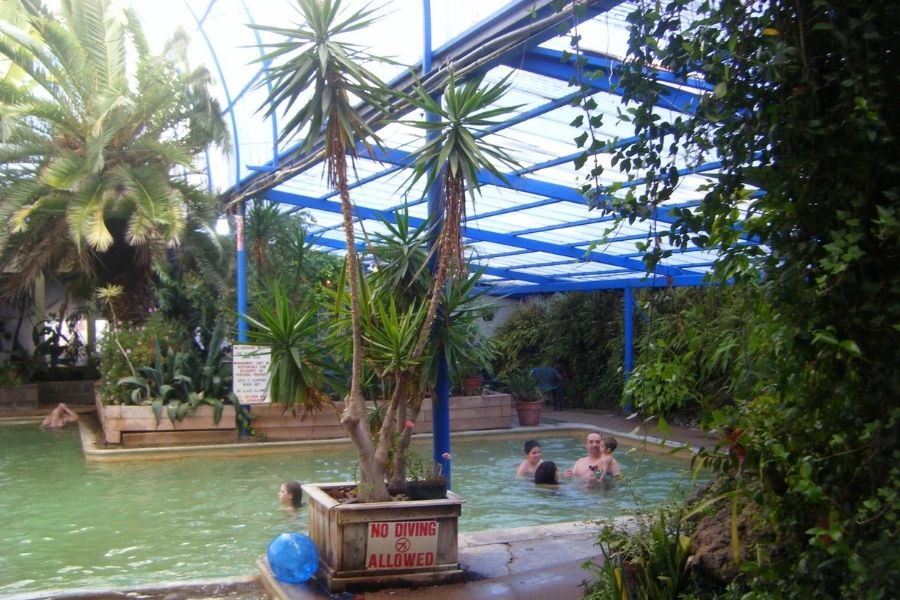 Step into a relaxing wonderland at the Indian Hot Springs. This hot springs near Denver is a short drive from the city, but also makes a fun stop near Grand Junction on the way back home.
Take a dip in the large mineral pool, located within a stunning atrium, or soak in the surrounding geothermal caves.
You'll feel like you stepped into a tropical paradise without ever leaving Colorado. Stay for the day or check into the rustic cabins, which provide a luxurious spot to continue your relaxing weekend.
After you're done soaking in the pool, why not head over to the geothermal caves and explore this mystical underground location?
To end the day, enjoy a relaxing facial and Club Mud, where mineral-rich clay will extract toxins from your skin, leaving it feeling soft and renewed.
Don't miss out on these Caribbean-inspired hot springs that's a great hot springs getaway for the whole family.
Distance: 211 miles
Travel Time: 3 hrs 18 mins
10. Pagosa Springs Resort & Spa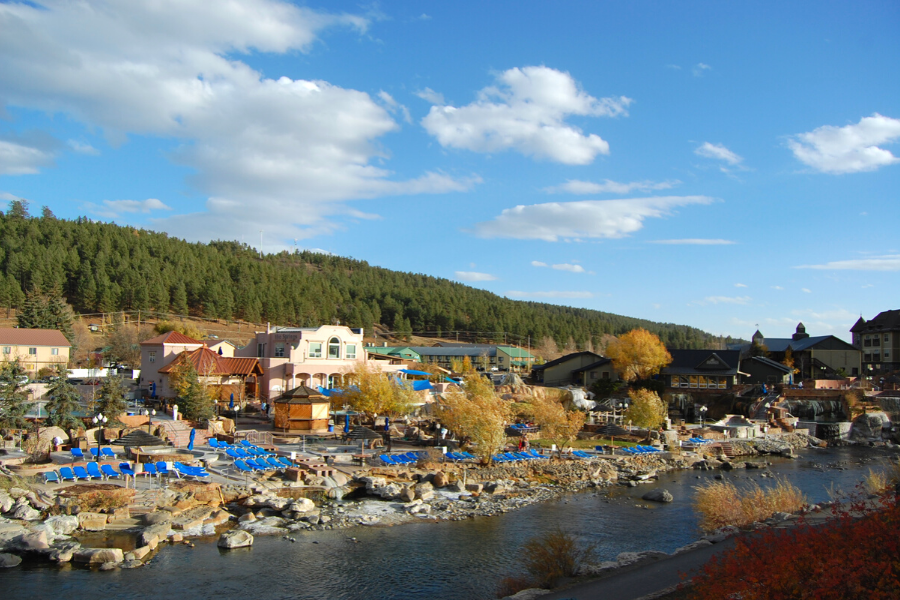 Surround yourself with mineral-rich geothermal hot spring pools at the Pagosa Springs Resort & Spa.
Situated on the banks of the San Juan River, it's surrounded by stunning scenery and a quaint historic town.
Discovered and named by the Southern Ute Tribe hundreds of years ago, the pools themselves are believed to promote healing.
Each geothermal pool contains 13 minerals known for their many health benefits, including lowering blood pressure, strengthening muscles and bones, and promoting healthy skin.
For longer stays, unwind in one of the well-appointed rooms or suites, which include 24-hour pool access and VIP access to the adult-only Relaxation Terrace.
Once you visit, you won't want to leave this beloved hot spring location.
Distance: 228 miles
Travel Time: 4 hrs 54 mins
11. Strawberry Park Hot Springs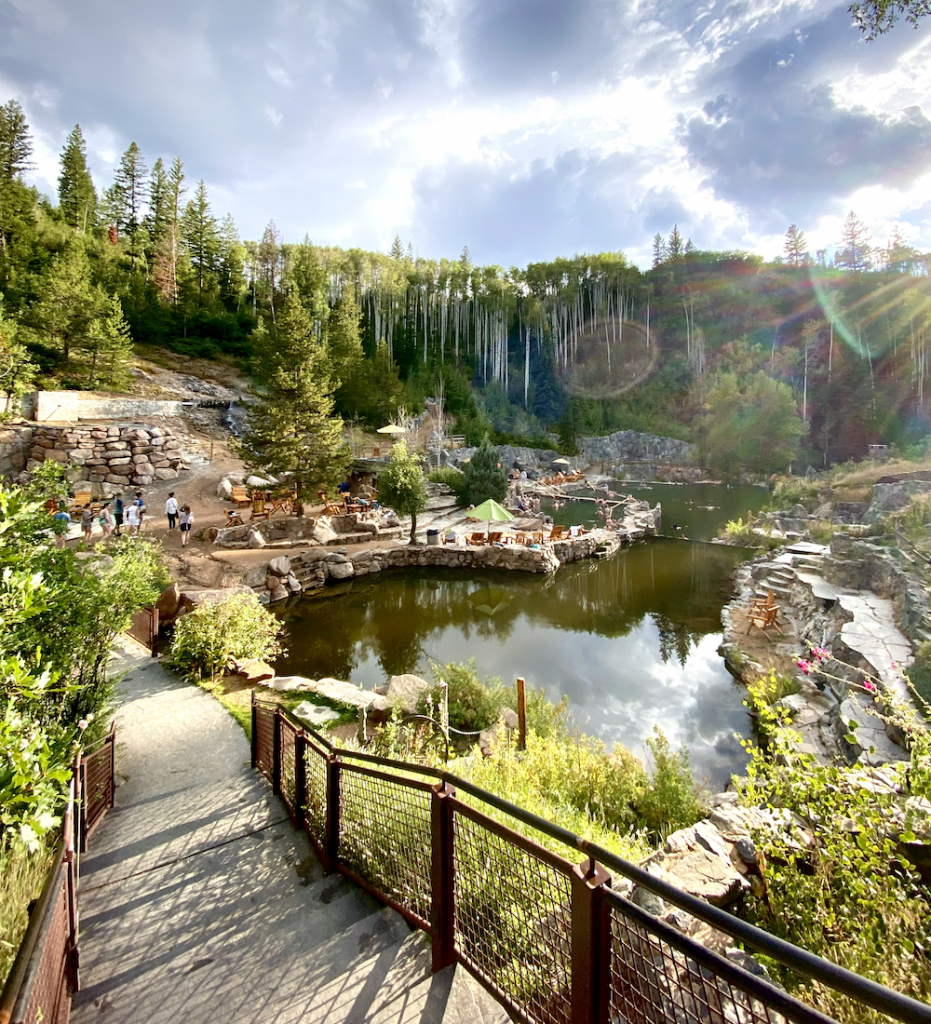 When you want to get away from it all, head out to Strawberry Park Hot Springs which can be well worth the drive from Grand Junction.
Truly unwind in complete solitude while enjoying the sounds and smells of nature.
Take a dip in the natural mineral hot springs, renowned for their restorative properties, then head out on an adventure in the surrounding Routt National Forest.
Here, you can explore while hiking, biking, and snowshoeing on any of the many trails.
Clothing is optional at the outdoor pools in Strawberry Park Hot Springs after dark, and alcohol is strictly forbidden, so be sure to plan accordingly.
You can stay for the day and enjoy the rock-trimmed hot springs or extend your stay for the weekend and enjoy the rustic cabins.
Four-wheel drive vehicles are required during the winter, but shuttles are available from nearby downtown Steamboat Springs. Surround yourself with nature in these remote hot springs.
Distance: 194 miles
Travel Time: 3 hrs 39 mins
12. Radium Hot Springs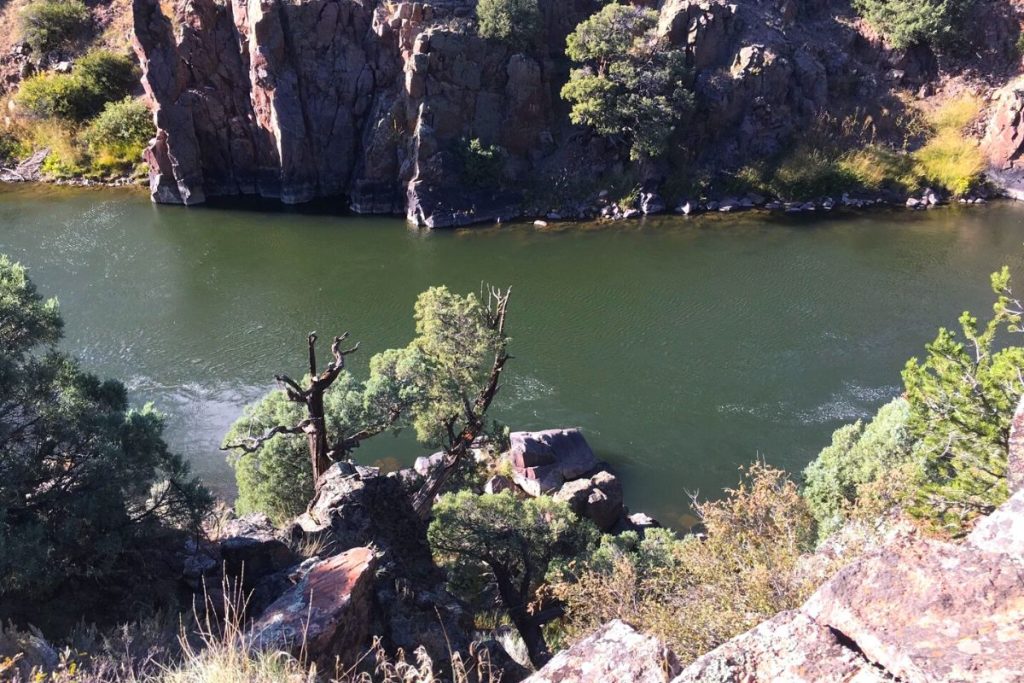 Another natural hot spring location, Radium Hot Springs, is a favorite among locals thanks to the rustic beauty and seclusion.
Situated on the banks of the Colorado River, it's the perfect spot to take in the scenery, and let your cares melt away.
Due to its natural location, the springs may flood in springtime and the temperatures can drop to a chilly 80 degrees, but the minerals continue to provide healing properties.
Be sure to check out this scenic hot springs near Grand Junction as it's a unique destination all its own.
Distance: 155 miles
Travel Time: 2 hrs 35 mins
If you're looking for the closest hot springs near Grand Junction, we hope this list of local favorites helps you out.
Discover the beauty of these relaxing hot springs all year long, and get the most out of your next day trip or weekend getaway.