by Carrie Nicholson
|
Last Updated:
October 4, 2021
The content of this website may contain affiliate links and we may be compensated (at no cost to you!). Thank you for your support!
Denver is one of the biggest and fastest-growing cities in the state. It's no wonder that adventure tours are becoming more and more popular.
The city offers a number of charming attractions, epic adventures, and sophisticated museums for everyone.
Whether you're a tourist or a local, Denver's proximity to the Rocky Mountains makes it the perfect hub for planning a weekend getaway or day trip.
Here are the 5 best tours in Denver with something for everyone from escapes to nature to brewery tours and historic sights.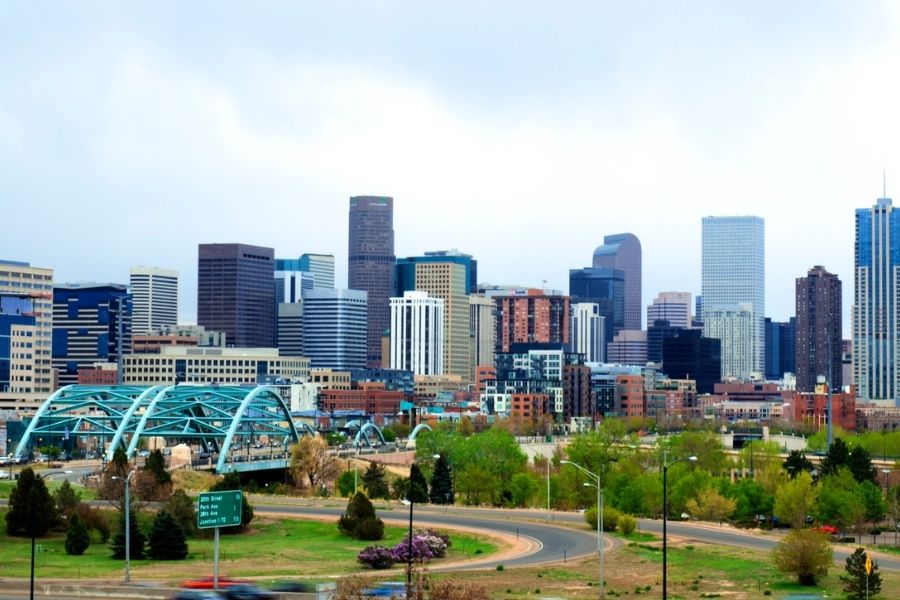 1. Small Group Food Tasting Tour
After exploring and touring the city you're probably really hungry and thirsty! Check out the 3-hour Downtown Food Tasting Tour.
Visit 5 top restaurants and local favorites as you take a guided tour through the neighborhoods of North Denver.
Learn about local dishes and the chefs who create these delicious treats. And in between tastings you can learn some engaging history about Denver.
Sign up for this small-group tasting tour and find out why Denver is ranked the 4th Hottest Food City in America!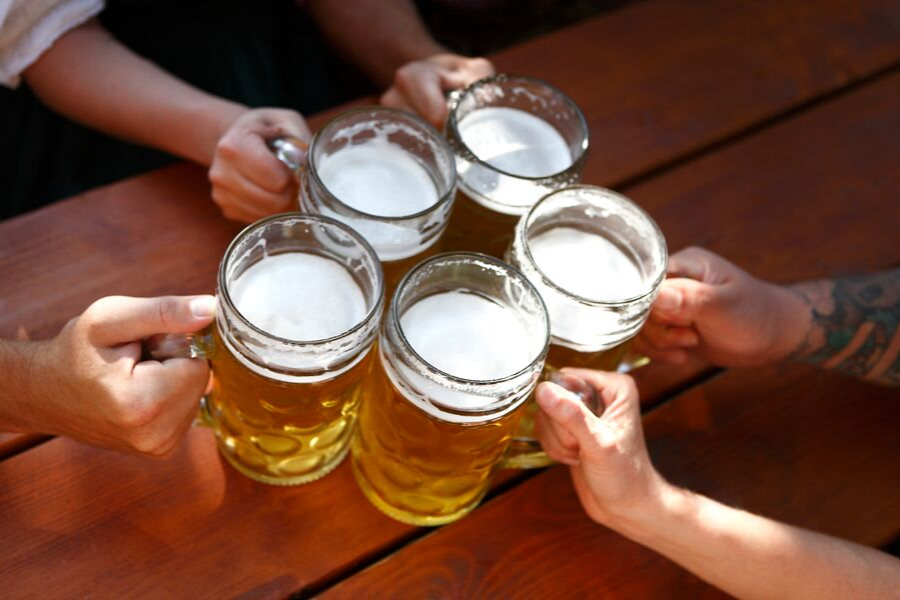 You'll taste authentic Neopolitan pizza, award-winning Colorado green chile, and southwest fusion cuisine on the famous Dairy Block.
As you walk with your tour guide, listen in as they share different stories about the history and architecture of the city.
This Downtown Tasting Tour includes a visit to historic sites like Union Station and Denver's oldest hotel.
The package includes the walking tour and food samples. Any extra food or drink is an additional cost.
2. Denver Winery Walking Tour & Tastings
Colorado has some of the best wineries in the country! Enjoy Denver's wine scene with a Winery Walking tour.
Wine lovers can taste their way through Denver on this walking adventure that includes winery tours, wine tastings and lunch.
In just 4 hours you'll tour 3 Denver wineries and taste 12 hand-crafted red and white Colorado wines.
Your tour begins at the Blanchard Family Wines on Denver's famous Dairy Block.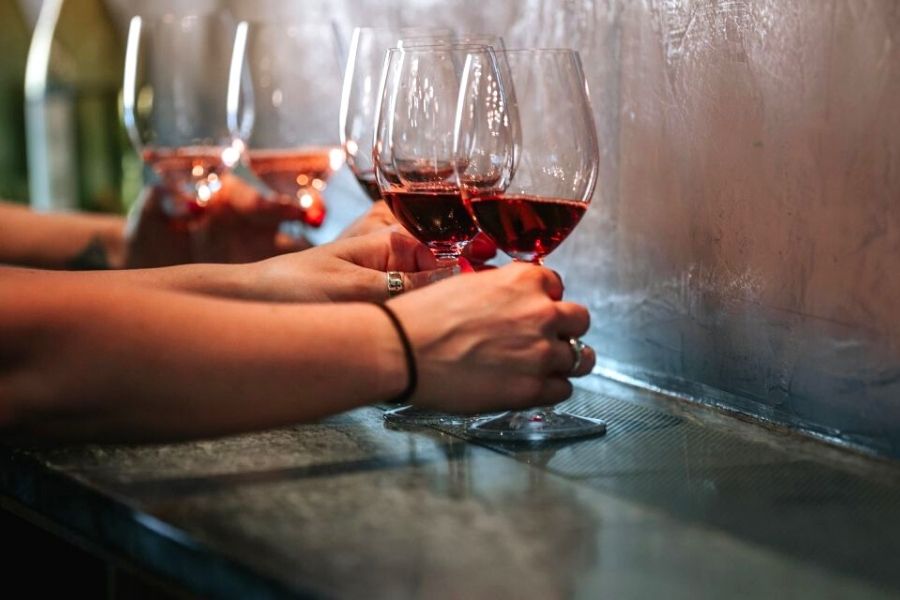 Plus, this tour comes with a gourmet lunch served alongside a flight of wine and a chocolate pairing.
Along the walk you will also visit one of Denver's trendiest neighborhoods, the historic RiNo Arts District.
Custom lunch options are available for any dietary need and visitors must be at least 21 years or older.
If you're looking for a unique way to taste some Colorado wine and walk around this city, we recommend booking this tour.
3. Denver History & Architecture Walking Tours
Of all the Denver tours on our list, the History and Architecture Walking Tour is one of the shortest and cheapest tours.
But that doesn't make it any less desirable.
With this package you can choose from 5 different and unique tours with local experts.
Lower Downtown Walking Tour (LoDo)
The LoDo tour starts at Union Station and features some of Denver's most famous architecture.
You will learn about how Denver started off as a small group of people living in tents to become the bustling city it is today.
Capitol Hill Walking Tour
Start your tour outside the historic Molly Brown House Museum and learn about the life of one of the most famous survivors of the Titanic.
Continue walking through the charming mansions near Capitol Hill and listen to the stories of the families who lived here in the late 19th century.
Historic 16th Street Tour
16th Street in Denver is notorious for being a popular shopping hub and late-night destination for locals.
But it's also been a vital part of Denver's history throughout the years.
Mansions of Quality Hill Tour
Quality Hill boasts several local gems like the Governor's Mansion, Malo Mansion, and the Zang Mansion.
On this tour, you'll learn about the individuals who occupied these homes and their stories while living in Denver.
Larimer Square Tour
As Denver's oldest neighborhood, Larimer Square comes with a lot of history and a storied past.
These days it's a popular spot for some of the best shops and restaurants, but it wasn't always this way.
4. Lower Downtown Scavenger Hunt
Grab your smartphone and discover what Lower Downtown (LoDo) in Denver has to offer thanks to this Scavenger Hunt Adventure Tour.
This historic neighborhood in Denver has a rich history and includes sights like the Coors Field and Union Station.
This interactive tour comes with clues that will have you and your group solving puzzles and completing challenges.
The adventure starts at a historic building and takes you on a well-designed course through the area. You'll stop off at:
Coors Field
Union Station
Confluence Park
Commons Park
Plus, you'll learn about the culture of Denver and the local art scene.
Your smartphone is your "guide" and will walk you through the Scavenger Hunt Adventure at your own pace.
By following the easy step-by-step instructions, you and your group can set the schedule and determine the pace.
5. Denver City Guided Tour
With this custom-guided tour of Denver you will be able to learn about the city's best kept secrets and local tips.
Thanks to the help of a local guide you will learn more about the neighborhood where you're staging, find the best places to eat, where to buy groceries and hidden gems nearby.
By the end of the tour you'll be more comfortable navigating the area and find out the easiest ways to get around Denver.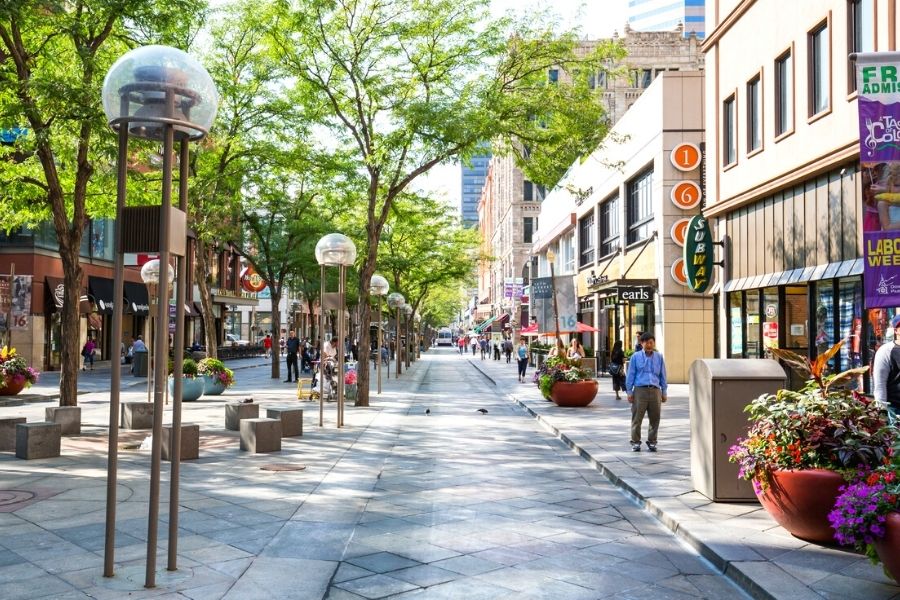 All of the tour details can be customized just for you! You and your group can pick the time, location, length of the tour, and meeting place.
It's like having a friend meet up with you to explore the city!
You'll learn what it's like to visit Denver, find out about local events, discover the culture and more.
Click the link to create your custom Denver tour today.
6. Denver Laser Light Guided Experience
Electrify your senses with a unique Guided Meditation and Laser Light Experience.
This fully-immersive guided tour is hosted by the International Church of Cannabis in Denver and promises an experience like no other.
You can expect audio visual art installations created by world famous artists along with a laser light show and music.
The planetary-style light show will electric your senses and is considered a family-friendly event.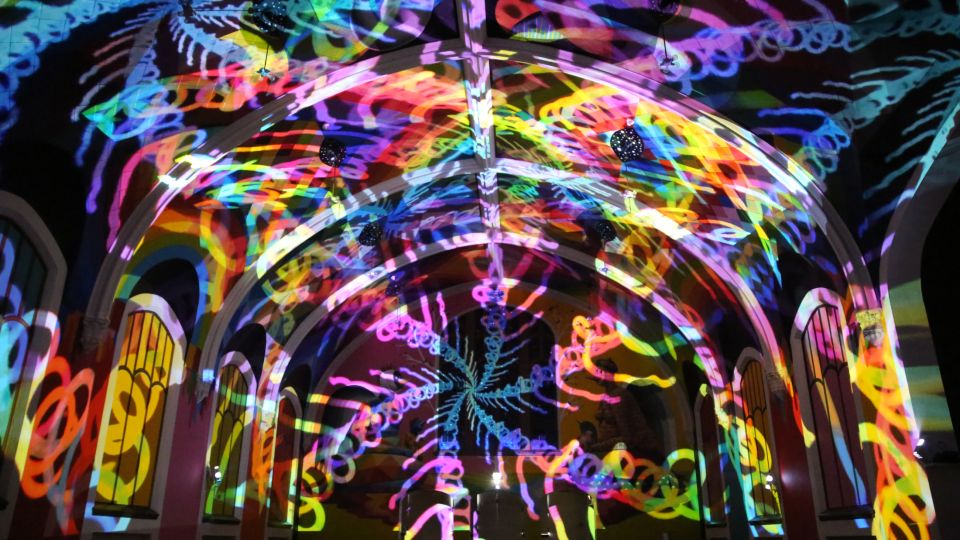 Each Beyond Light Experience starts 20 minutes past the hour every hour during operating hours.
This tour is not what you'd expect from a city like Denver, and yet it's not surprising at all.
By the end of the event you will feel relaxed yet stimulated like never before.
7. Pikes Peak and Garden of the Gods Tour
This 8-hour day trip is one of the best Denver tours on the list as you will stop at several must-see destinations.
Pikes Peak inspired the lyrics for "America the Beautiful", and Garden of the Gods features staggering rock formations and natural wildlife.
The Pikes Peak and Garden of the Gods Tour starts at Denver's Union Station and heads south towards Colorado Springs.
Once you arrive at Garden of the Gods your professional tour guide will stop at Balanced Rock, Cathedral Spires, and Steamboat Rock.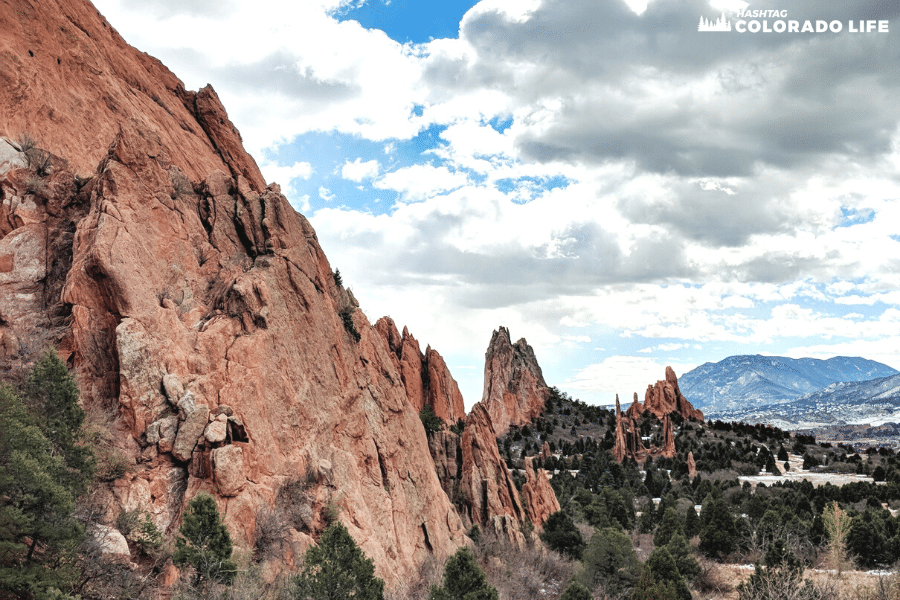 After about an hour at the park it's onto Pikes Peak which stands at 14,115 feet in elevation.
You'll be at this destination for about 3 hours to enjoy photo opps, snacks, and panoramic views.
On the way back to Denver you'll pass through the town of Manitou Springs which has eight natural spring water fountains in the area.
The small downtown area features shops, restaurants, historic buildings, and architecture from the late 1800s.
Park entry fees, transportation, a picnic lunch, and water refills are included with this tour.
Book the Pikes Peak and Garden of the Gods Tour right now and get a special discounted rate.
8. Rocky Mountain National Park Tour
You can't plan a trip to Denver without going on a Rocky Mountain National Park Tour. And this one really delivers!
No matter what time of year, this tour is the perfect way to see all the state has to offer.
Over the course of 8 hours you will see beautiful peaks, alpine lakes, and epic scenery that make up the Colorado Rockies.
Rocky Mountain National Park is like no other park you've been to, covering more than 415 square miles of rugged wilderness.
During the tour you'll catch a view of Longs Peak which is the area's highest mountain, standing at 14,259 feet high.
Be on the lookout for wildlife and bring your camera as the tour will stop at some best spots for wildlife and bird watching.
In the summertime you'll be able to drive along Trail Ridge Road, which is the highest continuous paved road in the United States.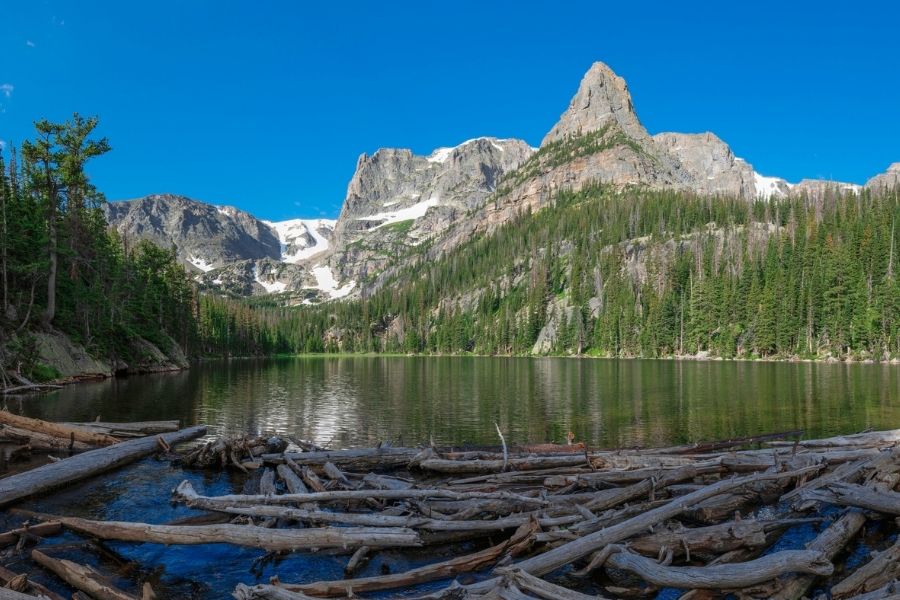 And the trek from Denver to Rocky Mountain National Park is not to be missed either.
You'll catch glimpses of the gorgeous landscape as you drive west out of the city. And keep your eyes open for herds of elk as you enter Estes Park.
Lunch and snacks are provided throughout the day, but we recommend bringing extra water and wearing comfortable walking shoes.
This guided tour is perfect for a small group or family adventure.
And with nearly 5-star reviews this tour has been certified as an epic guided adventure.
9. Red Rocks Amphitheater Tour
Another iconic Colorado destination can be seen via the Red Rocks Amphitheater and Mount Evans Tour.
Get ready for a 7 hour all-inclusive tour that starts in downtown Denver.
Meet up with your local guide and ride comfortably for a short distance to Red Rocks Amphitheater near Morrison, Colorado.
Due to the natural shape of the rock formations, this amphitheater is one of the most unique outdoor music venues in America.
Many famous bands have played here from U2 and Incubus to the Dave Matthews Band.
Continuing on the tour you'll travel along Lariat Loop to Evergreen heading towards Mount Evans. Looking out the window you'll be able to see panoramic views along the scenic bypass.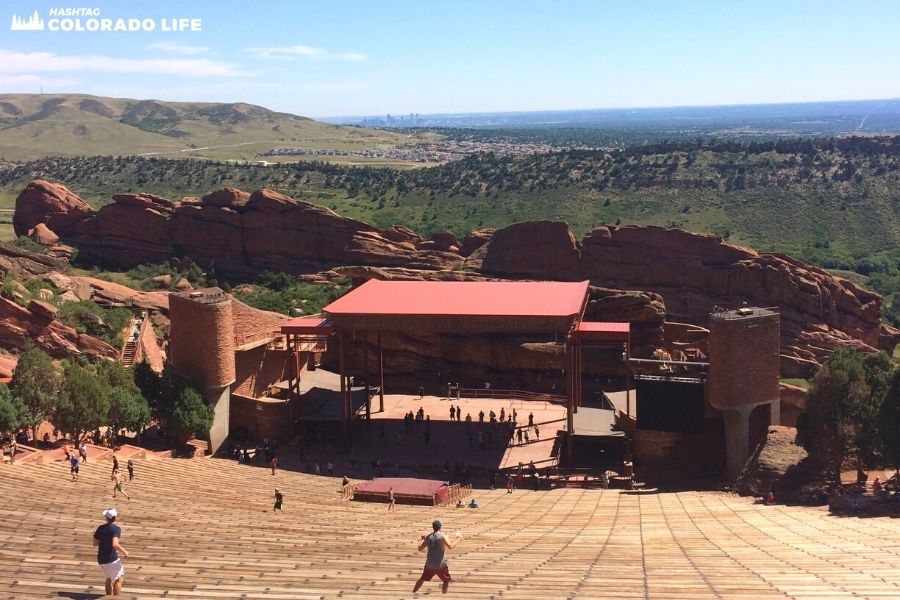 A picnic lunch and water refills are included with the tour, along with breath-taking views of the landscape.
During the afternoon the tour stops at Echo Lake and drives along the summit of Mt Evans, the highest paved road in North America.
At different parts of the tour you will be able to get out and hike a bit, or do some shopping.
So, it's recommended to wear comfortable walking shoes and not bring children who are under 8 years old.
This 5-star Red Rocks Amphitheater Tour is popular for a reason, and will give you the best views of Red Rocks, Mount Evans, and Echo Lake.
No matter which Denver tour you choose, you really can't go wrong! There is something for everyone and all ages.
You'll uncover local history, learn about notable individuals, and see some of the most breathtaking views in the state.
Carrie Smith Nicholson is one of the co-founders of Hashtag Colorado Life. After living in Texas for her whole life she moved to Colorado 5 years ago. As a travel blogger and entrepreneur for the past 10 years, her writing has been featured on NBC News, HuffPost Live, Glamour Magazine, Inc Magazine and many other media outlets. When she's not writing about new travel locations, she enjoys spending time outdoors hiking, camping in her NuCamp teardrop trailer, and trying new foods. You can follow her outdoor adventures on Instagram, @hashtagcoloradolife.