19 Absolute Best Denver Tours for 2023 [from a Local]
This website may contain affiliate links and we may be compensated (at no cost to you!).
Denver is one of the biggest and fastest-growing cities in the state. It's no wonder that adventure tours in the Mile High City are becoming more popular.
The city offers a number of popular attractions, epic adventures, and sophisticated museums for everyone.
Whether you're a tourist or a local, Denver's proximity to the Rocky Mountains makes it the perfect hub for private groups on the weekend or day trip.
Here are the best tours in Denver with something for everyone from escapes to nature to brewery tours and historic sights.
What are the absolute best Denver tours?
✔️ Rocky Mountain National Park Tour: Best for epic scenery
✔️ Pikes Peak & Garden of the Gods Tour: Best for outdoor lovers
✔️ Downtown Denver Food Tour: Best for foodie couples
Each of these Denver tours (and many more!) are listed below with more in-depth information.
As a couple who lives near Denver, we love all of the fantastic things that the city has to offer no matter what time of year.
Keep reading to learn more about the best tours in Denver for couples, families, or small groups.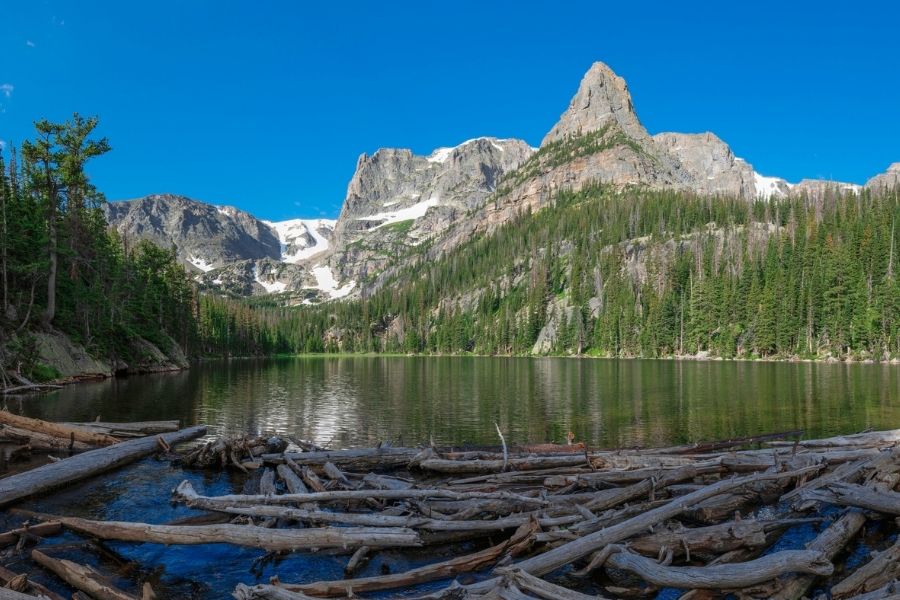 🤩 RATING: 5/5 | ⏳ TOUR LENGTH: 8 hours | ▶️ BOOK NOW
You can't plan a trip to the Mile High City without going on this Rocky Mountain National Park Tour. And this one really delivers!
No matter what time of year, this tour is the perfect way to see all the state has to offer.
Over the course of 8 hours you will see beautiful peaks, alpine lakes, and epic scenery that make up the Colorado Rockies.
Rocky Mountain National Park is like no other park you've been to, covering more than 415 square miles of rugged wilderness.
During the tour, you'll pass by the iconic Stanley Hotel in downtown Estes Park.
Be on the lookout for wildlife and bring your camera as the tour will stop at some best spots for wildlife and bird watching.
In the summertime you'll be able to drive along Trail Ridge Road, which is the highest continuous paved road in the United States.
And the trek from Denver to Rocky Mountain National Park is not to be missed either.
You'll catch glimpses of the gorgeous landscape as you drive west out of the city. And keep your eyes open for herds of elk as you enter Estes Park.
Lunch and snacks are provided throughout the day, but we recommend bringing extra water and wearing comfortable walking shoes.
This guided tour is perfect for a small group or family adventure and has been certified as an epic-guided adventure.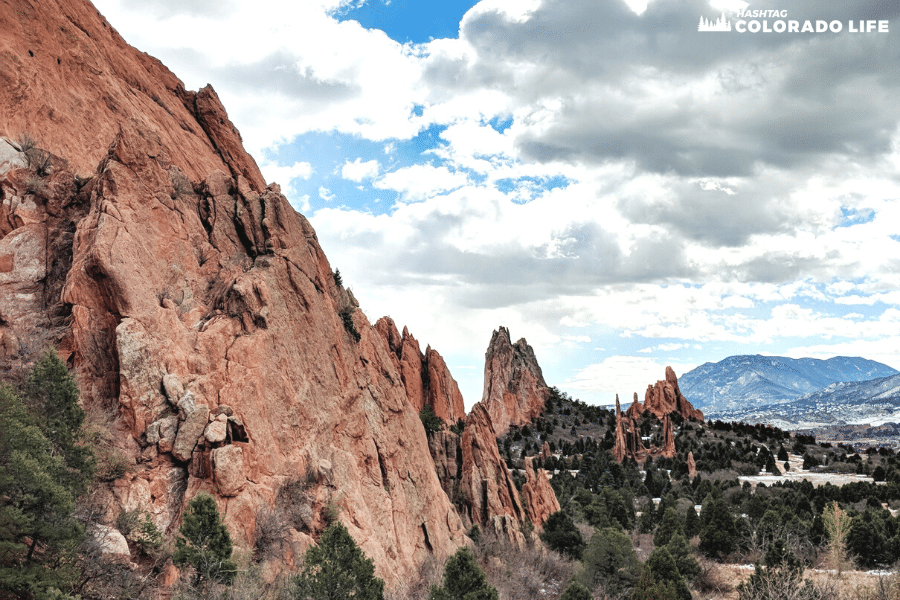 🤩 RATING: 5/5 | ⏳ TOUR LENGTH: 8 hours | ▶️ BOOK NOW
This 8-hour day trip is one of the best Denver tours on the list as you will stop at several must-see destinations.
Pikes Peak inspired the lyrics for "America the Beautiful", and Garden of the Gods features staggering rock formations and natural wildlife.
This Pikes Peak and Garden of the Gods Tour starts in Denver at 9:45 am and heads south towards Colorado Springs.
Once you arrive at Garden of the Gods your professional tour guide will stop at Balanced Rock.
After about an hour at the park it's onto Pikes Peak which stands at 14,115 feet in elevation.
You'll be at this destination for about 3 hours to enjoy photo opps, snacks, and panoramic views.
Park entry fees, transportation, a picnic lunch, and water refills are included with this tour.
On the way back to Denver you'll pass through the town of Manitou Springs which has eight natural spring water fountains in the area.
The small downtown area features shops, restaurants, historic buildings, and architecture from the late 1800s.
🤩 RATING: 5/5 | ⏳ TOUR LENGTH: 3 hours | ▶️ BOOK NOW
After exploring and taking a city tour you're probably really hungry and thirsty! Check out this 3-hour tour for Downtown Food Tasting.
Visit 5 top local restaurants and foodie favorites as you take a guided tour through the neighborhoods of North Denver.
Learn about local dishes and the chefs who create these delicious treats. And in between tastings you can learn some engaging history about Denver.
Sign up for this small group tour tasting and find out why Denver is ranked the 4th Hottest Food City in America!
You'll taste authentic Neapolitan pizza, award-winning Colorado green chile, and southwest fusion cuisine on the famous Dairy Block.
As you walk with your tour guide, listen in as they share different stories about the history and architecture of the city.
This Downtown Tasting Tour includes a visit to historic sites like Union Station and Denver's oldest hotel.
The package includes the walking tour and food samples. Any extra food or drink is an additional cost.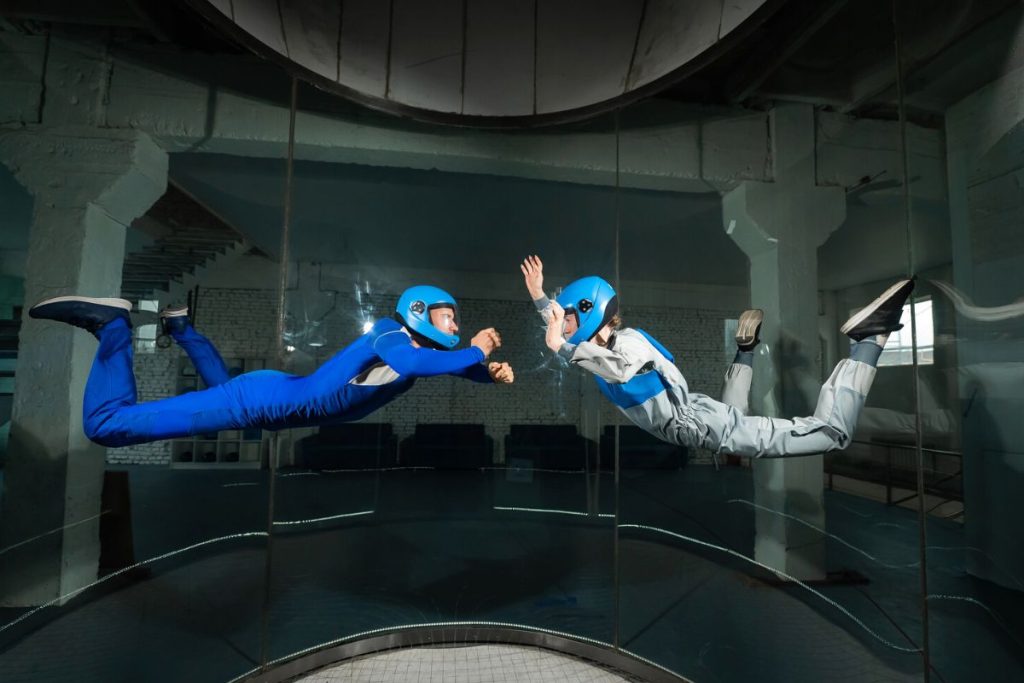 🤩 RATING: 5/5 | ⏳ TOUR LENGTH: 75 minutes | ▶️ BOOK NOW
If you're looking for one of the most thrilling Denver tours, look no further than this indoor skydiving experience.
Located just a short drive from the Mile High City, iFLY Denver offers an exhilarating indoor skydiving experience that is sure to get your heart pumping.
Whether you're a seasoned skydiver or a first-time flyer, this indoor skydiving tour has everything. Plus, you can relax knowing this is a safe but unforgettable adventure.
You'll start with a brief training session with a certified instructor who will teach you everything you need to know about the basics of indoor skydiving.
Then, you'll gear up in a jumpsuit, helmet, and goggles, and head into the vertical wind tunnel for your flight. Once inside the wind tunnel, you'll feel the rush of air as you float weightlessly in the open space.
With the help of your instructor, you'll be able to control your body position and movements to simulate the feeling of actual skydiving.
It's an incredible sensation that will leave you feeling empowered and exhilarated.
Overall, indoor skydiving is an experience you won't forget. It's a unique and thrilling activity that will make a day out in Denver even more memorable.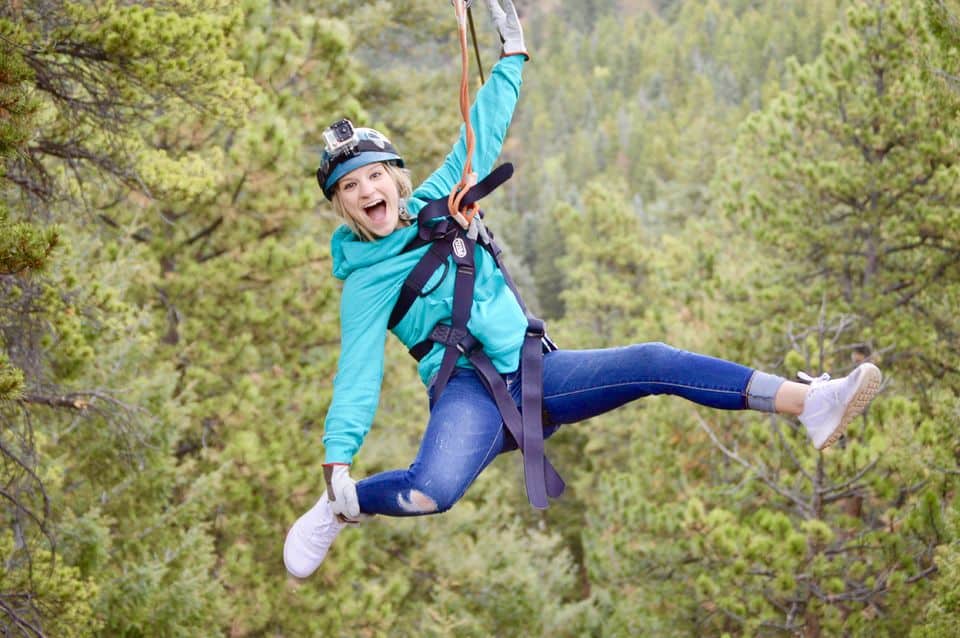 🤩 RATING: 5/5 | ⏳ TOUR LENGTH: 3 hours | ▶️ BOOK NOW
Soar through the lush Rocky Mountain landscape on this epic Zipline Adventure tour. Enjoy a day outdoors on some of the longest ziplines in Colorado!
Customize your trip with the help of a local guide and choose from different tour times and zipline tracks.
No experience is necessary and you will be provided safety training from an expert guide.
Included with your tour is a certified guide, safety equipment, snacks, plus photos or videos of your adventure.
This tour is great for all experience levels, even beginners and kids as young as 5 years old.
🤩 RATING: 5/5 | ⏳ TOUR LENGTH: 5 hours | ▶️ BOOK NOW
If you love geology and have just one day to explore the Rocky Mountains near Denver, check out this Colorado Gold Rush & Mine Tour.
This combo tour takes you through the exciting history of the gold rush era, then to a historic Colorado mining town for some real gold panning.
Along the way you'll pass by the Rocky Mountains to take in the scenery and Clear Creek Canyon for some of the best views in Colorado.
This tour includes:
Denver Union Station
Central City
Phoenix gold mining tour
Walking tour of Idaho Springs
Free transportation
All admission
Water refills
Expert tour director
The unique tour starts in downtown Denver and is a full-day adventure for approximately 5 hours.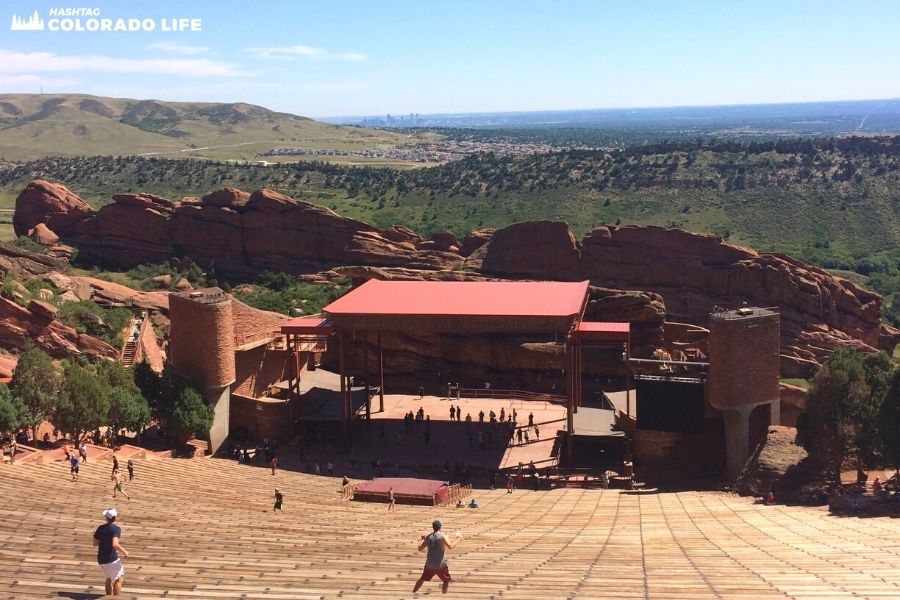 🤩 RATING: 5/5 | ⏳ TOUR LENGTH: 4 hours | ▶️ BOOK NOW
Another iconic Colorado destination can be seen via this Denver Foothills & Red Rocks Amphitheater Tour.
Get ready for a 7 hour all-inclusive tour that starts in downtown Denver.
Meet up with your local guide and ride comfortably for a short distance to Red Rocks Park near Morrison, Colorado.
Due to the natural shape of the rock formations, this amphitheater is one of the most unique outdoor music venues in America.
This location has hosted many famous musicians and artists that come to the Denver area. Many famous bands from U2 and Incubus to the Dave Matthews Band have played here.
Continuing on the tour you'll travel along Lariat Loop to Evergreen heading towards Mount Evans. Looking out the window you'll be able to see panoramic views along the scenic bypass.
A picnic lunch and water refills are included with the tour, along with breath-taking views of the landscape.
During the afternoon the tour stops at Echo Lake and drives along the summit of Mt Evans, the highest paved road in North America.
At different parts of the tour you will be able to get out and hike a bit, or do some shopping.
So, it's recommended to wear comfortable walking shoes and not bring children who are under 8 years old.
This Red Rocks Amphitheater Tour is popular for a reason, and will give you the best views of Red Rocks, Mount Evans, and Echo Lake.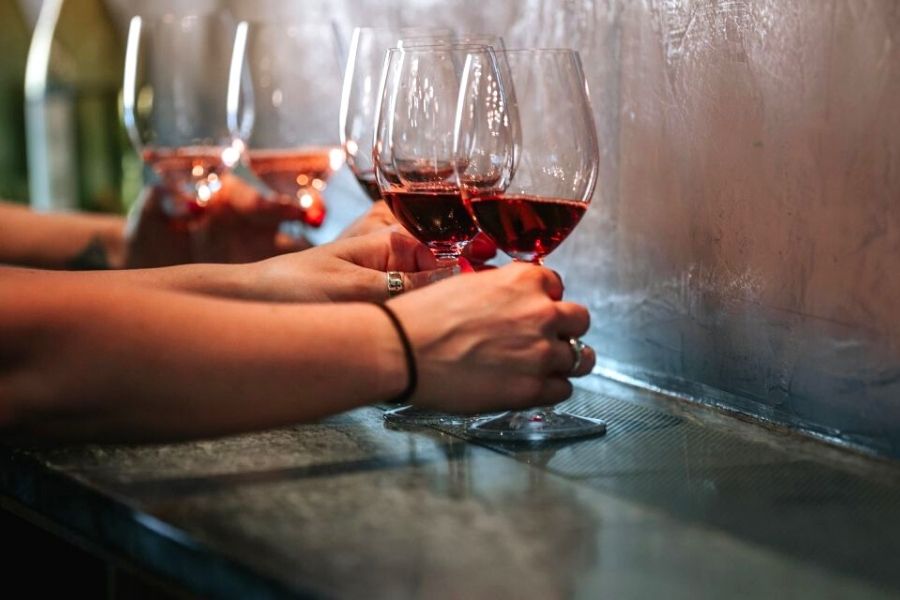 😃 RATING: 4.5/5 | ⏳ TOUR LENGTH: 1 hour | ▶️ BOOK NOW
Did you know that Colorado has some of the best wineries in the country? Enjoy a night out in Denver's wine scene with this exclusive wine tasting & dessert tour.
Wine lovers can taste their way through Denver on this walking adventure that includes 4 wine tastings paired with desserts, a small charcuterie board, and select cheeses.
In just 1 hour you'll be able to sample many different wines and pairings. It's a great date night experience for the loved one in your life!
Your tour begins at the Blanchard Family Wines on Denver's famous Dairy Block.
Plus, this tour comes with a gourmet lunch served alongside a flight of wine and a chocolate pairing.
Along the walk you will also visit one of Denver's trendiest neighborhoods, the historic RiNo Arts District.
Custom lunch options are available for any dietary need and visitors must be at least 21 years or older.
If you're looking for a unique way to taste some Colorado wine and walk around this city, we recommend booking this tour.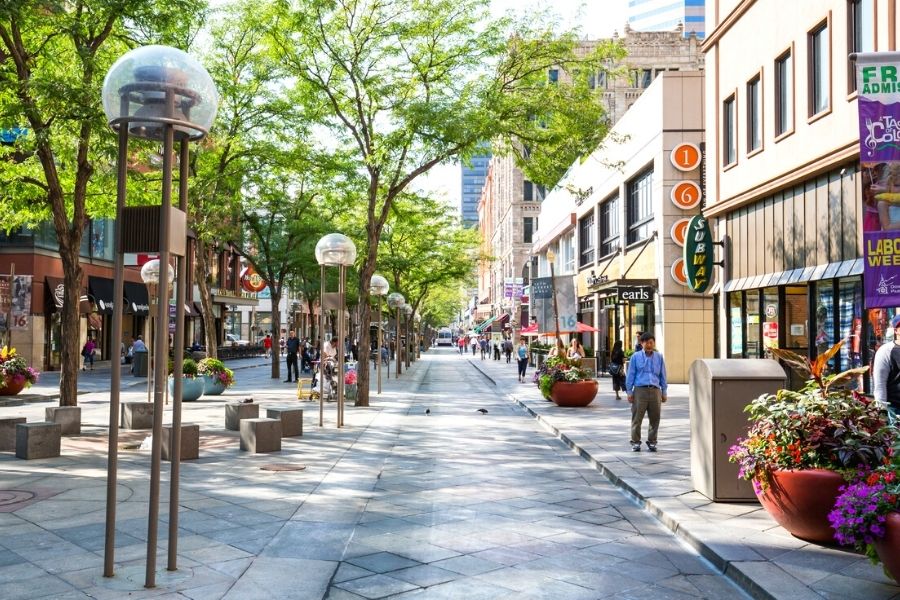 🤩 RATING: 5/5 | ⏳ TOUR LENGTH: 2.5 hours | ▶️ BOOK NOW
With this custom-guided tour of Denver you will be able to learn about the city's best kept secrets and local tips.
Thanks to the help of a local guide you will learn more about the neighborhood where you're staging, find the best places to eat, where to buy groceries and hidden gems nearby.
By the end of the tour you'll be more comfortable navigating the area and find out the easiest ways to get around Denver.
All of this tour's details can be customized just for you! You and your group can pick the time, location, length of the tour, and meeting place.
It's like having a friend meet up with you to explore the city!
You'll learn what it's like to visit Denver, find out about local events, discover the culture and more.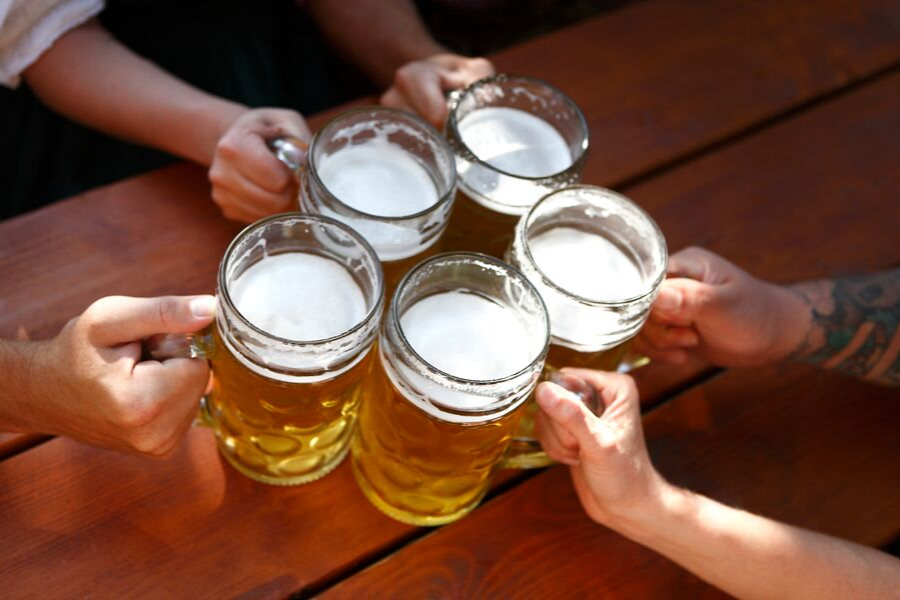 🤩 RATING: 5/5 | ⏳ TOUR LENGTH: 2.5 hours | ▶️ BOOK NOW
Colorado has been a hub for craft beer in America for many decades. On this Craft Beer Tour in Downtown Denver, a beer aficionado will give you a rundown on the history of beer in Denver.
As you make your way through a 4-stop pub crawl you can enjoy 10+ samples along the way.
Plus, walking from pub to pub is a great way to explore one of Denver's oldest neighborhoods all while learning about beer and the beer making process.
You won't be disappointed by the offerings of beer at each of these Colorado breweries and the unique varieties at each place.
There is going to be nothing that Ales you on this adventure thru Denver's Lower Downtown District (LoDo).
As you are Porter(ed) thru doors of brew houses and pubs with Stout looking bartenders serving up some delicious brew.
And you might find yourself feeling Lager than life by the end of this tour. Ok that's enough beer related humor.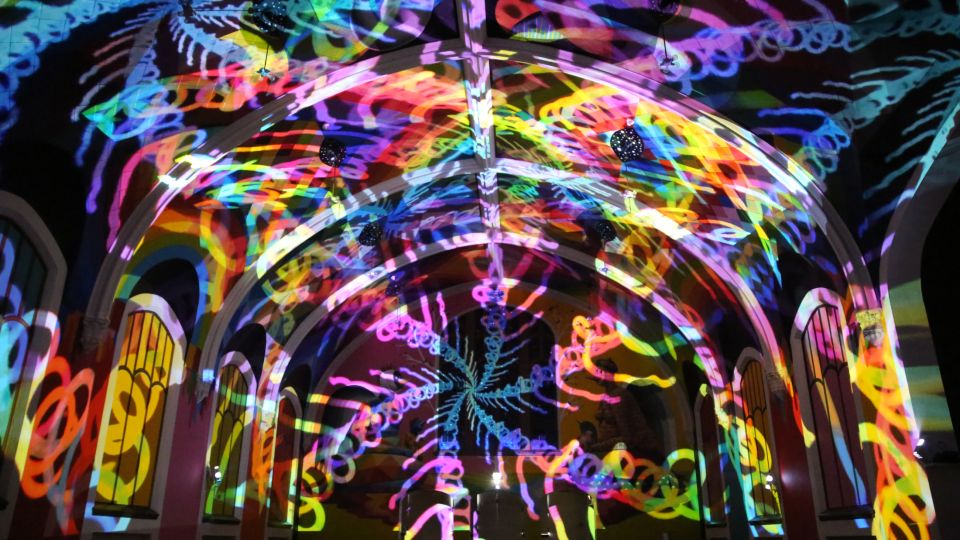 🤩 RATING: 5/5 | ⏳ TOUR LENGTH: 1 hour | ▶️ BOOK NOW
Electrify your senses with a unique Guided Meditation and Laser Light Experience.
This fully-immersive guided tour is hosted by the International Church of Cannabis in Denver and promises an experience like no other.
You can expect audio visual art installations created by world famous artists along with a laser light show and music.
The planetary-style light show will electric your senses and is considered a family-friendly event.
This Beyond Light Experience starts 20 minutes past the hour every hour during operating hours.
This tour is not what you'd expect from a city like Denver, and yet it's not surprising at all.
By the end of the event you will feel relaxed yet stimulated like never before.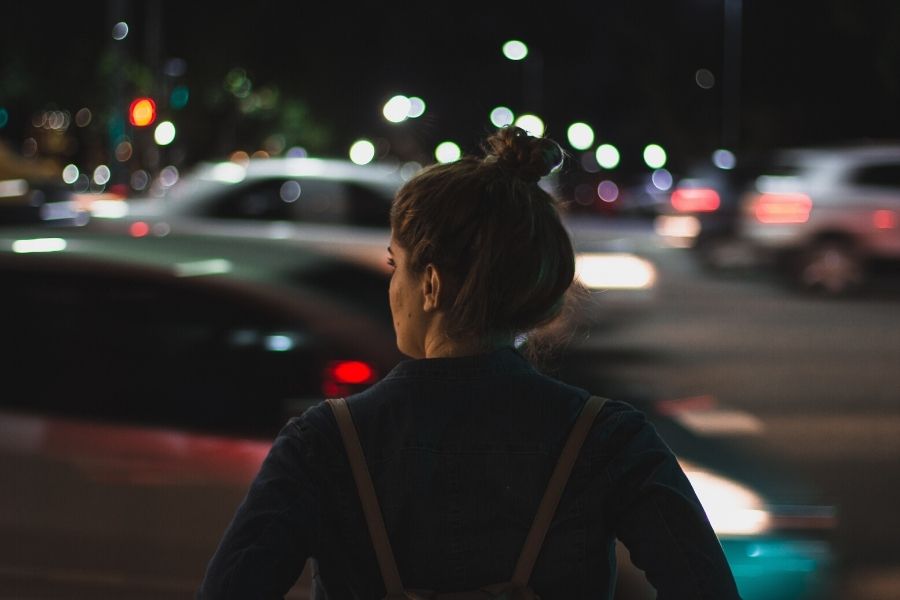 🤩 RATING: 5/5 | ⏳ TOUR LENGTH: 2 hours | ▶️ BOOK NOW
It doesn't have to be Halloween for you to enjoy a night out touring Denver's historic neighborhoods.
On this Twilight Ghost Tour, learn about Colorado Capital's unique and scary history as you explore some of the most haunted places in Denver.
Let a local guide walk you through the dark streets telling tales and pointing out some famously haunted mansions.
Spend two hours stopping by 9 different historic locations. Plus, you'll find some excellent photo opportunities along the way.
Listen in to spooky stories, discover paranormal activity, and learn about Colorado's rich history.
Learn more about the Twilight Ghost Tour in Denver that happens all year long.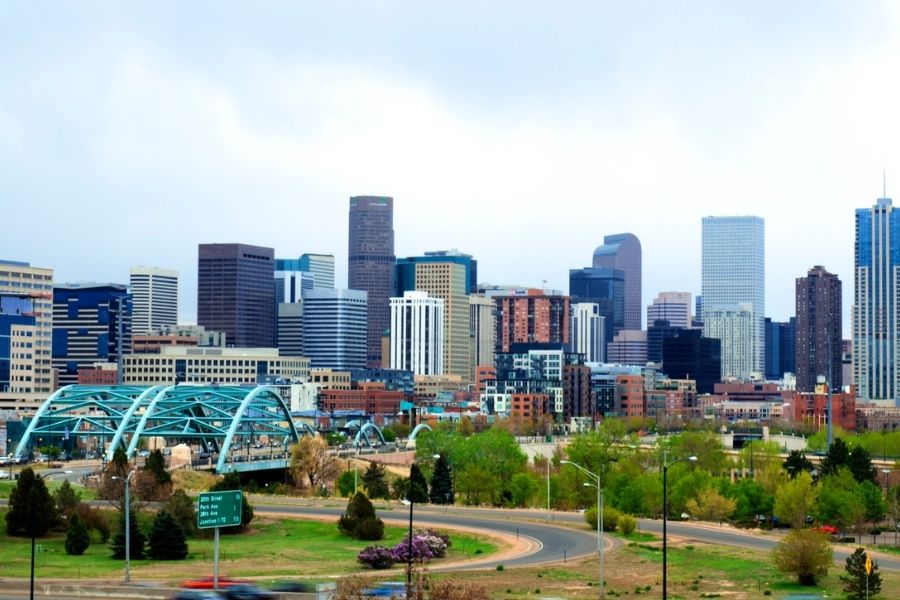 🤩 NEW TOUR | ⏳ TOUR LENGTH: 1.5 hours | ▶️ BOOK NOW
A unique way to see the Mile High City is on a bus tour of the city highlights and hidden gems.
Join a local guide in a comfortable 14-person shuttle as you discover some of Denver's secret spots and top sights.
The bus tour starts at the iconic Union Station and then it's onto some of the best highlights of the city. The main stops include Larimer Square, the Denver Art Museum, and the famous Mile High Steps.
Along the way you'll cross over 16th Street Mall which is a completely outdoor mall with tons of shops and restaurants.
Best of all, the tour makes 1-2 photo stops so you can snap a picture to capture this fun memory. And there is plenty of time for questions, listening to stories, and hear top sight-seeing recommendations.
This 90-minute bus tour of Denver includes all taxes, fees, and is wheelchair accessible.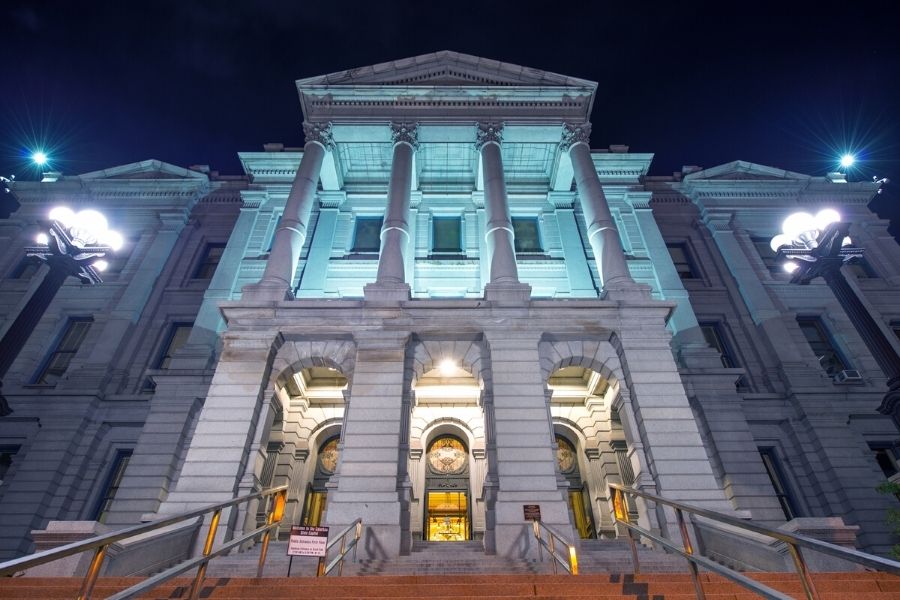 🤩 RATING: 5/5 | ⏳ TOUR LENGTH: 2 hours | ▶️ BOOK NOW
A tour of Denver isn't complete without getting a glimpse into the city's chilling past.
Join a professional guide as you explore Capitol Hill, Denver's most haunted neighborhood.
Start your tour outside the historic Molly Brown House Museum and learn about the life of one of the most famous survivors of the Titanic.
Continue walking through the charming mansions near Capitol Hill and listen to the stories of the families who lived here in the late 19th century.
Midway through the tour you can enjoy a short break and try coffee from one of Capitol Hill's trendiest coffee shops.
🤩 RATING: 5/5 | ⏳ TOUR LENGTH: 2 hours | ▶️ BOOK NOW
Of all the Denver tours on our list, this History and Highlights Walking Tour is one of the shortest and cheapest tours.
But that doesn't make it any less desirable. With this package you'll be treated to five main stops including the Colorado State Capitol, The Brown Palace, and Union Station.
You'll also spend about 90 minutes exploring Lower Downtown (LoDo) which features some of Denver's most famous architecture.
You will learn about how Denver started off as a small group of people living in tents to become the bustling city it is today.
The Brown Palace Hotel & Spa is a late 19th century hotel where you'll be able to stop and marvel at the stunning architecture and history.
On this tour, you'll learn about the individuals who occupied these homes and their stories while living in Denver.
Finally, you'll spend some time in Larimer Square, Denver's oldest neighborhood, which comes with a lot of history and a storied past.
These days it's a popular spot for some of the best shops and restaurants, but it wasn't always this way.
😃 RATING: 4/5 | ⏳ TOUR LENGTH: 2 hours | ▶️ BOOK NOW
If walking around Denver isn't your thing, check out this fun Segway Tour of the city.
Enjoy a morning or afternoon out seeing some of the top attractions in Denver on this small-group Segway tour.
A local expert will meet up with you to guide you along your tour after a quick training session of how to use a Segway.
Some of the most popular and scenic stops include:
Lower Downtown (LoDo)
Cherry Creek Trail
The Denver Art Museum
Colorado State Capitol
This group is capped at 6 people and lasts about 2 hours so it's the perfect outing for friends or a small family.
Check out more details about this family-friendly Denver tour on a Segway.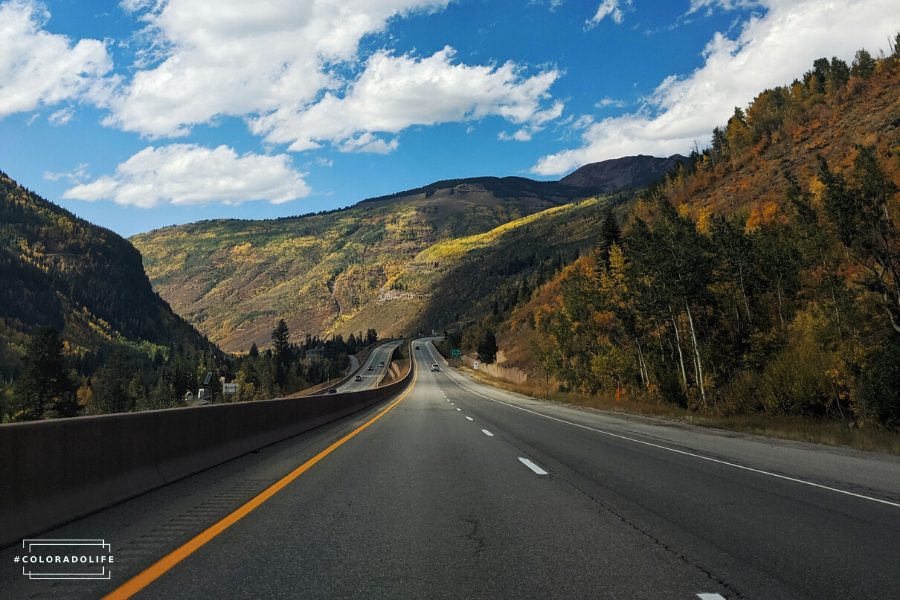 🤩 RATING: 5/5 | ⏳ TOUR LENGTH: 7 hours | ▶️ BOOK NOW
Want to see stunning peaks of one of Colorado's highest fourteeners? Then you'll love this full-day Blue Sky Scenic Mount Evans Tour.
Enjoy 7 hours of stunning peaks, historic mining towns, and spectacular views along the Continental Divide.
Included with your all-day tour is a yummy lunch with dietary choices available, water, parking fees, and passes.
Plus, you'll get exclusive access to a local guide who has heard and seen it all.
You'll pass through the Rocky Mountains and continue on through some Colorado ghost towns and historic gold-mining towns.
But the real gem of this tour is the Mount Evans Scenic Byway which is a beautiful drive with amazing views of the mountains.
And keep your eye out for some quintessential Colorado wildlife including bison and bighorn sheep.
🤩 RATING: 5/5 | ⏳ TOUR LENGTH: 3 hours | ▶️ BOOK NOW
Grab your smartphone and discover what Lower Downtown (LoDo) in Denver has to offer thanks to this Scavenger Hunt Adventure Tour.
This historic neighborhood in Denver has a rich history and includes sights like the Coors Field and Union Station.
This interactive tour comes with clues that will have you and your group solving puzzles and completing challenges.
The adventure starts at a historic building and takes you on a well-designed course through the area. You'll stop off at:
Coors Field
Union Station
Confluence Park
Commons Park
Plus, you'll learn about the culture of Denver and the local art scene.
Your smartphone is your "guide" and will walk you through the Scavenger Hunt Adventure at your own pace.
By following the easy step-by-step instructions, you and your group can set the schedule and determine the pace.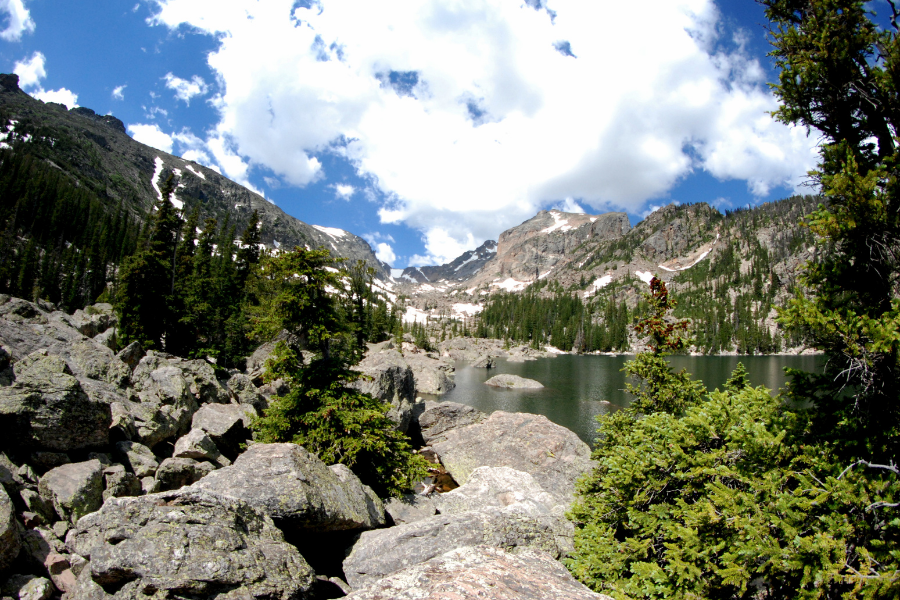 🤩 RATING: 5/5 | ⏳ TOUR LENGTH: 8 hours | ▶️ BOOK NOW
If you want to get out of Denver for the day and see some natural glory near the state capitol, look no further than this Continental Divide & Breckenridge Tour.
The first leg of your journey on this multi-person tour is a visit to the famous Red Rocks Amphitheater.

Explore the award winning Red Rocks, with expansive views of Denver in the background, and admire the unique venue.
Next, you will take a drive over Loveland Pass and through the Continental Divide. Loveland Pass is the highest mountain pass in the entire state and caps out just shy of 12,000 feet above sea level.
This obviously comes with some pretty stellar and one-of-a-kind views of Colorado and plenty of stops to grab some photos!
From Denver, over Loveland Pass, through the Continental Divide the next destination on the tour is the small ski town of Breckenridge.
After arriving, stretch your legs and explore this quintessential mountain town with its many free activities.
After an excursion to Breckenridge, the trek back will take you home to Denver via a different route. From this Denver-bound direction, you will stop at Lake Dillon for the last bit of outdoor Colorado beauty.
Is Denver a walkable city?
Yes, thanks to a walkable downtown area and more than 300 days of sunshine a year, the capital of Colorado is a very walkable city.
According to Walk Score, in 2021 the city has an overall walkability score of 61 and a bike score of 72. For comparison, New York is considered the most walkable city in the United States with a score of 88.
Some of the most walkable neighborhoods in Denver include:
Capitol Hill
Cherry Creek
Downtown / Union Station
Five Points
Baker
Highlands
Since Denver is so walkable, you don't really need a car in Denver as a tourist. There are tons of transportation options in Denver, so if you can't walk somewhere you can always get around via bus, railway, or bike.
Is Denver good for tourists?
Tourism and Colorado go hand in hand, and it's no different with the Mile High City.
In 2021, Denver welcomed more than 31 million visitors to the state, making it one of the most popular cities for tourists in the country.
This boom in tourism in Denver means that the average household was able to save over $1,500 in state and local taxes. Not to mention other noteworthy savings throughout the county.
Because of this, it's safe to say that tourism in Denver is both a good activity and a welcomed one for the city.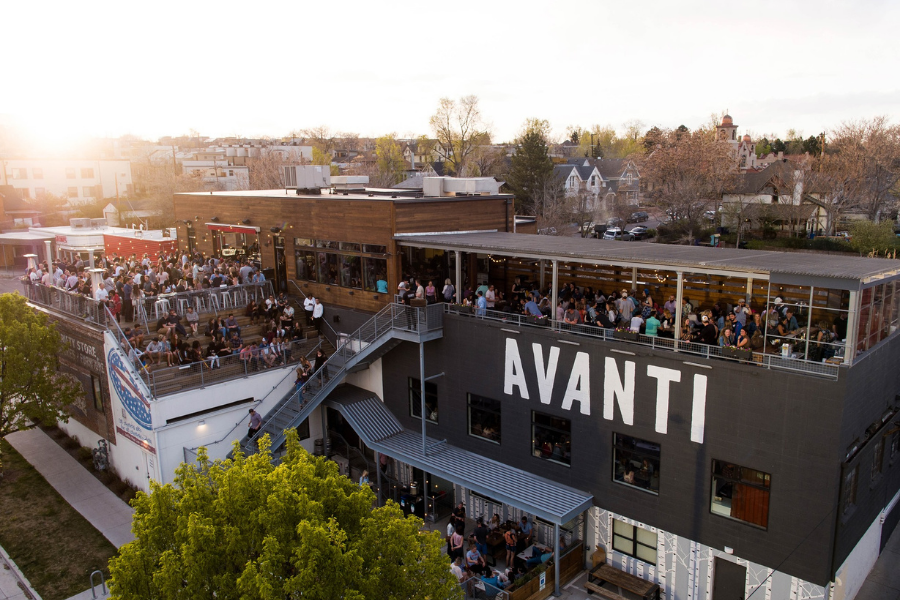 How many days are enough to visit Denver?
As a local couple who lives in Colorado, we recommend spending at least 3 days in Denver to get the most of your experience.
Denver has a thriving art scene, plenty of delicious restaurants, museums, and historic buildings to see. And that's just in the downtown area.
But staying for at least 3 days will allow you to see many of the most popular sights. Plus, you'll have a day to escape the city and see some of the gorgeous Rocky Mountains nearby.
What is the best month to visit Denver?
The best time of the year to visit the city of Denver is during what's called "shoulder seasons".
This time is from April to May, right before the busy summer season, and September to November, right before the busy ski season starts.
This is also the time(s) of year when you'll have the best weather without too many tourists and traffic. Prices during shoulders seasons are also more affordable than during peak tourist times.
No matter which of these Denver tour you choose, you really can't go wrong! There is something for everyone and all ages.
As a Colorado sightseer you'll uncover local history, learn about notable individuals, and see some of the most breathtaking views in the state.