by Carrie Nicholson
|
Last Updated:
November 3, 2021
The content of this website may contain affiliate links and we may be compensated (at no cost to you!). Thank you for your support!
Looking for unique Colorado gifts and ideas for the adventurer in your life?
Coming up with gifts for family and friends can be a pain. But it doesn't have to be, especially for those who live in or visit Colorado!
In this guide we share some of our top local gifts that every Coloradoan will love.
These are gifts that are perfect for the family member with Colorado envy (can you blame them?).
They make creative gift ideas for the holidays and special events all year long like, Christmas, Mother's Day, Father's Day or a birthday.
1. Colorado Scented Candle
No Colorado gifts list would be complete without this idea!
For those long-distance friends who look back wistfully on their time in Colorado, there is no better gift to bring them back to the Centennial State than this State of Colorado Scented Candle.
This candle will bring you right back to the Rockies with the scents of fresh fallen snow, Colorado spruce, and ski lodge.
It's a super cute gift for the grad who's gone out of state for school or anyone who could use some #ColoradoLife vibes in their home!
2. Denver Food Crawls book
If you're a budding food lover, then you'll love the Denver Food Crawls book from local blogger, Bre Patterson.
This comprehensive guide details an exciting culinary experience through Denver via food crawls!
The paperback book features the perfect night out to enjoy food, brews, and nightlife that Denver has to offer.
This book also makes a great gift for anyone visiting Colorado and wants a new way to experience the local food scene.
3. LuminAID Solar Lanterns
LuminAID describes themselves as the Makers of Brilliant Things — and we have to say, we agree!
As seen on Shark Tank, LuminAID created an inflatable solar light that packs flat. These compact lights are ideal for anywhere that needs a little light.
Use it in a tent at a campsite, float it in a hot springs pool, or on the lake for a late-night skinny dip!
Brighten up the holidays for someone on your list with a packable solar lantern from LuminAID.
4. Colorado Gift Baskets
Colorado gift baskets can come in all shapes, sizes, and with lots of flavors. One of our favorites is this Gourmet Gift Basket from Bon Appetit.
It comes with a large assortment of snacks, tea, and sweets that is perfect for any occasion.
You'll get meat, cheese, crackers, strudels, Lindor chocolates and more! Plus, it all comes in a rustic basket that's a bonus item.
You can even send it with a personalized message to the gift recipient.
5. Colorado State Chocolate Gift Set
Everyone loves chocolate this time of year and this Colorado State Chocolate Set is the perfect gift.
Each box contains 9 square pieces of delicious chocolate all with popular photos from around Colorado.
You'll get pictures of Rocky Mountain National Park, Glenwood Canyon, Garden of the Gods, Mesa Verde National Park, Vail and more.
It even comes with magnets that you can put on your fridge to display the beautiful scenery once you've eaten the chocolate.
6. Colorado Tough
Colorado Tough takes their name to heart. This quality, local Colorado company thinks that getting outside is more than a hobby, it's a lifestyle.
Offering a wide selection of warm hoodies, cozy shirts and comfy hats that really inspire you to get outside, be adventurous and find what's good for the body and even better for the soul.
We even had the chance to meet their CEO, Lee, at a local festival in the park this past summer.
7. GetOutPass
GetOutPass is a great way to save money on tons of the Colorado adventures your family will love.
Buy a pass for each member of your family and you'll get access to awesome venues and fun activities across the state!
The GetOutPass is usually $149.95, but when you use our special code coloradolife40, you'll save $40 instantly.
From ski slopes to the aquarium and trampoline parks to laser tag, GetOutPass will give you free admission to dozens of venues at least once and sometimes multiple times per year.
If you and your family love visiting WaterWorld, Elitch Gardens, or skiing at Monarch Mountain, you've got to grab the GetOutPass and save $40 with code: coloradolife40.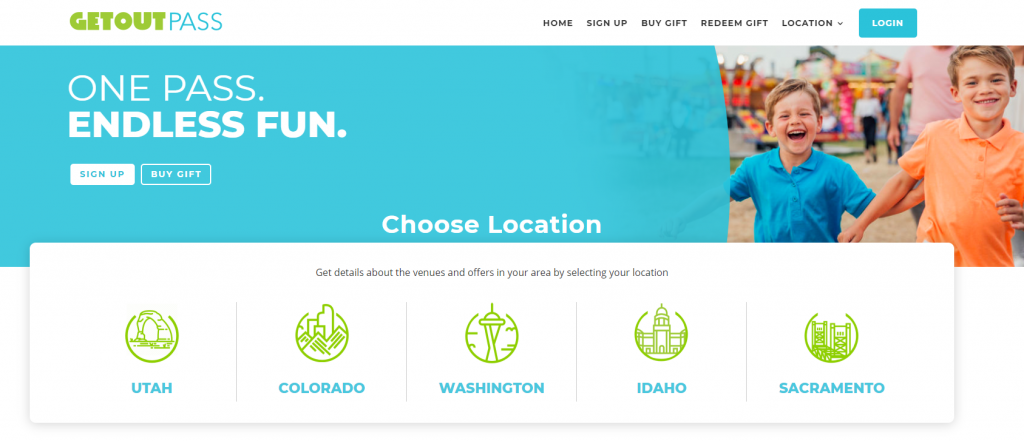 8. GetYourGuide Experience
We all know that experiences are worth more than things. For the adventurer in your life, you can share the gift of the perfect experience with GetYourGuide.
GetYourGuide takes the stress out of traveling, especially to someplace new. With GetYourGuide, you can easily book guided tours to hundreds of places here in Colorado.
A private tour of the Denver Art museum? No problem. Hiking with a group in and out of Rocky Mountain National Park? Sign me up!
You can also give a gift card so your adventurer can choose their own destination and experience.
9. Bolder Beans
Bolder Beans are made right here in Boulder, Colorado. And they truly are superb!
We like to keep a jar of these crunchy, pickled green beans on hand and eat them straight out of the jar.
Bolder Beans also offers other pickled vegetables and an award winning Bloody Mary mix. As their owner says, good food always makes people smile.
If candles and a nice card won't cut it for the people on your list, then grab a jar of Bolder Beans and spice up their holiday this year!
10. Sweet Almande Roasted Nuts
Colorado born and family operated, Sweet Alamande's roasted nuts are the perfect thing to satisfy your cravings — both sweet and salty!
These nuts are totally free of dairy, gluten, soy, and corn, but they are full of flavor and come in 30 flavors and counting!
Shop online to find the perfect flavor pecans, almonds, or cashews to stuff your family's stockings with delightful flavor.
We hope this Colorado gift guide gives you some great ideas for anytime of year, from friends to every member of your family.
Carrie Smith Nicholson is one of the co-founders of Hashtag Colorado Life. After living in Texas for her whole life she moved to Colorado 5 years ago. As a travel blogger and entrepreneur for the past 10 years, her writing has been featured on NBC News, HuffPost Live, Glamour Magazine, Inc Magazine and many other media outlets. When she's not writing about new travel locations, she enjoys spending time outdoors hiking, camping in her NuCamp teardrop trailer, and trying new foods. You can follow her outdoor adventures on Instagram, @hashtagcoloradolife.