7 Best Ziplining Courses in Colorado Springs for Thrill Seekers
This website may contain affiliate links and we may be compensated (at no cost to you!).
Colorado Springs is home to some of the state's best attractions, including Garden of the Gods, the Manitou Incline, and Pike's Peak.
To say there is something to do here, both indoor and outdoor in any season, is an understatement.
And thankfully, you don't have to travel far to experience one of many thrilling zipline courses in Colorado Springs.
If you're looking for a truly unique and extraordinary high-flying adventure, a zipline course is just the thing.
Here is the top ziplining in Colorado Springs that offer fun for the whole family and available year-round.
What is the best Ziplining in Colorado Springs?
✔️ Seven Falls Combo Zipline Course: Best for epic views
✔️ Fins Course Scenic Zipline: Best for thrill seekers
✔️ Woods Course Zipline Adventure: Highly rated reviews
These top activities are also listed below with lots more info along with other zipline recommendations.
Keep reading to find out which zipline tours in Colorado Springs are the right one for you and your family.
In the city of Colorado Springs you'll find the beautiful and iconic destination of Broadmoor Several Falls.
And one of the best ways to experience this stunning scenery is thanks to this Combo Course Zipline tour from Broadmoor Soaring Adventure.
Get ready for a 4-hour journey through the skies with an array of 8 different zip lines with elevations soaring up to 500 feet.
Alongside the thrilling ziplines, this Combo Course features two suspension bridges and a 180 foot assisted rappel.
This zip lining adventure starts with a comprehensive safety orientation and ground school. So even if you're a beginner you can feel safe and confident during your zipline ride.
As you progress through the course, the zip lines extend in length, accelerate in speed, and elevate in height.
This zipline course in Colorado Springs is located near the geological wonders of the Seven Falls waterfall park. It's situated adjacent to the iconic Broadmoor resort and promises an amazing experience.
This is the perfect ziplining course in Colorado Springs for anyone looking for an adrenaline-packed experience!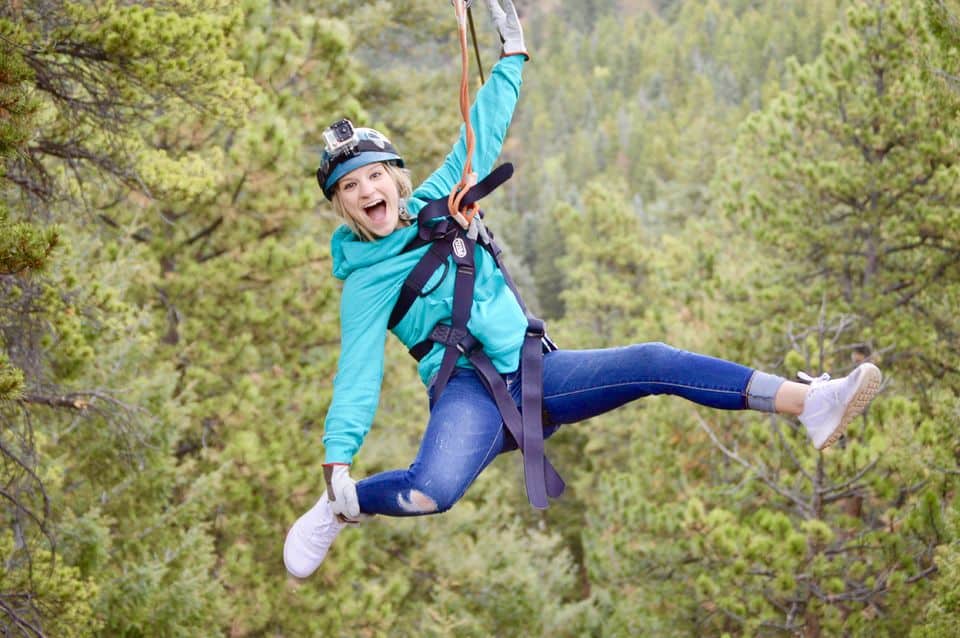 For an alternative perspective of ziplining across Seven Falls in Colorado Springs, check out the Fins Course Scenic Zipline.
Zoom down five ziplines that stretch out to an impressive 1,800 feet, in addition to traversing two suspension bridges.
You and your loved ones will spend over 3 hours soaring above the rocky expanses and cascading down the Seven Falls scenery.
Kids and adults can enjoy heart-pumping time gliding across ziplines, hanging bridges, and a rappel.
And don't worry, even if you're a beginner to ziplining in Colorado Springs, professional guides will be with you throughout the day.
Safety is of the utmost importance at the Broadmoor Outfitters, which is why ground school is also provided. All activities and equipment are included with your zipline tour ticket.
To participate, all individuals must weigh between 90 to 250 pounds, have closed-toed footwear, not be pregnant, and be in a sober state of mind.
With more than 300 five-star reviews, the Woods Course Zipline Tour in Seven Falls is another ziplining favorite.
You and your family will discover the captivating landscapes of Seven Falls, adorned with lush forests, rugged gorges, and cascading waterfalls.
With five ziplines spanning an impressive 1,500 feet in length and elevations of up to 150 feet.
This 3-hour ziplining aerial course tour is customizable and allows you to choose from a variety of departure times throughout the day.
Plus, no prior experience is necessary since detailed instruction and complete equipment are provided to ensure a safe and exhilarating journey.
The adventure starts with a comprehensive safety orientation and ground school. Then, it's onto the initial zipping platform where you can create your own memorable experiences.
This adrenaline-charged escapade promises an unforgettable experience, offering a unique perspective on the enchanting landscapes of Seven Falls.
For another ziplining excursion near Colorado Springs, check out the Manitou Springs Colo-Rad Zipline Tour.
This course is renowned for its popularity among families with children, while others on this list have weight restrictions.
Accompanied by a knowledgeable guide, get ready for an adventurous journey through the Colorado mountains, exploring an array of ziplines.
This tour includes all necessary gear, hydration, and informative safety tutorials so you can feel secure about the experience.
Nestled at the base of Pikes Peak, the Manitou Springs zipline tour allows you to soar to new heights during your ziplining adventure.
Positioned atop Gregory Gulch, this is thoughtfully designed to blend with the area offering a natural-terrain zipline course. It features five distinct zip lines ranging from 225 feet to 650 feet in length.
This rustic cliff-to-cliff approach eliminates the need for tower climbing, while offering the added bonus of brief nature hikes between ziplines.
Fully licensed, insured, and regularly inspected, ziplines guarantee both safety and excitement.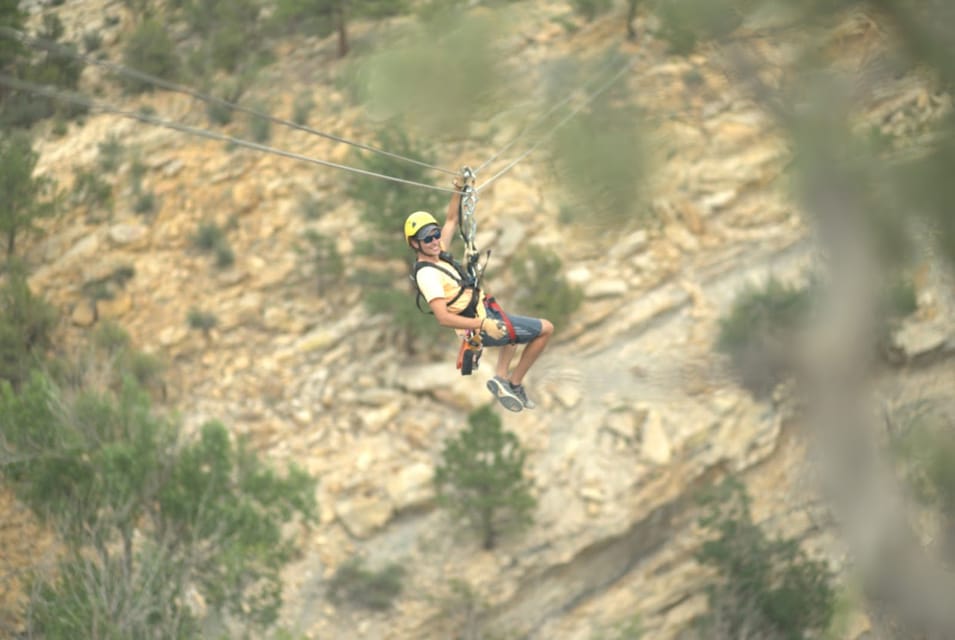 Experience the ultimate rush as you zip along the fastest zipline in all of North America on this exhilarating 11-line zipline adventure.
Soar over breathtaking mountainscapes while zipping over the Arkansas River on a tour tailor-made for thrill seekers. Brace yourself for a 1,700-foot zipline that delivers adrenaline pumping like no other.
This 3-hour long ziplining tour includes non-stop excitement and ziplining thrills. The journey starts with comprehensive ground school training, where our expert guides share the essential knowledge about the art of "zipping."
The grand finale presents a dual side-by-side 1,200-foot racing line that concludes atop a towering 7-story structure. And the choice of your epic finish awaits.
Opt for the Flightline Free Fall and plunge off the tower, free-falling 30 feet before a controlled descent gently lowers you to the ground.
Alternatively, select the True Blue belay, a technique utilized by firefighters and tactical military units, offering an alternative for those who prefer not to leap.
Every facet of your adventure is meticulously orchestrated, from course construction and equipment to guide expertise, training, and operational protocols.
Please note that this Royal Gorge Extreme Zipline is not for the faint of heart and requires guests to be in good physical shape. Ascending the tower entails a physical effort akin to climbing ten flights of stairs.
Nearby the Royal Gorge Bridge is the Cañon City 9-line classic zipline course where you'll soar across scenic Colorado forests and rolling hillsides.
At more than 50 feet above the Royal Gorge plateau, this is the highest course available. Prepare for a thrilling three-hour escapade filled with ziplining excitement.
Begin your adventure at ground school, where amazing guides will provide comprehensive instruction so you can feel confident even as a beginner.
Once you're given the green light, it's time to ascend to the summit of the tower, which is like trying to scale up four flights of stairs.
At the top, get ready to feel the exhilaration as you reach speeds of up to 45 miles per hour! And the grand finale presents a dual side-by-side racing line on the longest, awe-inspiring 1002-foot stretch.
This classic Canon City zipline is thoughtfully considered and executed to ensure that your zipline tour is both thoroughly enjoyable and secure.
For a more novice-friendly zipline tour, try out the EDGE Zipline in Castle Rock, just 40 minutes north of Colorado Springs.
This 2-3 hour zip line tour allows you and your party to choose from a variety of start times, spanning from morning to evening.
Thanks to the help of expert assistance, you'll navigate a thrilling array of 10 ziplines, gliding over a vast expanse of 320 acres. This breathtaking scenery offers expansive panoramic views of the Rocky Mountains.
This exhilarating zipline experience, tailored for beginners, promises an unforgettable adventure thanks to unique aerial perspectives.
All necessary safety equipment is provided, accompanied by personalized one-on-one instruction to ensure a secure and enjoyable outing. The EDGE Zipline tour is perfect for all skill levels and ages.
Rest assured that your zip line journey is under the guidance of our knowledgeable guides and is designed to last 2-3 hours.
Colorado Springs offers some of the best ziplines in the United States, thanks to dual racing lines, incredible views, and even a cliffside zipline tour, perfect for any adrenaline junkie.
Booking one, or several, of these Colorado Springs zip line courses is an excellent way to take in the sights, while experiencing a thrilling ride across the landscape.