8 Best Colorado Fall Foliage Tours With 5-Star Reviews
This website may contain affiliate links and we may be compensated (at no cost to you!).
One of the best ways to experience the autumn landscape in Colorado is via one of the many fall foliage tours that are available this time of year.
Fall in Colorado is a relatively short time period so you have to take advantage right when it's happening.
From epic Jeep tours to beer tastings and scenic canyon floats, there is something for kids and adults on this list.
Here are the best fall foliage tours to see spectacular colors this season. And all of these tours have hundreds of five-star reviews.
1. Pikes Peak & Garden of the Gods
By far one of the best fall foliage tours in Colorado is this small group tour of Pikes Peak and Garden of the Gods.
With more than 600 five-star reviews this is a very popular tour this time of year. The trip extends over 8-hours so it's a full day adventure, great for kids and families.
The journey starts in Denver and you'll head south into Colorado Springs with a visit to Garden of the Gods.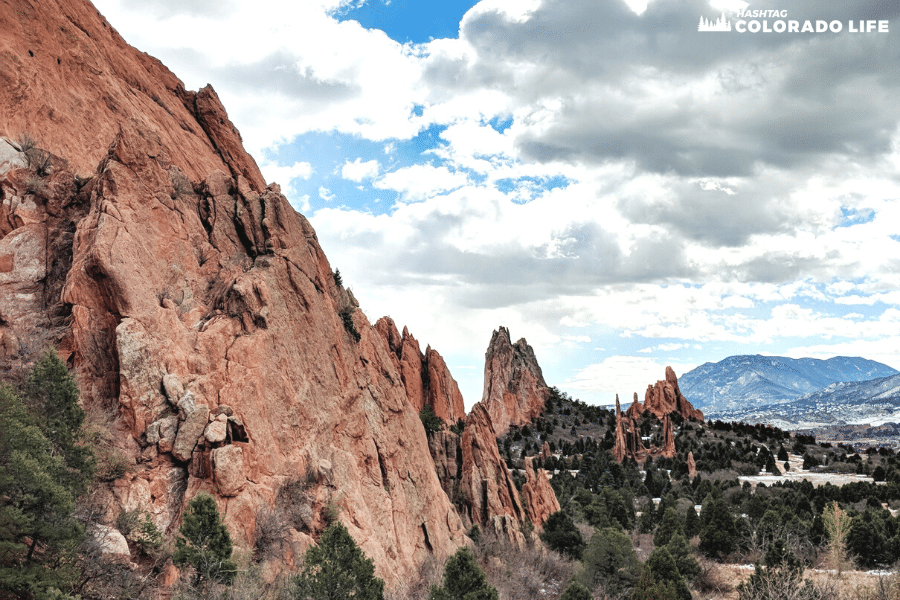 Then an expert guide will drive you up the side of Pikes Peak, which is one of Colorado's most famous fourteeners. This mountain peak inspired the song "America the Beautiful".
After lunch it's time for some shopping in the nearby town of Manitou Springs, then you'll enjoy a scenic drive through the foothills back to Denver.
Included in the price of your ticket for free is bottled water, park admission, fuel, and taxes.
When the fall colors in Colorado start changing, there's no better way to check out the stunning scenery than with a Pikes Peak & Garden of the Gods Tour.
2. Fall Foliage Jeep Tour
Get ready for an epic excursion to see Colorado's beautiful scenery on this Fall Foliage Jeep Tour. The adventure begins in Canon City and winds through historic mining towns of Victor and Cripple Creek.
A local guide will take you off the beaten track in a 4×4 Jeep Wrangler that is comfortable and family-friendly.
This full-day tour will take place over approximately 6 hours and includes a free lunch.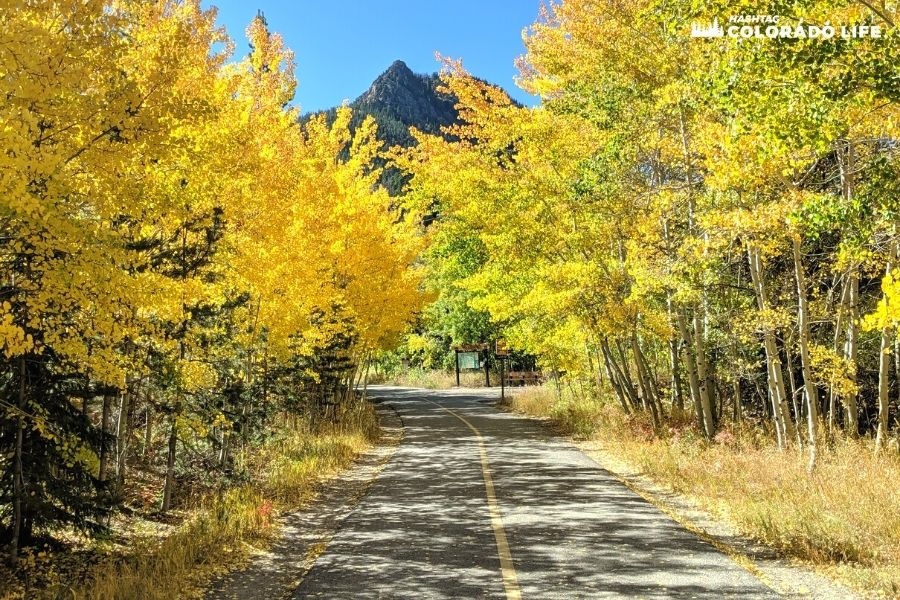 Throughout the Jeep tour you'll reach peaks of up to 10,000 feet in elevation but you'll feel safe in the hands of your professional driver.
The main points of interest include:
Historic railroad tunnels
4th largest gold mine in the world
Stagecoach Road
Indian Petroglyphs
Dinosaur Quarries
The best time to experience this Colorado Gold Belt Jeep Tour is during the months of September and October. The leaf color-change in the state varies but typically peaks during this timeframe.
This is one of the best fall foliage tours in the state and is hosted by Colorado Jeep Tours, a reputable and premier company.
Read more about our personal experience with Colorado Jeep Tours.
3. Glenwood Canyon Scenic Float
One of our all-time favorite fall drives involves cruising through Glenwood Canyon on our annual trip to Glenwood Springs.
And this Scenic Canyon Half-Day Float does not disappoint. During autumn the canyon walls are lined with gorgeous trees and brightly colored leaves.
If you're not into whitewater rafting, you can take a casual float down the Colorado River instead.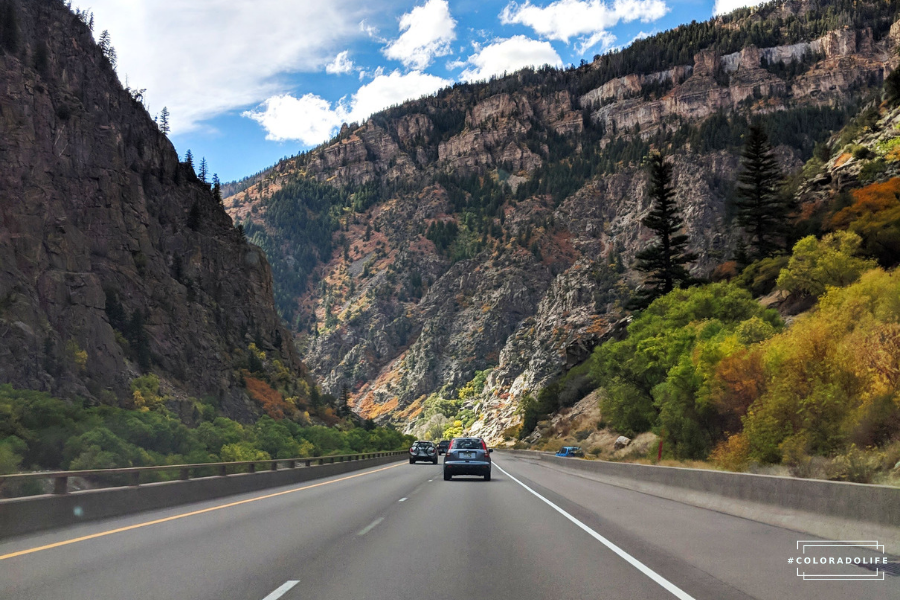 Spend a few hours outdoors with your friends and family swimming and relaxing in the cool water.
More than 100 people have left five-star reviews so this is a must-do tour. All of the equipment and safety gear you need is included:
Life jacket
Helmet
River shoes
Wet suits
Plus, you can choose your departure time and customize how you want to spend your 2 to 2.5 hour excursion.
Free hotel pickup and drop-off are available upon request. And if you need to change your plans, free cancellation is available with more than 24-hours notice.
Learn more about this Scenic Canyon Half-Day Float through Glenwood Canyon. We can't recommend this enough!
4. Red Rocks Amphitheater Hike
The foothills of Denver are some of the most scenic sights in the area, including Red Rocks Amphitheater and Lariat Loop, a national scenic byway.
During fall this entire area lights up with fantastic autumn colors, which is easily explored thanks to the Foothills Explorer Tour From Denver.
Over 4 hours you and your friends will enjoy a half-day exploring the scenic foothills of Red Rocks, drive along Lariat Loop, and see panoramic views atop Lookout Mountain.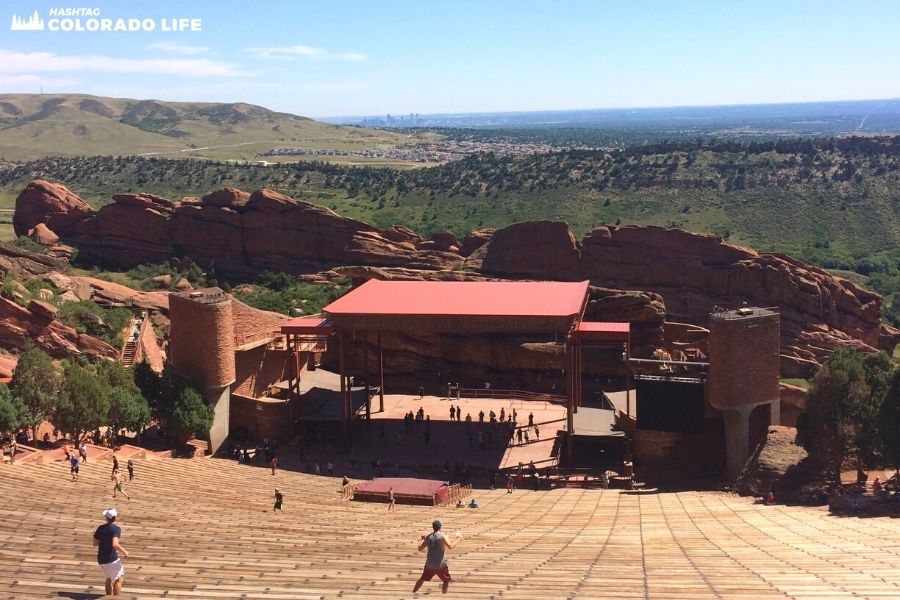 You'll also stop at Evergreen, Colorado for a quick coffee or wine tasting break. Then it's onto Morrison for a scenic canyon drive.
Plus, a local guide who is a professional driver will be with you and your small group throughout the day.
But don't just take our word for it, the Foothills Explorer Tour has more than 800 five-star reviews and very satisfied customers.
Book one for yourself and your family today!
5. Brews & Views
What could be better than good company, tasty beer and spectacular fall views?
Get access to all three plus more when you book this Brews & Views Tour in Denver.
On this small-group tour you'll spend 4 hours learning about the history of brewing in Denver, tasting beer, and seeing scenic views.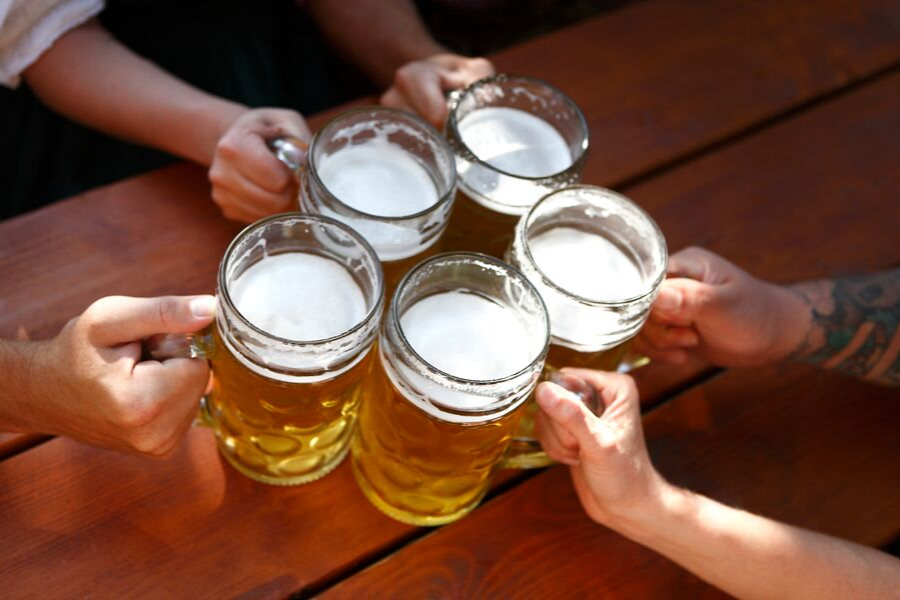 Plus, a local guide will show you some of the top local brews and pubs in the state. Discover old favorites or find some new news you'll love.
The first beer at each stop is included with your tour ticket. And you'll stop at several different breweries and see beautiful fall scenery along the way.
Pickup is at Denver's historic Union Station then it's onto Golden via the Lariat Loop National Scenic Byway.
If you or someone you know enjoys Colorado beer, we highly recommend this Brews & Views Tour.
6. Glacier Hiking & Geothermal Caves
Escape the hustle-and-bustle of the city with a relaxing day Glacier Hiking and soaking in a Geothermal Cave Pool.
Located about 30 minutes west of Denver is St. Mary's Glacier near the town of Idaho Springs.
The tour starts at 8am and lasts all day giving you and your family plenty of time to explore St. Mary's Glacier and then a break for lunch at a classic pizza place.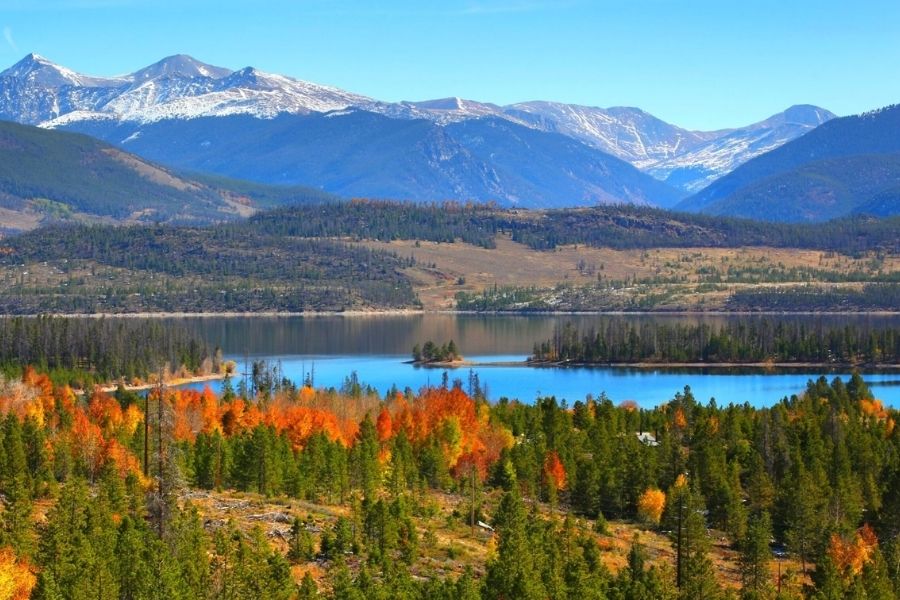 In the afternoon you'll soak your stress away in the Indian Hot Springs Geothermal Caves, which are filled with naturally hot mineral water.
The cost of the tour includes:
Parking fees
Hot springs admission
Water & snacks
DSLR camera
Sleds
Ski Goggles
Transportation
This hiking and cave pool tour makes for a great day trip for kids and adults. Plus, it's received more than 100 five-star reviews from other adventurous day trippers.
Book your Glacier Hiking & Geothermal Cave Soak today.
7. Rocky Mountain National Park Tour
No list of the best fall foliage tours is complete without a trip to Rocky Mountain National Park.
Taking off from either Denver or Boulder, this all-day 8-hour excursion includes a drive along Trail Ridge Road.
You'll also drive by the iconic Stanley Hotel in Estes Park along your way to Rocky Mountain National Park.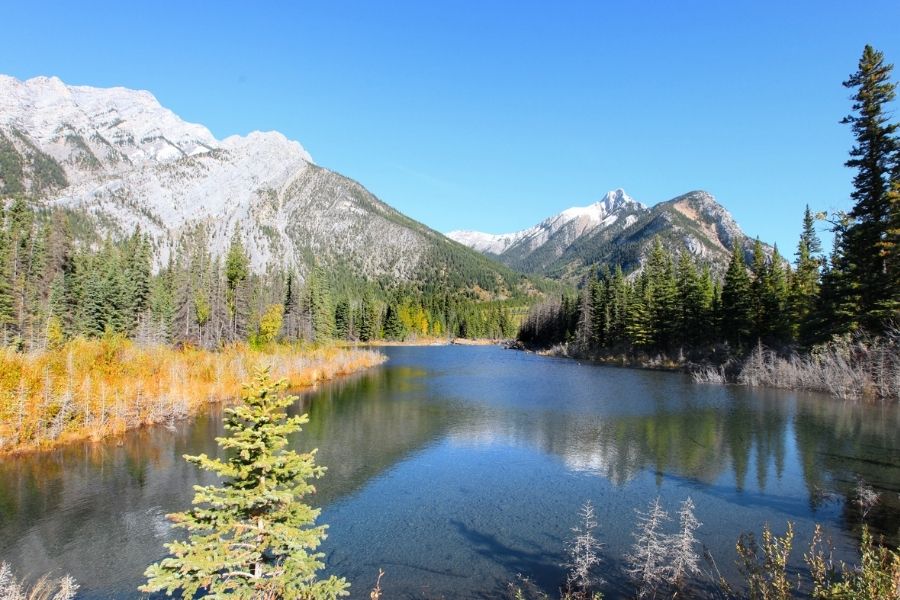 An expert guide will drive you through small historic towns, over alpine passes, and along the horizon to see native elk, black bears and moose.
Free admission and reservation into the national park is included, along with ample time to get out and explore the landscape.
And we're not the only ones who think this tour is one of the best to see fall colors as more than 1,500 people have left five-star reviews.
Don't wait to book your autumn tour of Rocky Mountain National Park.
8. Scenic Mount Blue Sky / Mount Evans Scenic Drive
Enjoy a day trip driving up Mount Evans (also known as Mount Blue Sky) for a full-day adventure through Old West towns and stunning landscape.
Mt Evans is one of Colorado's highest fourteeners and is situated among other dramatic peaks along the Continental Divide.
Led by a local guide you'll head for the hills and discover native wildlife, like bison and bighorn sheep, while enjoying time out in nature.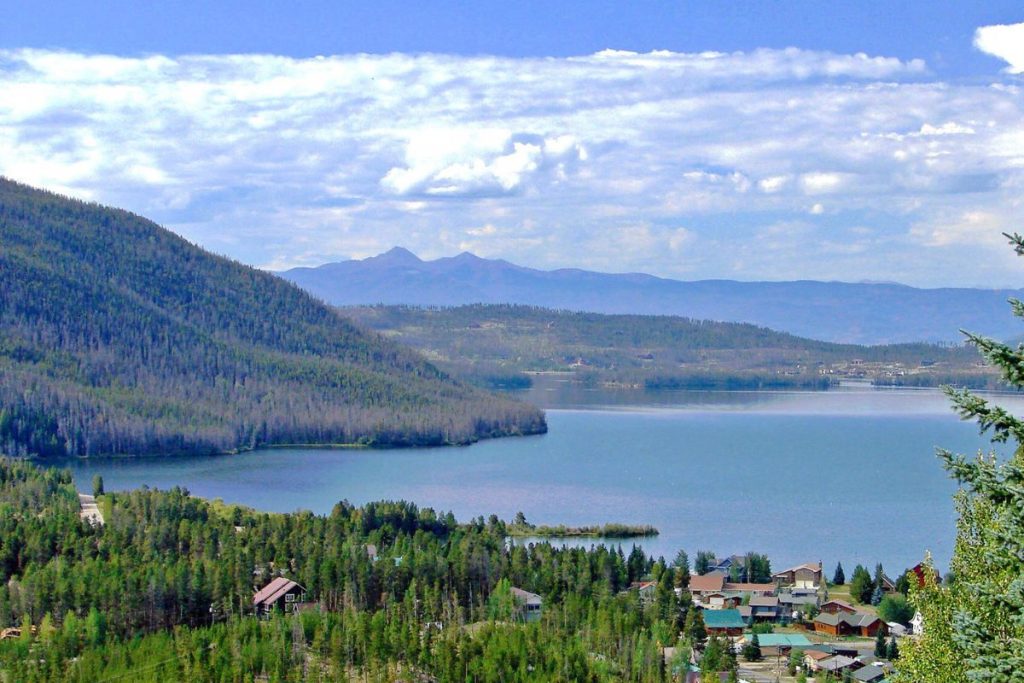 A free lunch is included with your Mount Evans Scenic Drive along with any park admission and parking fees.
Along the way you'll drive up Clear Creek Canyon, pass over the historic Lariat Loop and then it's onto the Mount Evans Scenic Byway.
Plus, the views from 14,000 feet in elevation will be well worth the cost. And nearly 100 tourists have left five-star reviews detailing their experience.
Check out this beautiful drive of Mount Evans with amazing mountain views that are gorgeous during the autumn season.
If you're looking for the best fall foliage tours in Colorado this season, we hope this list gives you some amazing adventures.