9 Best Hot Springs Near Durango From Rustic to Luxurious
This website may contain affiliate links and we may be compensated (at no cost to you!).
Looking for a day trip getaway to a relaxing natural mineral hot springs near Durango, Colorado?
From 24-hour access to cold plunges and even a private hot tub or two, relaxing in the warm natural spring waters near Durango is easy.
As a Colorado couple, we have personally visited and enjoyed many of these hot springs pools.
So, whether you seek the wonders of nature or a tranquil retreat in private settings, this list has got you covered.
1. Durango Hot Springs Resort & Spa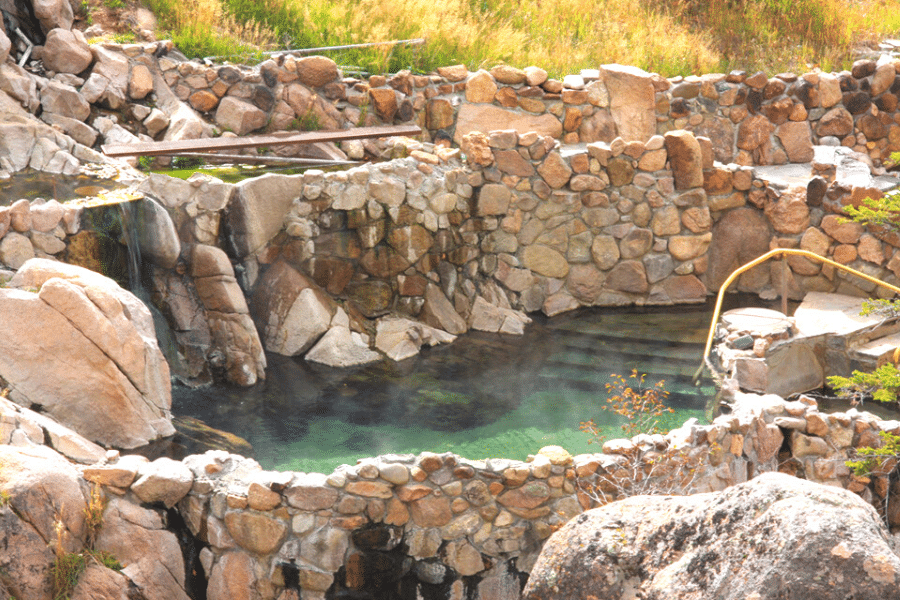 Just north of Durango is the beautiful, and aptly named, Durango Hot Springs Resort & Spa. Nestled amidst the San Juan Mountains, this resort features twenty-six different outdoor pools, each varying in temperature.
In addition, you'll find a large saltwater pool and more than two dozen smaller pools and hot tubs throughout the property.
Durango Hot Springs is the first and only natural hot springs in the world to use the AquaGen system. This infuses the water with a perfect blend of minerals for clarity, effectiveness, and antimicrobial properties.
Plus, it's less than a 10-minute drive north of the town of Durango. So grab your partner or your friends, for a calming and relaxing day at the hot springs.
Distance: 8 miles
Travel time: 14 minutes
2. Pinkerton Hot Springs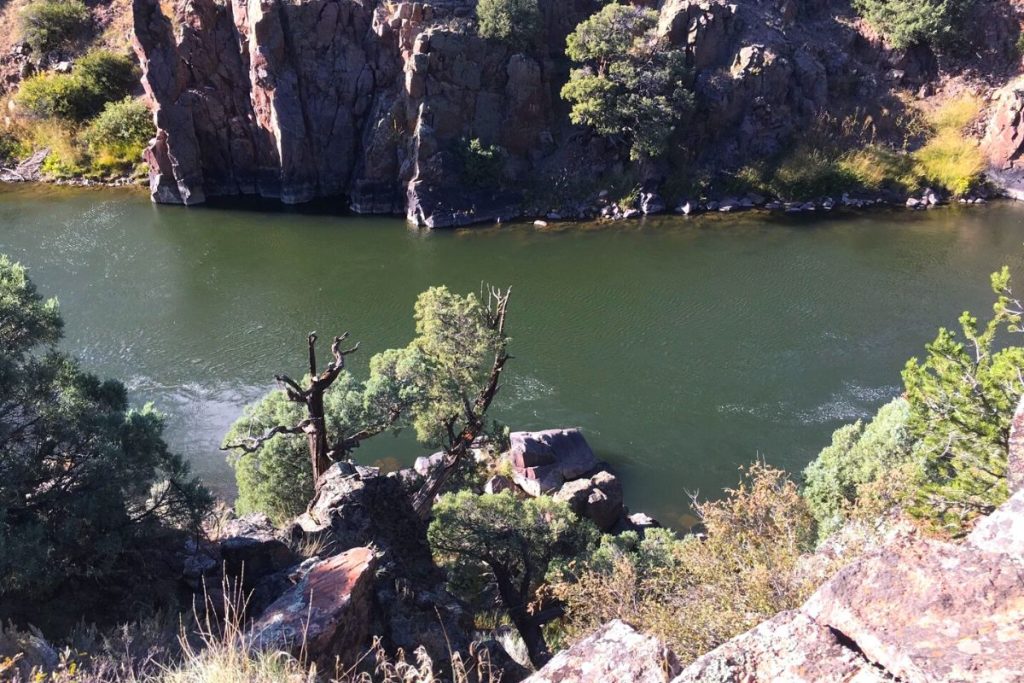 If you're up for a bit of adventure, Pinkerton Hot Springs features some of the most incredible natural wonders in Colorado.
These hot springs near Durango are a result of melted snow that trickles into the cracks of the rocks, then is heated by the Earth's core. This gives the naturally hot water between 95 to 105 degrees in temperature.
A hike through the San Juan National Forest unveils this gem, complete with rock-lined pools and a rugged charm that's sure to capture your heart.
Originally discovered in the 1800s by James Pinkerton, this spot remains a rustic, and unregulated, hot springs getaway near Durango.
Distance: 13 miles
Travel time: 19 minutes
3. Piedra River Hot Springs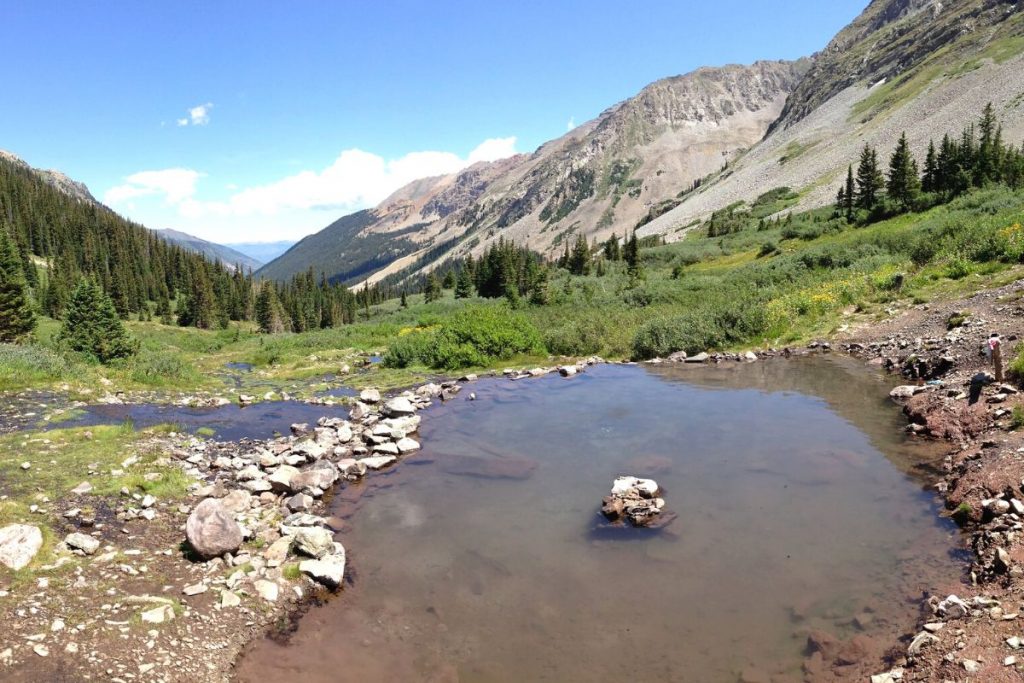 For those craving a bit of seclusion, Piedra River Hot Springs is your ticket to a small and primitive hot springs location.
Tucked along the Piedra River, this spot offers rustic pools with mountain views that redefine "scenic." Let the soothing sounds of the river serenade you as you soak your worries away.
The hot pools are located in the river, which is accessible via a 1.5 mile hike. And the temperatures of the pools hover around 100 degrees F, but can be affected by the river's changing water temps.
Due to the secluded and primitive nature of Piedra River Hot Springs there are no facilities or spas nearby, and the cell service is limited.
Distance: 45 miles
Travel time: 1 hour 7 minutes
4. The Springs Resort at Pagosa Springs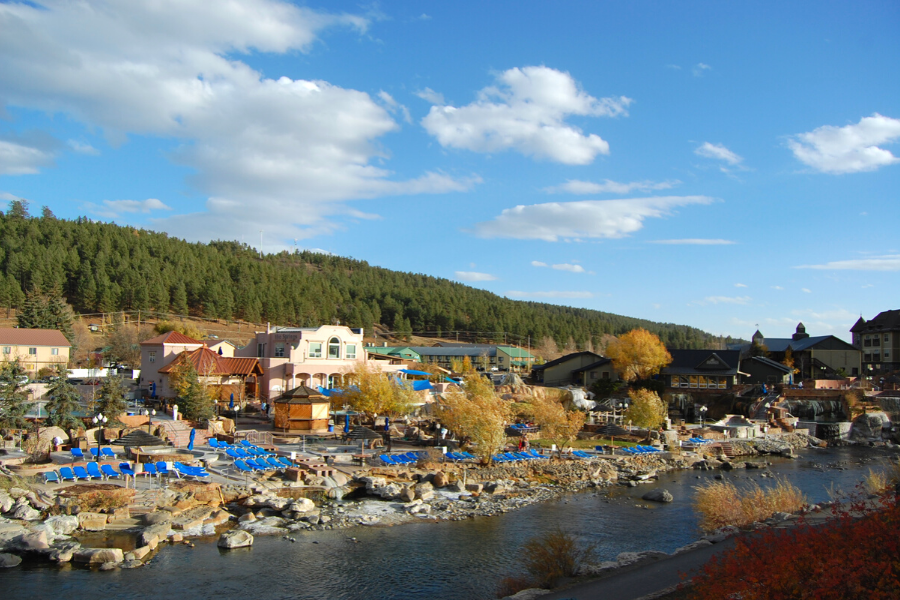 About an hour east of Durango, you'll come to The Springs Resort at Pagosa Springs. This hot springs spot boasts some of the world's deepest geothermal hot springs.
With 25 pools to discover, some located along the San Juan River, there are plenty of various temperatures and ways to relax.
This paired with the naturally hot mineral water is said to offer many different types of health benefits.
The resort's facilities also include a full-service spa and fitness center for massages, facials, and wellness classes on-site.
A visit to The Springs Resort and Spa near Durango allows you to soak in warm, healing waters while being serenaded by the sounds of nature.
This is a favorite hot springs destination for locals and visitors alike as it offers tons of amenities and comfortable lodging on site.
Distance: 60 miles
Travel time: 1 hour 13 minutes
5. Dunton Hot Springs Resort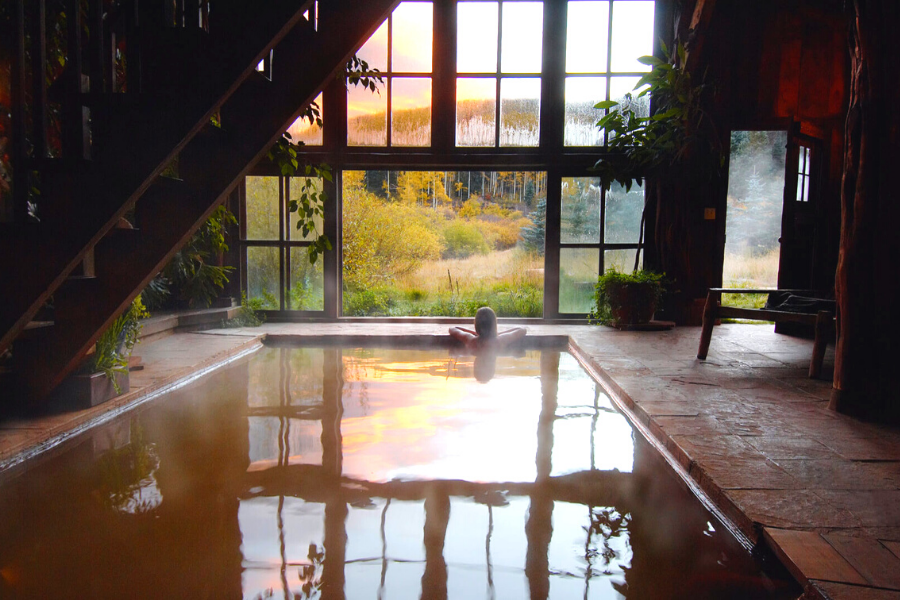 For a touch of luxury, the Dunton Hot Springs Resort is a must visit. This hot springs resort is located about 2 hours north of Durango.
Situated within a restored ghost town, this all-inclusive resort offers a truly unique hot spring experience.
The pools range in temperature from 85 to 106 degrees and are located outdoors, indoors or in primitive pools.
The resort is outfitted with private cabins, each with access to their mineral pools and hot springs. It's a blend of history, opulence, and the healing power of geothermal waters.
Distance: 81 miles
Travel time: 1 hour 52 minutes
6. Ouray Hot Springs Pool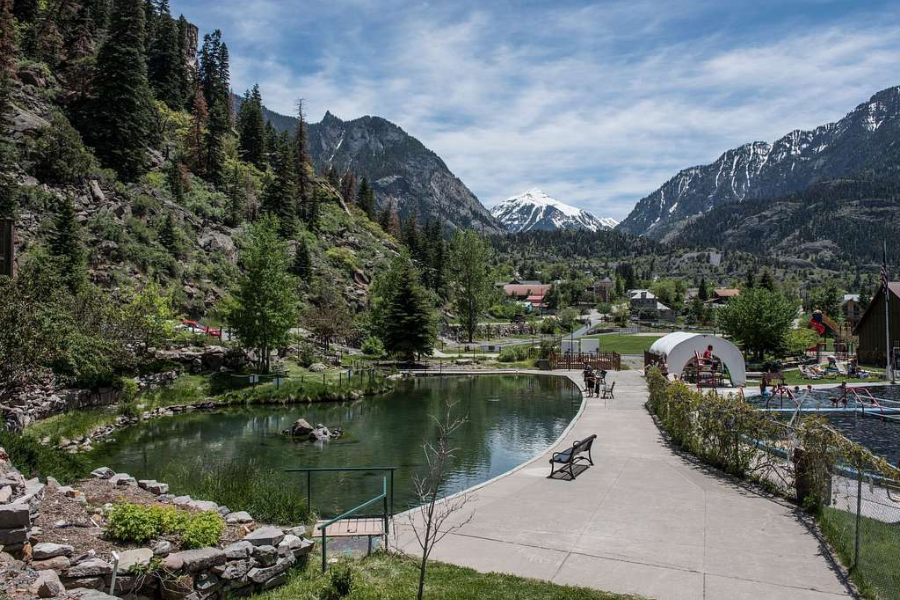 Known as the "Switzerland of America," Ouray offers not only stunning mountain vistas but also the Ouray Hot Springs Pool.
This large, family-friendly facility features a stunning outdoor hot springs pool with temps around 96 to 106 degrees. The large pool is divided into sections with swim laps and water slides.
Dive into the spacious pool and let the warm waters and stunning scenery soothe your senses.
Ouray Hot Springs also offers a recreation area complete with a running track, picnic area, softball field, and a playground for kids.
Distance: 71 miles
Travel time: 1 hour 45 minutes
7. Rainbow Hot Springs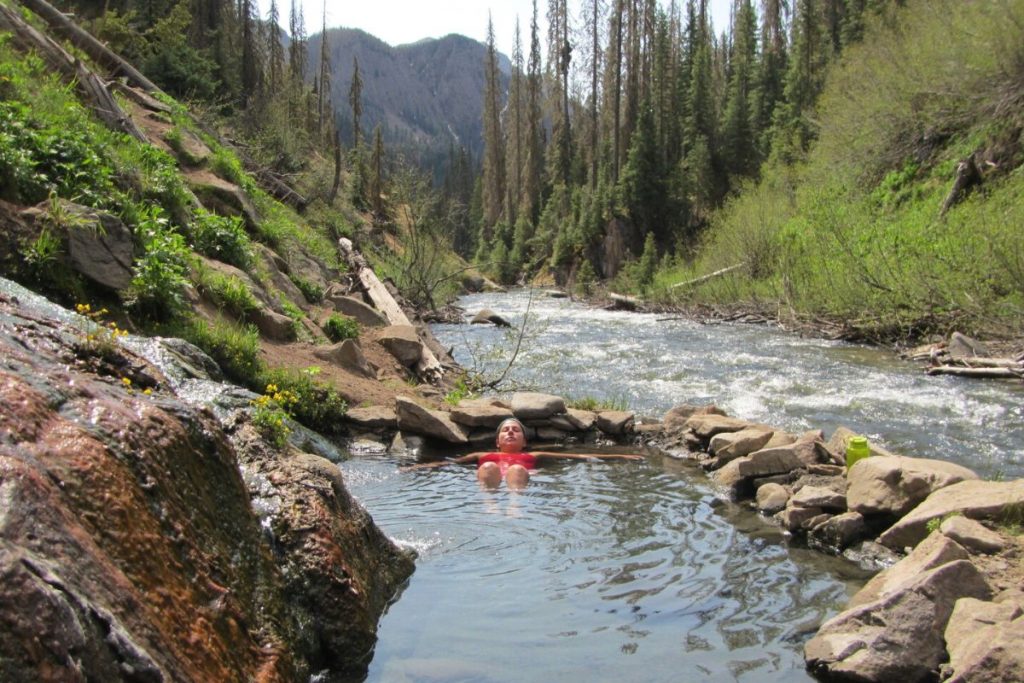 Back north of the Pagosa Springs area, you'll find the scenic Rainbow Hot Springs. But you'll have to lace up your hiking boots and head to the Weminuche Wilderness for a dip.
Accessible via a moderate hike, this reward at the end of the trail is a primitive hot spring that fits around 8 people comfortably.
Rainbow Hot Springs is a secluded and hidden hot springs in Colorado that offers a moment of restoration amid pristine wilderness.
Distance: 78 miles
Travel time: 1 hour 48 minutes
8. Orvis Hot Springs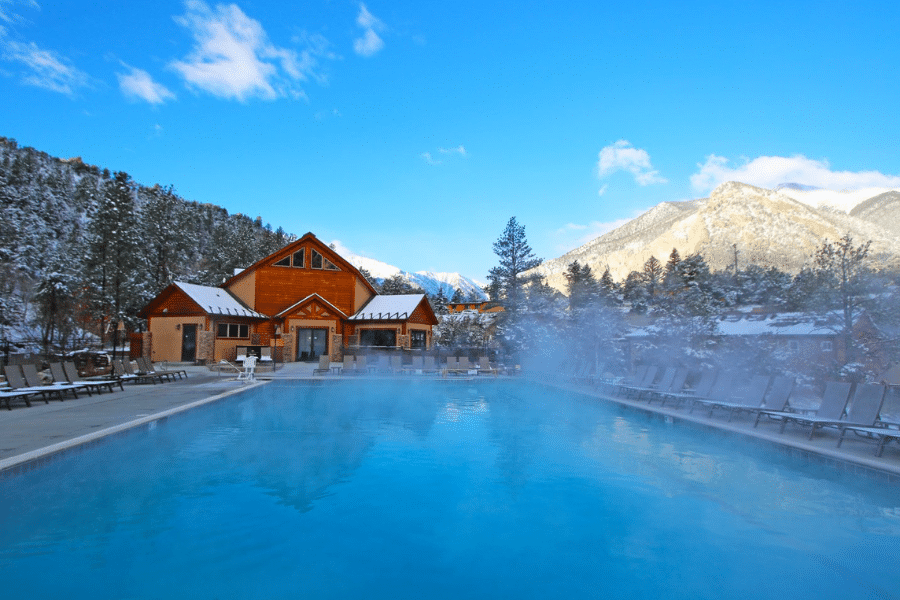 Continuing north from downtown Durango you'll come to the town of Ridgway which is home to the Orvis Hot Springs.
If you're ready to embrace your natural state while soaking in thermal waters, then you're in luck. Orvis Hot Springs welcomes everyone interested in a clothing-optional experience.
Yep, this adult-friendly hot springs destination is clothing optional and makes a great option for those yearning to be one with nature.
The sizable indoor pool hovers around 101 degrees, but this hot spring also offers a range of other outdoor pools at varying temps. One of the most notable is the "Lobster Pot" which is a scalding 114 degrees F.
Nestled in the San Juan Mountains, this spot offers both indoor and outdoor pools, promising relaxation and a natural environment.
Distance: 80 miles
Travel time: 1 hour 56 minutes
9. Glenwood Hot Springs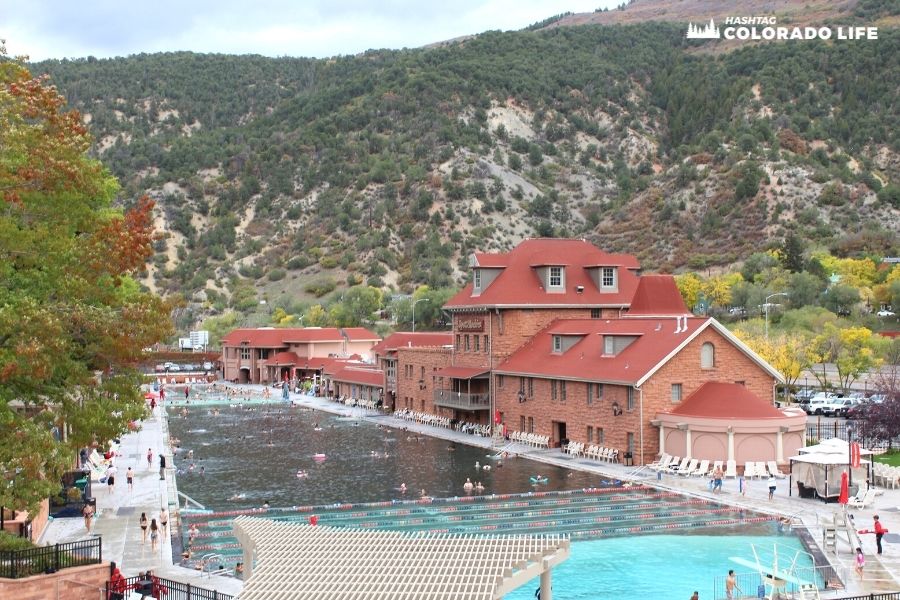 Another great hot springs near Durango is the popular Glenwood Hot Springs Resort.
The oldest and one of the most famous in Colorado, this hot springs destination features the largest natural hot springs pool in the world.
Its mineral-rich waters have been soothing weary souls since the late 1800s. Whether you're floating in the therapy pool or splashing in the larger one, this spot offers the timeless allure of geothermal therapy.
In fact, it's one of our favorite hot springs to visit in Colorado in the fall and winter seasons.
And while it may take several hours to drive from Durango to Glenwood Springs, the drive is well worth it thanks to the scenery as well as the amenities at the resort.
Distance: 247 miles
Travel time: 4 hours 47 minutes
So there you have it, a tantalizing tour of the best hot springs near Durango from the closest to the furthest.
Whether you seek adventure, luxury, or a simple communion with nature, these oases of warm bliss have got you covered. Pack your swimsuit, a sense of adventure, and let the relaxation begin!