by Carrie Nicholson
|
Last Updated:
February 6, 2021
The content of this website may contain affiliate links and we may be compensated (at no cost to you!). Thank you for your support!
We are sharing what it's like to buy a home in the competitive real estate market of Colorado, from our personal perspective.
At the time of this article, housing prices in Colorado can be quite shocking, especially if you are moving here from another state.
It feels like you get so little square footage for the money — we get it, this was one of our concerns too.
On the flip side, it can seem more affordable if you are moving to Colorado from a more expensive state, like California.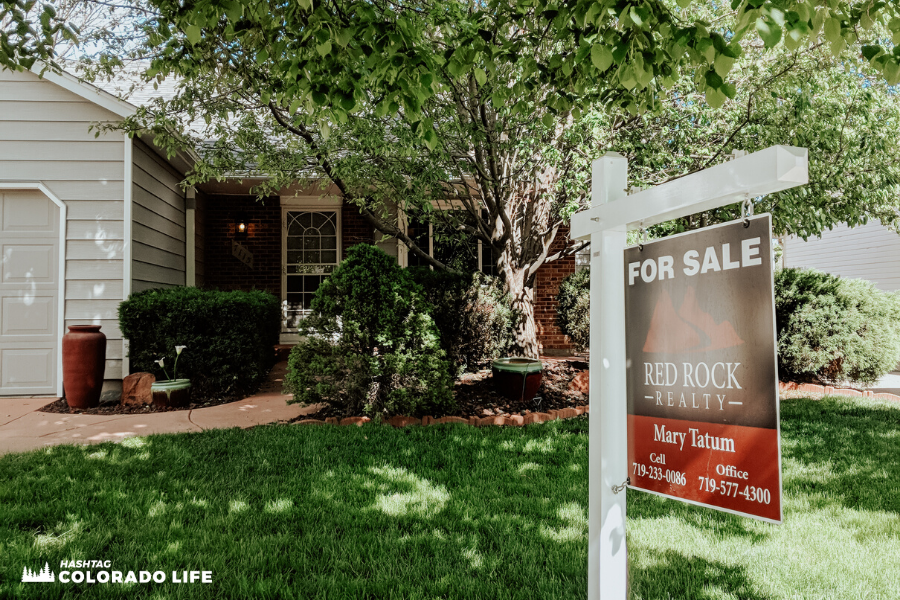 Whether you are a native or a transplant to Colorado, there are pros and cons to consider to see if buying a house in Colorado is still a good investment.
Below are 18 things to consider when buying a house in Colorado.
iTunes | Google Play | Stitcher | Spotify
1. Live in an apartment before buying
As a couple we have lived in all 3 major cities along the Front Range — Denver, Boulder and now Colorado Springs.
Each city has different amenities, housing prices, and lifestyle options.
Since buying a home is not cheap, especially in Colorado, we recommend living in an apartment first for at least 2 years.
This way you can be sure of the city and area you want to live, and have time to understand the market, before making such a large investment.
2. Housing prices are rising daily
There's no doubt that no matter who you ask, it's expensive to live in Colorado! And it seems to be getting more costly by the day.
In fact, our house has appreciated by about $25,000 in just a year and a half of owning it!
3. The Colorado housing market moves fast
If you find a home that you like, schedule a showing and put in an offer that same day. Don't wait!
Our home was listed, showings scheduled, offers submitted and accepted, and taken off the market in just two days.
That is not a lot of time to figure out if you want to buy a certain home or not!
You have to be fast when a good home comes on the market. Don't hesitate to put in an offer on a home you really like.
We put an offer on our house the same day it was listed, and it already had multiple offers.
4. Use an online mortgage calculator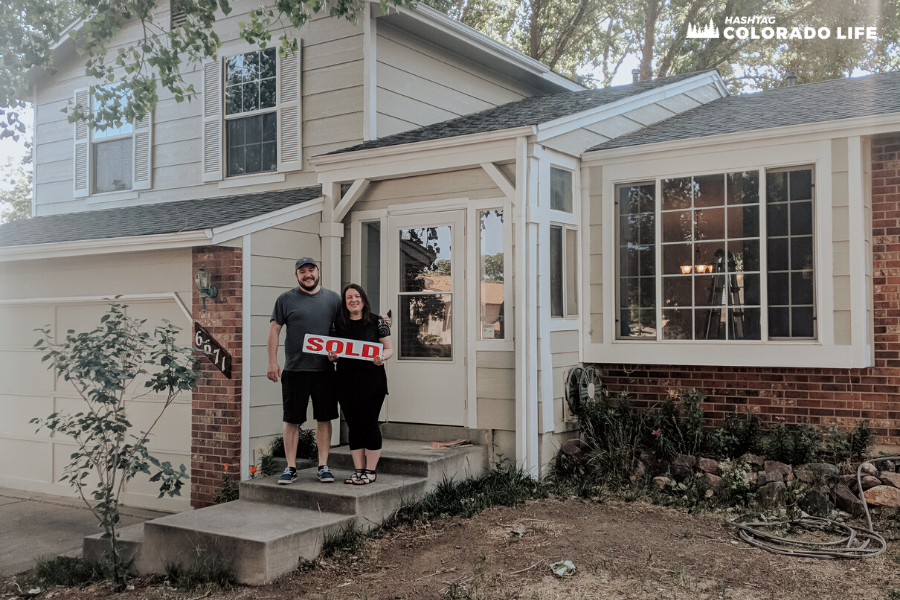 Doing a simple Google search will yield simple online mortgage calculator results.
This is a good baseline for seeing what you can afford, and can give you a good starting price range for looking at homes.
But an online mortgage calculator won't include everything.
When we first used a mortgage calculator it gave us a budget of $700,000 when in reality we ended up only having a $300,000 budget.
If you are self-employed, or if you own a business, an online calculator won't take this into consideration.
5. Budget for additional costs
There are also additional fees, aside from simply paying the interest and principal amounts, that need to be factored into your budget.
Additional costs when buying a home include:
Private Mortgage Insurance (PMI)
Real estate taxes
Home insurance costs
The cost of upkeep & maintenance
Small repairs to comply with city codes
Custom upgrades to the home
6. Get pre-approved for a mortgage
To start the house hunting process, you need a pre-qualification letter or pre-approval letter from a bank.
This paper will show how much the loan will be for, the interest rate, and the expiration date for these terms.
In Colorado, it is nearly a requirement to be pre-approved before starting the home searching process.
You will know exactly what you can afford because this is the amount the bank is going to give you for the loan.
Plus, sellers really like working with buyers who are serious. If you are already pre-approved for a mortgage, your chance of sealing the deal will be much higher.
The best time to get pre-approved for a mortgage is about 30-90 days from when you hope to buy a home.
Be prepared to answer such questions like how much debt you have, what your credit score is, how long you've been in business, and other financial details.
7. Start the application online
We recommend getting pre-approved for a mortgage at several different banks, to compare your options.
It is easy to start an online application at a bank you are already a customer with.
It's also a good idea to get quotes from a local credit union or community bank.
They will usually be more flexible than big banks and have better rates and features for your loan.
Don't get discouraged if a bank doesn't give you a high enough pre-approval amount.
Just keep getting quotes and working with different banks until you find one that will work with you the best.
We went to multiple banks and got approval letters for amounts from $160,000 – 300,000. Don't give up at just one quote!
8. Save up a down payment (to avoid PMI)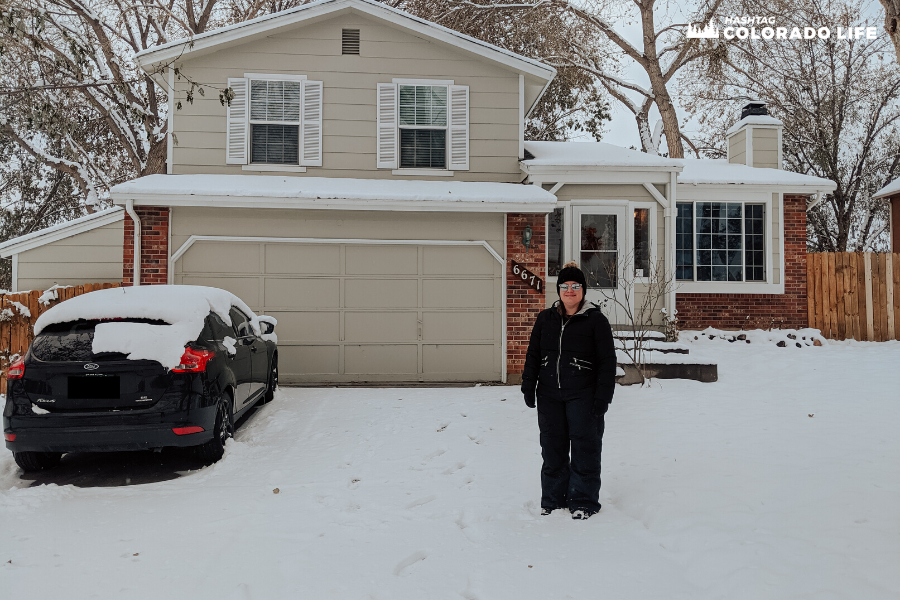 Obviously, you want to save up as much of a down payment as possible.
A down payment helps avoid additional costs like Private Mortgage Insurance (PMI) and reduces your overall monthly payment amount.
PMI occurs when your home has a loan that is more than 80% of the value of the home.
A Private Mortgage Insurance company will step in and cover the remaining 20% of the home until the debt-to-value ratio is reduced.
For this reason, the recommended amount for a down payment is 20% of the total cost of the home.
But this can be a lot of money, especially considering the average cost of a home in Colorado right now is $449,000 according to Zillow.com.
You can get a home with as little as 3.5% down with an FHA loan, but you will have to pay PMI.
9. Utilize an escrow account
The most common way to pay for PMI is to have it rolled into your monthly payment and put into an escrow account.
An escrow account is a savings account that is managed by your mortgage company.
It takes a portion of each month's mortgage payment and saves up money to cover things like, real estate taxes and insurance premiums.
In addition to prepaying real estate taxes and homeowners insurance, we pay an additional $186 a month for PMI.
So, take that into consideration when you are budgeting for buying a home.
10. Vet multiple real estate agents
Look for a real estate agent who is the best fit. Don't just go with one because it's convenient or they are a friend of a friend.
Find out if they have the right credentials. Check to make sure they have a valid license and/or are working with a reputable firm in Colorado.
If you are unsure, a quick online search can provide a lot of the results you're looking for.
To become a licensed real estate agent, you must complete pre-license education, and pass the state real estate license examination.
We went through 3 real estate agents before we found the best one for our situation.
Since we didn't live in the city where we bought the home, we needed our agent to be our advocate, and help us out a lot.
Try multiple real estate agents and don't be afraid to test them out. Don't commit if it's not working, as it needs to be mutual for everyone involved.
11. Work with the right realtor
Make sure your realtor has enough time for you and your needs. Do they arrive at showings on time? Do they communicate with you quickly?
As you know, the Colorado housing market moves fast and you need a realtor who moves fast too.
Find a real estate agent who will help you stick to your budget!
Don't even let them take you to homes that are out of your budget, otherwise you will want to buy them…it's that simple. 🙂
Seriously, this is the best frugal tip we could offer when looking at buying a home.
You want to enjoy your home and all that Colorado has to offer, not be house poor and can barely make the mortgage payments.
12. Do a virtual tour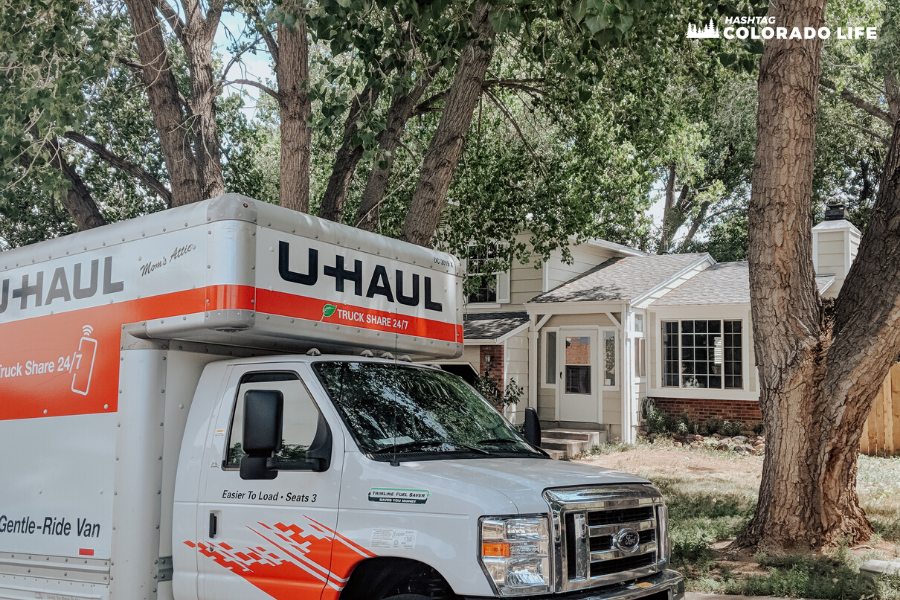 When we were house hunting, we were surprised by how quickly the market moved. I know we have talked about this but it's true!
If you are even remotely interested in a certain home, aim to take a tour of that day, or the next day.
Be ready to move fast!
If you don't live in the same state or the same city where you are moving, see if a friend or family member can give you a virtual tour of the place.
Or even ask your real estate agent.
Because we lived 2 hours away from Colorado Springs, we asked our parents to tour the home and give us their feedback.
With technology today there is FaceTime and other ways to get a virtual tour completed so you can view the home quickly.
13. Look at mortgage assistance in Colorado
Colorado residents have several options for mortgage or down payment assistance.
One of those is getting mortgage assistance through CHFA (Colorado Housing & Finance Authority).
CHFA offers potential home buyers different programs and grants that help with down payments and closing costs.
You may also be able to get down payment assistance through a Colorado community bank.
For our situation, we could get help with the down payment and simply repay it from future profits when we sold the house.
Military families or vets can also get help with down payments, or even no-down-payment options.
Just check out the Colorado Resource Portal for Vets for more information.
14. Have an escalation clause
An Escalation Clause is a section that's included in your offer when you draft up an official offer to purchase the home.
You're basically saying that you want to escalate the negotiation process by offering a capped amount of money.
This reduces the amount of back-and-forth from other potential buyers and the seller.
You are offering a certain amount for the home, but if the seller receives a higher offer you're willing to go up to that capped amount in order to win the deal.
In our case, the home was listed for $272,000 so we offered $276,000 but included an Escalation Clause stating that we were willing to go up to $281,000.
Another couple offered $277,000 but since we had the Escalation Clause we beat out the other offers and the seller accepted!
If we didn't have this clause in our offer we might have lost out on the house by only $1,000.
15. Consider the time of year
The time of year determines a lot in housing prices in Colorado.
Spring and the end of summer are popular times of year for buying homes, and there is generally a lot of inventory to choose from.
However, this also means there is additional competition to worry about and the possibility of paying higher housing prices.
During the winter, you may have less inventory available but less competition from other buyers.
You may be able to get a better deal depending on the time of year you are buying a home.
16. Subscribe to a notification list from your realtor
Get alerted quickly by subscribing to a notification list from your realtor.
Most real estate firms will have an online portal or notification list you can view that displays new homes listed daily.
Or at the very least, use real estate apps like Zillow or Realtor and sign up for their email alerts.
In addition, use more than just one real estate website, as some listings are on one site and not the other.
You don't want to miss out!
17. Get a an extra $10,000
If you have a Roth IRA you are allowed to withdraw up to $10,000 from a Roth IRA without paying taxes or penalties for your first home.
The rules are flexible though, since you're considered a "first-time homebuyer" if you or your spouse have not owned a principal residence in the past two years.
This is why we suggest moving into an apartment for two years when first moving to Colorado so you can take advantage of this withdrawal.
Another stipulation is that you must have had the account open for five years, before withdrawing the $10,000 for a home.
18. Prepare for closing day
Closing day is usually scheduled 30 days after the offer has been accepted and the property is put under contract.
During this time it can feel like you have a second full-time job!
Expect to get a lot of closing-related tasks, from getting the home inspected, to making requests for repairs, and getting the city's appraiser to sign off on the deal.
It can be very time consuming and everything needs to be done in a very timely manner.
So, be prepared for this as part of the home-buying process.
Is buying a house in Colorado a good investment?
Having said all this, is buying a house in the Square State still a good investment?
We believe that the answer is, yes! In the current market, housing prices continue to rise.
In a few years your home's equity will increase and you can sell it to make a decent profit.
Colorado's popularity is also continuing to spike with no signs of slowing down.
The job market is on the rise, and people are moving to the state in troves, with more coming every year.
Not only that, but real estate taxes are much lower than a state like Texas — mostly because Colorado has a state tax.
So, this can affect the cost of your mortgage payment in your favor.
In the next 5-10 years we expect that the Colorado economy will continue rising, due to the fact that more houses are built every single day.
The local government continues to do upgrades on the roads, and improve the cities to make room for more residents.
There are not many indicators that the housing market is slowing down, so get it now while you can!
Carrie Smith Nicholson is one of the co-founders of Hashtag Colorado Life. After living in Texas for her whole life she moved to Colorado 5 years ago. As a travel blogger and entrepreneur for the past 10 years, her writing has been featured on NBC News, HuffPost Live, Glamour Magazine, Inc Magazine and many other media outlets. When she's not writing about new travel locations, she enjoys spending time outdoors hiking, camping in her NuCamp teardrop trailer, and trying new foods. You can follow her outdoor adventures on Instagram, @hashtagcoloradolife.