7 Best Spots for Sledding & Tubing in Colorado Springs
This website may contain affiliate links and we may be compensated (at no cost to you!).
Discover the top destinations for snow tubing in Colorado Springs this winter.
While the city doesn't have an official snow tubing hill or sledding spot, nearby areas offer great options.
Thanks to resorts like Winter Park, Monarch Mountain, and Frisco Adventure Park, you can easily experience snow tubing within 2-3 hours.
These resorts offer a range of options, including a family-friendly hill, ensuring that there's something for everyone.
And as a local to Colorado Springs who was born in the city, I'm sharing a few of my favorite local sledding and tubing spots as well.
1. Frisco Adventure Park
Located about 2.5 hours from Colorado Springs, one of the top snow tubing places is Frisco Adventure Park. It boasts a unique tubing hill with multiple lanes for a memorable snow tubing experience.
Offering diverse experiences, from thrilling rides to more relaxed ones, you can soar down the hill at lightning speeds or take a more mellow ride.
The hill is easily accessible with a surface lift (aka tube-tow lift system), a slow-moving conveyor belt that safely transports tubers back to the top.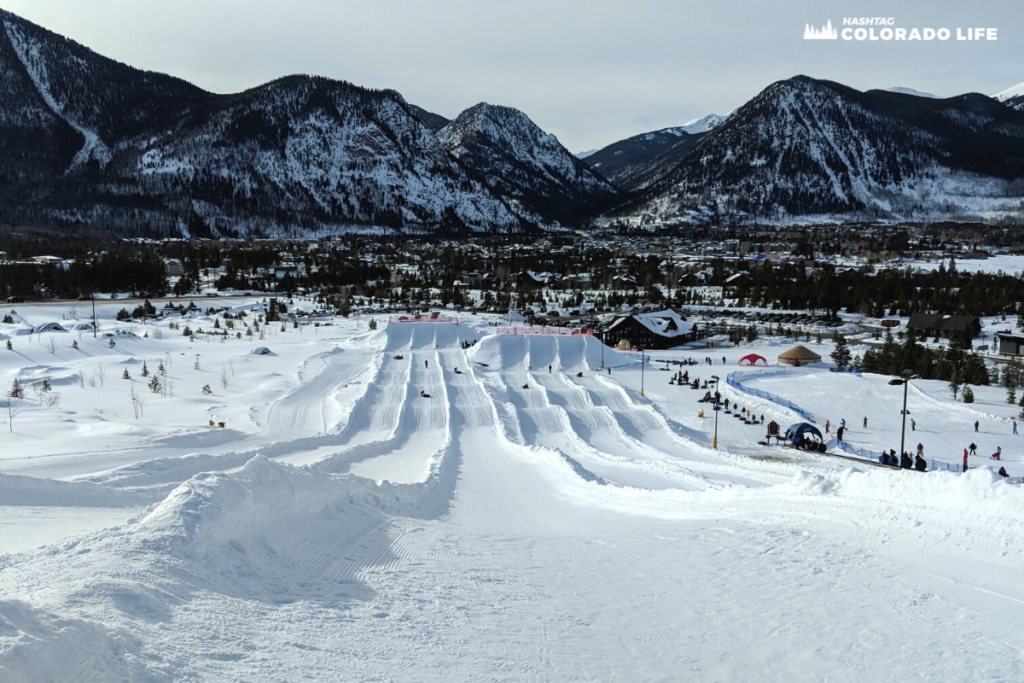 A reservation and purchase of a ticket is required for admission to the Park, so be sure to check their website for more info.
In addition to snow tubing, Frisco Adventure Park offers many different winter activities. These include ski and ride options for beginners and the Frisco Nordic Center.
Frisco Adventure Park is a perfect winter destination for families seeking fun in the snow.
2. Coca Cola Tubing Hill
Another one of our favorites for snow tubing near Colorado Springs is the Coca Cola Tubing Hill in Winter Park.
Enjoy a thrilling snow adventure at the Coca-Cola Tube Hill thanks to multiple tubing lanes! This exciting attraction features banked curves and a convenient conveyor lift that takes you back to the top.
The Coca-Cola Tube Park is located next to the Vintage Hotel at the base of the Winter Park Resort. So it's conveniently close to some of the city's best winter activities.
Whether you prefer to speed down the fast lane, take it slow, or enjoy the ride with friends or alone, the Coca-Cola Tube Hill is a fun experience for all ages!
And every Thursday, Friday, and Saturday from 5-7pm this winter, you and your family can enjoy Cosmic Tubing. Take in a full night of neon lights as you race to the bottom of the tubing hill.
It's a magical adventure if you want to experience night tubing!
Be sure to include a trip to the Coca-Cola Tubing Hill in your next winter outing for a day filled with excitement and memories.
Or if you're looking for another option for excellent snow tubing, check out the Colorado Adventure Park, which is located in Fraser (near Winter Park).
3. Mueller State Park
A short 45-minute drive west from Colorado Springs is the beautiful Mueller State Park. While mostly known for fantastic wildlife watching, the park is also a winter-sports playground.
With more than 5,000 acres, Mueller State Park offers a variety of winter activities. Most notably, you can enjoy cross-country skiing, snowshoeing trails, sledding and snow tubing on several main hills.
If you're looking for sledding or snow tubing in Colorado Springs, Mueller State Park does not disappoint.
Here are the four main hills available for tubing, sledding and even snowboarding.
Elk Meadow – located on the east side of the parking lot.
Preacher's Hollow – located on the east side of the picnic area.
Peak View Hill – located across from sites 1-5.
School Pond – a tiny tubing hill located on the back side of the parking lot.
It's recommended to call the park to learn about current snow conditions before heading out for the day. Bring your own tube or sled and enjoy a fun day at Mueller State Park!
4. Monarch Mountain Tubing Park
As one of the closest ski resorts to Colorado Springs, Monarch Mountain is only about a 2.5 hour drive to some amazing snow sports.
Located near Canon City and Salida, which are two of our favorite towns to visit in the southern part of the state.
In addition to skiing and snowboarding, the resort is home to a fantastic Tubing Park.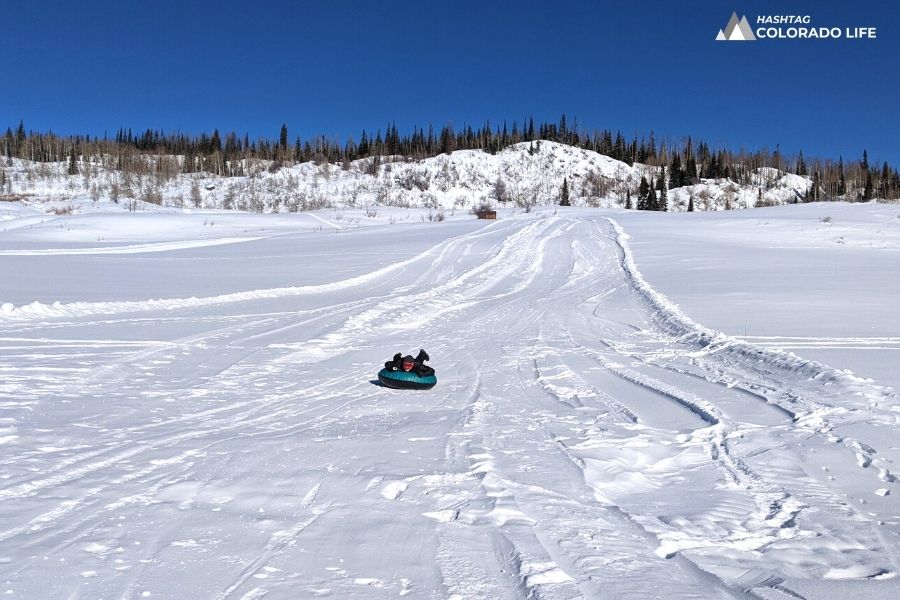 Monarch Mountain operates the sledding hill with a convenient pulley system to transport riders and their tubes to the top.
All you need to bring is warm winter gear and be ready to pay the hourly access fee. Enjoy a relaxing ride up the hill without the effort of climbing, as Monarch Mountain offers a hassle-free sledding experience.
And if you're a Monarch Season Pass holder, you can even get 50% off tubing admission.
5. Bear Creek Regional Park
Bear Creek Park is a versatile park with something fun for everyone! And the best part is that it's located in Colorado Springs.
With a fantastic dog park, several playgrounds, stunning hiking trails, and fantastic sledding hills, it's no surprise that the park is a popular destination.
Bear Creek Regional Park spans 545 acres of hilly terrain, providing plenty of open spaces for sledding.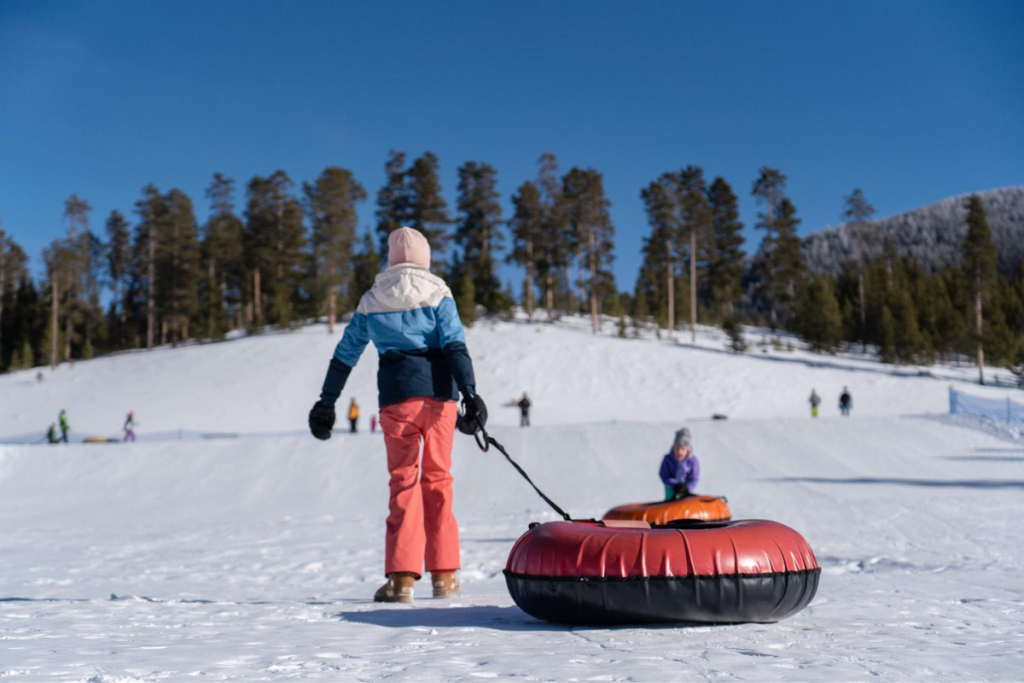 The areas near the playgrounds have low-grade hills and a wide flat area, allowing you to slow down safely from the busy streets.
Some parts of the park may have more challenging sledding terrain, so be sure to follow the signage and avoid damaging habitats or reclamation areas.
Remember to pack out all trash and pet waste and to not sled in the dog park as dogs and sleds are not a safe combo.
If you're looking for the best snow tubing in Colorado Springs, Bear Creek Park is one of the top!
6. Cottonwood Creek Park
Just a few blocks from our house in Colorado Springs is the open and spacious Cottonwood Creek Park.
The Park comprises about 77 acres as well as nearly 2 miles of paved paths for walking, hiking, biking, and skateboarding.
While Cottonwood Creek Park does not have an official tubing hill in the winter, you can bring your own sled for some fun times.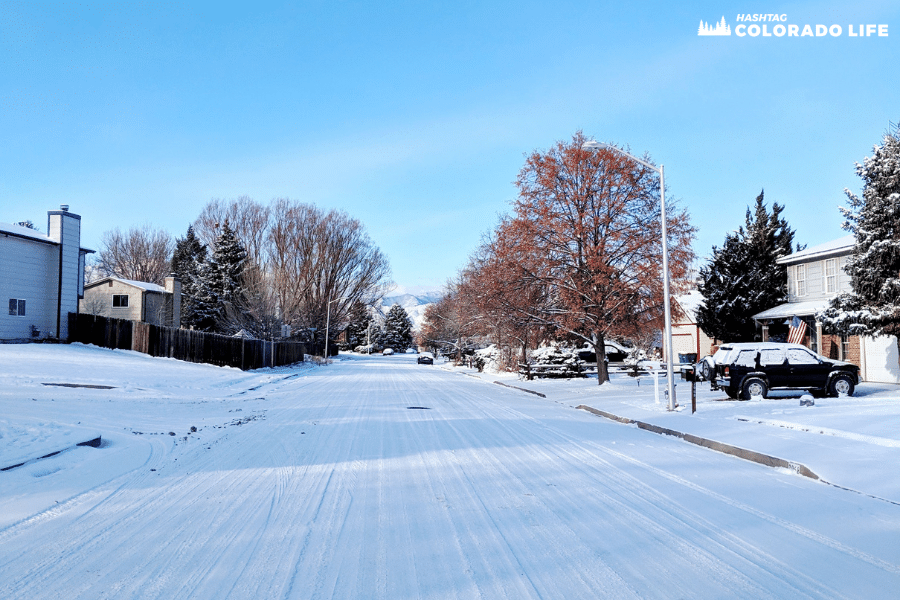 After it's been snowing for a while, the snow tends to gather on the south east side of the park, where it's mostly shaded. This makes for great conditions for DIY sledding or tubing!
The main hills at Cottonwood Creek Park are located right off Rangewood Drive or along Dublin, near the large parking lot.
The Cottonwood Roller Hockey Rink is also open to the public, if you want to do some outdoor ice skating. Just be sure to bring your own ice skates.
7. John Venezia Community Park
For a fun spot sledding in Colorado Springs, we head to the John Venezia Community Park located on Briargate Parkway.
Along the southern border of the Park is a popular slope for sledding and tubing, but you have to bring your own sleds.
What makes this location so great is the fact that it's a very well-kept community park. It features clean public restrooms, Astroturf fields for sports, and two miles of interior sidewalks.
Kids will enjoy the small playground while adults can take a break at the picnic tables overlooking the orchards. The nearby two acres of Bluegrass makes for great snowshoeing or cross-country skiing in the winter as well.
Bring your sled or tube and get ready to have a fun day of outdoor activities at the John Venezia Community Park in Colorado Springs.
Snow Tubing in Colorado Springs
Create your own winter adventure this year by grabbing your snow tubes and your whole family.
In just a short drive from Colorado Springs you can enjoy resort-maintained snow tubing hills. Or explore the city for some backyard sledding hills at nearby parks.
Some other popular places for snow tubing near Colorado Springs include the hill at Copper Mountain, Echo Mountain, and Steamboat Springs.
But I wanted to list some closer spots to the city that are within a 2-3 hour drive.