7 Best Hot Springs in Glenwood Springs, Colorado
This website may contain affiliate links and we may be compensated (at no cost to you!).
Glenwood Springs, Colorado, is known as one of the most picturesque historic towns in the state. But did you know it's also home to some of the most incredible hot springs?
For hundreds of years, Ute Native Americans have used the area as a healing mecca. Taking advantage of the geothermal waters' mineral-rich content to care for their mind, bodies, and souls.
While there are many beautiful hot springs in nearby Vail, Glenwood Springs is a favorite among locals and tourists alike.
See for yourself at one (or all) of the relaxing destinations below.
1. Glenwood Hot Springs Pool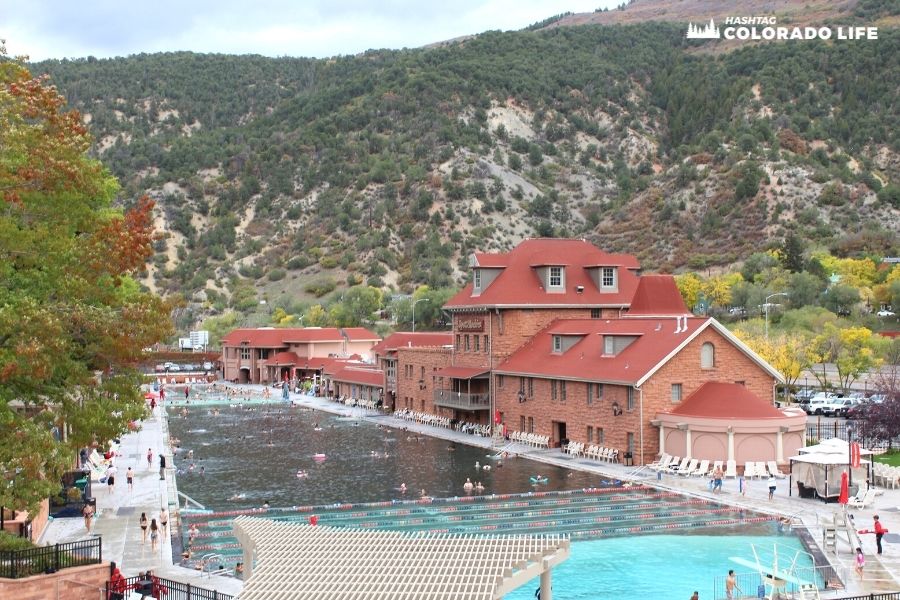 The Glenwood Hot Springs Resort is home to the world's largest mineral hot springs pool, attracting visitors from around the globe.
As one of the oldest hot spring tourist vacation spots, its healing waters have relaxed visitors for over 130 years.
Fifteen minerals within the water heal your body and rejuvenate your mind, soothing and calming sore muscles and working to help your system function at its peak.
Soak in the large main pool, get a workout in the lap lane to get your blood flowing, or relax in the expansive therapy pool.
Poolside cabanas and a family-friendly Sopris Splash Zone make the Glenwood Hot Springs mineral pool a great destination for all ages.
Enjoy delicious dining at the poolside bar and grill while marveling at the stunning mountain scenery. Or check out the world class spa called, Spa of the Rockies!
Once you're done, head out for a hike or bike ride, explore the nearby town, and finish your day with one more soak in the warm, geothermal waters.
Don't miss this world-famous massive hot spring pool for your next hot springs trip.
Distance: 0.3 miles
Travel Time: 1 min
2. Iron Mountain Hot Springs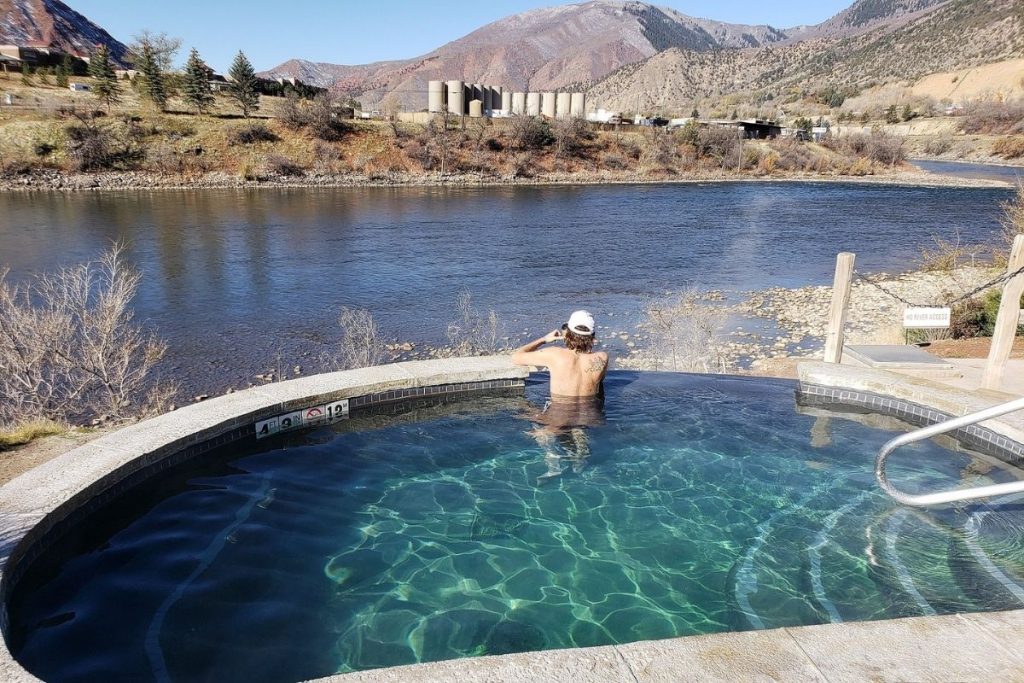 Find true relaxation while relaxing along the banks of the Colorado River at the Iron Mountain Hot Springs.
Enjoy access to 32 geothermal pools of varying shapes and sizes, giving you the freedom to choose your ideal relaxation spot.
Each hot tub and pool contains naturally-fed mineral-rich waters, with healing and restorative properties you can feel.
Stay the day or extend your trip and unwind in the beautiful hotel rooms designed to enhance your soaking experience.
Grab a bite to eat and enjoy a drink at the Sopris Cafe before heading out on a hike to explore the surrounding mountains.
Along with the geothermal pools, there are World Experience pools, a freshwater family pool, a jetted spa, a bathhouse, and luxury showers to take your stay to the next level.
Whether enjoying a romantic weekend or getting away with the family, you will have a blast at this relaxing hot spring destination.
Plus, it's located just a few miles away from the Glenwood Caverns Adventure Park, making it a great vacation for adventure lovers.
Distance: 1 mile
Travel Time: 4 min
3. Yampah Spa Vapor Caves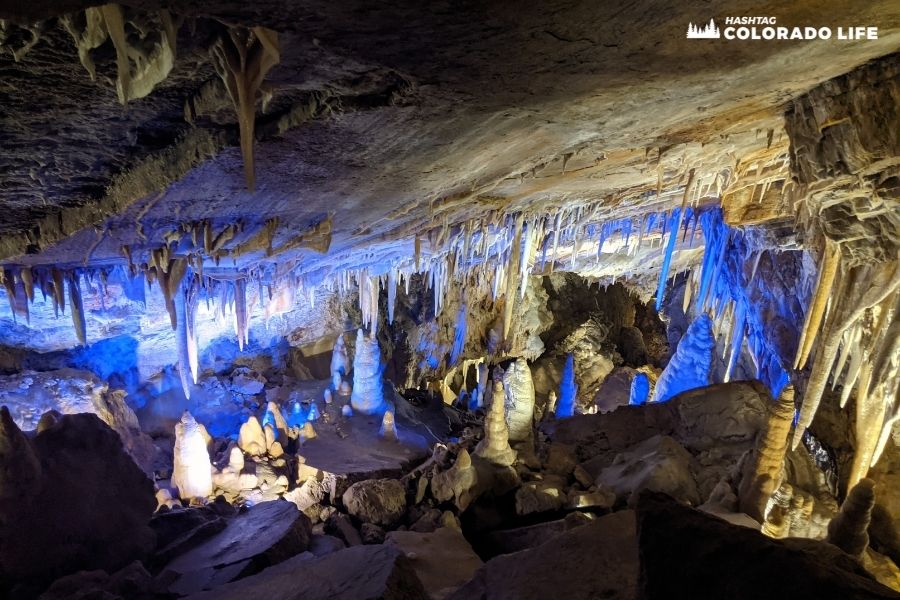 The Yampah Spa Vapor Caves are one of the most unique hot spring locations in Colorado.
You'll find the ultimate relaxation as you enjoy the geothermal steam baths generated by the 125° mineral water temperatures that come up from the Yampah Spring.
The word Yampah is a word the Native Americans used for mineral springs and is translated into Big Medicine.
Situated in underground caves, there are three adjoining rock chambers where you can sit back and relax as you take in the still quiet and stillness of the cave.
You will spend 10 to 12 minutes per visit with a brief break in the above-ground solarium, where you can cool down in a cold water bath.
The water within the caves contains 34 minerals and is high in sulfate, potassium, zinc, and nitrate, offering unsurpassed healing benefits.
Complete your stay with any of the first-class spa treatments that help melt away stress and pain and help you feel your best.
Experience relaxation like never before at the Yampah Vapor Caves underground hot spring location.
Distance: 0.3 miles
Travel Time: 1 min
4. South Canyon Hot Springs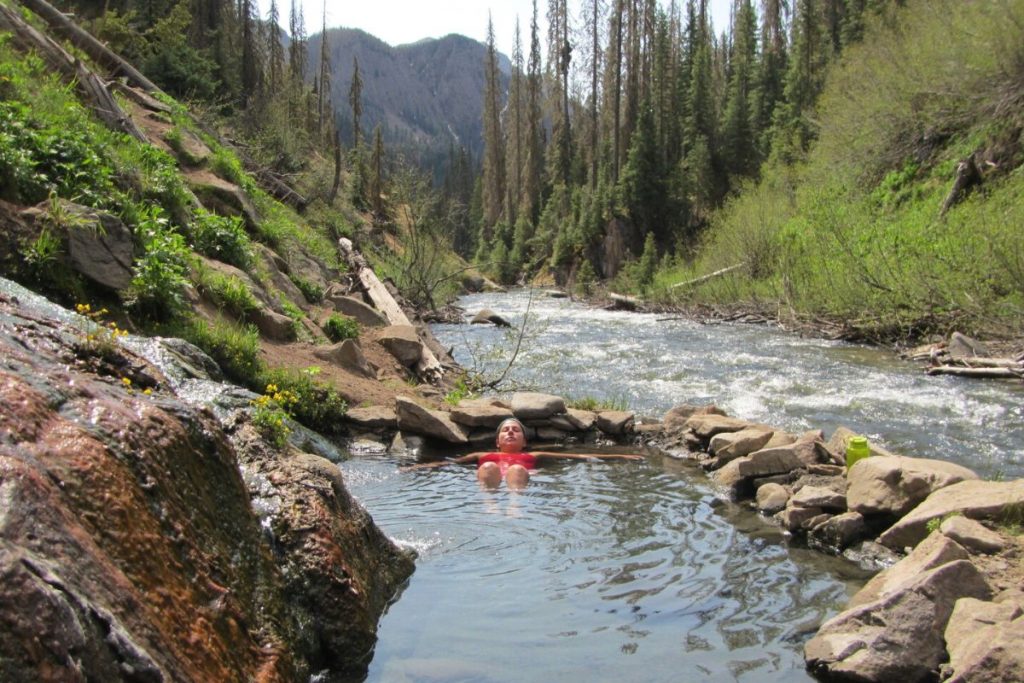 The South Canyon Hot Springs is a remote natural location situated in the heart of the Colorado wilderness.
Enjoy stunning views as you soak in the hillside soaking pools overlooking mountains and fields.
After a short hike, you will find the pools, just as nature intended, full of mineral-rich geothermal water, just waiting for you to soak inside.
While off the beaten path, there is parking available, and it's only a 15-minute drive to nearby Glenwood Springs.
Spend the day hiking and exploring nature, and finish it off with a refreshing and rejuvenating dip in these natural hot springs.
Don't miss out on your opportunity to experience nature like never before!
Distance: 6.2 miles
Travel Time: 9 min
5. Sunlight Mountain Resort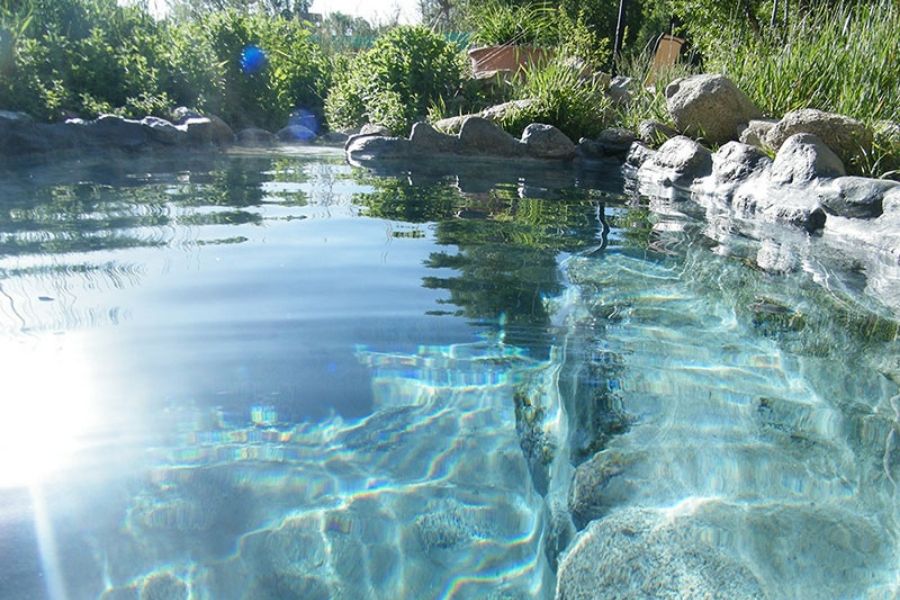 The Sunlight Mountain Resort has everything you need for an unforgettable family vacation.
Choose to soak in either the Glenwood and Iron Mountain Hot Springs, offering over 17 geothermal pools that are full of mineral-rich water.
The kids will have a blast at the splash pad and water park, which features a whitewater river open-air tube ride with tons of twists, turns, and drops.
When you want to get out and have an adventure, hit the slopes and experience world-class skiing and snowboarding.
Book a room at one of the renowned hotels and lodges, and kick back and enjoy your stay. In the summer, kids and adults will enjoy the kiddie pool, Shoshone Chutes, and diving area.
Walk to nearby downtown Glenwood Springs for local dining, bars, cafes, shops, and more.
There's so much to do you'll want to come back every year. Experience non-stop family fun at these family-friendly hot springs.
Distance: 12.9 miles
Travel Time: 26 min
6. Strawberry Park Hot Springs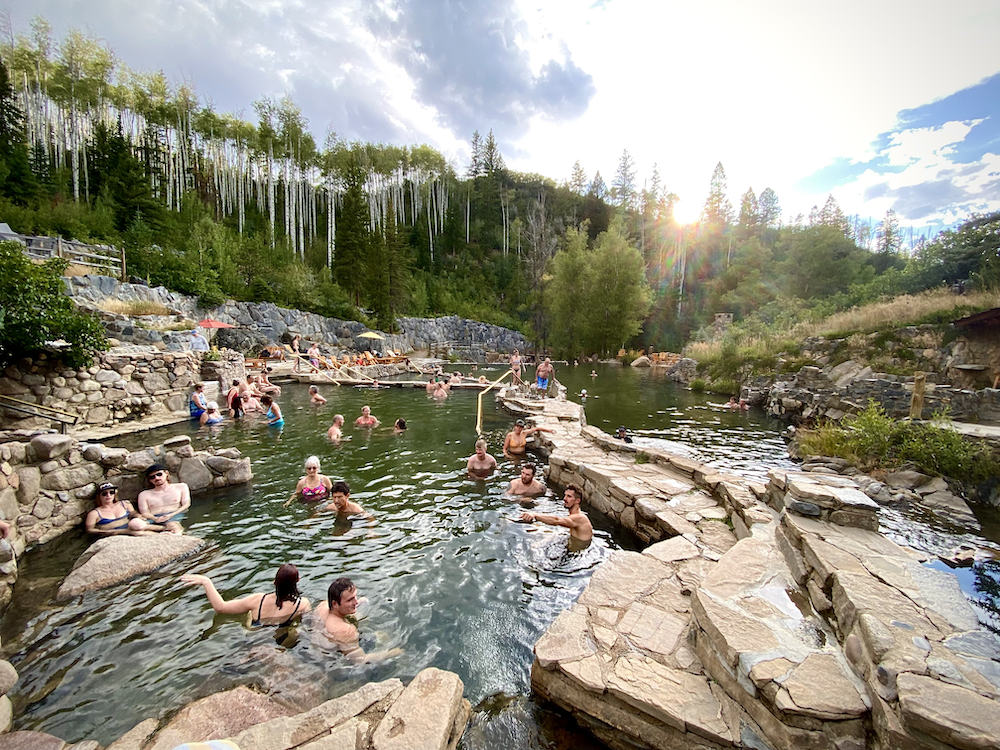 When you need solitude to unplug from the world, head out to Strawberry Park Hot Springs.
This remote destination is the ideal place to leave your cares behind, reconnect with nature, and heal your body and mind.
It's open year-round, but you will need a four-wheel or all-wheel drive vehicle to access the location in the winter.
There is no alcohol allowed onsite, and clothing is optional, making this an adult-only relaxation destination.
Natural elements are incorporated throughout, helping visitors feel grounded and eliminating distractions that could take away from the rejuvenating qualities of the hot springs.
You can visit for the day or stay longer at one of the cabines, which offers private hot spring access.
For the ultimate getaway, be sure to visit this remote and relaxing hot spring escape.
Distance: 117 miles
Travel Time: 2 hr 14 min
7. Pagosa Springs Resort & Spa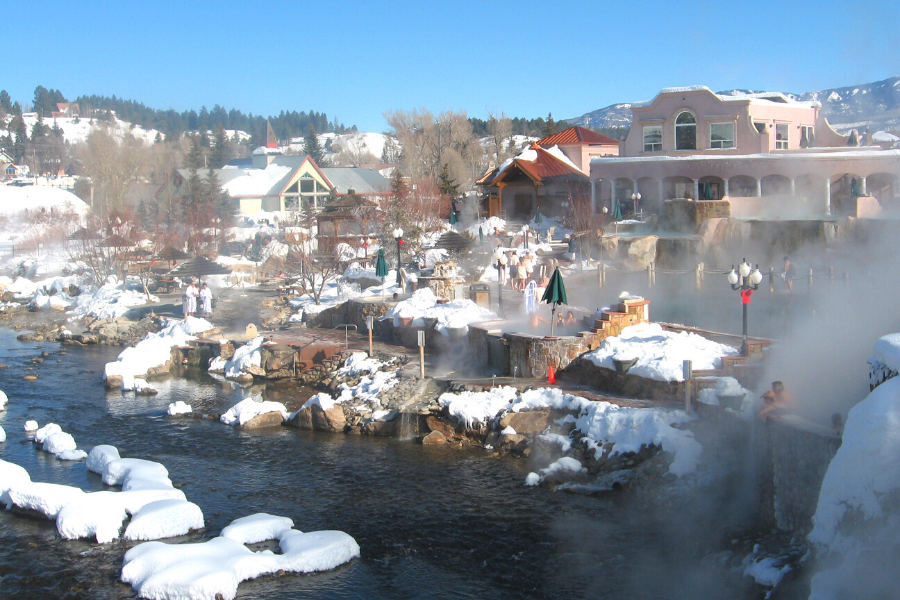 Soak in the 13 minerals located within the geothermal waters in the Pagosa Springs Resort & Spa.
This idyllic resort boasts 25 hot spring pools with therapeutic waters that's situated along the San Juan River.
At night, when the weather cools, mineral-rich steam fills the air, creating a mystical and healing setting you will fall in love with.
Grab a bit to eat at the cafe and enjoy it poolside as you sit under the thatched cabana, soaking in the sun and allowing your body to unwind.
You can get a day pass or stay longer and enjoy 24-hour pool access with your booking.
Additional amenities include yoga and forest bathing hikes and exploring the beautiful nature surrounding this hot spring oasis.
Distance: 280 miles
Travel Time: 5 hr 3 min
Take your time exploring the amazing mineral pools along with body treatments and athletic clubs that each hot springs resort has to offer.
Not to mention, the drive through Glenwood Canyon is of our favorites every year.
Discover why Glenwood Springs is one of the best places to experience the best hot springs in Colorado!