How to Travel Safely and Enjoy Colorado During Uncertain Times
This website may contain affiliate links and we may be compensated (at no cost to you!).
After 2020, you never know what to expect and there is uncertainty everywhere.
With the spread of the virus comes volatile changes in the stock market and fear of the future as a whole.
Many Coloradans have lost their jobs or had to close their small businesses.
And we have been instructed to enact strategies of self-quarantine and many of us can not leave the house.
During the summer, Colorado usually experiences devastating wildfires that ravages acres and acres of beautiful landscape.
In the winter, avalanches, hail storms and other natural disasters are prevalent.
How do you find enjoyment during this time? What can you do to remain positive when things are uncertain?
That is what we are sharing in today's podcast episode. Plus, we share a personal update on the future of our Colorado travel podcast.
Here is how to enjoy Colorado safely, while limiting possible exposure to wildfires, bad weather, or any other disasters.
1. Get outside in nature
Go outside and enjoy nature for awhile. It will be good for your mood and your mind. Take the kids and go for a bike ride, or a long walk at a nearby park.
Just be sure to avoid playgrounds and other equipment right now. Limit your exposure to people and other kids.
Being outside is relatively safe as long as you are not coming into contact with lots of people.
Sunshine can be some of the best medicine, especially when you have been cooped up indoors for awhile.
The sun's UV rays can kill much of the bacteria and Vitamin D is a much-needed element that your body needs.
If you need some ideas of where to get outside, check out this list of 15 hikes you can do right now in Denver during the pandemic.
2. Take a virtual art & museum tour
Right now many of the world's museums and art galleries are closed.
But there is one way you can still enjoy the culture and color without visiting a museum in person, and that is through a virtual tour.
Street art tour of Colorado
Colorado is known for having amazing street art and colorful murals all over the state. You can find displays in cities like Denver, Boulder, Greeley, and even Pueblo.
And the best part is that you can enjoy this all without ever leaving your home.
Go on a virtual street art tour of murals from Colorado's Eastern Plains to the Rocky Mountains.
NASA virtual tours
NASA is offering virtual tours of their Glenn Research Center facilities. Simply select a tour from the list on their website, then tap the icons to view different videos and images in action.
Then, check out a 360-degree virtual tour of the Hubble Space Telescope's home for mission operations.
The tour starts in the lobby and teaches you all about orbiting spacecraft.
British Museum in London
The British Museum in London will teleport you into the "Museum of the World" where you can virtually travel along any historical timeline.
Just click on a time period you are interested in and learn more about that era.
Explore ancient cultures like Egyptian mummies, the Vikings, the Roman Empire, and tons more.
The Louvre
If you are interested in architecture, The Louvre website offers online tours of their museum exhibits and galleries.
You can enjoy every minute of history while also viewing the exterior and interior architecture.
The Smithsonian
As a lover of history, the Smithsonian's National Museum of Natural History is one virtual tour I am excited to check out.
Go on a self-guided virtual tour, room-by-room to see select exhibits.
Plus, you can see research and collections from satellite stations, and even explore past exhibits that are no longer on display.
Google Arts & Culture
If you are looking for a specific museum or art gallery not mentioned here, check out the Google Arts & Culture website.
Google has partnered with 60 museums and galleries from all over the world to offer virtual tours thanks to Google's Street View technology.
Follow along as Google documents priceless art and provides quite a unique experience.
You can find art from the White House and the National Gallery of Art in Washington DC. Plus, many other collections from museums all over the world.
3. Prepare your kitchen for quarantine
While stuck at home, start preparing your kitchen for quarantine. Take everything out of your pantry and do a food audit. Then, give everything a good cleaning.
Challenge yourself to see how many dishes you can create from food you already have. What are some ways you can make your food stretch longer?
Take stock of your kitchen utensils, dishes, silverware, equipment and even your spice rack.
Clear out some of the clutter and see what you really need and what you can get rid of.
4. Start an at-home workout routine
Keep your workout routine intact even while at home thanks to resources like YouTube and online streaming.
YouTube has fitness videos for all types of working out including, yoga, kickboxing, and resistance training.
Or you can stream live workouts from your local gym. A lot of gyms in our area are offering free fitness classes for everyone (not just members!).
For example, PlanetFitness is streaming "Home Work-Ins" virtual workouts daily at 5pm on their Facebook Page.
Anyone can join and classes are about 20 minutes or less. They can be streamed on your phone, tablet or computer.
Many of the online videos can be done without any equipment needed.
5. Go for a drive to a secluded spot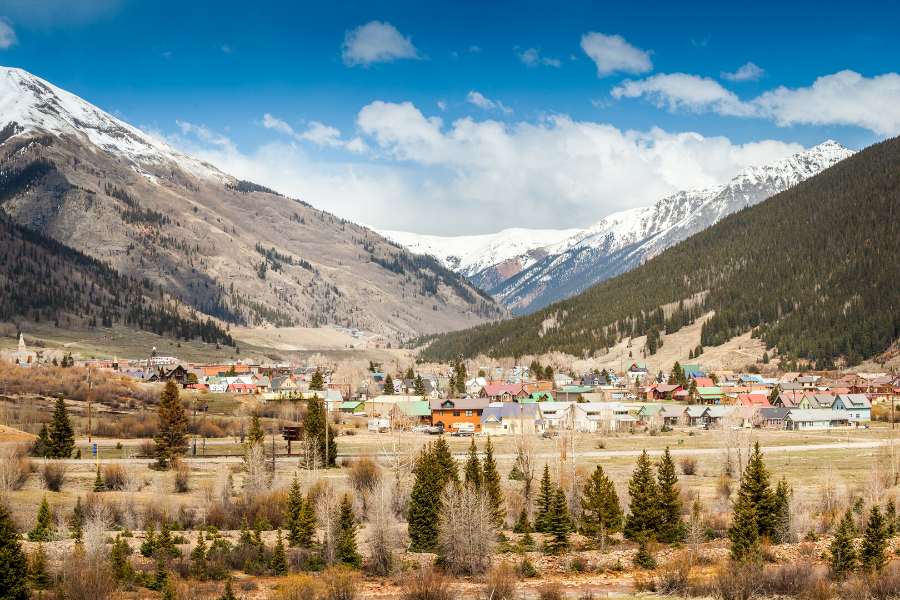 Colorado has lots of small, secluded towns that are a perfect getaway during this time of Coronavirus.
Get in the car and go for a drive with your family to enjoy the scenery.
Some of our favorite secluded places to drive to include:
Redstone, Colorado
Marble, Colorado
Rocky Mountain National Park
Dinosaur National Monument
We suggest bringing some yummy snacks and food for a picnic to enjoy a day away in a more isolated area of Colorado.
6. Have fun at home and be creative
Just because you are stuck at home doesn't mean it has to be boring all day long. Dig out the board games and playing cards to have a family game night.
Start a book reading challenge and finally get through that list of books you've been intending to read.
You can check out a good book on Kindle and get it downloaded instantly!
Set up your living room to be an outdoor tent or camping area. Then build a fire in the fireplace to roast S'mores and have a camping trip indoors.
You can also set up a pillow fort and enjoy a movie night with popcorn.
Another idea is to watch some YouTube videos to find inspiration to learn a new skill.
Get ideas for cooking new recipes, figure out how to paint, or even learn a new language.
Lovlan is an online platform that offers a variety of fun and challenging activities, such as virtual escape rooms, murder mystery games, and treasure hunts.
You can participate in these activities alone or with friends and family, and they can be tailored to fit different age groups and interests.
Lovlan also has a range of interactive classes, from cooking and mixology to art and music. With Lovlan, you can have a unique and engaging experience right from the comfort of your own home.
So why not give it a try and see what new skills and memories you can create?
7. Get a jumpstart on spring cleaning
The CDC recommends cleaning and disinfecting daily, so why not get a jumpstart on spring cleaning too?
Start by organizing and cleaning out the closet, and decluttering clothes that are worn or no longer fit.
Have your kids organize their toys and toss ones that are broken or damaged.
Wipe down all baseboards, stair handrails, window sills, and deep clean furniture since these areas are touched frequently.
Clean out your garage and get rid of stuff that you no longer need.
Make room for new projects and maybe even have a spot to park your car inside next winter!
How to travel safely in Colorado
All of these ideas will help you find enjoyment while traveling safely in Colorado.
You can limit exposure and still find new ways to explore the state all while still being positive about the situation.
Further your creativity, learn something new, be productive, and remain positive. The time of crisis won't last forever!