How Much Does it Cost to Move to Colorado This Year?
This website may contain affiliate links and we may be compensated (at no cost to you!).
Are you thinking of moving from another state? How much does it cost to move to Colorado this year?
Moving out of state is a big deal, especially if you're coming from Florida, Texas or California.
Moving costs are not cheap and there's always a good bit of planning that goes into a successful cross-country move.
As you consider your options, you want to save as much money as possible and plan for everything as best you can.
Knowing the exact amount of what your move will cost will take some planning but is a great starting point for budgeting.
Whether you hire a Colorado moving company or do it on your own, there are lots of things to look at and plan for.
Here is exactly what it costs to move to Colorado in 2023. These are just some of the factors to keep in mind when budgeting for moving expenses.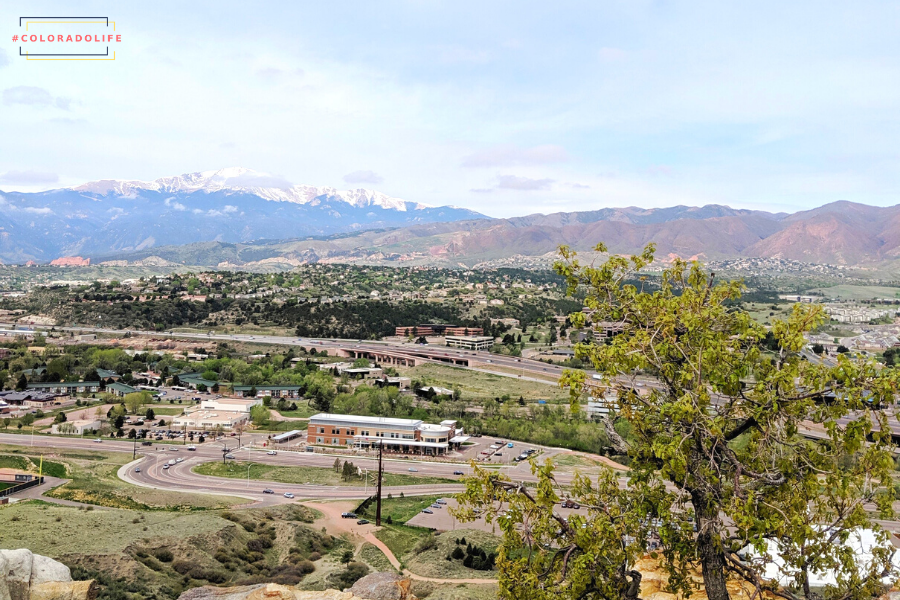 How far are you moving?
The first step to figuring out the total cost of moving to Colorado is to estimate how far your move is going to be from your current home.
There's a big difference in cost depending on whether you're moving to a new state across the country versus an in-state move.
If you're traveling to the next state over, it will not cost nearly as much compared to moving across several state lines.
If you're planning to move less than 100 miles from your starting point, you will likely only have to pay a local rate.
A local moving rate is based on how many hours it takes to move, as well as how many movers and trucks you need to take care of the process.
The further out you travel for your move, the higher the cost is going to be. Even if you end up renting a truck and hauling everything on your own, you're still going to pay a higher rate per mile for the travel time.
Some out of state moves can take several days to complete, which means paying for additional lodging overnight as well as taking time off work.
How many items are you moving?
Another factor that will increase the total cost of moving, depends on how much stuff you have and how many rooms you are moving.
The more items you have in your home the more costly it will be whether you're paying for movers to help or DIYing the move yourself.
The size of the truck will determine the daily rental rate as well as the cost of how much gas you or the company needs to buy during the trip.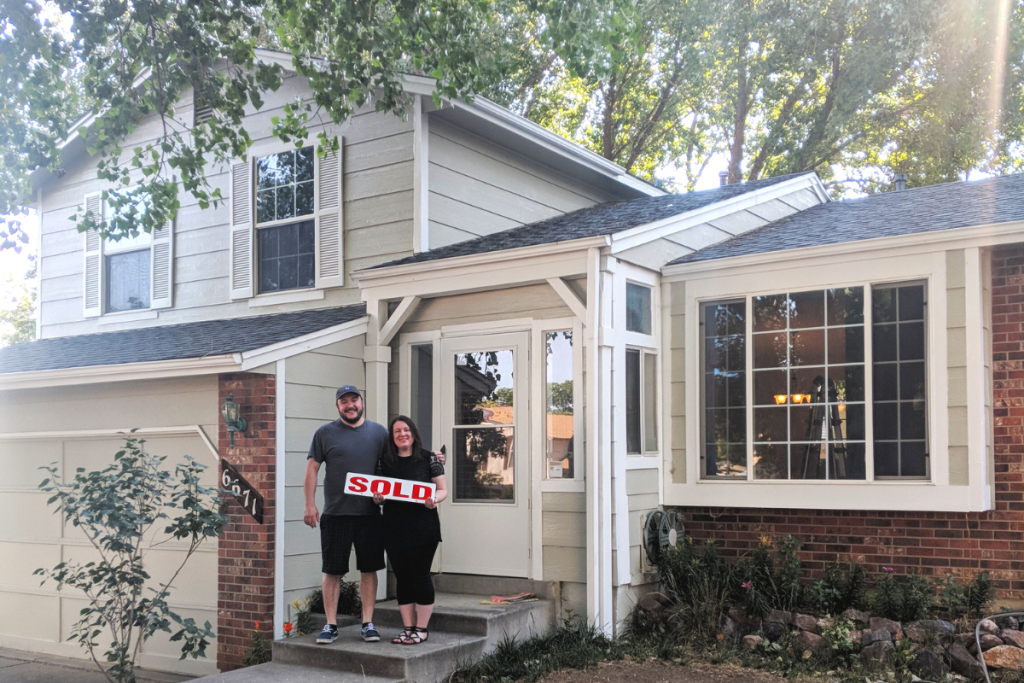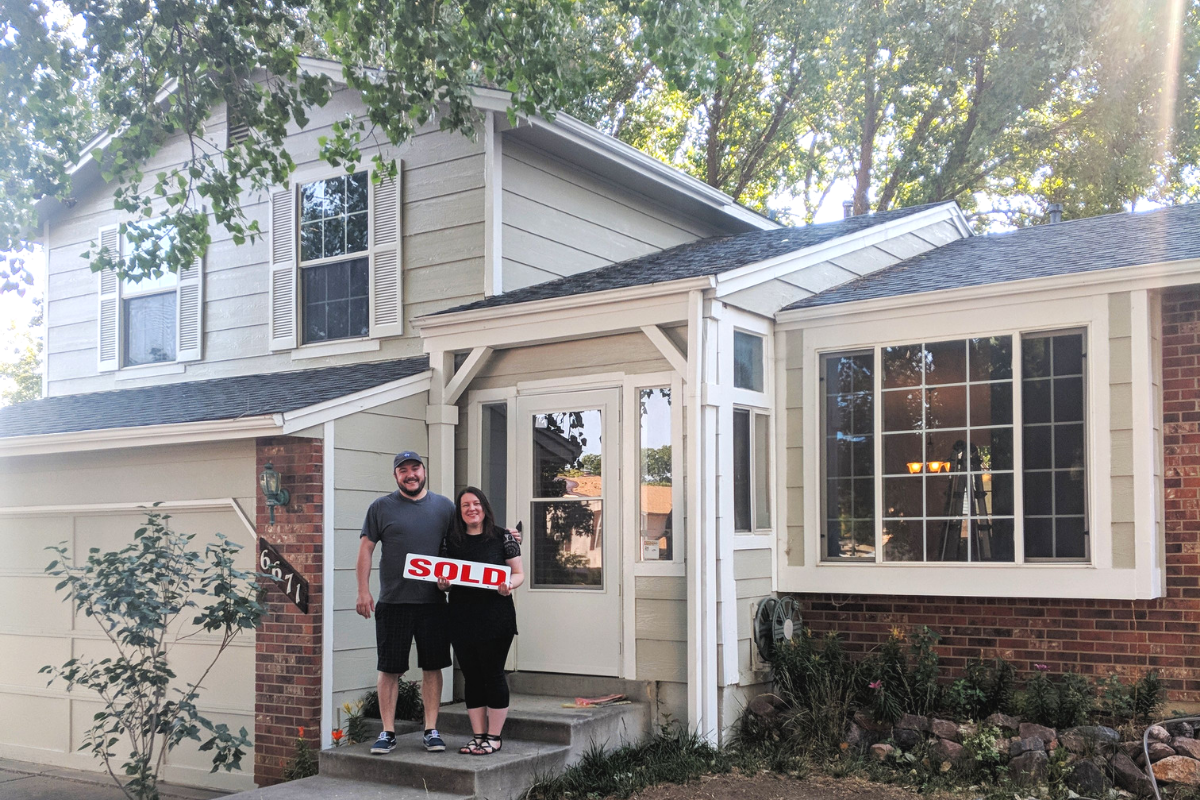 And we all know that the cost of gas is very expensive right now.
The amount of stuff you own can also increase the time and effort spent loading and unloading during the move.
This is why many out of state moving companies actually weigh how many items you have and charge you mileage and time based on how much your stuff actually weighs.
This is why most people will spend a few weeks decluttering, cleaning and organizing their own before a move. That way they are not paying to move items they no longer need or find useful.
Are you hiring movers or doing it yourself?
When we first started planning our move to Colorado, we compared the cost of renting a moving truck versus the cost of renting a uPack or PODS container.
After comparing our options, we decided to go with renting a moving truck. However, looking back we wished we would have rented a uPack or PODS container.
Our moving process would have been much, much easier and nearly about the same cost.
However, the process of taking care of your entire move yourself can be overwhelming, even if you rent a storage unit or moving truck.
This is why a lot of families who are moving across the country will hire a moving company to help. This is not the most budget-friendly option, though, as hiring movers can be expensive.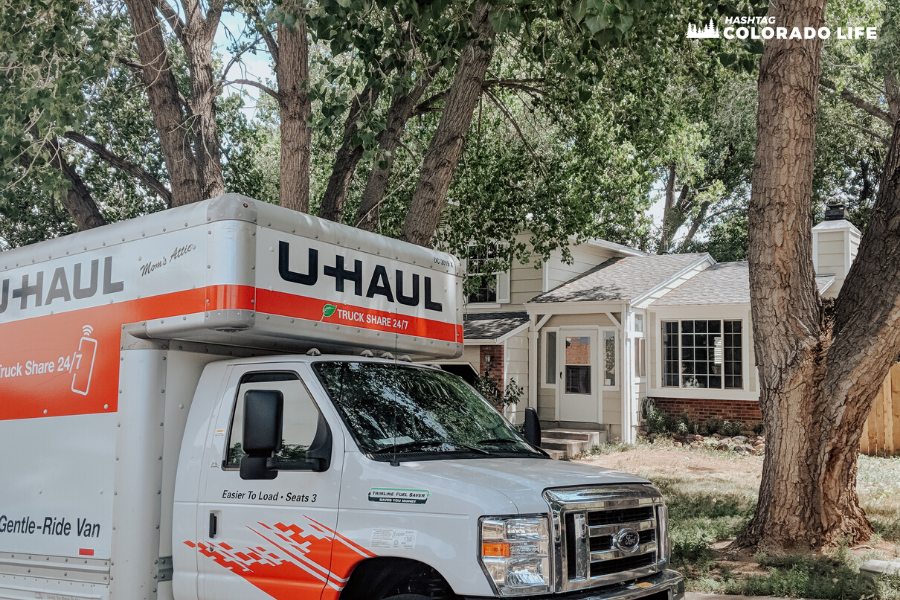 The cost of hiring a moving company varies based on distance. Local moves generally cost between $30-50 a mover, per hour while long-distance movers can cost up to $120 per hour.
Not only that but you may also have to pay a per-mileage fee for travel time and miles driven.
According to the American Moving and Storage Association, the average cost of an in-state is around $1,200 while the cost for moving across several states averages $5,600.
Remember though, you can reduce the cost of your move by doing some of the prep work yourself and having the tools necessary to get the job done.
You can also ask friends and family members to help clean and pack your items as well as load or unload your stuff.
Long distance moves often end up being a similar cost whether you're paying a moving company, choosing a movable storage unit, or renting a moving truck on your own.
Trucks end up charging by the mile and you still have to pay for gas, tolls, and even a trailer to tow your car.
We found out that the cost of paying someone to help us was very close to the cost of moving ourselves. We would have spent nearly the same amount of money in the end.
What additional moving services will you need?
On top of the regular cost of moving, you may need additional services to make moving day run smoothly.
Things like help with cleaning, packing, unpacking, assembly and disassembly are all things that might add to your bottom line.
You may also miscalculate how long it will take you to move and end up needing to pay for an extra day or two with the moving truck, which is what happened to us.
Or you might need to rent a storage unit for some time while you organize settling into your new place. The cost for these additional services, or even surprise expenses can really add up.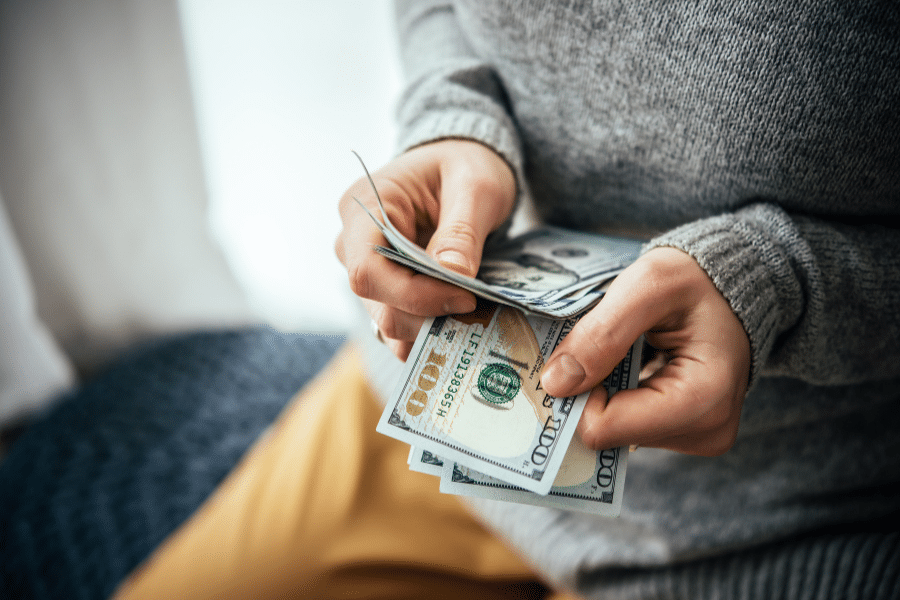 During our moving process, we had to buy a new wiring kit for our truck in order to be able to pull the moving trailer.
This cost ended up being a waste because we opted to rent a moving truck and come back for our Bronco later.
We also bought an outdoor lock for the moving truck door. It's these small things that aren't planned that can bust your moving budget.
From our personal moving experience, additional costs will likely be in the $120-300 range.
You may want to add a small contingency budget to your overall moving budget to help plan for these kinds of expenses.
What about the cost of moving supplies?
In addition to all of the things you have to budget for when moving, there are even more costs associated when it comes to actual moving supplies.
Moving boxes
Look for boxes available at stores like Lowes, Home Depot, or online at places like Amazon. These tend to come in bulk and can be a good deal cheaper.
Another option is to get a box bundle deal from a storage unit facility, if you end up needing to rent a storage unit during your move.
This is what we did.
Storage facilities often sell premade moving kits that come with the essentials needed, based on the square footage of your current place.
Packaging material
In order to keep your belongings safe and secure, you'll need a lot of packaging material. This includes lots and lots of newspaper, bubble wrap, and strong moving tape.
You can also use any towels, sheets, and other linens to help pack your valuables tightly (these are free if you are using what you already own!).
Markers or Sharpies
Always properly mark your boxes as you pack them. This is one tip that can save you a ton of time when done right!
Use assorted marker colors to color-code the boxes for each room in the house, as well as each of your kid's rooms.
Otherwise, you could be endlessly searching for boxes or items while in mid-move. Not fun.


Scissors or box cutters
You probably already have a pair of scissors or box cutters lying around the house.
But if not, now is a great time to buy a really good pair and will only set you back a few dollars.
Mattress and furniture covers
The goal of moving is to arrive at your new place without breaking any valuables or scratching up any furniture.
In order to do this, we highly recommend buying (or renting!) a mattress bag and furniture covers.
Another alternative is to buy some plastic wrap in bulk and use this to cover all of your furniture and beds. Just make sure it's very heavy duty and can stand up to the moving process.
This may cost a little more now, but you'll be glad you spent the money instead of having to replace or pay to fix a broken bed frame or couch.
Safely packing and covering your furniture will be even more important if strangers will be transporting your things.
Plus, furniture covers will keep all of your belongings clean and free of dirt and bugs.
A Dolly for heavy things
If you have a lot of heavy items, you may need to rent a dolly to help move things faster and easier.
You can often rent this directly from the moving company for the day when you need it, and it usually doesn't cost too much.
How much money do you need for moving day?
Now that you know where you're going to move and have calculated the total cost of moving, there are still even more expenses associated with the actual moving process.
Here is what you can expect to pay on moving day for expenses you incur during your actual move.
Moving truck or storage unit
Sites like U-Haul or Penske make it easy to get a quote to rent a moving truck. Just put in the number of miles you will be traveling, the start and end destination, and the moving equipment you will need.
Depending on your timeline and how much stuff you need to move, you may have to rent a storage unit or rent something like a PODS portable moving container.
Be sure to list all the estimated expenses for moving your items including, hiring a moving company, renting a moving truck, or paying for a storage container.
Apartment or mortgage fees
Another big budget-buster when moving across the country are the fees paid to cancel your lease or to sell your current home.
Plus, you may be in the process of buying a new home in Colorado for your family to grow into.
Obviously, the fees associated with an apartment lease or mortgage will vary widely depending on your location and situation.
When we moved, we lived in an apartment and our lease was coming to an end anyway. We took this opportunity to move without having to pay a lot of early cancellation fees.
We paid for a few additional month's rent for our garage unit to store our truck. This set us back $114.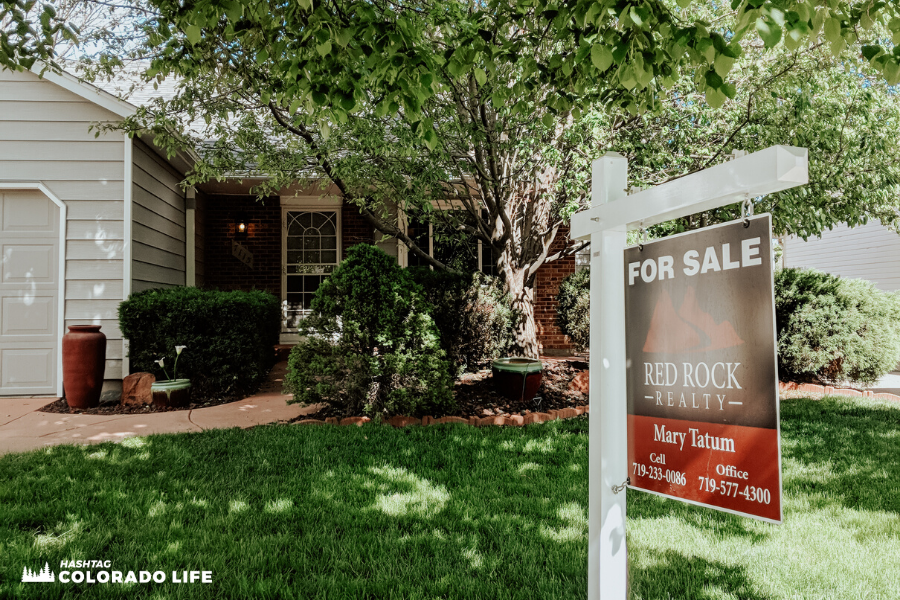 Fuel, food and tolls
Aside from renting a truck, or paying a moving company, the rest of your moving budget will likely be spent on gas and food throughout the trip.
When moving from Texas to Colorado, we stopped 5 times to fill up the moving truck. This was a total of just over 100 gallons of gas, which adds up quickly.
Purchasing food while on the move is obviously a variable cost. You can choose to eat out for every meal, or pack food to make lunches and dinners along the way.
We also spent $4.25 on a tollway fee.
This was a cost we forgot to budget for as it's easy to forget about parking fees and tolls along the drive across the country.
Hotel and lodging
Driving to Colorado from Texas takes roughly 14 hours. We could have made the trek in one day while moving, but we wanted to take our time.
Our packing timeline didn't quite line up with our expectations (they never do!).
We stayed an extra day in Texas to put our remaining belongings and the truck in the garage rental for the day while we moved everything else into the moving truck.
We had to stay in a hotel an extra night, although you might be able to stay with friends or family to save some money.
However long you think it will take to move your stuff, double the time. It will be a lot more work than you think!
Once on the road, our U-Haul trailer got a flat tire so we stopped for the night to get it fixed.
There were no additional costs incurred, thankfully, since we have an annual membership to AAA which covered the costs.
We stayed at two different Holiday Inn Express hotels, since you get free parking, free WiFi, and free breakfasts every morning.
Still, the extra hotel night was a cost we hadn't budgeted for.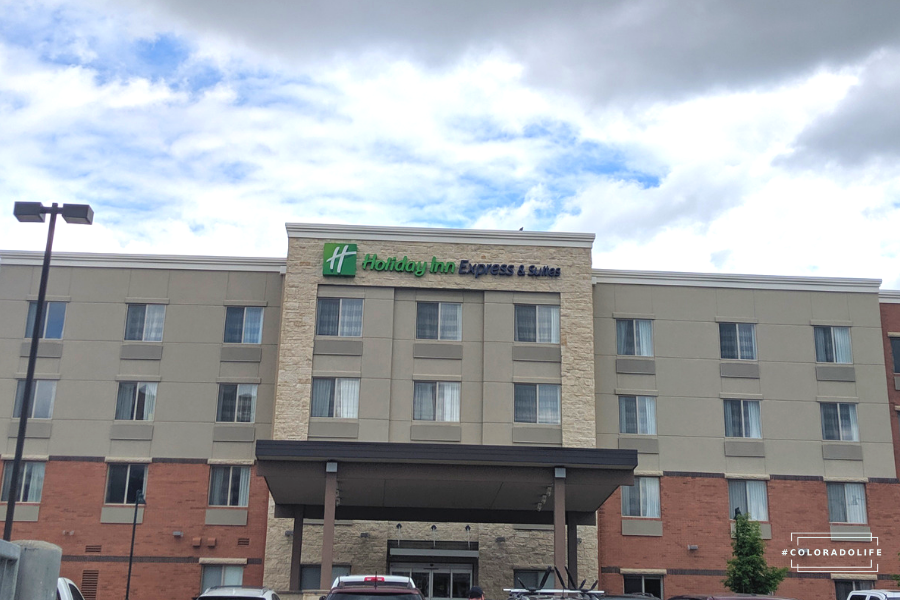 The exact cost for moving to Colorado
Over the years, Ryan and I have moved out of state as well as in-state. But the move from Texas to Colorado was the first cross-country we ever made while being a couple.
And it was more work than we anticipated.
If you have moved house (and I'm sure that you have!) then you know that it is time-consuming and expensive, especially for a cross-country move.
As we looked at all of our options for moving to Colorado without a job, we wanted to save money but also make our move as easy as possible.
We budgeted $3,000 in 2016 for our move from Tyler, Texas to Boulder, Colorado, a distance of just over 1,000 miles.
We planned to pack, load, and move our belongings ourselves and drive our personal vehicle rather than hiring a moving company, and we expected to make the whole move in one trip.
Here is a screenshot of our actual spreadsheet expenses from our cross-country move back then.
Once we were loaded up, the drive was estimated to take 14 hours. So we planned to drive seven hours over two days and spend a night on the road.
I kept track of all of our expenses in a spreadsheet and used the MileIQ app so we could get a tax deduction for moving costs.
However, the tax deduction for moving has been suspended and will not be available until after 2025.
While the cost of moving to Colorado has likely increased since the year we moved, it seems that most of the things you need to budget for are similar.
Tips for moving to Colorado from another state
If you've ever moved from one place to another, you already know that the logistics of moving are often hard and expensive.
Even more so when you're moving across the country to another state!
When we first started thinking of moving to Colorado, our main motivation was to have a healthier lifestyle that promoted adventure, less work and a better climate for outdoor living.
We also enjoy traveling and visiting many different places, and Texas makes it more difficult to accomplish this.
It's a very large state, and traffic is always abundant, so travel days are long and hard.
After planning and saving money, our idea for moving to Colorado from another state took an additional year longer than we previously planned.
But all of the planning, moving costs, and effort put into moving to Colorado has been worth it.
We hope this guide helps you answer the question, "How much does it cost to move to Colorado?" so you can make the move soon.