8 EPIC Experiences for the Best Skydiving in Colorado
This website may contain affiliate links and we may be compensated (at no cost to you!).
Skydiving in Colorado is a truly enchanting experience for thrill-seekers. And the views during this exhilarating activity are nothing short of breathtaking.
Colorado is widely renowned for its stunning natural beauty, making it an ideal destination for skydiving enthusiasts.
The state boasts a diverse range of landscapes, from desert terrain to winding river canyons, and snow-capped Rocky Mountains.
And with some of the bluest skies in the country, Colorado is the ultimate destination for an unforgettable skydiving adventure.
If you're looking for a list of the best skydiving adventures in Colorado this summer, keep reading.
1. Colorado Mountain Skydive Center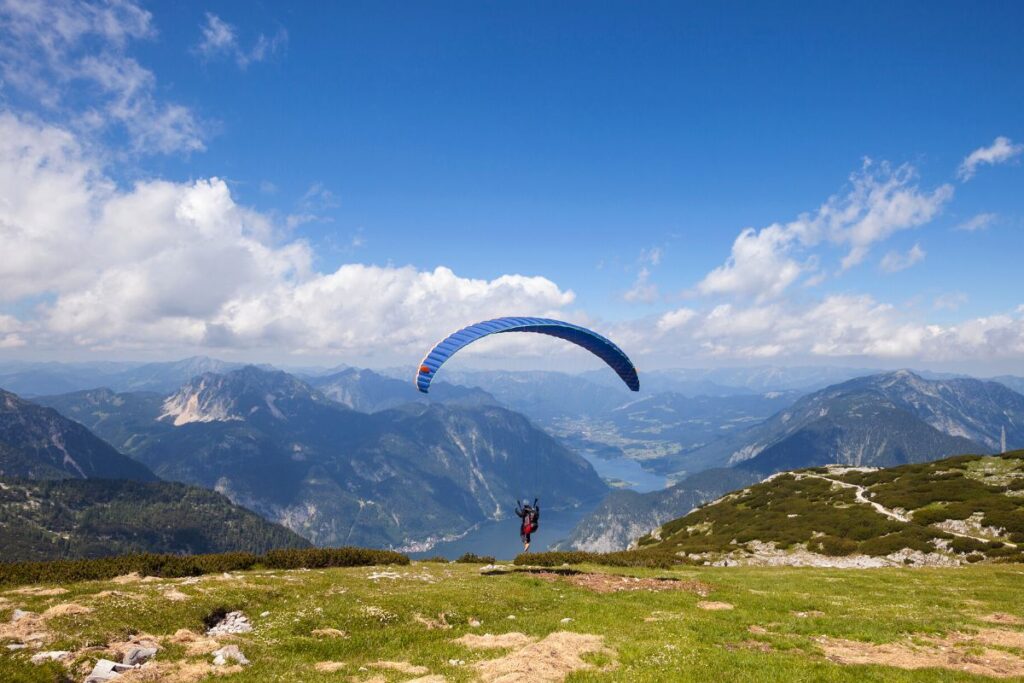 Boasting some of the best views for skydiving, Colorado Mountain Skydive is a top pick for incredible places for skydiving in Colorado.
Hit the skies in tandem with a professional instructor as you leap from a plane and dive in a free fall towards the ground.
This 200-mile-per-hour thrill promises to be an adrenaline-pumping experience for both beginners and intermediate skydivers.
Skydiving in Colorado is best for ages 18 or older and a valid photo ID is required.
Safety equipment, gloves and goggles are included with your skydiving experience.
Plus, your instructor will document the jump for you during the tandem skydiving, so you'll have lifelong memories to look back on.
The Colorado Mountain Skydive Center is located near the Fremont County Airport in Penrose.
Nothing beats soaring over the Rocky Mountains with nothing but a parachute to catch you.
2. Denver iFly Indoor Skydiving Experience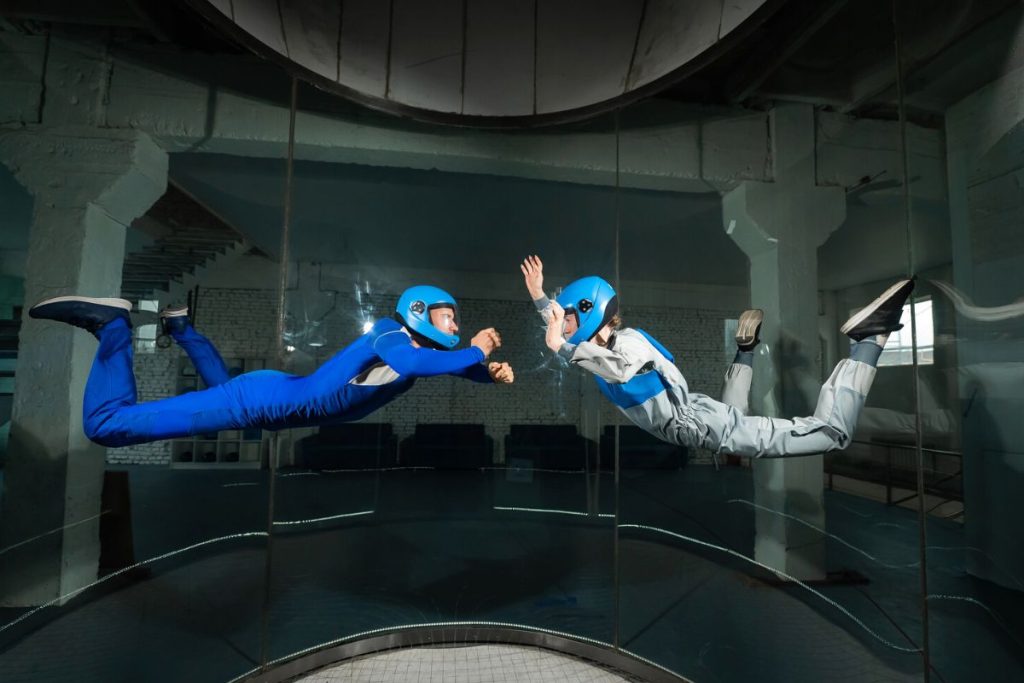 If you're looking for a fun indoor skydiving experience, check out Denver iFly Indoors.
This 1-hour session is much more accessible for beginners and those testing out skydiving for the first time.
Start with a small-group training session and then get ready to float above the ground thanks to winds up to 175 mph.
Throughout the 60-minute session an expert guide will be with you the entire time as well as offering one-on-one help.
Each booking includes a personalized training session, all safety and flight gear, as well as use of the wind tunnel for one hour.
Enjoy a day at iFly Denver Indoor Skydiving Experience with this budget and beginner-friendly option.
iFly Denver is located in Lone Tree with sessions available starting at 9am until 10pm daily.
3. High Sky Adventures
If you're looking to test the waters of skydiving but not ready to take the literal leap yet, try static-line skydiving with High Sky Adventures.
Attached by a line, novice skydivers can jump through the air on their own, no need to be connected to an instructor.
A static-line skydive allows you to enjoy the freedom of jumping alone all while being safeguarded with an automatic parachute system.
This Groupon package for two to go skydiving includes an in-depth training course, safety equipment, and parachute system. And who doesn't love saving a bit of money on an extreme sport like skydiving?
High Sky Adventures is located at the Fremont County Airport in Penrose, Colorado.
4. Out of the Blue Skydiving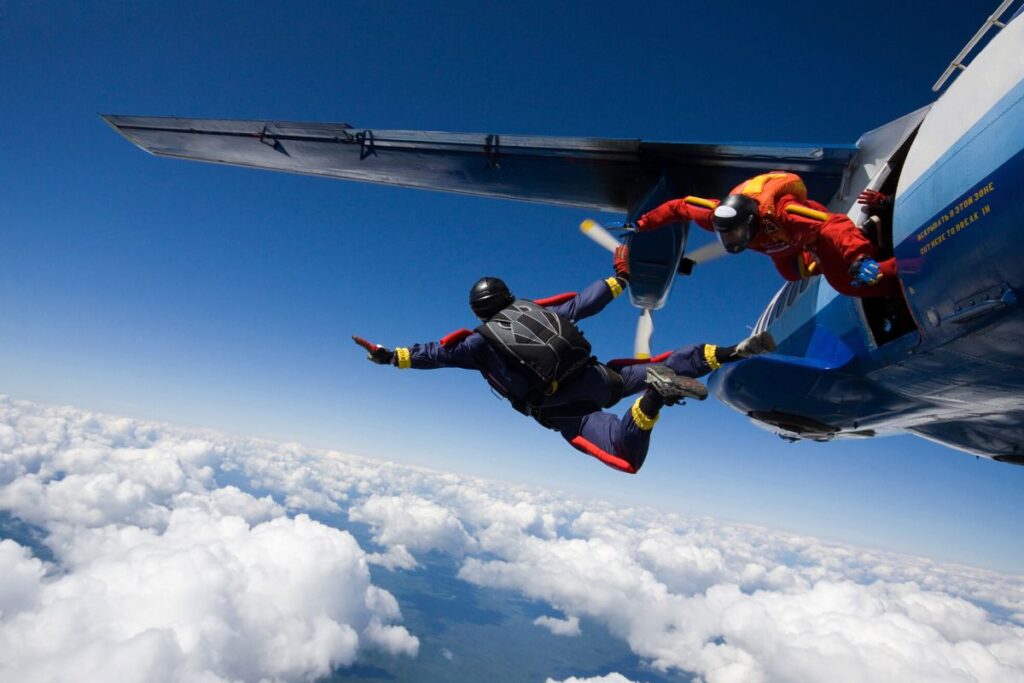 Another top choice for skydiving in Colorado is the Out of the Blue Skydiving. Many skydivers say it's their drop zone in southern Colorado makes the experience an epic one.
You'll be expertly paired with a USPA-rated tandem instructor who will be with you throughout the entire free-fall.
Enjoy a beautiful plane ride to more than 12,000+ feet above the ground, and get ready to make your first skydive.
And you can put your full faith in Out of the Blue Skydiving due to having a very safe record of skydiving for decades.
Whether you're a first-time skydiver or enjoy jumping out of a plane regularly, this Colorado center has it all.
5. Skydive Orange Skies
If you're looking for a super safe skydiving experience, check out Orange Skies free fall skydiving. They boast one of the best and safest skydiving crews in Colorado.
The Orange Skies team is led by an active National Championship skydiver and Marine veteran.
They prioritize safety standards and excellence in all aspects of the operation, which makes Orange Skies a great place for first-timers and those looking to learn skydiving.
Whether you prefer a tandem skydive or a solo free fall, Orange Skies has you covered! They are committed to ensuring your safety and providing an epic experience.
Join Orange Skies at their location in Fort Morgan, just outside of Denver, for an unforgettable adventure.
6. Mile-Hi Skydiving Center
Claiming to be Colorado's #1 skydiving facility, Mile-Hi Skydiving Center is one of the top ranked centers with more than 35,000 jumps made annually.
They offer a sophisticated Accelerated Free Fall program allowing them to train hundreds of students how to skydive safely.
Get ready to fly more than 18,000 feet above sea level with one of the longest free-falls in the state.
From tandem jumps or solo excursions, you'll feel comfortable knowing that Mile-Hi Skydiving Center has the experience to back you up.
Meet up with Mile-Hi Skydiving at the Longmont Airport, near Boulder, Colorado.
They are open year-round on weekends with additional hours available during the spring and summer.
7. Rocky Mountain Skydive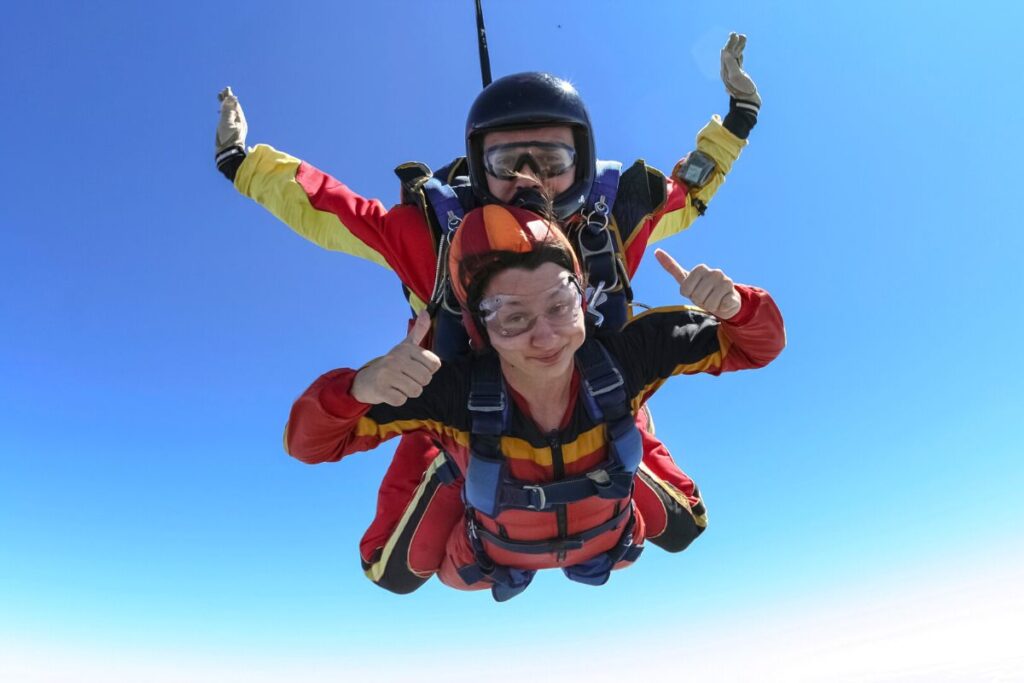 Rocky Mountain Skydive is one of the most family-friendly skydiving experiences on our list.
In addition to tandem skydiving they also offer special events for family outings, wedding proposals, team building, and more.
After a brief training session, you can even jump solo for your first time if you're feeling extra brave.
Rocky Mountain Skydive is located at the Northern Colorado Skydiving Center about 45 minutes north of Denver.
Operating hours are daily from 9am to 4pm except they're closed on Thursdays.
8. Roaring Fork Skydivers
Roaring Fork Skydivers offers one of the premier skydiving facilities in the state. Whether you're a first-time tandem skydiver, seeking certification, or an experienced jumper, they have something for everyone.
The Roaring Fork Skydivers staff members are dedicated to providing you with an exceptional adventure.
Their team of highly skilled, world-class instructors come with a lifetime of experience in the sport.
They also offer skydiving videography and photography services, allowing you to capture your adventure and relive the thrill for years to come.
Roaring Fork Skydivers is located in the beautiful Glenwood Springs area, just an hour away from Vail.
They feature a completely different skydiving experience thanks to their unique location.
How much does it cost to go skydiving in Colorado?
The cost to go skydiving in Colorado varies but typically will be around $150 per person. Tandem skydiving jumps may cost a bit more, depending on the facility.
The reason that skydiving is such an expensive sport is usually due to the cost of fuel for the plane. Carrying people and cargo up to 12,000 feet in elevation can burn more than 30 gallons of jet fuel.
However, if you're looking for a more budget-friendly option for skydiving you can consider indoor skydiving. The cost for this is usually less than $100 per person and can be more kid-friendly as well.
How old should you be to go skydiving?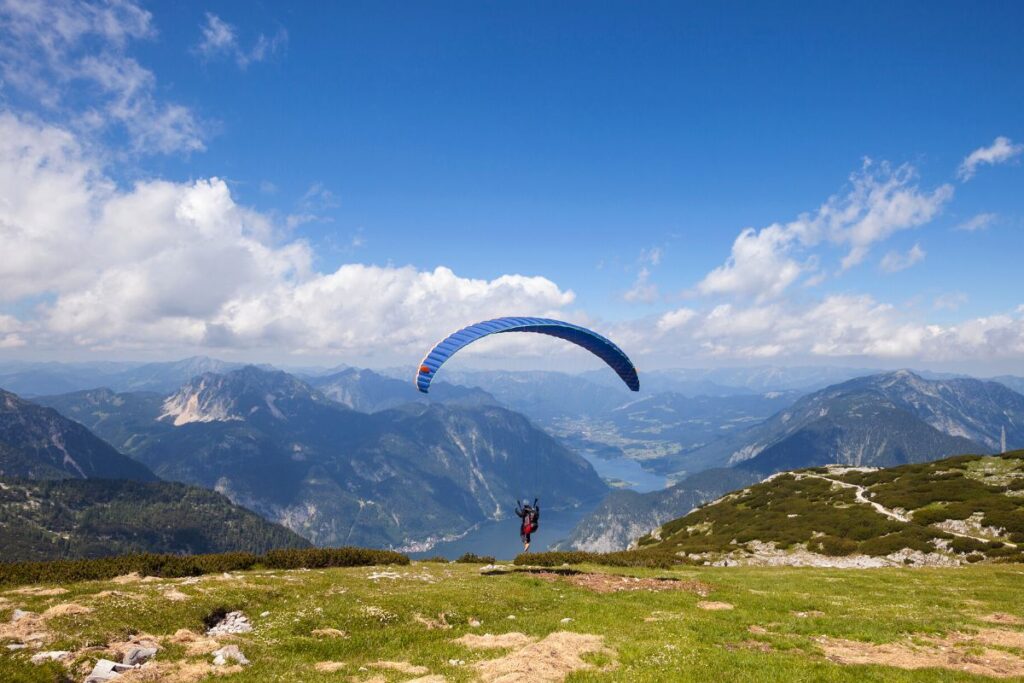 If you're unfamiliar, skydiving involves free-falling from a high altitude and deploying a parachute before landing safely on the ground.
Per the United States Parachute Association (USPA), the age limit for a safe skydiving experience is 18 years of age or older.
Any skydiving facility associated with the USPA must adhere to these age restrictions in order to maintain a safe skydiving environment.
There are other options, however, for drop zones or centers not associated with USPA to be more lax on their age restrictions for skydiving.
Is skydiving in Colorado worth it?
With some of the most breathtaking views in the country, a skydiving excursion in Colorado is definitely worth the money. In just an hour or two from Denver you can be jumping out of an airplane in no time!
Some of the best drop zones for skydiving in the state include locations in southern Colorado as well as near Glenwood Springs.
Skydiving in Colorado is an experience of a lifetime for anyone, so get ready to make some epic memories.
From your first tandem jump to going through a certification course to being an experienced skydiver, you're sure to enjoy a heart-pumping skydive adventure above the Rockies.
You can expect that skydiving will capture your heart and leave you with memories to last a lifetime.
If you're looking for the ultimate skydiving adventures in Colorado, this list offers a plethora of excellent choices.