Colorado Craft Beer Guide: 8 Best Local Brews and Top Breweries
This website may contain affiliate links and we may be compensated (at no cost to you!).
Cheers to Colorado beer and local breweries!
For this guide, I'm joined by friend and Colorado craft beer connoisseur Matt Giovanisci of BrewCabin.com.
If you're interested in learning more about homebrewing your own craft beers, we highly recommend Matt's website.
We talk about craft beer and breweries in the Square State. And you'll find advice for modern brewers to help you craft the perfect pint.
We discuss our favorite independent breweries in Colorado, the best beer festivals across the state, and how to start getting into the Colorado beer scene if you're new to the brew.
Matt is actually quite an expert when it comes to craft beer, and we hope you enjoy our conversation!
iTunes | Google Play | Stitcher | Spotify
Colorado is known for its craft beer
With 8.4 independent breweries per 100,000 people, Colorado has the most breweries per person of any state.
But how did Colorado become such a popular place for beer?
There are many reasons why Colorado is great for beer, including our clean water that needs very little treatment to begin brewing.
But a big logistical reason why craft beer has taken off is because of the way that it is sold in stores.
In Colorado, almost all liquor stores are independently owned and not part of large chain companies.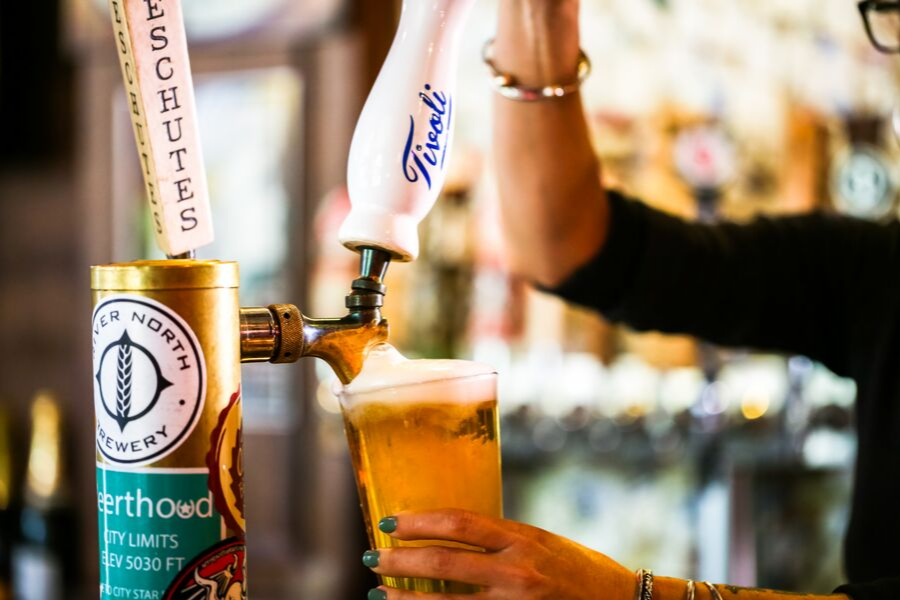 If a brewer wants to get their product on the shelf for retail sales, they can speak directly to the owner about how to get in the store.
This makes it easier for craft brewers to get their beers to a wider audience, and it can be a great deal for the stores, too.
Colorado is also home to Coors Brewing Company, one of the most popular brands of beer in the US, and with sales around the world.
Coors Brewery is located in Golden, Colorado. It was originally named the Golden Brewery when it was first opened in 1873.
Much of the popularity of beer in Colorado today can be traced back to the founding of Coors.
How is the craft beer culture different in Colorado?
Craft beer is becoming popular around the country, not just here in Colorado.
As Matt shares, there are plenty of great craft breweries popping up around the country.
They are pushing many of the same boundaries of flavor, style, and technique.
The big difference is that Colorado has been a leader in the craft beer scene since it began, so there are a lot of breweries located here.
And when there are a lot of breweries, that means there are also many really, really good ones.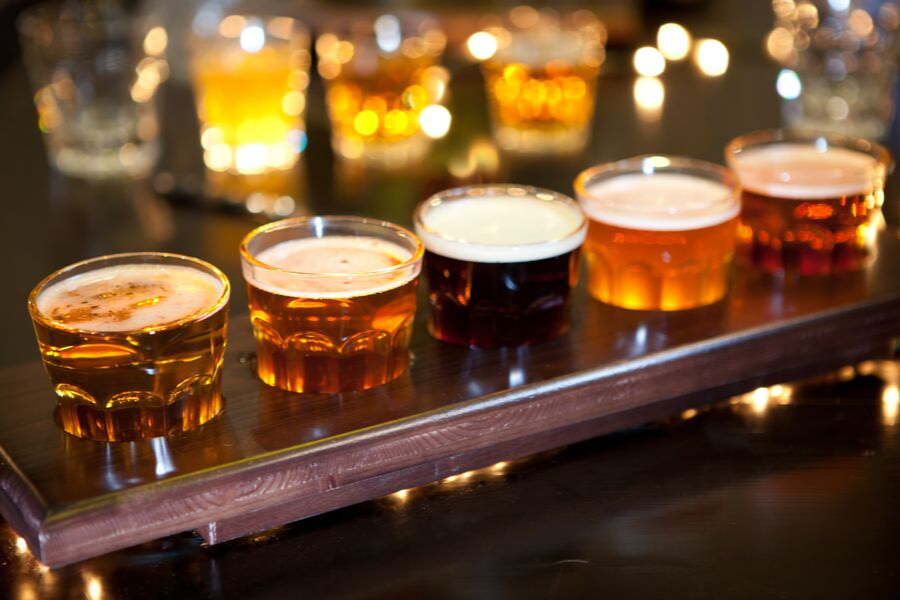 In states like New Jersey, where Matt is originally from, craft breweries are very new and are not allowed to sell beer to customers unless they take a tour of the brewery.
Food is also not allowed to be served on site, and breweries can't arrange for food trucks to serve their customers either.
Factors like these have limited the popularity of craft beer in other states, and the freedom we have to enjoy incredible beers is another unique feature of Colorado!
The top Colorado breweries we recommend
Glenwood Canyon Brewpub
Recently, Carrie and I were taking our annual Glenwood Springs trip we stopped at the Glenwood Canyon Brewpub.
This award-winning brewery has lots of local flavor and is a favorite in the community.
Try a popular Honey Ale made with local Colorado honey and a smooth, sweet finish. Or order a flight of beers and take your pick from their amazing choices.
Outer Range Brewing Company
Located in Frisco, Colorado, Outer Range Brewing Company is more than just a great place to grab a beer.
Offering IPAs and Belgian style beers, you'll love the incredible setting!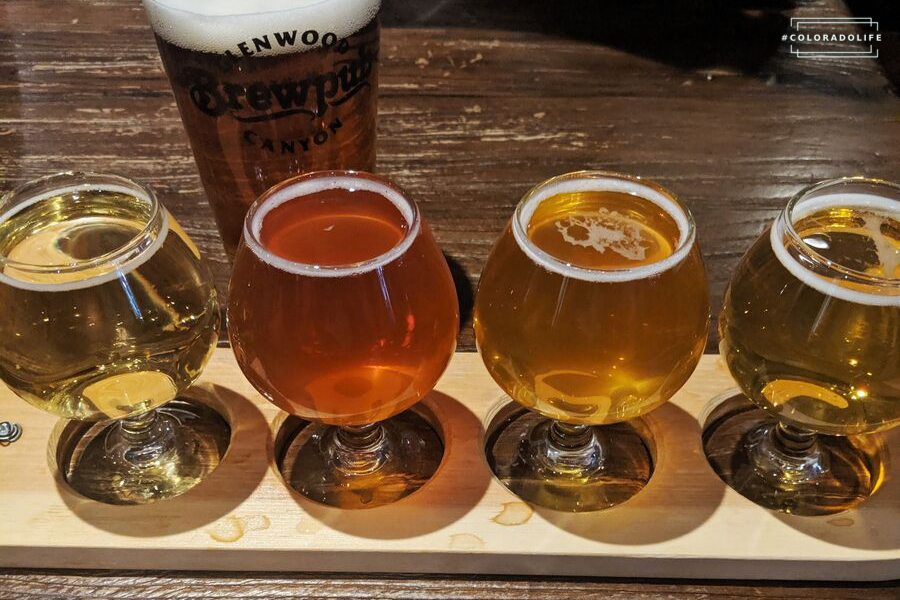 Take I-70 from Denver to nestle yourself among the Rockies and enjoy a sip. There's even a yurt in the winter time!
Outside food is welcome as the only thing Outer Range is serving up is beer.
Knotted Root Brewing
Knotted Root Brewing describes themselves as a small, artisan brewery in the quaint mountain setting of Nederland, Colorado.
The brewers at Knotted Root love to experiment, so you'll find hoppy, unfiltered ales and more rustic, mixed-culture farmhouse ales.
And if you're really looking for an unusual experience, try the Thick Strawberry Goo or the Thick Blueberry Goo!
These smoothie-like Berliner Weisses are brewed with some lactose and a lot of fruit to make a chunky, fruity concoction.
Definitely worth a try!
WeldWerks Brewing
At WeldWerks Brewing in Greeley, Colorado (near Fort Collins), you'll find an excellent variety of beers on tap in their taproom.
WeldWerks is family-friendly, and four-legged friends are welcome on the patio.
With a rotating menu, you'll get to sample unique brews like the Mocha Milkshake, a Coffee Coconut Stout, or Matt's recent new favorite, the Spaghetti Gose.
Beer can come in many flavors, so get ready to try some out of the ordinary flavors.
There's more to beer than just pilsners and lager!
WeldWerks also hosts an annual invitational festival in Greeley in the summer.
They invite craft brewers from around the country to pour their latest creations.
Learn more about the invitational here.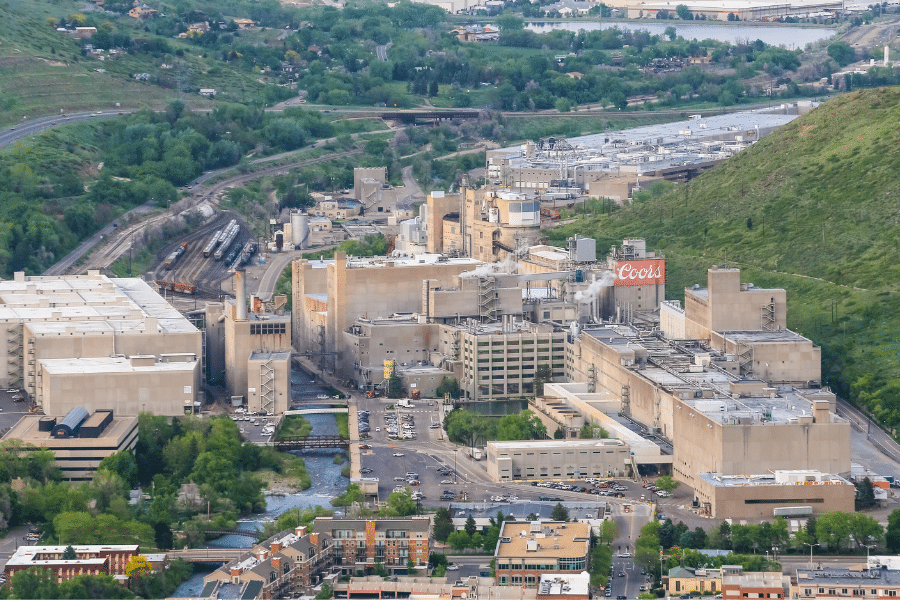 Great craft breweries on the East Coast
Growing up on the east coast, Matt has a few favorites that he still enjoys today.
Yards Brewing Company
Back in Philadelphia, Matt loves the classic, colonial IPAs, brawlers, and ales at Yards Brewing Company.
With jaunty names like Jefferson's Golden Ale, Poor Richard's Spruce Ale, and Washington's Porter, you can visit the taproom and grab a bite and brew.
Or find Yards brand beers available throughout Pennsylvania, New Jersey, Delaware, and Maryland.
Dogfish Head
Based in Delaware, and now available around the country, Matt grew up with the off-centered beers of Dogfish Head.
Now offering a wide variety of beers and spirits, Dogfish Head began in 1995 as Dogfish Head Brewings & Eats as Delaware's first brewpub.
From there, Dogfish Head has grown to include a brewery and distillery, an inn, and multiple restaurants.
It still maintains its status as an independent craft brewer, and feels just as craft as it did back then.
Samuel Adams
Started in 1984 and now a national brand, Samuel Adams opened the Boston Brewery to share their love of craft beer with the people.
Their flagship beer, Samuel Adams Boston lager, is always available on tap at the Brewery and Taproom.
If you're in Boston, grab a pint and stay for trivia night or just take a tour through the brewery!
Top "big brand" beers in Colorado
When I'm not drinking craft beer from an independent brewer, I'll often turn to a Miller High Life.
After all, it is the champagne of beers!
If Matt had to drink a big brand beer, he would choose between a Dogfish Head, a Stella Artois, Newcastle, or a Sam Adams Boston Lager.
Taking the Coors Factory Tour in Golden
If you're in Golden, Colorado, one stop you can't miss is the Coors Factory Tour.
It's an affordable tour, just $5 for Colorado residents and $10 for everyone else. Visitors under 21 can get in for free.
It's a 30 minute tour including 3-8 oz samples, or opt for the sample only experience.
Not into the big brand experience? Matt loves the vibe at Cannonball Creek Brewing Company.
Also located in Golden, you'll find a great selection on tap as well Rocky Mountain Soda Co. handcrafted soda pops.
The best beer festivals in Colorado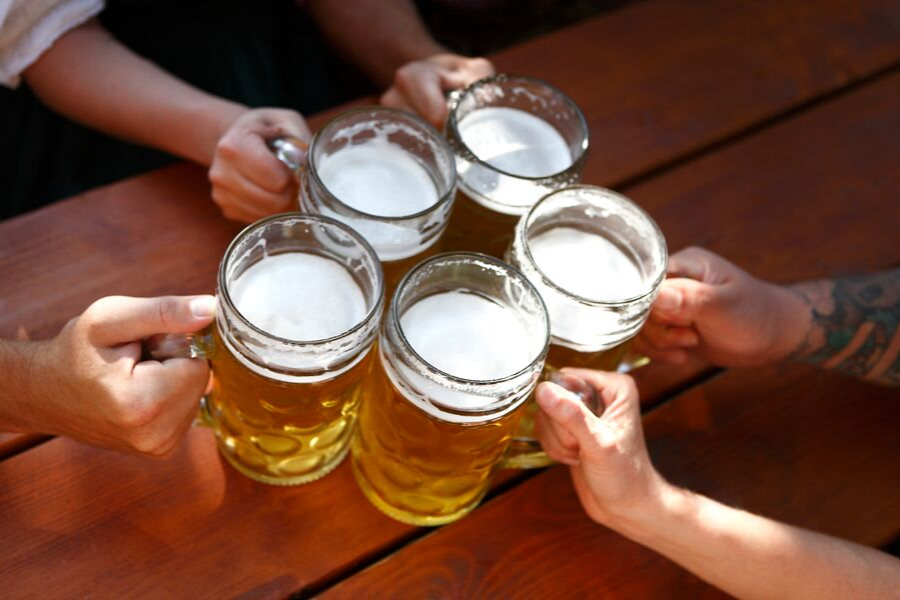 Great American Beer Festival
Ever since he moved to Colorado, Matt hasn't missed the Great American Beer Festival.
Founded in 1982, The Great American Beer Festival is the largest collection of beer ever served!
It's both a public event and a private competition, bringing together brewers from around the country to share one love: the love of beer!
Save the date for the 2020 festival next year!
Estes Park Fall Back Beer Fest
Coming up in November each year is the Estes Park Fall Back Beer Fest.
This beer festival always falls around the end of Daylight Savings, and with more than 30 Colorado craft brewers pouring endless samples, you'll be grateful there's an extra hour in the day!
Don't miss the firkin tapping at 2:30. All ages will find something to sample at the craft soda, kombucha, coffee, and food vendors on site!
Boulder Craft Beer Festival
At the Boulder Craft Beer Festival every summer, brewers from Boulder County and beyond, come together so you can sample some of the best beers in Colorado!
With food vendors and live music, there's plenty to enjoy at the festival.
Want to earn your way to free samples? Come early for a pre-event yoga class (included with a limited number of general admission tickets)!
How to start drinking craft beer as a beginner
If you're interested in learning more about craft beer, there are some pretty easy ways to get started.
Ask for a Cicerone
Matt recommends going to a restaurant and asking for a cicerone. A cicerone is a fancy name for a beer expert, like a sommelier but for beer.
Not every restaurant will have one, but if you're at a high-end place, it doesn't hurt to ask.
A cicerone will help you find the right taste to go with your meal, and they can suggest beers you may like based on what you already like.
Order a flight of beer
Another great option is to go visit a brewery! With so many in our beautiful state, you can walk right in and ask for a flight of beer.
Never had a flight before?
A flight of beer is a selection of small glasses of 4 or 5 beers for you to try.
Some breweries provide seasonal flights or specific flights for different kinds of beer — a flight of IPAs or a flight of stouts.
After you've tried a flight, you can order another or pick the one you like the most and order a pint.
And if nothing really piques your interest, the next brewery is just a stone's throw away. Just try another!
A guide to Colorado beer for total newbies
If you're not much of a beer drinker but you want to start tasting, here's a quick lesson on varieties of beer.
If you're totally new to the flavor of beer, pilsners and pale ales may be a bit strong.
With a very piney, hoppy flavor, they have the "beer" taste that you might think of when you think about beer.
But there's a whole world of beer flavors and many of them have milder flavors or can taste totally unlike beer at all!
Try a New England pale ale, which tastes like orange juice or a mimosa.
Or, try a gose, it's like a limearita! There are all kinds of fun and inventive flavors out there.
You could try an Almond Joy stout or a Reese's Peanut Butter Cup stout.
Or a beer made of melted Rocket Pops or even a rootbeer float beer!
The fact is, beer here is the best in the country. You just can't beat it! And you'll get more variety and more 5-star quality beers here than anywhere else.
The Colorado State Craft Pass
If you want to discover new breweries in the Pikes Peak area, check out the Colorado State Craft Pass.
Get discounted drinks and free tastings at local breweries, wineries, distilleries, and even specialty coffee roasters.
This pass boasts more than 100 options to explore Colorado's craft beverages. And total discounts are worth more than $500 in savings.
Once you sign up, the pass will be instantly delivered to your phone via text and email.
There's no app to download, you just present your phone at a participating venue to get the code and redeem your discounts.
There are lots of ways to get started in the craft beer scene in Colorado.
Get out there and try some of these incredible beers for yourself.