5 Things to Do at Boulder Reservoir on a Hot Summer Day
This website may contain affiliate links and we may be compensated (at no cost to you!).
Boulder Reservoir is a very popular spot for swimming and other water activities on a hot summer day.
Not only does Boulder Reservoir supply 20% of Boulder's drinking water, it is also a local hot spot for cooling off in the summertime.
Boulder Reservoir has a diverse landscape from mountain views, to swampy marshes and sandy beaches that feel like the desert.
It is a nice day-trip for locals and a favorite of hikers, bikers, swimmers, and sunbathers.
And you may even see some wildlife while relaxing in the warm sun. The lake draws in different species of birds and ground animals.
If you're looking for things to do at Boulder Reservoir here are the top activities available during the summer months.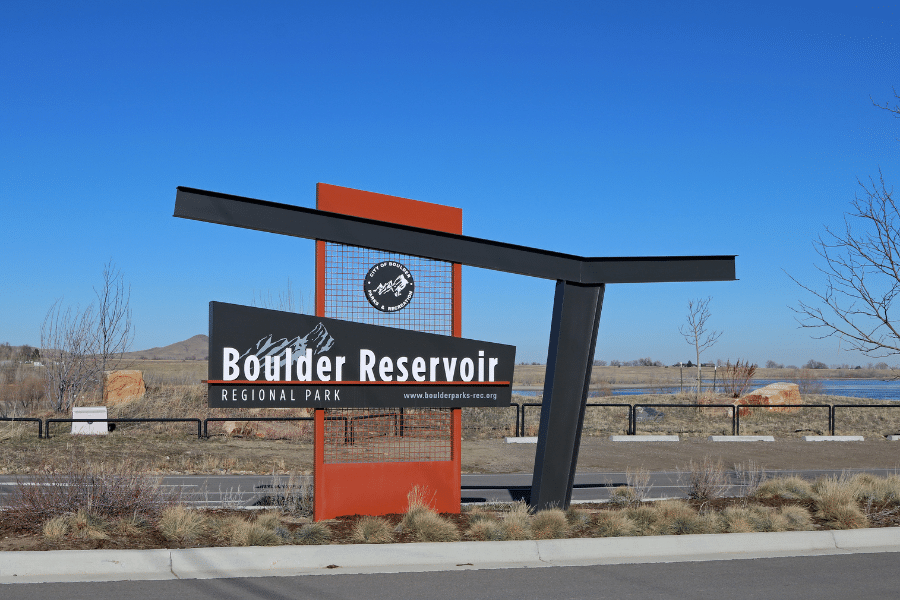 1. Swimming & sunbathing
Can you swim in Boulder Reservoir? Yes! Boulder Reservoir is one of several lakes in Colorado that allows swimming.
The swimming and beach areas allow for swimming, sunbathing, sandcastle-making, and picnicking.
The designated swimming area is protected by roped-off sections and lifeguards that are on duty during summer operating hours.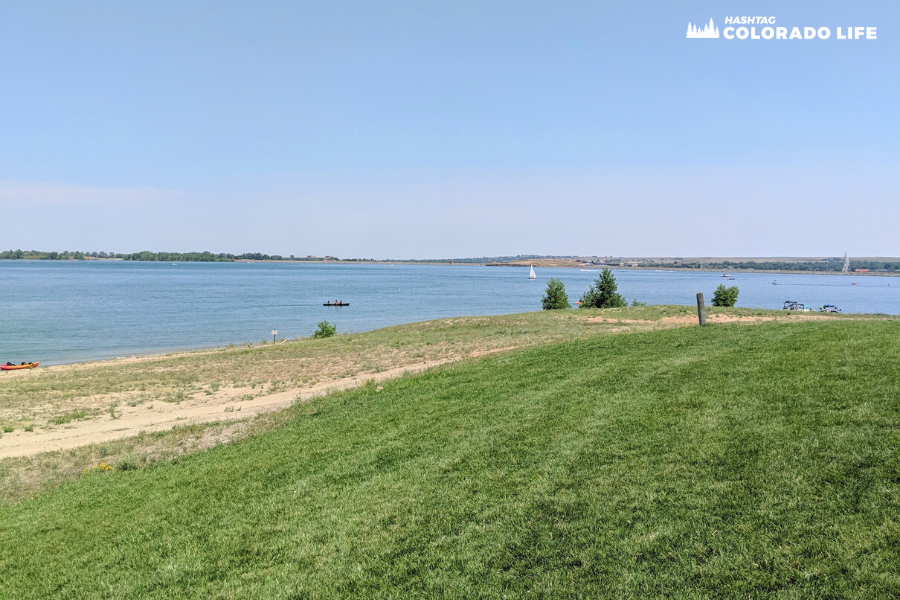 So, bring your kids and their friends for a fun but safe swimming experience in the hot sun and cool water.
The beach area at the Reservoir is also a popular draw for locals, as it is named the Best Family-Friendly Beach in Colorado by Lonely Planet.
The clean, sandy beach is perfect for sandcastles and feeling the sand between your toes.
2. Paddleboarding & kayaking
Paddleboards, kayaks, and canoes are always welcomed at Boulder Reservoir.
Don't own one of these? No worries you can rent a paddleboard, canoe, or kayak from the Rocky Mountain Paddleboard website.
Once you arrive at the Boulder Reservoir, just head to the boathouse / marina and pick up your rental for use on the lake.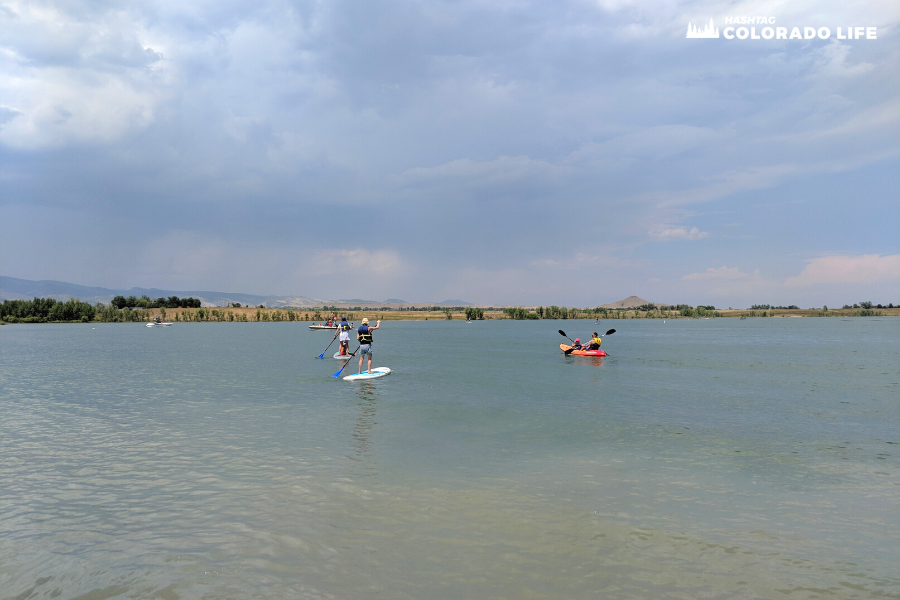 Pontoon boats are also available for rental, as well as stand up paddleboard (SUP) lessons.
However, if you plan to bring your own watercraft, even if it's inflatable, you must have a valid boat permit.
And if you want an easy way to store your kayaks before using them, we recommend getting a kayak storage rack.
3. Sailing & boating
If you enjoy sailing and boating, then the Boulder Reservoir is a great spot.
Bring your motor boat or jet skis and an amazing day out on the gorgeous water!
Or if you want to try out sailing, the Community Sailing of Colorado also offers sailing classes and rentals.
As noted above, all watercraft must be validated with a boat permit.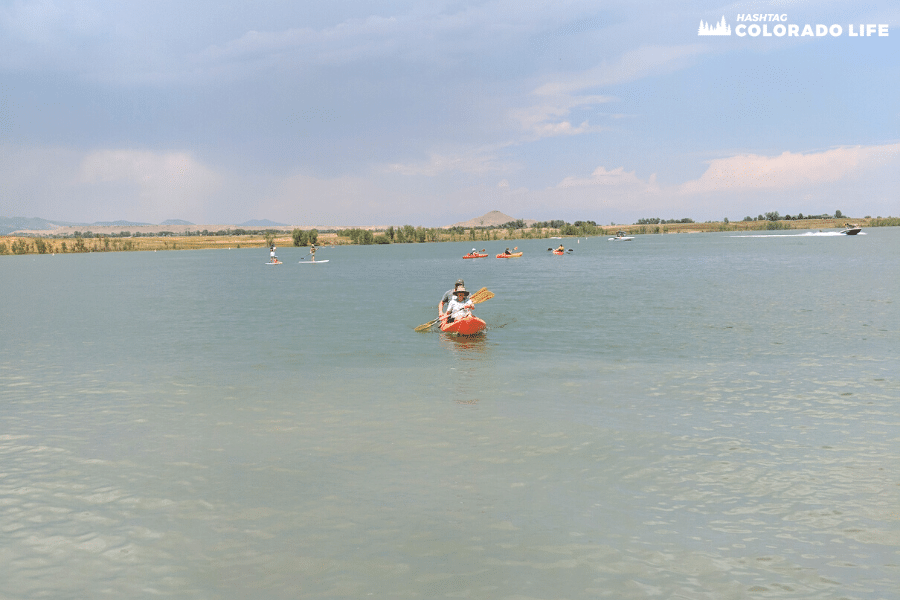 All powerboats, sailing, and small watercraft permits are available online, typically beginning February 1st of each calendar year.
However, for 2021, all of these permits are sold out due to limited capacity on the lake. Watercraft permits are sold on a first-come, first-serve basis.
4. Parties & picnics
Boulder Reservoir is a great place to celebrate a birthday party, whether you're a kid or an adult.
There are 10 picnic areas available to rent, along with a pavilion, from late April through September.
Stand-alone picnic tables are spread out through the park and do not require a reservation.
Click here for a map of the picnic sites, and learn more about what each location includes.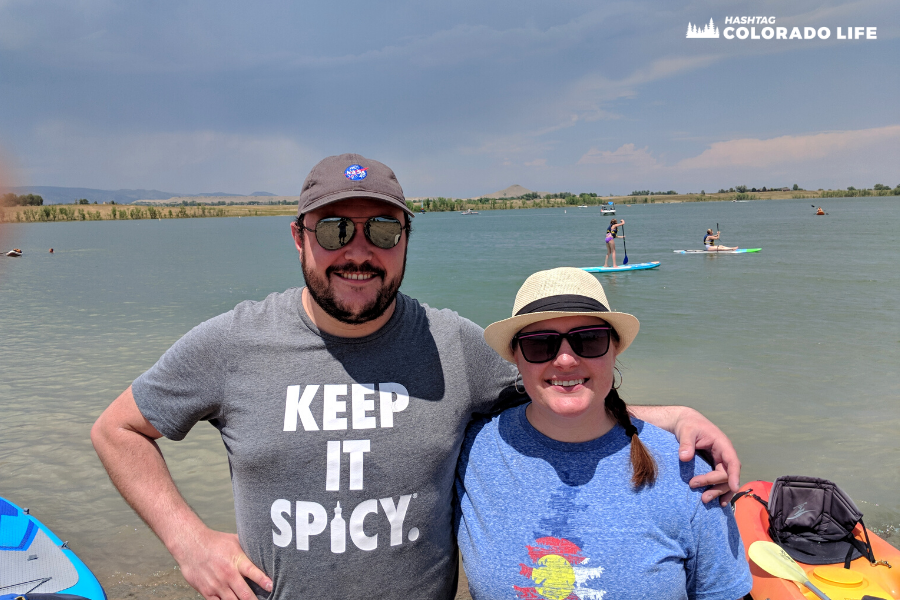 Your picnic rental comes with a shade-covered pavilion, dedicated sand volleyball court, multiple covered picnic tables, and a BBQ grill.
Please note: you will have to provide your own charcoal, as well as ice and coolers.
The cost to rent a picnic area starts at $7 per adult and $3.50 per child. This does not include the admission fee to get into the Boulder Reservoir as that is a separate cost.
Picnic packages are also available at different prices, with fees varying between how many people attend and what is included.
5. Hiking & running
If a stroll around the lake is more your style, we recommend hiking the Boulder Reservoir Loop Trail.
The path is a 5.3 multi-use trail that loops around the entirety of the 700-acre lake.
The trail is made up of a series of paved, dirt and gravel paths and is perfect for walking, biking, and running.
The Boulder Reservoir Loop Trail also connects to Eagle Trail, a 2.6 mile trail that extends west through Boulder Valley Ranch.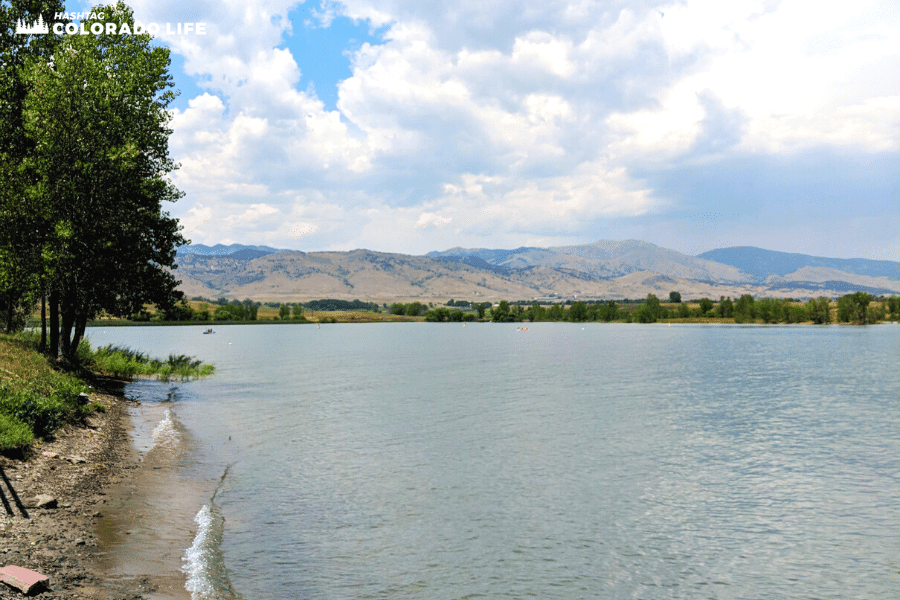 The Loop Trail, and other connecting trails, offer picturesque views of both the water and the Boulder Foothills.
It's no wonder this hiking spot is a favorite among runners and cyclists!
How do you get to Boulder Reservoir?
Boulder Reservoir tops our list of the most beautiful lakes in Colorado for good reason.
It is located at 5565 51st Street in Boulder, Colorado. The Reservoir is the central hub for the Boulder Reservoir Regional Park and includes 700 acres of water and open space.
You will find the Reservoir in the northern part of Boulder, about 7 miles northeast of the city, and just a few miles from Longmont.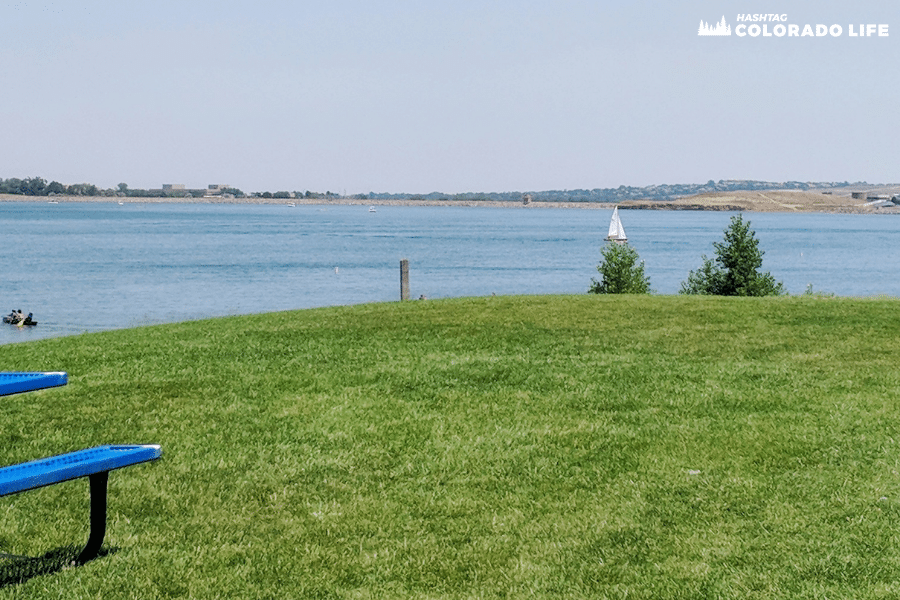 It is one of the most beautiful man made lakes in the area, and is perfect for swimming, kayaking, boating, fishing, and picnicking.
Not only that, but the Boulder Reservoir, and surrounding green space, showcases gorgeous views of the iconic Boulder Flatirons to the west.
Tips for visiting Boulder Reservoir
Now that you know the top things to do while at Boulder Reservoir, here are the best tips to make the most of your trip.
Dogs
Are dogs allowed at Boulder Reservoir? It depends on the time of year.
From May 15th through Labor Day, dogs are not allowed in the Boulder Reservoir Regional Park.
This is during the main summer season when the park is very busy and preserved for people only.
However, you can bring your canine friend to the south short for a dip from Labor Day to May 15th.
This period is considered the off-season so bringing your dog to the park is allowed.
Dogs are also allowed outside the south shore area on established trails year-round, but must be kept on a leash.
Operating hours
The Reservoir's operating hours change throughout the year and are sometimes dependent on the weather.
For the spring hours in 2021, gates open at 10am and close at 6pm. During the summer the gates open at 7am and close at 9pm.
Here is a list of the operating hours for Boulder Reservoir in 2021.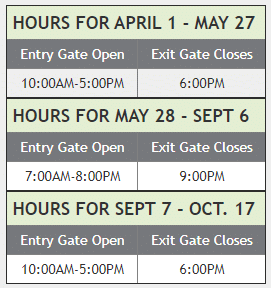 Parking
There are several parking lots available at Boulder Reservoir.
The entrance gate to the Reservoir is located at the main Trailhead on 55th street.
The path is well-marked on the south side of the road and can accommodate up to 10 vehicles.
Parking is also available at the Eagle Trailhead, which is less than a mile from the main entrance.
Both the north and south lots are free for parking as long as the entry fee is paid when visiting.
Entry fees
Visiting Boulder Reservoir can cost anywhere from a few dollars per vehicle to several hundred if you are booking a private party.
Unlike Sloan's Lake in Denver, Boulder Reservoir is not free and costs money to gain entry.
Daily access from April 12th to May 27th costs $5 per person or $10 per vehicle, per day.
If you plan on visiting the Boulder Reservoir during the summer peak season, prices start at:
$11 for adults (19-59)
$8.25 for seniors (60+)
$6.50 for kids (3-18)
$29 for groups
Resident and worker fees are discounted for those who either live or are paid employees of businesses within the city limits of Boulder.
The group entry rate includes a maximum of two adults with four entries in total.
Important: fees are collected for each person entering the Reservoir including runners, cyclists, and hikers.
If the facilities are closed due to weather for two or more consecutive hours, no rain checks will be issued.
Boulder Reservoir does not issue refunds for any reason. So, make sure you check the weather before visiting.
Bathrooms
The main bathroom facilities at the Reservoir are at the Concession Area, near the swimming beach.
There are also local businesses and shops nearby if you want to take a midday bathroom and snack break.
For answers to any other questions you might have when visiting Boulder Reservoir, check out their Frequently Asked Questions resource.