by Ryan Nicholson
|
Last Updated:
February 25, 2020
The content of this website may contain affiliate links and we may be compensated (at no cost to you!). Thank you for your support!
Looking for the best breakfast place this weekend? In Colorado, there are delightfully delicious brunch spots popping up all the time.
Because of this, it was difficult to narrow down the list to top 15. I mean, who doesn't love trying new brunch places?
As locals, we only included locally-based restaurants and eateries that are Colorado favorites.
From classic brunch food to vegetarian choices, our list of the best brunch in Colorado includes it all. We recommend going to all of them at least once!
iTunes | Google Play | Stitcher | Spotify
What makes the best brunch place in Colorado?
As someone who was born and raised in the south, Carrie is originally from Texas. So, naturally no breakfast place is complete without a great plate of biscuits and gravy!
For me, a personal chef for the past 8 years, the test of the best brunch spot are the eggs benedict.
As we go through our recommendations on this list, you'll hear many references to biscuits and gravy and eggs benedict.
But rest assured, there are plenty of other incredible dishes gracing the menus of every restaurant we talk about.
When is the best time to try new breakfast items?
Check out some of these brunch spots during the week instead of the weekend. On the weekend, the chef will list their safe bet specials that people will definitely buy.
But if you hit them up on a weekday, you're more likely to find some unique new flavors that they are trying out!
Our favorites: The best breakfast in Colorado
All of the restaurants we mention are Colorado-local chain breakfast and brunch places. Nearly all of them have been tried and tested by us, or are on our bucket list of places to try next.
Got a suggestion we should check out? Hit us up on Instagram @hashtagcoloradolife.
EAT! Food & Drink: best new brunch spot
EAT! Food & Drink is a locally owned brunch spot offering delicious Colorado-inspired food. They have menu items like the Flatiron Burrito with homemade pork green chile, and one-of-a-kind sweet cream pancakes.
The Southwestern Eggs Benedict is also a popular menu option. And, you know how we love our eggs benny!
They also serve craft cocktails, like specialty flavored mimosas and bottomless bloody marys that can pack quite a kick. And the great news is that EAT! is open daily from 6am to 3pm.
The staff are super friendly and the place has a rustic but modern and updated feel. And there really is something for everyone thanks to rotating seasonal specials and many gluten free and vegan options.
Plus, their "after breakfast" menu serves up yummy burgers and sandwiches for anyone who isn't feeling like brunch food.
Are you hungry yet?
First Watch: best Colorado-local chain
At First Watch, this daytime cafe serves up a good morning, made to order. With locations up and down I-25, you'll find a location near you all along the Front Range.
We love their seasonal dishes! As we write this in the fall, our favorite autumn dishes include:
The braised short ribs eggs benedict
Million dollar bacon
Pumpkin pancakes (made with real pumpkin puree)
In the summertime, we enjoy the lemon curd strawberry pancakes!
Snooze Eatery: best retro-feel
We mention Snooze Eatery any chance that we can! The first location was opened in Denver's Ballpark neighborhood in 2006, and we first discovered Snooze in 2012.
Since then, Snooze has expanded to lots of Colorado locations — including Colorado Springs, Denver, Boulder, and Fort Collins.
(Out of state fans can even find a few locations in Texas, Arizona, and southern California.)
Snooze has a totally 50s retro feel, and with a whole section of the menu called "The Art of Hollandaise," need we say more?
We love the Steak + Eggs Benny, it's seared hanger steak medallions atop roasted poblano cheddar grit cakes with asparagus, with roasted mushrooms, and tomato, all topped with two poached eggs, smoked cheddar hollandaise and gremolata.
We would say OMG if we weren't about to tell you about the OMG! French Toast. This is brioche toast stuffed with mascarpone then griddled and topped with vanilla crème, salted caramel, fresh strawberries and toasted coconut.
At this point, we have to stop because seriously, oh my gosh.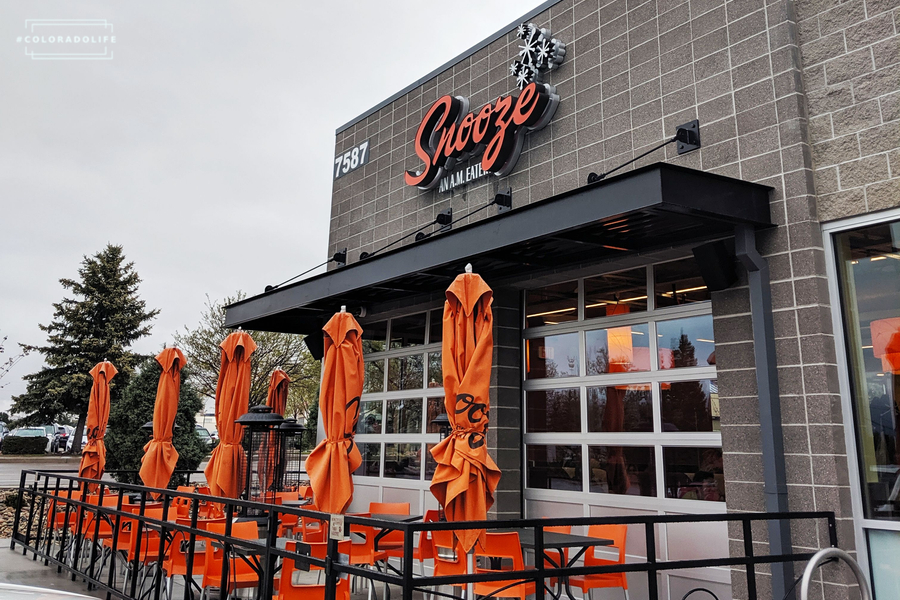 Lucile's Creole: best cajun breakfast
The first Lucile's Creole Cafe opened in Boulder in 1980 in a small Victorian house painted Lucile's signature pale yellow.
They now have locations in Boulder, Longmont, Fort Collins, and Littleton, along with the Denver-area University and Speer neighborhoods.
At Lucile's you'll get one of the best omelets we've ever had and some incredible Eggs Pontchartrain, fresh mountain trout, poached eggs, and sauce bearnaise served over grits or potatoes.
As a great southern place, you can count on great biscuits and gravy, and their beignets are as good as any you would find in New Orleans!
Urban Egg: best local ingredients
Formerly called Over Easy, Urban Egg Eatery now has many locations along the Front Range, including spots in Denver, Colorado Springs, and Fort Collins.
They use local and organic ingredients to serve up an award-winning breakfast and lunch menu. We love their award-winning biscuits and sage sausage gravy.
You should also check out the delicious avocado toast, and Rocky Mountain corned beef hash served with jalapeno bacon chutney!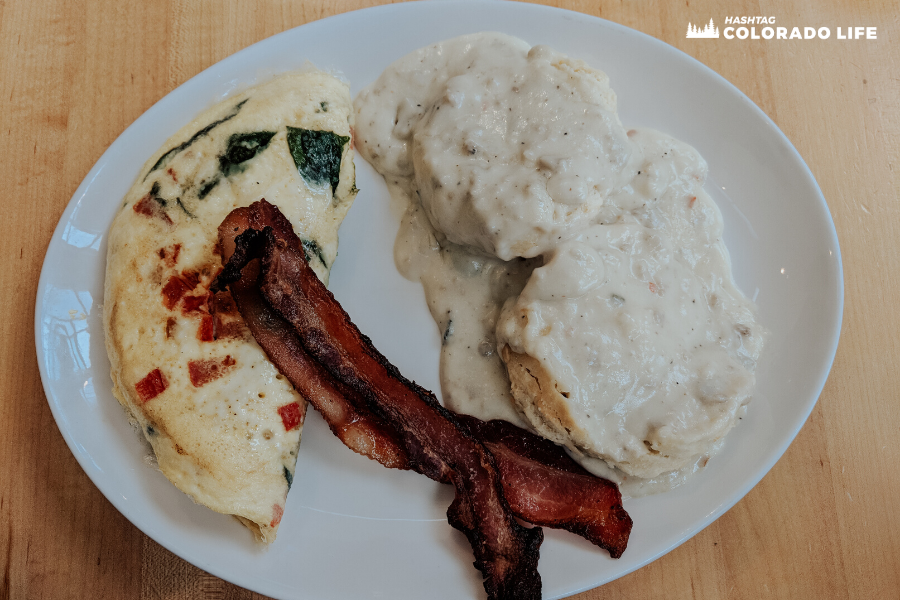 Crepes A La Cart: best crepes
The popular food truck stall Crepes A La Cart has a cart and a kitchen, both located in Breckenridge. The cart is open daily (the kitchen is open weekends only), and there is almost always a long line.
But the crepes are SO worth the wait!
You can't go wrong with a sweet OR a savory crepe. Crepes are served in a cone with the crepe like ice cream.
We love the savory BLT, Veggie Lover's, and Chicken Florentine crepes, and for a sweet option, we love the Nutella and Lemon Souffle with chantilly cream.
You can even build your own crepe with their many delectable crepe fillings!
Denver Biscuit Company: best biscuits from scratch
We have mentioned the Denver Biscuit Company before because they are just so good.
They've been featured on Diners, Drive Ins, and Dives on the Food Network. And as a biscuit company, you know you can expect a great biscuits and gravy!
Denver Biscuit Company started out as a food truck and now has multiple locations around Colorado. We love their huge biscuits smothered in gravy — all their gravies are super flavorful, including their vegetarian mushroom gravy.
Other amazing options include their chicken pot pie, the giant biscuit cinnamon rolls (add bacon!), and the sandwiches are stacked to the sky. They have to give you a knife and fork!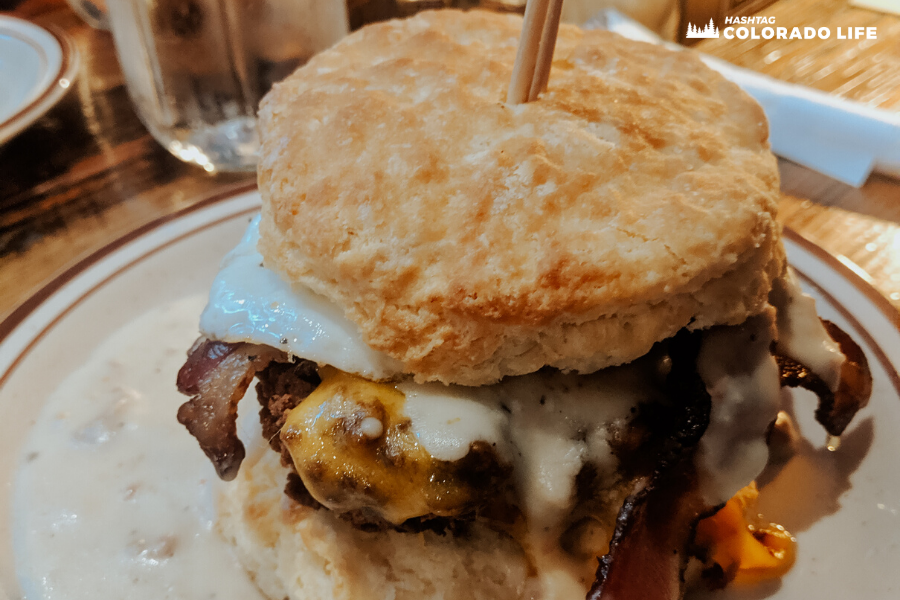 Santo: best New Mexican brunch
Owned by Top Chef winner Hosea Rosenberg, Santo in Boulder is full of dishes inspired by food from New Mexico, where Rosenberg is originally from.
Santo is open for dinner 7 nights a week, but we love stopping in for brunch on the weekends.
Our favorite dishes are the green chili cheddar biscuits (technically an appetizer, but so good), the fry bread benedict, and brioche french toast with fresh berries.
Santo is also a great place for a morning cocktail. They have a great, spicy bloody mary!
Alpine Modern Coffee: best cafe
A few blocks from Chautauqua Park and the Flat Irons is Alpine Modern in Boulder. This is a very modern cafe with great coffee and food options, like avocado tartine with radishes and dill.
They have delicious Earl Grey tea and a lovely chai tea latte. This is a great place to stop after a hike in the mountains!
Bacon Social House: best bacon (duh!)
One stop that's been on our list for ages is the Bacon Social House. With locations in Denver and Littleton, it's bacon, bacon, and more bacon.
You can try a bacon flight or their flipside pancakes. We're eyeing the carrot cake or red velvet pancakes, both served with their homemade cream cheese glaze.
Spruce Confections Bakery: best French pastries
We love the great, scratch made pastries at Spruce Confections Bakery. They have fresh scones, croissants, cookies, and quiches. Their croissants are hand rolled and oh-so-buttery.
When we lived in Boulder, I would often stop by for a pastry when he was working around Pearl Street.
Spruce Confections has two locations in Boulder, and you really can't go wrong with any pastry and espresso drink combo on the menu!
Wayfinder: best Colorado Springs coffee
At Wayfinder Coffee in Colorado Springs, you'll find coffee sourced from all over the world and roasted right here in Colorado.
They have an amazing pastry case and a fun travel vibe. (They also offer bulk 5 pound bags of coffee beans if you find a flavor you love!)
Wayfinder recently added a happy hour with a tasty charcuterie board, but we love their homemade croissants stuffed with meat and cheese or veggies that are HUGE and so flaky.
They also have dessert croissants, freshly made blueberry lemon muffins. They also offer amazing coffee flavors like Spiced Road and Pumpkin Spice, and honey or spiced chai tea lattes.
Sweet ColoraDOUGH: best donuts
Voted best donut in Colorado by Travel + Leisure in 2018, Sweet ColoraDOUGH is an exquisite eatery and drinkery that serves up all the regular donuts.
You'll find old fashioned, glazed, chocolate covered — as well as the cronut, a cross between a croissant and a donut. They are super generous with their donut hole samples, which are out and available for you to taste and enjoy.
Owned by a local couple, Sweet ColoraDOUGH offers a yummy sandwiches and savory bagels for lunch and a bar with craft beers, wine, and spirits upstairs!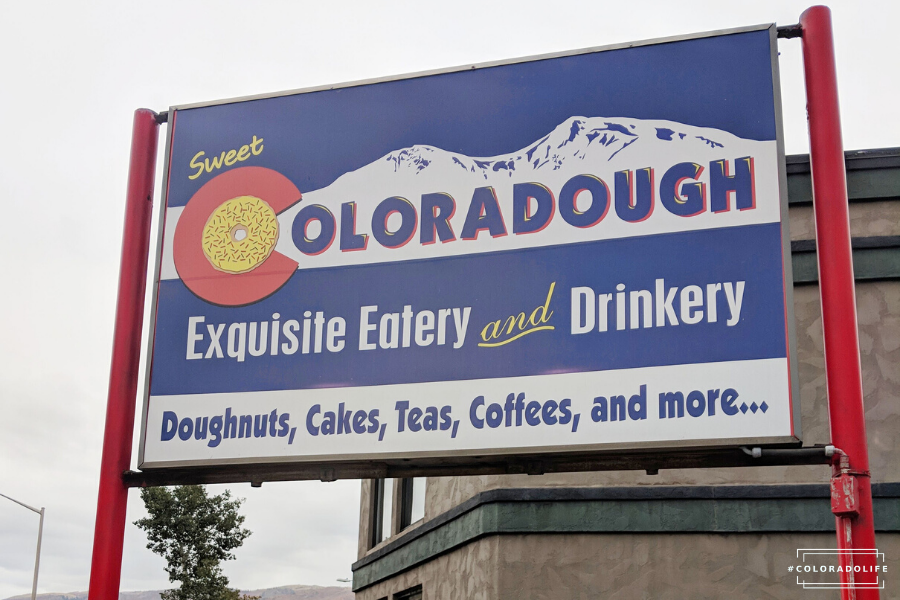 Julep: best southern food
Open for weekend brunch in Denver's RiNo neighborhood, Julep describes themselves as sophisticated southern food.
We are excited to try their Kentucky Hot Brown, smoked turkey breast, bacon, mornay (cheese sauce), pullman loaf, and heirloom tomato. Julep has a large patio on Larimer Street as well as a mezzanine with views looking into the kitchen.
They serve dinner Wednesday through Sunday nights, and brunch service on Saturday and Sunday morning.
Annette: award-winning restaurant
Founded in fall 2016 by Caroline Glover, Annette offers scratch to table dishes in Aurora (just outside of Denver), and in 2019 Caroline was named one of the 10 best new chefs in America by Food and Wine Magazine.
They've been nominated for 3 James Beard Awards, and in 2017, Annette was named one of the 50 best new restaurants by Bon Appetit.
Annette serves dinner Tuesday through Saturday nights and brunch on the weekends. We're excited to try their handmade sodas and tonics and amaranth granola with raspberries with their house earl grey yogurt.
Toast Fine Food and Coffee: best eggs benedict
We received a recommendation from Katrina Fitzgerald for Toast in Littleton, and we can't wait to check it out.
The dining room is super cute and the food is amazing, with lots of varieties of eggs benedicts on the menu. There are no cocktail options but we are excited to try their biscuits and gravy!
Ultreia: best small plates
Spain is known for their small tapas plates, and at Ultreia in Denver's Union Station, you'll find authentic and delicious small plates for lunch, dinner, and brunch.
We received this recommendation from Molly on Instagram, and we're so excited to explore the many brunch tapas available in this gastroteka!
Ultreia is owned by James Beard best chef southwest Jennifer Jasinski, and Molly assures us that this is the best Spanish food she's had in a long time — and she used to live in Spain.
How to score discounts on breakfast in Colorado
Many of the brunch places we mention in this post offer discounts and freebies when you sign up for their email list!
We've signed up for many email newsletters and received free brunch entrees, drinks, coffee, and more! And be on the lookout for rewards programs and stamp cards.
For these local restaurants, they offer some great rewards for return customers.
We hope we've made you hungry and excited to try some of the tasty brunch spots in Colorado. So grab your fork and go explore our beautiful state!
Ryan Nicholson is a homegrown born and raised Colorado native. Being a rare unicorn to have grown up in CO, he has a unique perspective on the changes here and knows all the hidden spots to get outside in this state. Ryan's a classically French trained chef so he LOVES to try new foods and places to eat. When he's not experimenting in the kitchen or working as a personal chef along the Front Range, he loves to get outdoors and away from it all hiking, camping and backpacking.