13 Best Things to Do in Frisco, Colorado All Year Long
This website may contain affiliate links and we may be compensated (at no cost to you!).
It's not hard to come up with a list of the best things to do in Frisco, Colorado. But it can be hard to narrow down a list of what to see and do if you don't have a lot of time.
Frisco, CO sits at the crossroads of many of the state's most noteworthy ski resorts and destinations. Because of this it makes a great home base to explore the state.
It's within very short distances to numerous iconic winter Colorado destinations like Breck, Vail, Beaver Creek, Copper Mountain and Keystone.
But it can stand on its own for delightful entertainment, delicious food and brews, as well as stunning scenic views.
Start planning your trip right now with this list of the best things to do in Frisco, CO today.
1. Freaky Frisco Scavenger Hunt
We have all done scavenger hunts as kids but this Freaky Frisco Scavenger Hunt takes it to the next level.
Scouring an area in search for miscellaneous items on a list to bring back quickly to the group. And usually the items gathered in the fastest time or most amount of items wins.
The Freaky Frisco Scavenger Hunt is the same idea of the hunt but tacks on a few more non-traditional elements.
You'll arrive at certain checkpoints and solve a riddle or put together the clues for your next step.
Great for kids, adults and furry four-legged friends, this scavenger hunt will set you out to explore local secrets and uncovered gems in Frisco.
Book your freaky scavenger hunt now and enjoy a fun day with friends and family in Frisco, Colorado.
2. Frisco Adventure Park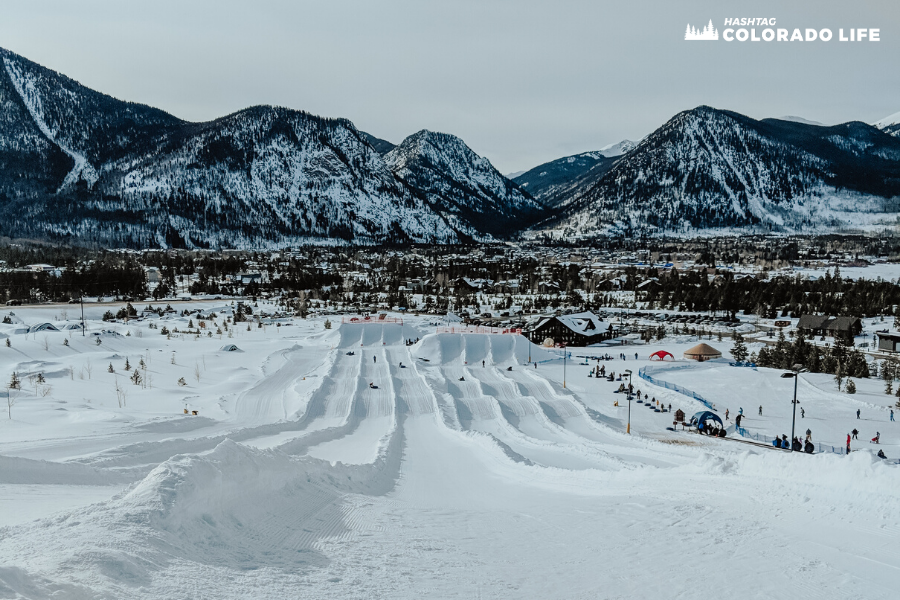 The Frisco Adventure Park is a great way to ease into enjoying the mountains.
With its central location nestled right on the shores of Lake Dillion, shouldered by snow capped mountains, the Frisco Adventure Park offers a wide range of things to do during any season.
For us, the best time to go is during the colder months when they have the tubing hill open.
This offers a unique chance for people to "hit the slopes" that might not otherwise have the chance.
Tubing down a hill is a great alternative to going to a ski resort if you don't have as much time or are looking to save some money.
Setting up a family play-date at Frisco Adventure Park is perfect for people visiting Colorado. Especially if you don't have time to spend a whole day skiing.
Or it's a great activity for anyone who can't get on the slopes due to age or other injury, snow tubing is just as thrilling of a wintery activity!
Other amenities and things to do at the Frisco Adventure Park include skateboarding, hiking, biking, disc golf and beginners ski slope!
3. Historic Downtown Frisco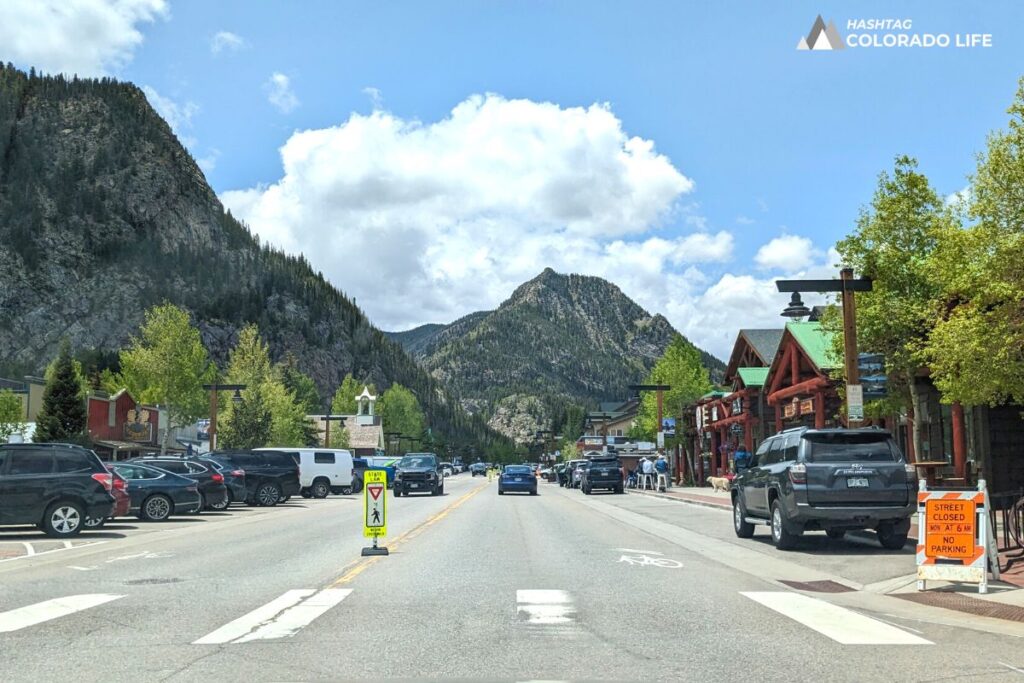 Frisco might be one of the most centrally-located towns in the entire state of Colorado. The city sits on the banks of Lake Dillon, surrounded by public land.
As mentioned, Frisco really shines as a central hub with all the easy access it has to the surrounding areas. But the town of Frisco is a great destination all its own.
The historic downtown in Frisco features iconic galleries like Gatherhouse Glassblowing and many unique restaurants and bars to choose from.
The views of the Rocky Mountains make a gorgeous backdrop to the downtown area.
It's the perfect spot to stop for coffee after a cold day on the slopes or a beer after a warm summer day.
4. Frisco Nordic Center
For cross-country skiers looking for a good workout, check out the Frisco Nordic Center. It offers groomed cross-country and snowshoeing trails which include a wide variety of terrain.
Different lessons and programs are available for visitors of all ages and fitness types.
Plus, you can rent any gear and equipment that you might need for a day out in the mountains.
Check out the Snowshoe Hare Loop which is great for snowshoeing and connect to other easy or more advanced trails.
5. Highside Brewing and BBQ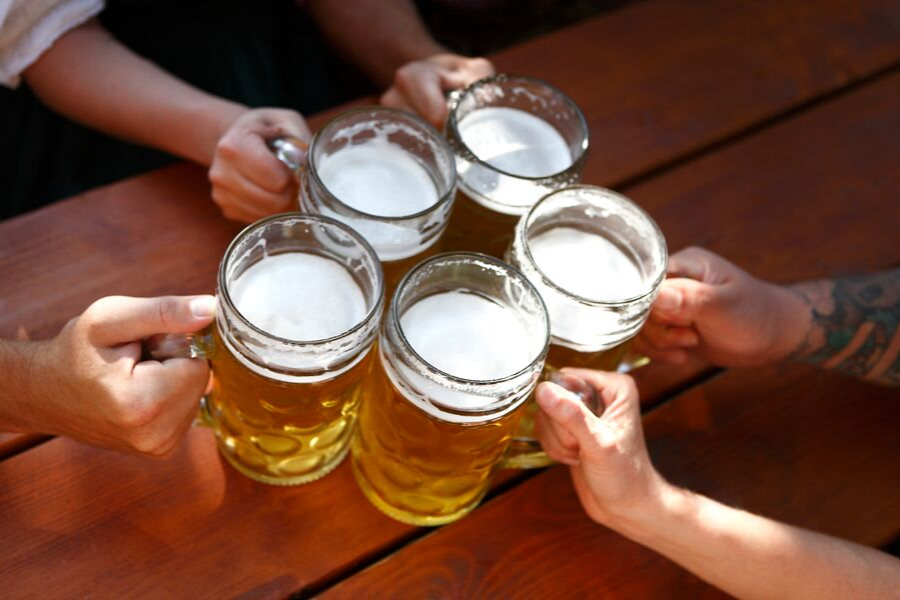 What a classic pairing made in heaven – beer and BBQ. And both the beer and BBQ shine equally at Highside Brewing, each being half to a greater whole.

The folks doing the BBQing at Highside love experimenting with different styles of smoking and preparing yummy eats.
Their fashion and technique for bar-be-que-ing doesn't land them in any particular style or region. So they have christened what they do as "Coloradoque".
The other half that makes up Highside Brewing and BBQ is equally as important and distinguished as the Coloradoque half.
The beers and brews that are created and served up are balanced and honed to hoppy perfection. They are expertly crafted in order to not overpower or overwhelm your palette.
With 16 house-made beers on tap at any point, you can easily find something for anyone on their rotating, seasonal beer menu.
Highside Brewing tries to find a beer for every occasion and for every palette. They take delight in finding new balanced beers for patrons to partake.
Highside Brewing and BBQ's location is right in the heart of Frisco, which makes this place special.
Sitting across the street from the Frisco Marina and surrounded by glorious Rocky Mountains, the venue for Highside only adds to its splendor.
Sit outside in the summer and enjoy a nice shandy or warm up inside after a day on the slopes with a spiced cloche.
6. Copper Mountain Alpine Coaster
As mentioned, nearby to the town of Frisco is Copper mountain which features a year-round alpine coaster. It's located near the American Flyer lift and will take you on a unique ride through the forest all year long.
This is one of North America's longest alpine coasters and includes beautiful views of the surrounding mountains.
Kids ages 3+ can zoom through the forests and slopes of the Rocky Mountains, as long as they are with an adult. Drivers must be at least 9 years old and a minimum of 52 inches tall.
Enjoy more than 5,800 feet of track that can cruise up to speeds of 25 miles per hour. But don't worry, you can control the speed, so it's up to you.
7. Frisco Bike Park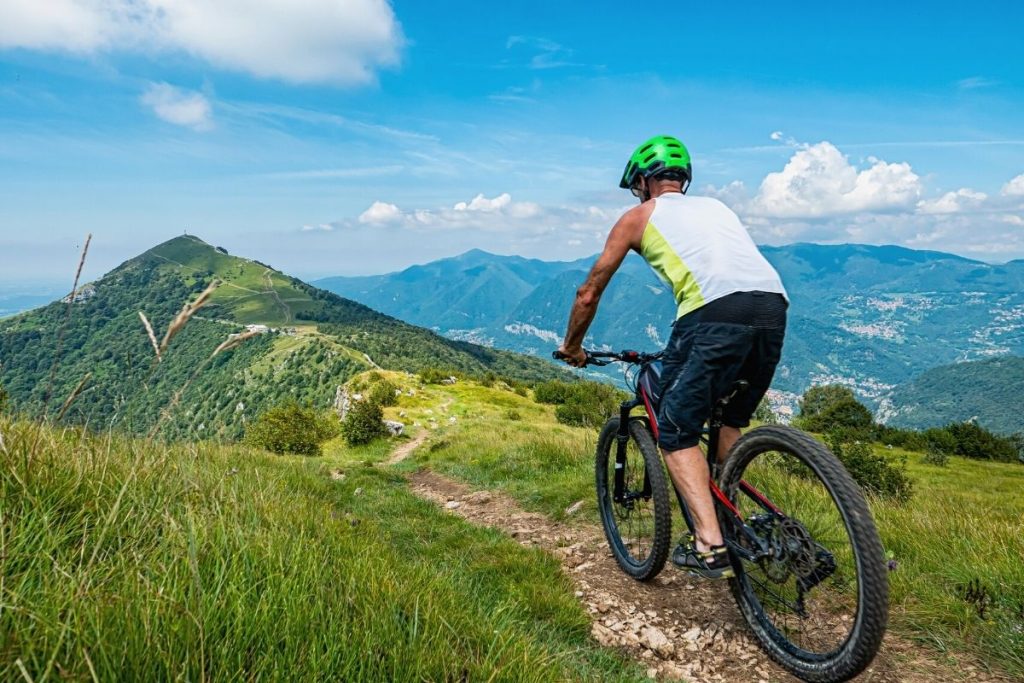 The Frisco Bike Park is part of the Frisco Adventure Park and offers completely free access.
The Day Lodge nearby offers water refills and restrooms so you can bike without interruptions.
Open from Monday to Friday from 9am to 4pm, the Frisco Bike park is great for beginner and avid riders.
The slopestyle course is designed to train mountain bikers and dirt jumps are great for a full run of the park.
But don't worry, if you're not into biking, the park includes a Rec path which is great for hiking, plus it offers a disc golf area.
8. Ten Mile Canyon National Recreation Trail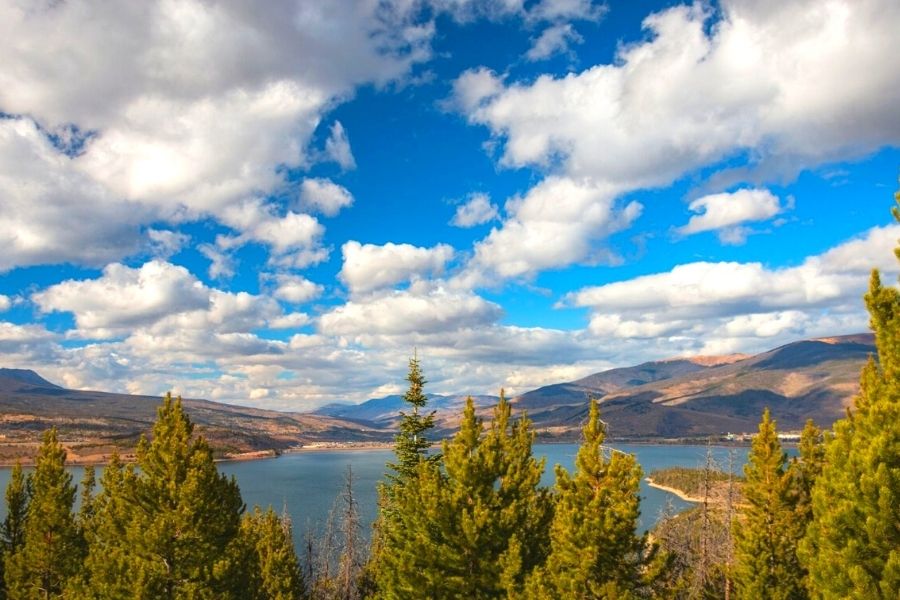 If you're looking for a scenic Rec trail in Frisco, check out the Ten Mile Canyon National Recreation Trail.
This picturesque trail travels adjacent to the Ten Mile Creek with sights of different peaks in the distance.
And the best part is that you can access the trail head directly from the town of Frisco.
The path is paved and features a gradual uphill walk south towards Copper Mountain. This makes it easily accessible for most fitness levels and ages of kids or adults.
Locals love this trail for walking and biking as the views are amazing, and it's one of the best hiking trails in Frisco, Colorado.
Access the Ten Mile Canyon Trail just off I-70 at Exit 201 or from Frisco's town center.
9. Frisco Historic Park & Museum
Learn everything you could want to know about the town of Frisco thanks to the Frisco Historic Park & Museum.
Entry is completely free and the museum is open most days from 10am to 5pm, except on Mondays when they are closed.
The Frisco Historic Park & Museum is committed to preserving the local history as well as featuring how things are being done in the present day.
Enjoy a stroll through several historic buildings on the property, including the Schoolhouse Museum.
Engage with different exhibits, galleries, artifacts and photos that share more of Frisco's rich Colorado history.
The Museum also offers guided tours, special events, lectures and field trips to help bring the past to life.
And since this area is also a park, feel free to bring a picnic lunch and eat at one of the many tables outdoors.
10. Lake Dillon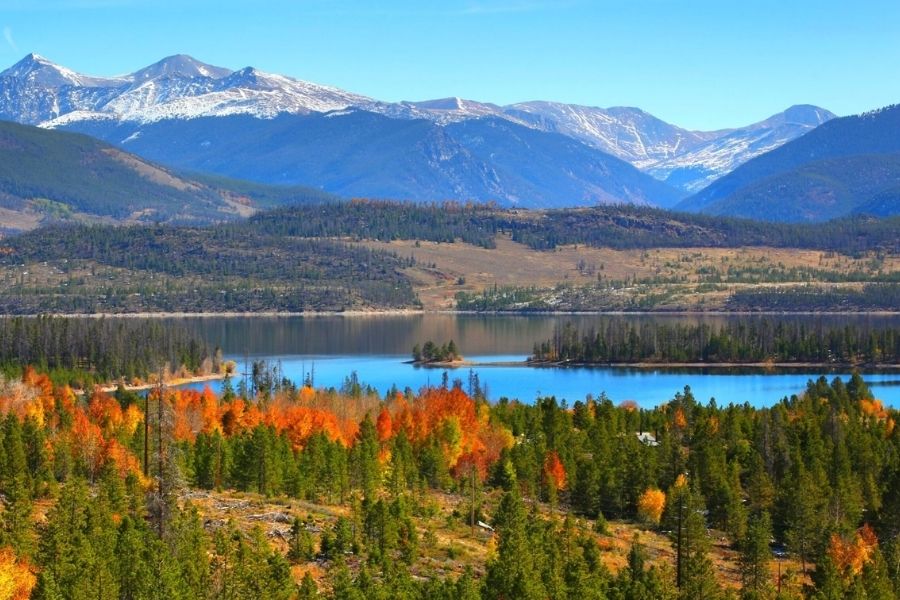 Only about 15 minutes northeast of Frisco, sits the town of Dillon, Colorado. It shares the same name as the giant body of water that stretches throughout the valley, Lake Dillon.

Frisco's location, right at the banks of Lake Dillon, offers a good balance of mountains and water with a distinct alpine lake experience.
In the summer, get on the water in paddle boards, pontoon boats and even sailboats. Or spend time exploring more than 26 miles of coastline any time of year.
Lake Dillon is home to the highest deep water marina in the world, which means this lake is very vast.
It also supplies Denver with a bulk of their needed water supply. In fact, this is how Coors Light is able to say that their drinks "Taste the Rockies".

You and your family can enjoy nearly limitless hiking that can be made use of in the area.
Whether it's taking a slow stroll on the paved trail along the shore of Lake Dillon in the winter with snow capped peaks on all sides

Or hiking up those same surrounding mountains in early summer to see the lush wildflowers, a visit to Lake Dillon near Frisco is a must.
11. Entertainment from Two Below Zero
One of the most quintessential things to do in Frisco is to enjoy a night out for a chuckwagon supper.
Spend a night like the cowboys and frontiersmen did 150+ years ago when Colorado was only a territory rather than a state.
Two Below Zero is a full-on entertainment experience that has been family owned in Frisco for 30+ years. They've been serving up good wholesome family fun and homemade meals to the surrounding communities and nearby ski resorts.
A Chuckwagon Supper, if you have never been, is a cowboy-themed dinner experience from the start to finish.
The experience starts out with a sleigh (winter) or wagon (summer) ride from the draft mule team, then onto the game corral for a game of cowboy golf, cornhole, horseshoes or any of the multitude of games.
But the highlight of the night is definitely the dinner and show later in the evening.
The full course meal is fresh and homemade in the same style that the cowboys of yesteryear would make it on wild west ranches. The experience is perfect for families and friends of all ages.
12. Hike Quandary Peak
Quandary Peak sits directly to the west of Breckenridge and is about a 20-minute drive from Frisco.
It is one of the area's more popular hiking destinations. Hiking Quandary Peak is roughly 6.75 miles there and back with an elevation gain of 3,500 feet.
Along the way, expect to see some of the most beautiful scenery and vistas in the area.
Quandary Peak is one of the more traveled and easier fourteeners to climb in Colorado.
It's a pretty gradual incline to the summit compared to other 14ers in the state. And the exposure and technical skill required to make it to the top are pretty low.
Even though Quandary Peak is considered an easier climb, and thus good for beginners, it's still a fourteener. The hike that goes well above timberline and should only be tackled by those confident in doing so.
Quandary Peak is open year round and is a great hike to be accompanied by your leashed furry friend.
In the winter, don't be surprised to see snowshoers making their way up and down the trail. You may even see some people enjoy some backcountry skiing too.
13. Butterhorn Bakery and Cafe
In operation for more than 40+ years, the Butterhorn Bakery and Cafe is a staple in Frisco, CO.
It's a long-time favorite of both tourists and locals for breakfast, lunch and dessert. Each recipe includes made-from-scratch ingredients and is offered fresh every day.
If you don't already know, food and baked goods are cooked differently at high altitudes. And because of this they can have a slightly different taste and texture.
Their menu includes gluten-free options, lots of delicious coffee (and even nitro brew on tap!), and mimosas.
As you're taking a stroll along Frisco's mainstreet, be sure to stop off at the Butterhorn Bakery and Cafe for a treat or other eats.