22 Best Things to Do in Estes Park in 2023 [by a local]
This website may contain affiliate links and we may be compensated (at no cost to you!).
In the north central part of Colorado sits Estes Park at an elevation of 7,500 feet.
It is well known for being the eastern gateway to Rocky Mountain National Park and home to the historic (and haunted!) Stanley Hotel.
Besides RMNP right next door, Estes Park is also known for several other destinations. Many of which we explored during our latest trip to the city.
This includes Lake Estes, the quaint downtown area, plus the herds and herds of elk that occupy the city during rutting season.
The population of Estes Park is only around 6,000 people. So, it's easy to feel outnumbered by the hundreds of elk that pass through each year.
And because of its proximity to Colorado's Front Range, Estes Park is an easy destination to travel to, no matter where you're coming from!
During our recent trip to this small mountain town, we discovered some local favorites and hidden gems.
Here are our top recommendations for things to do in Estes Park, Colorado as shared by a Colorado local.
1. Rocky Mountain National Park
If you're visiting from Denver, we highly recommend this all-day Rocky Mountain National Park adventure.
The tour starts at Denver's Union Station and then heads north through Boulder.
Along the way you'll see epic views of Longs Peak, pass through Estes Park and up Trail Ridge Road.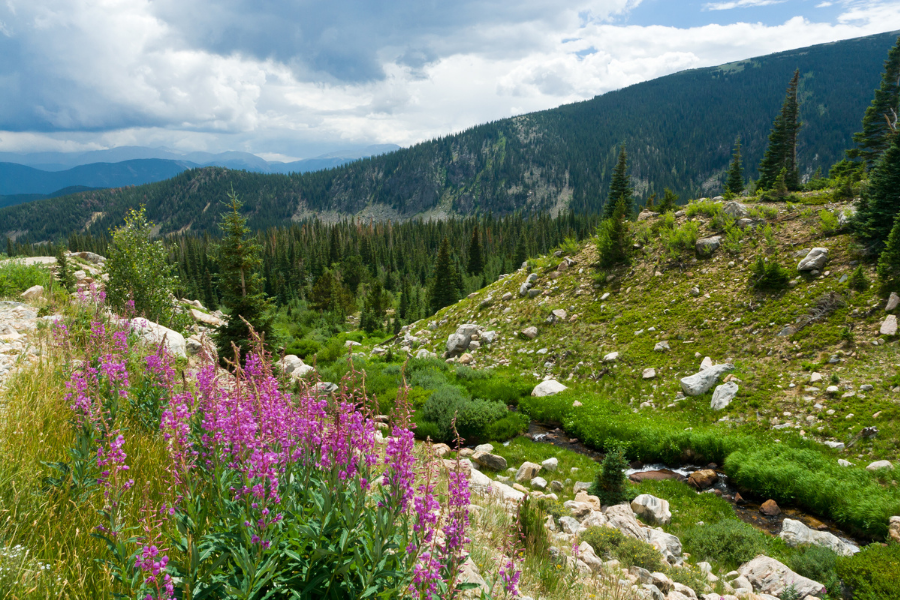 A professional driver and guide will escort you for 3 hours inside RMNP so you can explore the gorgeous scenery.
A tour of Rocky Mountain National Park includes 8 hours of driving and bottled water, but you will have to pay for your own lunch.
With nearly 2,000 five star reviews, this day trip allows you to see the beauty of Colorado's rugged mountains. Plus, you could see wildlife like elk, black bear, or moose.
2. Watch the Sunrise
If a day hike isn't your thing, consider watching the sunrise over Rocky Mountain National Park with your friends and family instead.
Get into the park early to avoid the crowds and learn about the area's history and biology from an expert guide.
During this 3-hour tour you'll get to watch an early morning sunrise, find the best places to hike, see wildlife and take epic photos.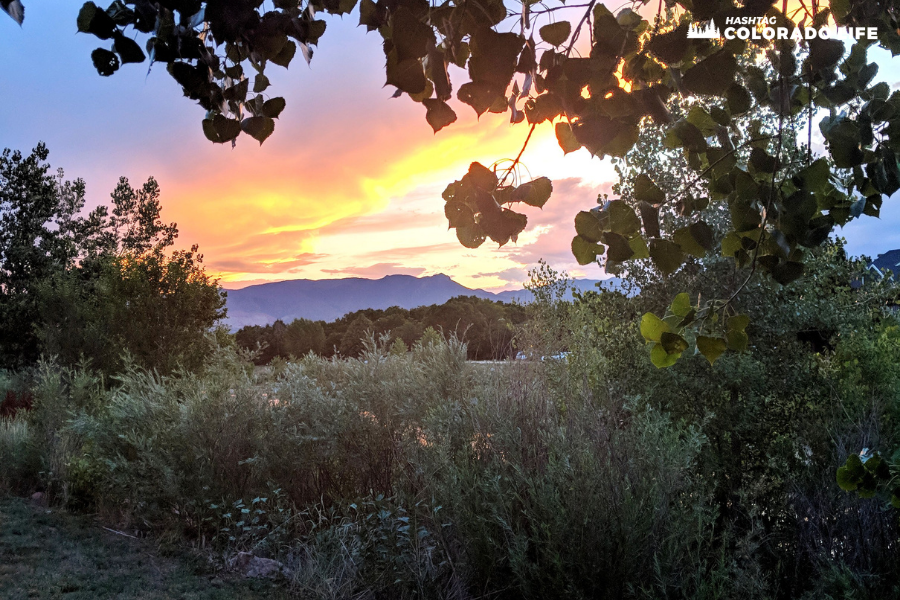 The cost of the tour includes entrance fees, your Rocky Mountain National Park Reservation, and private transport from Estes Park.
Plus, you can cancel up to 24 hours in advance if your plans while visiting Estes Park change.
If you're looking for a breathtaking experience of Rocky Mountain National Park without all the crowds, check out this Sunrise Tour.
3. Estes Park Lower Valley
Explore Estes Park's stunning landscape on this 3-4 hour tour of Lower Valley.
Meet up at the Estes Park Visitors Center to connect with your local guide. Then it's off to explore areas like Sheep Lakes and Moraine Park.
Along the tour you'll see native wildlife and stunning alpine views all from the comfort of your own car.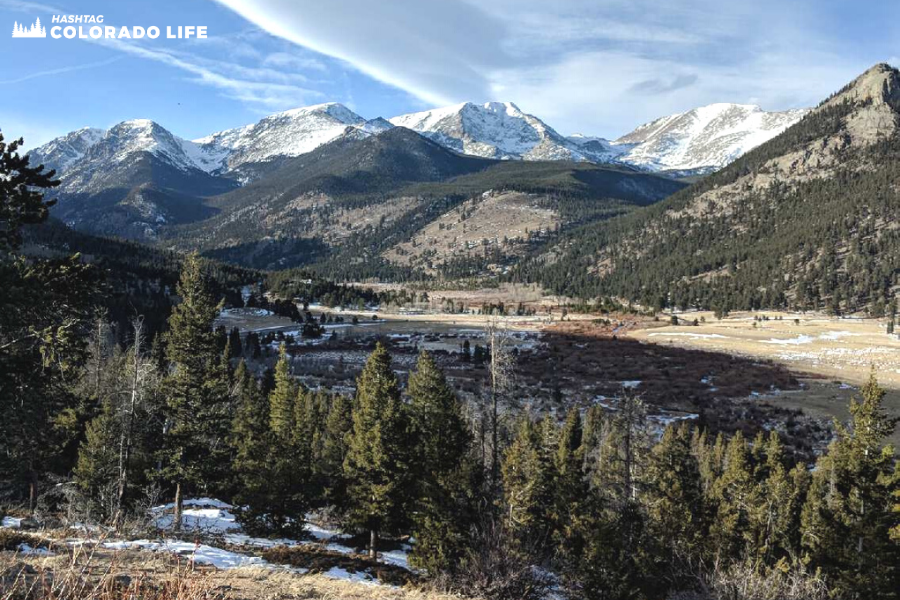 Learn about the area's ecology from your tour guide and enjoy several stops along the way for information and photos.
If you're looking for a relaxed tour where you can drive around viewing the Estes Park scenery, check out this Lower Valley Tour.
It's the perfect tour for families with older adults or small children. Plus, you don't have to worry about heights or exerting yourself at high altitude.
4. Estes Park E-Bike Tour
Explore the entire downtown Estes Park area year-round thanks to this electric bike tour.
This 2-hour tour starts near the Stanley Hotel and six stops at historic landmarks and destinations, like the Lake Estes Marina and the Riverwalk.
You'll be able to enjoy a scenic drive through town as well as stopping to capture gorgeous photos.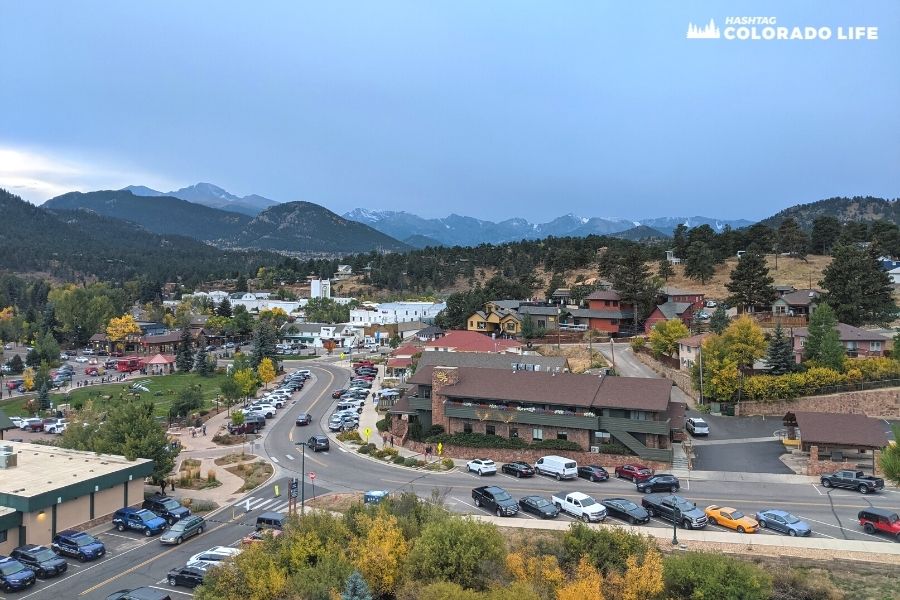 You and your group will be provided with a comfortable electric bike, bottled water, and safety equipment.
Join knowledgeable guides as cruise through town at an easy pace, all while being able to avoid the crowds.
An E-bike tour is a great way to see all of the beautiful sights that Estes Park has to offer without a lot of effort.
5. Acrylic Painting Class
If the weather is too cold or rainy while in Estes Park, consider attending an Acrylic Painting Class.
Join a small group at a local painting studio and leave with a beautiful piece of art to commemorate your trip.
Every painting workshop includes all the painting tools you need plus a canvas you can take home.
You'll learn how to pour paint in a specific way that creates beautiful, abstract art.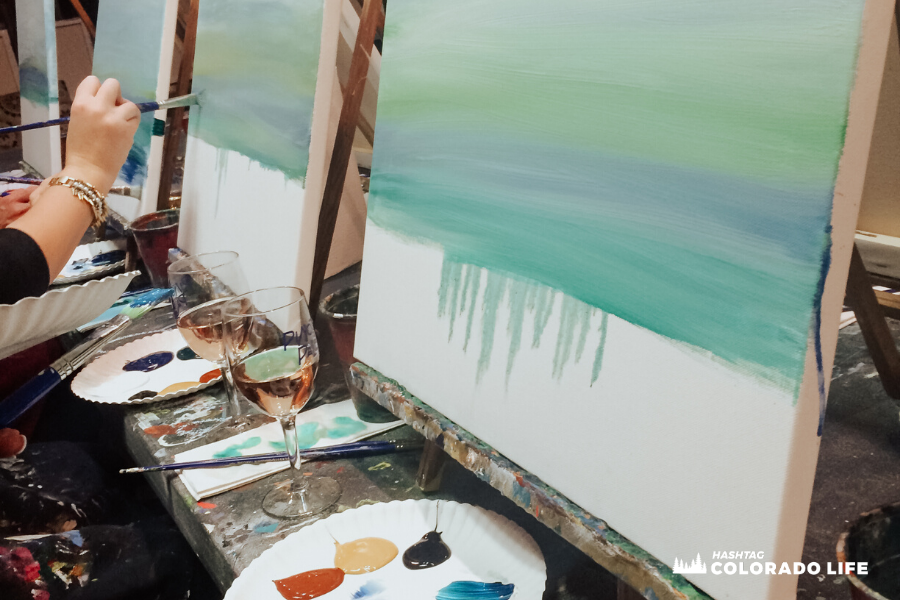 The class is about an hour long and is meant for small groups or couples. Several of the 5-star reviews say it's a great activity for kids and teens especially.
What could be more fun than learning a new art medium while on vacation?
Check out their website to learn more about this Acrylic Painting Class in Estes Park.
6. Ink Landscape Art Class
Another way to take a break from all of your outdoor adventures is by booking a fun Ink Landscape Art Class in Estes Park.
Join a professional instructor as you learn the art of working with alcohol ink to create beautiful kaleidoscope designs.
It's like watercolors but an easier medium to play around with! Located on Moraine Avenue, this class is designed to help get your creative juices flowing.
It lasts for about 90 minutes and includes all of the art supplies, paint, and other tools you need to create a masterpiece.
An ink art class like this is a fun way to capture the beauty of the Colorado landscape to display in your home for years to come.
7. ElkFest
Elk and Estes Park are synonymous with each other. The town even has a festival dedicated to Elk that they put on every year, called ElkFest.
ElkFest always falls during rutting season for the elk, which is usually late September through early October.
The weekend festival features live bands, Native American storytelling & dancing, food and a bugling contest.
Even outside of rutting season and ElkFest, it's not uncommon to see herds of elk gather in the center of town, or in a golf course meadow.
During our recent trip, elk were all over the town day and night. There wasn't a place you could go in the town without spotting elk.
We could even hear them doing their wailing bugle all night long from our hotel room.
Keep in mind that despite the benign surroundings, these are wild animals that can act unpredictably or become spooked easily.
The bulls are juiced up on testosterone and can get pretty territorial about their herd. So, we suggest giving them room when taking photos!
8. The Birch Ruins
The Birch Ruins sits right in the center of town located atop the (now) Knoll-Willows Open Space.
Initially the Birch Bungalow was built for the editor of the Denver Post, Albert Birch, as a summer home.
But after it burned down in December of 1907 Mr. Birch decided to build a smaller cabin at the bottom of the hill, closer to shops and amenities.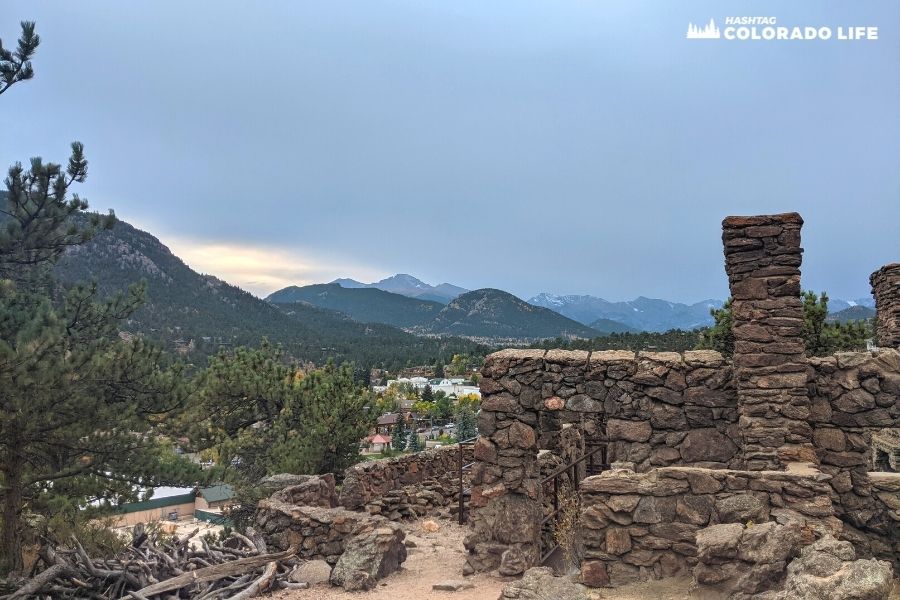 The remnants of both buildings are still there today and can be toured and explored by the public.
You can access the Birch Ruins from MacGregor Avenue or Elkhorn Avenue, the town's main street.
Free parking is available at many of the local businesses nearby or in the Estes Valley Library parking lot.
Once you reach the top you'll be able to walk amongst the ruins of the original Bungalow that was built there.
You'll even see Longs Peak in the distance! This quick and easy hike rewards you with outstanding views of the city of Estes Park below.
And since the hike up is less than half a mile long, it's good for most skill levels, although it can get steep towards the top.
During rutting season it's likely that you will see lots of Elk and maybe even a bear or two.
9. Estes Park Downtown & Riverwalk
The Riverwalk cuts through downtown Estes Park and follows along the Big Thompson River.
It starts at the Estes Park Visitor Center and continues west as it winds through the downtown shops and restaurants.
The rock-paved pathway takes you across several bridges with lots of benches and scenic outlooks.
The Riverwalk is a perfect spot for taking photos and enjoying the sounds of the river.
Many shops and restaurants are located right on the Riverwalk so riverside dining and shopping is common.
Our favorite thing is to grab a cup of coffee, sit on a nearby bench and watch the clear water go by.
Along the Riverwalk you'll also see bronze animal sculptures and beautiful rock water features.
Nearly anytime of year you can expect to see an abundance of wildlife with elk wandering the streets of downtown.
10. Estes Park Visitor Center
Speaking of the Visitor Center, this is one stop you don't want to miss on your visit to Estes Park.
Right next to the visitor center is a well-kept golf course and the start of the Lake Estes Trail.
The unique thing about this golf course is that it's one of the main meadows that herds of elk like to graze in during rutting season.
If you've ever seen a photo of elk in Estes Park, it's mostly likely from this golf course meadow location!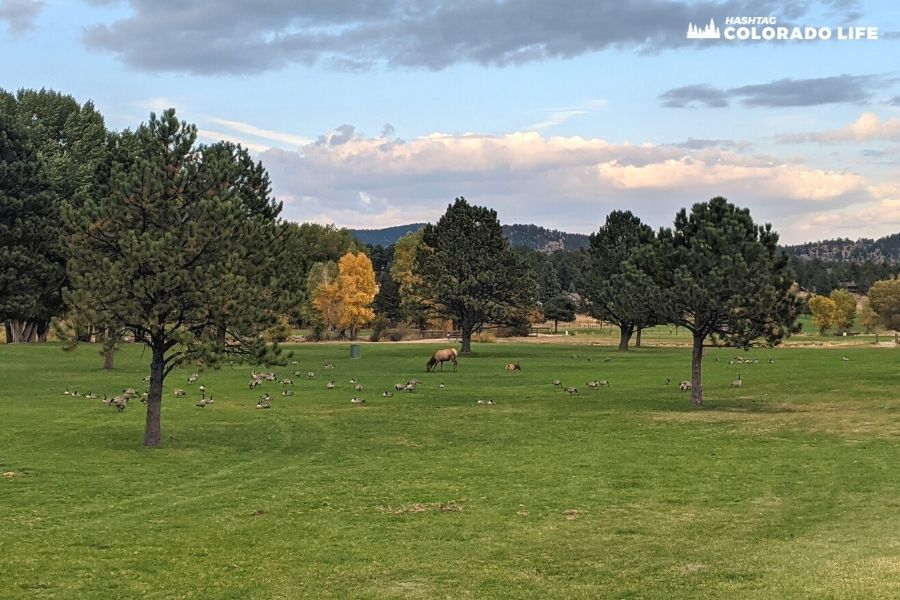 The Estes Park Visitor Center is open year round and offers a multi-story parking garage with free parking for visitors.
Park and take photos of the elk nearby, or use it as your home base for strolling along the Riverwalk.
The Visitor Center is also the hub for all six seasonal free Town of Estes Park shuttle routes.
To plan your stay in Estes Park, be sure to grab one of the official trip guides and check out the Events calendar.
11. The Stanley Hotel
Located just north of downtown is The Stanley Estate which is home to the famous Stanley Hotel.
Built in 1909 this expansive 100+ year old estate offers gorgeous views of the Colorado mountains and overlooks Rocky Mountain National Park.
On the grounds you'll find several restaurants, a whiskey bar, and a gorgeous patio. Plus, you can get fresh jams, ciders, and spreads from the Colorado Cherry Company.
Tours are offered daily where you can learn about the history of the estate and original owner, F. O. Stanley. The family even has their own cemetery lot on the estate.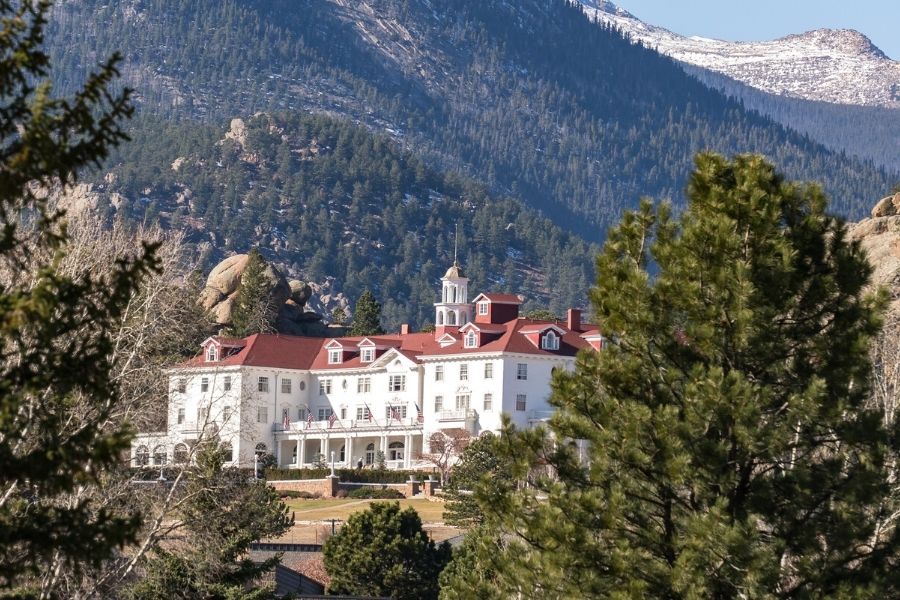 The tour also includes the history of Stephen King and his haunted tellings of the Stanley that helped him write his book, The Shining.
One of the most popular annual events is the "Shining Ball" Halloween party. It features elaborate costumes, live music, decorations, and delicious food.
Attendees have said it's like stepping into a real-life horror film!
In less than 2 hours from Denver you can book a memorable vacation, special event, or anniversary trip at the historic Stanley Hotel.
12. Lake Estes
On the way into Estes Park you will drive over Lake Estes, which only adds to the already gorgeous city landscape.
This man-made lake sits near the center of town and offers 4 miles of shoreline for various water activities.
In the 1940s the Olympus Dam led to the creation of the lake, and today it's all fed from the Big Thompson River.
Fishing, paddleboarding, kayaking and boating are popular activities on the lake.
And the Lake Estes Marina offers rentals for kayaks, paddleboards, and pontoon boats.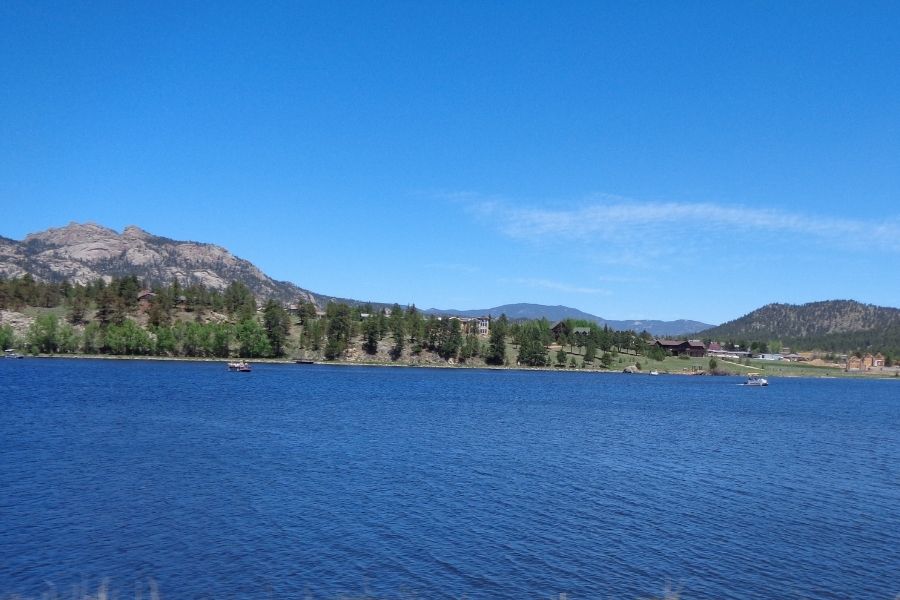 You can enjoy a stroll around the lake on the aptly-named Lake Estes Trail, which is a nice 3.75 mile loop.
You can also rent a bike from the marina, or bring your own to cycle around the lake.
With Colorado being one of the driest states in the country, finding any amount of water within city limits of any town is a real rarity.
It even passes through the towns of Black Hawk and Central City which are both old mining towns turned-casino destinations.
This area has been previously nicknamed "the richest square mile on earth".
13. Estes Park Museum
If you're curious about the history and culture of the local region, then you'll want to check out the Estes Park Museum.
On display in the museum's extensive catalog are more than 30,000 different items including postcards, photographs, tools and furniture.
The Estes Park Museum has been in operation for more than 50 years. It has a number of historic structures that have been preserved that you can visit.
Included with your visit is a video that details a fascinating overview of the town's history.
Then it's time to peruse the artifacts and exhibits through the incorporation of the town in 1917.
Not only that, but you'll be able to discover information about more recent history of the town and the regional area, including a series of floods.
The Estes Park Museum also runs an interpretive center at the Historic Fall River Hydroplant which was originally constructed to power the Stanley Hotel in 1909.
14. Estes Park Aerial Tramway
The Estes Park Aerial Tramway was designed and built by Robert Heron and was opened to the public in July 1955.
The unique thing about this specific Tramway is the design.
It does not require any towers to support the wire ropes. And it's a free span from the bottom to the top stations.
A free span Tramway is a fairly uncommon design in the United States, so this design affords a uniquely smooth ride up Prospect Mountain.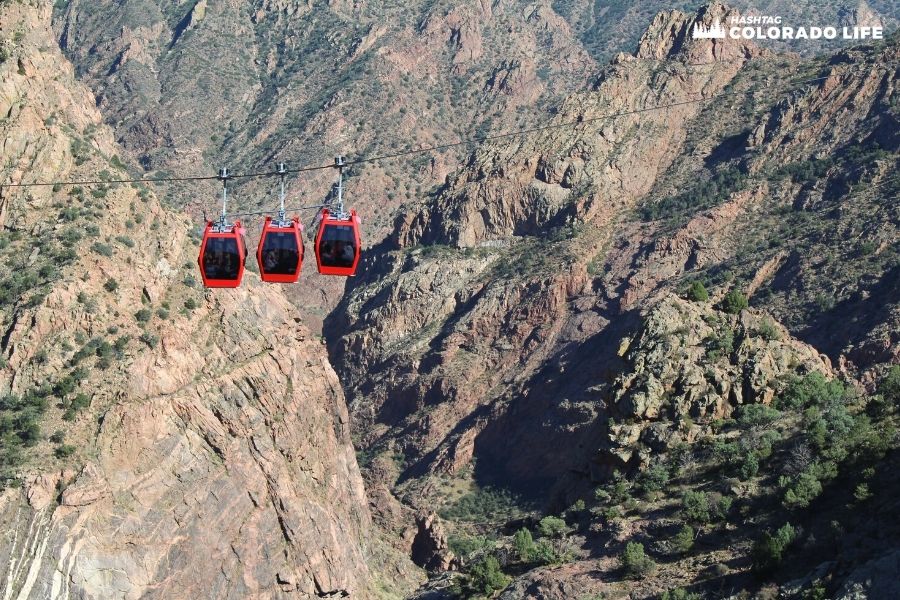 Since opening in 1955 the Estes Park Aerial Tramway has carried more than 3 million people to the summit of Prospect Mountain.
And to this day, the Tramway is owned and operated by the Heron family!
Please note that the Estes Park Aerial Tramway is generally only open for the spring and summer months. It is closed during the winter season.
15. Open Air Adventure Park
The Open Air Adventure Park is one of the top things to do in Estes Park for adrenaline junkies.
And there's something for every age thanks to more than 30 different challenges and skill abilities.
And at this Adventure Park you control the experience by customizing the challenges you choose.
From tightrope walking, ziplining, and obstacle courses, the Open Air Adventure Park has you covered.
Included with your ticket is expert staff to teach you all the safety measures, with access to extensive safety gear.
Their goal is to make sure you have a fun but safe adventure during your visit to Estes Park.
This too is more of a spring, summer, and fall activity in Estes Park as the Open Air Adventure Park is closed during winter.
16. MacGregor Ranch Museum
Take a step back in time at the MacGregor Ranch Museum located in the beautiful Black Canyon Creek area of Estes Park.
The old west and the cowboy lifestyle have been part of Colorado's history for decades.
And the MacGregor Ranch Museum offers a glimpse into what life was like for past generations.
Built in 1873, the ranch was started by the MacGregor family and was passed down through three generations.
Guided tours are available to explore the grounds and see what life was like on the Open Range.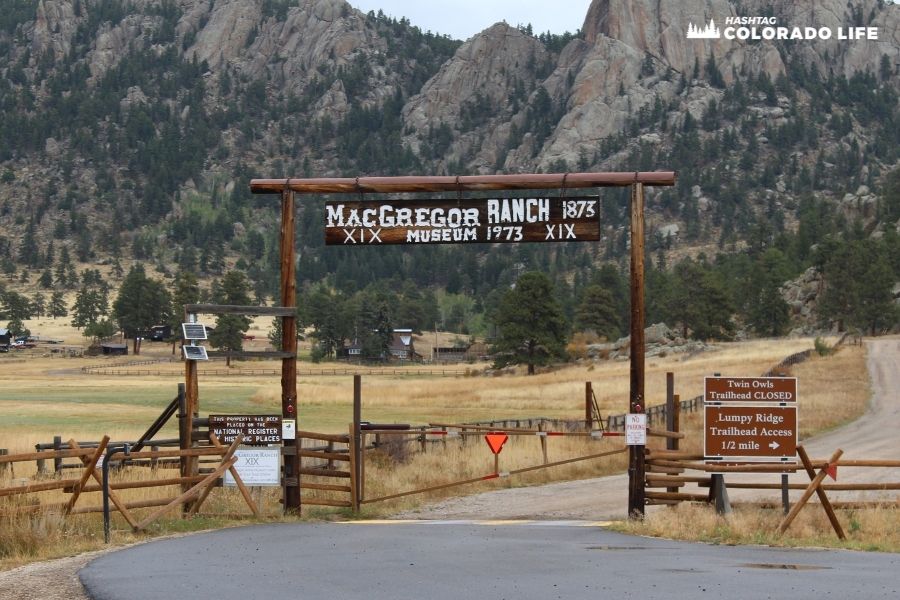 The main house where the MacGregor's lived is now a museum. It houses a unique collection of original furnishings and historic memorabilia.
After Alexander MacGregor, the founder of the ranch, died in 1896 his son Donald took over.
Donald was the one who adopted the horse-drawn machinery to make hay. More than a century later, this is the method still used today at the Ranch.
Estes Park sits in the heart of the Rocky Mountains just 90 miles northwest of Denver.
It offers lots of free and cheap things to do and is home to 300 miles of hiking trails and open spaces.
Not to mention it's the backdoor to the Rocky Mountain National Park.
17. Sledding
During the winter, Colorado mountain towns really come alive. And one of the best things to do in Estes Park is take the whole family sledding.
And the best part is that you don't need any special skiing or snowboarding skills as sledding is easily accessible for everyone, even beginners.
You'll meet up with an expert guide and then head to the old Hidden Valley Ski Resort, which has been turned into a designated sledding zone.
You and your loved ones will spend about 3 hours sledding, racing down the hill, and generally having fun in the snow.
Included with the cost of your ticket is a Rocky Mountain National Park pass, use of sleds, and 2-way radios to communicate with your guide.
A sledding trip is a perfect activity for your whole family to enjoy in Estes Park in the winter. Plus, you can avoid the more crowded touristy locations.
Learn more about booking a Hidden Valley Sledding Tour.
18. Estes Park Peak to Peak Highway
From Estes Park to I-70 is the Peak to Peak Scenic Byway, which is about a 3 hour drive with beautiful stops along the way.
Established in 1918 this is Colorado's first and oldest scenic byway and makes a great day trip from Estes Park.
There are few gold mines along the way that allow for public gold panning in the creeks, which is a common activity for kids especially.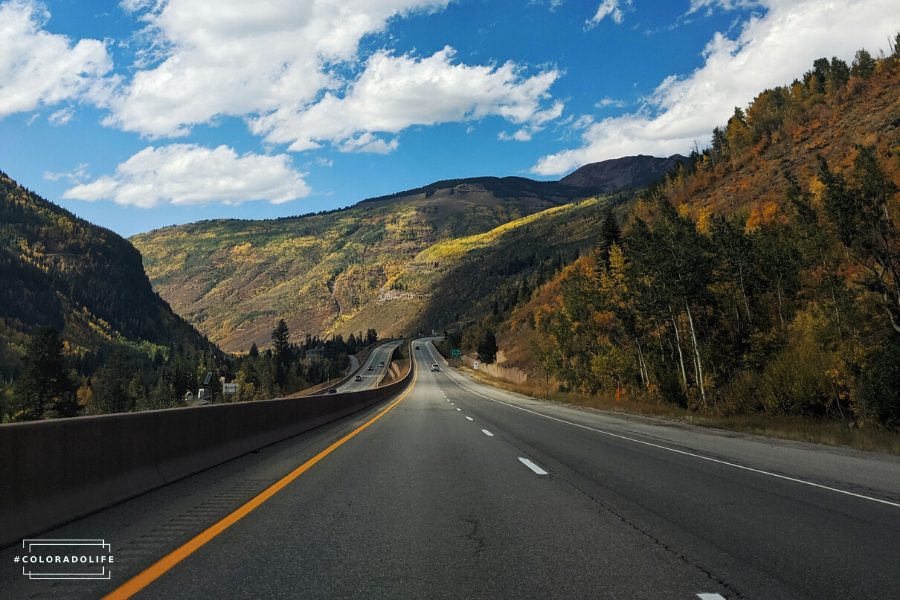 The route stretches 55 miles, beginning at CO Highway 7 in Estes Park then turns south to Allenspark. Then the drive heads onto Nederland and through Clear Creek Canyon then down to I-70.
The Peak to Peak Highway is especially lovely to take as a fall drive during autumn. This is when the leaves turn different colors of yellow, gold and red.
19. Enos Mills Cabin Museum
Throughout his life, Enos A. Mills advocated for environmental studies and preservation. As an American naturalist, he was deeply passionate about nature.
In fact, Enos Mills has a fascinating history that led him to being one of the country's leading proponents in the creation of Rocky Mountain National Park. Which is the 10th national park in America.
Because of this, Enos Mills is considered the "Father of Rocky Mountain National Park". And the Enos Mills Cabin Museum is dedicated to his life and his preservation efforts.
The cabin and other rustic structures that exist on the property are open to tour. You can enjoy a walk around the original homestead and see the original cabin as well as local plantlife.
The museum takes about 90 minutes to explore with lots of displays for visitors to read and learn.
The property that Enos Mills Cabin is set on is about 8 miles south of Estes Park and is run by two descendants of Mills.
20. Fern Lake Trail
The path up Fern Lake Trail is a beautiful 7.5 mile out-and-back hike. It is considered moderately challenging and will take about ~4 hours to complete.
The trail resides inside of Rocky Mountain National Park so that means there will be a fee to enter.
The best time to hike this trail is from late spring to mid autumn when you can witness the spring melt.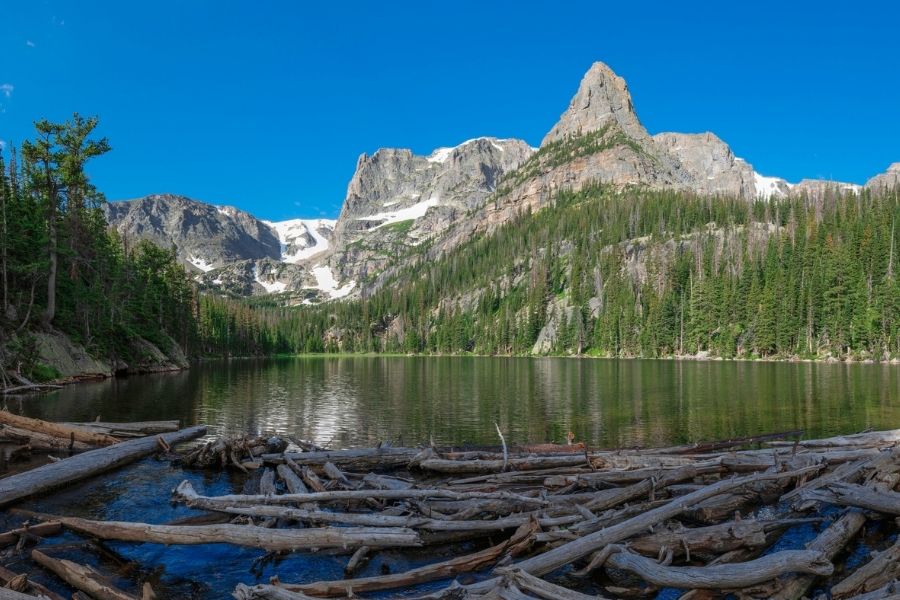 In the summer this trail is lined with lush wildflowers and in the fall the mountainside is ablaze with color from the trees changing.
Parking at Fern Lake Trailhead is possible if you get there particularly early or plan for a weekday hike. Otherwise there is the option to take the free hiker shuttles from Moraine Park Visitor Center.
On your way to the lake, you will have an elevation gain of 1,400 feet over the 7.5 mile trail. It's not uncommon to see other hikers along this trail but it is still a less traveled path than some of the more popular hikes within RMNP.
Along the trail, you will pass through mixed forests, past the former Fern Lake Backcountry Patrol Cabin and along the Big Thompson River.
21. Estes Park Memorial Observatory
Colorado is well-known for its abundance of star-gazing opportunities and the Estes Park Memorial Observatory takes full advantage of this.
This local attraction is somewhat of a hidden gem and offers the community of Estes Park an educational and fun resource.
Inside the observatory you'll find knowledgeable staff, loads of educational information, and private or public viewing events.
The center also showcases lectures involving astronomy, cosmology, and even astrophotography.
The Estes Park Memorial Observatory is located at 1500 Manford Avenue and is currently open 4 nights per week.
22. Beaver Meadows Visitor Center
As the headquarters for Rocky Mountain National Park, the Beaver Meadows Visitor Center first opened in 1967. The center is open year-round with shorter hours in the winter months.
Upon arriving here, there are a surprising amount of things to do. Start by watching a short orientation film of the park then plan your drive or hike from one of the ranger-recommended maps.
Inside the Beaver Meadows Visitor Center you'll also find the Rocky Mountain Conservancy Nature Store. Here you can bring a little bit of RMNP home with you in the form of books, shirts, games, and more.
The visitor center is also a great place to stop for snacks, a bathroom break, or to grab a souvenir.
Along the west side of the parking lot you and your party will have unobstructed views of Longs Peak and other towering Rocky Mountains.
Plus, a fun fact about the Beaver Meadows Visitor Center is that it was designed in the Frank Lloyd Wright architecture style.
Estes Park truly does not disappoint as a mountain town resort area, no matter what time of year you choose to visit.