Are you thinking about moving to Colorado? Do you have a lot of questions and not a lot of answers?
Then you need this guide for moving to Colorado (plus get it for 50% right now!!). 
Written from the perspective of a Colorado newcomer with help from a Colorado local, this guide includes all of the resources you need to make an informed decision.
Plus, it's updated with all of the new information for 2022 and for a limited time the book is 50% off. 
Complete PDF Book for Moving to Colorado (50% off!!)
In this guide, you will find answers to questions like, what are the best neighborhoods? What are the best jobs available? What is the average cost of living?
---
Buy this complete book and get instant access for 50% off at just $49.99 $24.99

---
Moving to Colorado should be fun and exciting, not stressful and full of unknowns.
Use this book as a blueprint for a broad range of information about housing, neighborhoods, culture, lifestyle, taxes, employment, and even the weather.
Complete with research, details, and personal experience, this Colorado moving book will help you reduce the unknowns so you can plan your move with ease. 
Colorado is the perfect place for consciously-minded, outdoor enthusiasts and nature lovers alike. There are endless areas to explore and things to do — both indoors and outdoors.
It really is a wonderful place to live!
But Colorado may not be for everyone, which is why you need this book. The housing market is volatile and there are certain issues that come up when living at higher elevation.
A few topics that are covered in this guide, include:
The total cost of moving to Colorado
The best cities along the Front Range
What to expect when living at high altitude
The job market and economy
Top hacks and tips for moving
The top neighborhoods to live in
And lots more!
At the end of this book you will know exactly what to expect when moving to Colorado!
You'll get access to valuable information to be prepared for anything, like what to do when your windshield wiper fluid freezes.
What's included in this Moving to Colorado book?
This is a DIGITAL book, so when you purchase you'll receive a link to download the PDF book so you can read it on any digital device.
Here is what's included for just $49.99 $24.99
City analysis and cost of living comparisons
The best places to retire in Colorado
Living at high altitude tips
A moving checklist
A budget tracker
The cheapest cities in Colorado
Tips for buying a home in Colorado
And lots more research
This moving guide, from the perspective of both a newcomer and native, covers it all. Now, get out there and explore our beautiful state!
Nearly 100 pages of research, checklists, cost of living analysis, and personal experience to help make the most informed decision when moving to Colorado.
Plus, get a moving checklist and budget tracker to ensure you stay on track with your moving goals.
Start achieving your dream of living in Colorado this year!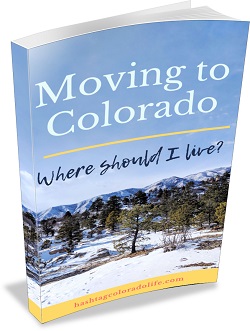 ---
Buy this complete guide and get it instantly delivered for 50% off at just $49.99 $24.99

---
This moving to Colorado guide includes pages of research, checklists, analysis, comparisons and personal experiences that will help you stay on budget and prepare for any unknowns.
Nearly 100 pages of research and in-depth information
A moving checklist & budget tracker
Instant download to your computer or device
Access to all future ebook updates
Frequently Asked Questions
+ What happens after I purchase?
Once your purchase is completed, a page will open that will include your download links. You will also receive an email with a link to download your product.
+ What if I don't know anything about Colorado?
Perfect, this in-depth guide is for you! No previous knowledge of Colorado is necessary as we cover everything in-depth as if someone has never visited the state before. You'll learn everything you need to know no matter if you're a newcomer or a native of Colorado.
+ Is this a digital book?
Yes, this guide is completely digital and comes in a PDF format. You will not receive a physical book and nothing will be mailed to your home. You can print the materials directly from your computer or read on a tablet or other device.
+ Can I read this book on the Apple Books app?
Yes, Apple makes it super easy to import or save a PDF file to read in your iBooks app. Here is a link to a short guide explaining the instructions from Apple Support.
+ Can I read this book on a Kindle?
Yes, Kindle allows anyone to read a PDF version of the book on the Kindle app. Here is a link to a quick guide explaining the exact steps to read a PDF on Kindle.
Follow us on social media: