Living in Colorado Springs: 50 Reasons Why We Love It
This website may contain affiliate links and we may be compensated (at no cost to you!).
What do you need to know about living in Colorado Springs?
From loving the weather to being snow bunnies, to the budding food scene, and breweries, Colorado Springs has so much to offer.
As both a native of Colorado and a newcomer to the state, we share exactly what it's like to live in Colorado Springs.
If you have been thinking of moving to Colorado, this guide is for you!
This Front Range Colorado city has so much to offer. Whether you're a young professional or family looking to expand, this could be the perfect city in Colorado to put down roots.
Why are so many people moving to Colorado? Read on to find out. We are sharing 50 of the top reasons why and what we like about this state!
1. All four seasons
Between both of us, we have lived all over the country from Texas to Seattle, and even Hawaii.
But the one thing we really love about Colorado Springs is being able to enjoy all four seasons.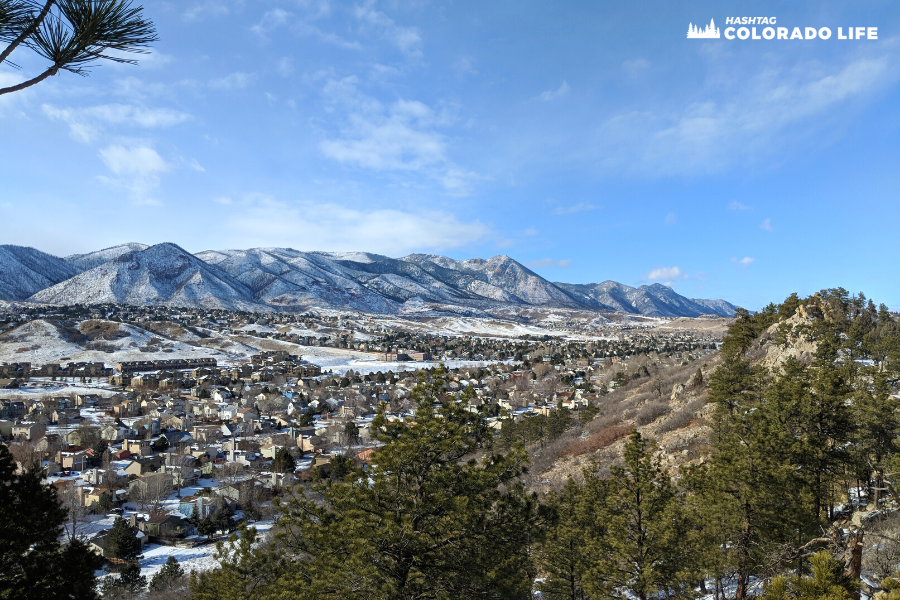 And sometimes you get them all in one day!
We like to see the leaves changing and the snow falling, and hearing the cool air roll over the mountains to the west.
2. Clean, drinkable water
In many Colorado cities along the Front Range you can actually get water from the tap.
The water is fresh snow run-off from the mountains, so it's clean and no one else has used it before.
So, you can say goodbye to spending money on bottled water and just get it from the sink.
Although, drinking water from the tap is not available in all areas of the city (like the more east you go).
3. Famous mountains
There are so many different (and famous!) mountain ranges in the state.
And you can see them from many cities along the Front Range, or when visiting a mountain town.
4. Hiking & nature
The ease to hiking trails and nature makes it very accessible to getting outdoors.
We are currently doing a 52-week hiking challenge where we are going to a new hiking location each weekend.
Colorado makes it so easy to get outside, enjoy nature, and go for a hike.
5. Convenient camping spots
Colorado was made for camping so it's pretty convenient to get away for a night or an entire week.
There are plenty of actual campsites you can pay to camp at or park a trailer.
Or simply pitch a tent in the woods or along a creek inside any of the National Forests in the state.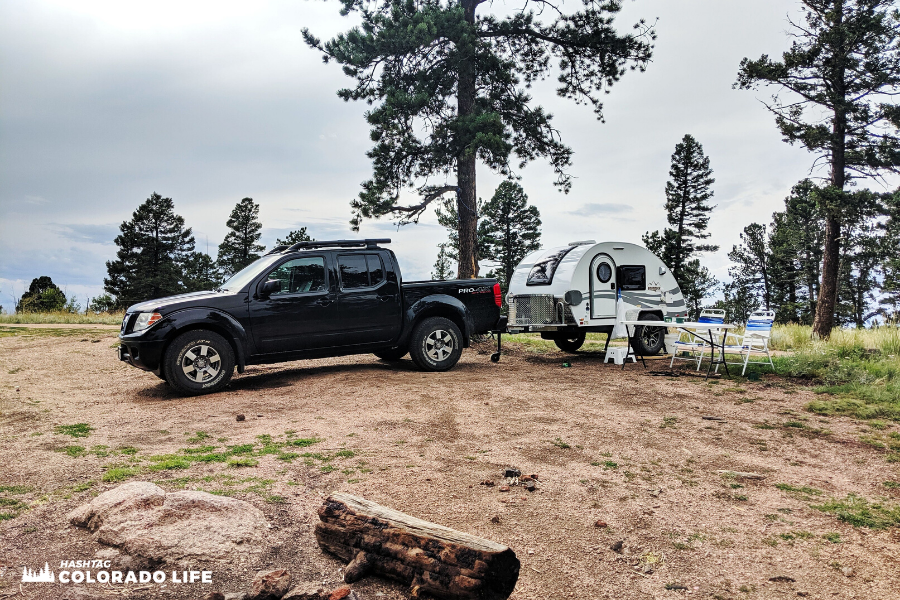 6. Snow & winter season
We love the snow so much and we can never get enough of it.
Winter in Colorado means a ton of snow activities like hiking in the snow, skiing / snowboarding, tubing, etc.
A fresh blanket of snow means it's quiet, pristine and a very tranquil experience.
7. Pueblo peppers
Peppers are a well-known Southwest food that easily grows in Colorado. And it's in season pretty often.
We recommend checking out the Pueblo Chile & Frijoles Festival if you haven't already.
8. Rocky Ford melons & cantaloupe
The really warm sunny days and cool nights in the summer are perfect conditions to grow melons.
Eating one from Colorado is a totally different experience than other melons you might have eaten before.
9. Palisade peaches
Palisade is on the other side of the state but they are abundantly available in Colorado Springs.
The peaches are in season in the fall and they are oh so good.
We love making peach cobbler from scratch, as well as buying peach butter from the farmer's markets.
If you see a stand on the side of the road selling melons, peppers or peaches, stop for a moment to buy some. You won't regret it!
10. Emerging food scene
Colorado Springs has always had a pseudo rivalry with Denver and needs to differentiate itself from its larger neighbor.
The Springs has been paving its own way in the culinary scene the past few years.
And because of this, there are so many delicious and innovative options. There are restaurants and choices for vegans and vegetarians, too.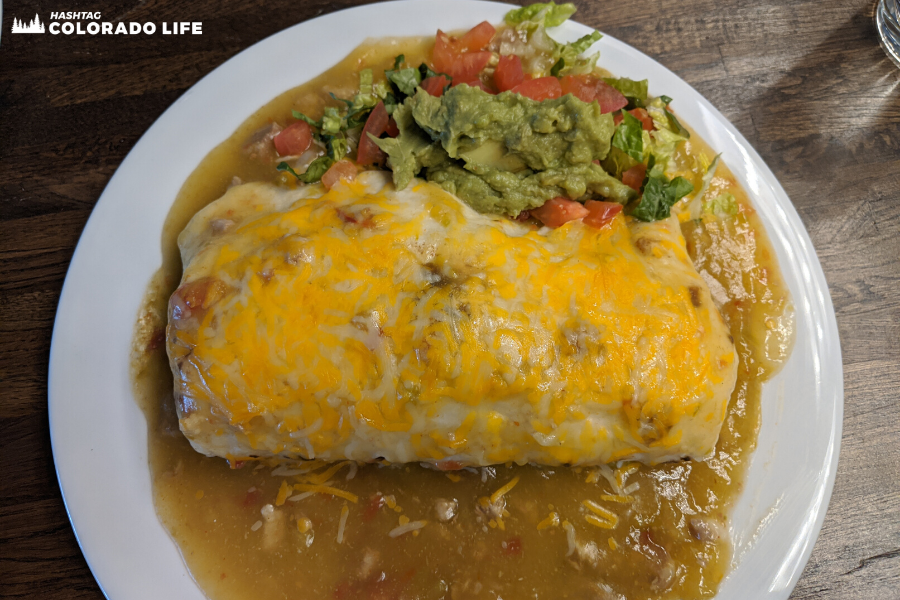 11. Game meats
The mountainous terrain in Colorado gives way for a lot of game meats to eat throughout the year.
In the past we have eaten Rocky Mountain oysters, yak, elk, venison, bison, jerky, and even ptarmigan.
If you enjoy natural and wild game meats, Colorado Springs has lots of options.
12. Food trucks
There are lots of delicious and unique food trucks in Colorado Springs and the state overall.
Some of the food trucks have even been featured on Food Network and other food truck competitions.
In fact, some of the best sandwiches, tacos, and chicken we have ever eaten came from a Colorado food truck.
13. City escapes
Just going a few miles from a city feels like a world away. You can escape the city and get to the mountains, the lakes, or just nature in general.
There are abandoned ghost towns to explore, historic gold mines, national forests and woods, creeks, rivers, and wildlife.
14. Micro breweries
The state is really known for micro breweries and Colorado Springs is no different.
They bring unique flavors and ideas, many of which are very popular among the locals.
Not only that, but a lot of Colorado brews are shipped across the country for everyone to enjoy.
15. Work-life balance
Colorado brings out a calm and chill vibe for both working and enjoying life.
Since there are so many things to do, and places to explore outside, everyone makes it a priority to enjoy life just as much as working.
The culture here makes it easy to create a work-life balance around.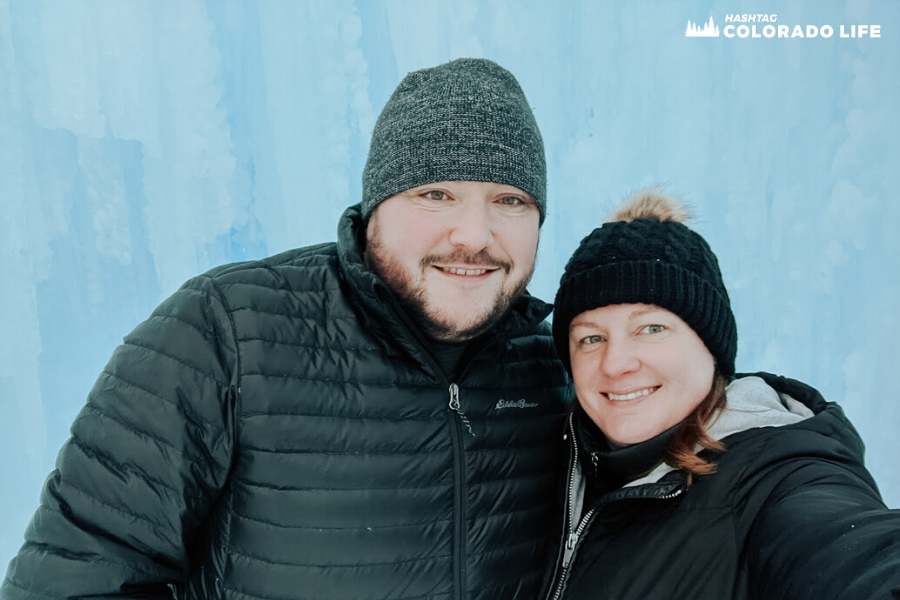 16. The pot culture
For some living in Colorado Springs means indulging in the pot culture. We are the "highest" state afterall!
Some people like it and others don't, but either way you have the option if you choose it.
The city of Colorado Springs does not allow the retail sale of marijuana within the city limits.
But it's easily accessible pretty much no matter where you live.
17. Dog friendly
The entire state is very dog friendly and there are so many dog friendly places!
Colorado Springs specifically has tons of trails and parks for dogs to roam free and be off-leash.
The city even has a dog-friendly pub & brewery called, Pub Dog.
18. Skiing is nearby
Some of the best ski towns in the country are located in Colorado, and are within a couple hours drive of Colorado Springs.
The skiing and snowboarding here is perfect for weekend getaways! You can escape the city and enjoy a snowy day on the slopes.
19. Driving in the snow
We find it entertaining to watch people try to drive in the snow.
Maybe they are looking for a shortcut or they want to speed up a hill, the snow can make it a bit impossible.
Driving in the snow takes skill and practice to be done correctly. And you need the correct vehicle to ensure that everyone arrives safely.
20. Natural hot springs
When we want to relax for a weekend, or just 24 hours, we are so thankful for the natural hot springs near Colorado Springs.
It's such a unique experience and ranges from very warm to extremely hot temperatures. And they offer healing benefits as well!
You can escape to rustic hot springs like Strawberry Park or enjoy a luxurious resort like Pagosa Springs.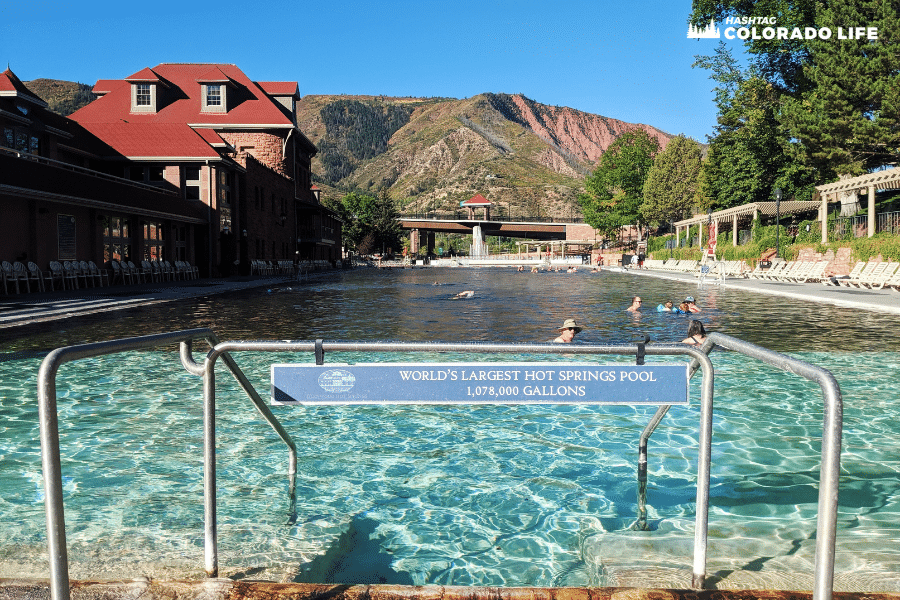 21. Cooler temperatures
Due to higher elevation, Colorado Springs is often 10-15 degrees cooler versus other cities, like Denver or Boulder.
This is super nice especially in the summer time since the weather is more pleasant.
22. No air conditioning
Since the mountains help Colorado Springs stay cooler, many homes do not have air conditioning installed.
We don't even need to have A/C installed in our house! And when we lived in Boulder, that apartment didn't have air conditioning either.
You just open the windows during the spring and summer, and enjoy the cool air.
Of course this is not true for all houses in The Springs, but for many Colorado homes and apartments, there is no air conditioning.
23. Lower cost of living
Colorado Springs is cheaper to live than most other cities in the state.
We all know that Colorado in general can be expensive and the housing market can sometimes seem out of control.
But Colorado Springs is one of the more affordable places to live — for now!
If you're looking to buy a home or reduce your cost of living, compared to other Colorado cities, it is less expensive.
24. Winter snowshoeing
As mentioned, we would much rather go hiking in the snow versus hiking in the summer. And snowshoeing is one of our favorite winter activities!
If you want a budget-friendly option for visiting a ski town and don't want to pay for a lift ticket, consider going snowshoeing instead.
It's a great winter exercise!
25. Garden of the Gods
Garden of the Gods is a gorgeous national landmark that is completely free to visit.
You can enjoy the nature center, free museum, horseback riding, and lots of trails and rock climbing available.
There are endless things to do here and so much wildlife to see!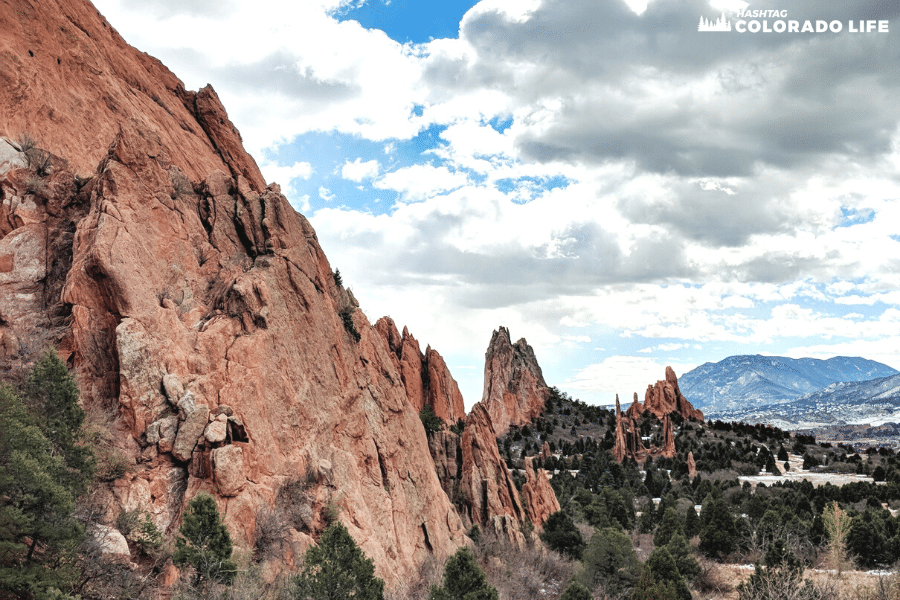 26. Coffee shops and tea houses
Colorado loves their tea and coffee. Every city we have lived in here has quirky coffee shops and tea houses that are Colorado born and built.
And Colorado Springs is no different. If you want fresh roasted coffee beans and yummy brewed tea, you've come to the right place.
27. Colorful landscape
Spring and fall are the most beautiful times of year in Colorado, thanks to the wildflowers and trees changing color.
The summers are quite green and lush, with views of the eastern plains and mountainous terrain.
In the winter when there is not much snow on the ground, the landscape is pretty barren and brown. But it's still pretty in its own way.
28. Wildlife is always present
Pretty every time we go out hiking or camping, we run into some sort of wildlife. And for the most part they are friendly creatures.
We have seen racoons trying to get into our neighbors house. We've seen a skunk and a fox in the middle of our hiking paths.
We almost walked into a black bear and cubs on a hike (when we promptly turned around!).
And of course there are all the deer we see on walks around the city and neighborhoods.
29. Air Force Academy
The Air Force Academy helps fuel the military infrastructure that is present in Colorado Springs.
And one thing we love is the Thunderbirds air show that happens during the AFA graduation ceremony.
It's a completely free air show that happens in the spring.
30. Big city, small town feel
Colorado Springs is big enough to get some really good concerts and shows.
As a kid, I attended famous shows with my parents, and then concerts by myself as I got older.
In addition, there are really well known comedians that have shows that come through The Springs.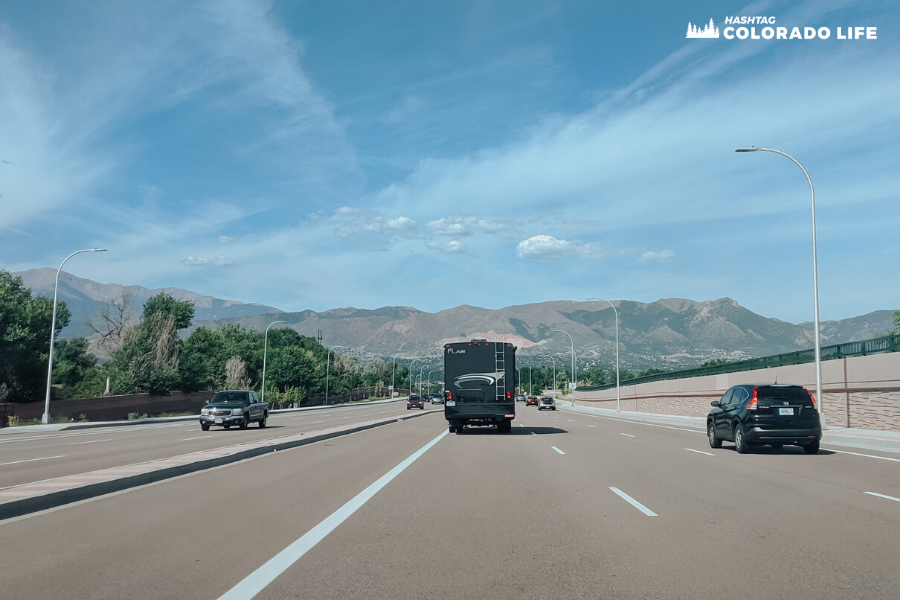 31. Close to Denver
If you want to visit a bigger city like Denver, or need to take out of the Denver International Airport, it's only about 75 miles south.
The ease of access to big city amenities without having to live in a big city itself, is one of the main attractions for living here.
32. Air quality
The air quality in Colorado Springs is top notch.
The air is fresh and clean, with no smog to speak of. It never feels too hot or stagnant, thanks to the constant air flow and nice breeze.
33. Manitou Springs
Manitou Springs is a quirky small town located within the Colorado Springs limits.
The town has a very hippy, laid-back vibe with cool shops, art, and old timey things to do.
34. Manitou penny arcade
Speaking of Manitou Springs, one of our favorite destinations is the Penny Arcade.
There are tons of old games to play like skeeball and air hockey tables, plus so many rides for small kids.
It's an open-air arcade that only costs a few pennies or nickels that will bring you back to your days as a child.
35. Old Colorado City
Old Colorado City was originally the capital of Colorado so it has a lot of history and unique architecture.
This historic neighborhood is fun to visit with lots of shops and quirky food. OCC also hosts many of the city's yearly events and festivals.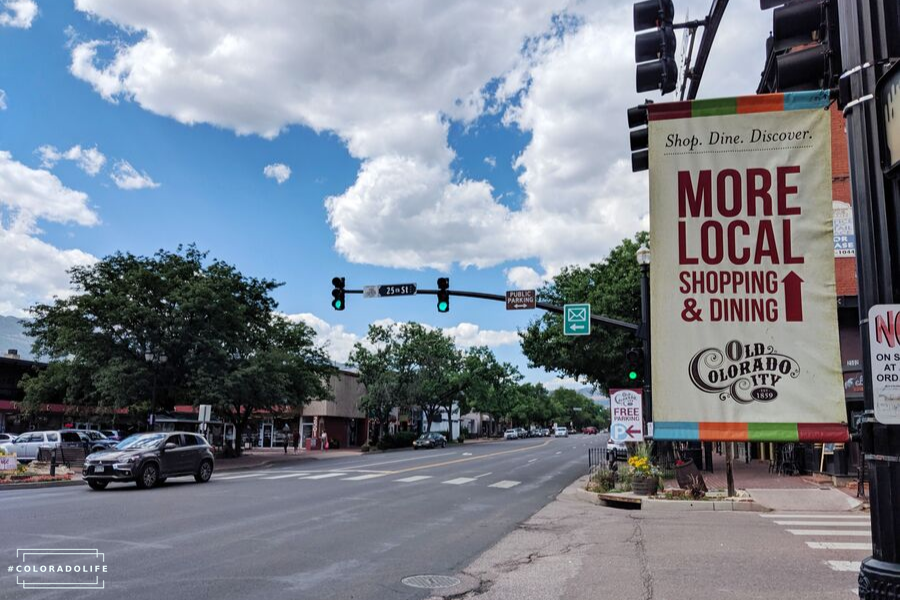 36. Downtown feels more like uptown
Downtowns in many cities can feel like you are stuck in a concrete jungle, like that one time we visited New York City.
But in Colorado Springs, the buildings aren't too tall and the shops all feel older and quaint. Oh and parking isn't too bad either!
37. Farmers markets
Farmers markets are another reason we love living in Colorado Springs.
The short growing seasons means that when the fresh markets DO come around, they are a true gem!
You get access to some really good, fresh, local groceries, produce and seasonal ingredients.
38. Open spaces
Even in the middle of the city there are many open spaces with walking and biking trails.
It feels like you can escape to nature without ever having to leave the city limits.
If you want to enjoy your work day lunch break outside, you can do so very easily in The Springs.
39. Small business scene
In Colorado Springs it's really easy to buy local and support local businesses.
In fact, businesses with less than 500 employees make up 92% of the local economy in Colorado Springs.
The entrepreneurial mindset is widely available and accepted throughout the state.
There are many local groups for small business owners that host regular meetups and events.
Plus, the city has an abundance of coworking spaces.
40. Manitou Incline
Another draw for living in Colorado Springs is the Manitou Incline.
And this climb is not for the faint of heart. It is a big challenge both mentally and physically.
Carrie trained for the Manitou Incline for 6 months and it was quite an experience to say the least.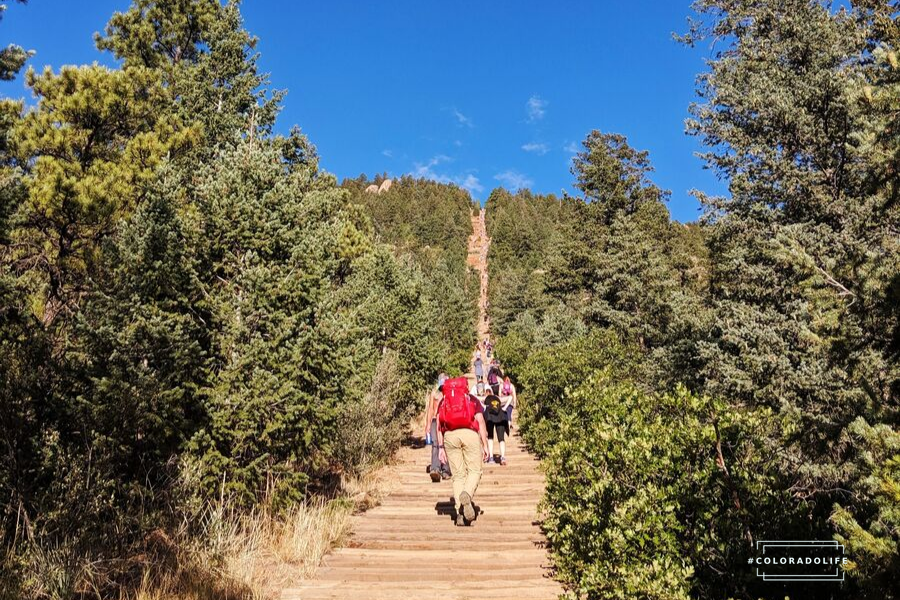 41. Olympic Training Center
The Olympic Training Center is one of the main reasons that Colorado Springs is very fit.
And in fact, individuals who are training for sports and extreme conditions come from all over the world to get in some high altitude training.
42. Cheyenne Mountain Zoo
We visit the Cheyenne Mountain Zoo every year, multiple times per year even.
It was named the #4 best zoo in North America by USA Today in 2020. And it's built into the side of a mountain!
All of the animal exhibits are more rustic and natural looking, with access to the outdoors and gorgeous views of the city below.
43. May Natural History Museum
The May Natural History Museum boasts the world's largest private insect collection!
As a kid I visited this museum a lot for school field trips, and it's a pretty extensive collection.
You will be surprised to see how many different species of bugs and insects there are in the world.
44. Pikes Peak
Also called America's Mountain, Pikes Peak is visible from pretty much anywhere you go in Colorado Springs.
It's majestic mountain was the inspiration behind the "purple mountain majesty" in the National Anthem.
45. Expansive views
The way Colorado Springs is situated between the mountains and plains offers gorgeous views from all angles.
We have a beautiful view of Pikes Peak and the Rocky Mountains from our home office, especially when watching the stunning sunsets.
And it's very common to see expansive views from simple places like the grocery store or even the gym.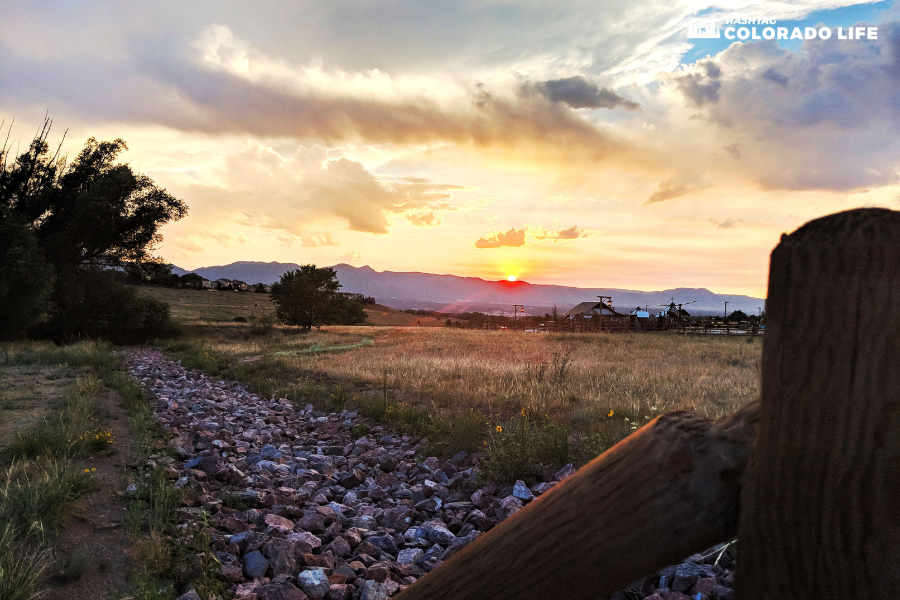 46. Sunsets
The sunsets in Colorado Springs have been likened to "candyscapes" thanks to the gorgeous colors.
The mountains allow for gorgeous sunsets and sunrises in colors of purples, yellows, pinks, blues.
We are thankful that we can enjoy a unique sunset everyday!
47. Rocky Mountain Chocolate Factory
The original Rocky Mountain Chocolate Factory is located in Old Colorado City and got its start in Colorado.
When visiting we like to get the traditional caramel apples or the homemade fudge that comes in many yummy flavors.
48. The Broadmoor
The Broadmoor is a famous 5-star resort that is known for its exquisite grounds, expensive restaurants, unique shops, even a small lake.
We typically visit the Broadmoor during the Christmas holiday season.
This is when they have large gingerbread displays and buildings decorated with thousands of lights.
49. Pike National Forest
Pike National Forest is very nearby and encompasses all of Pikes Peak and much of the surrounding area.
It's probably the closest pristine wildlife area and allows you to see the natural world in all its rugged glory.
You can go boating, fishing, hiking, off-roading, biking, camping, and RVing in Pike National Forest.
50. Our Colorado Springs home
We love our home in Colorado Springs! It's close to trails, a creek, and wildlife is everywhere.
It's centrally located close to the highway but not too close. Our home is the perfect size and our street is quiet.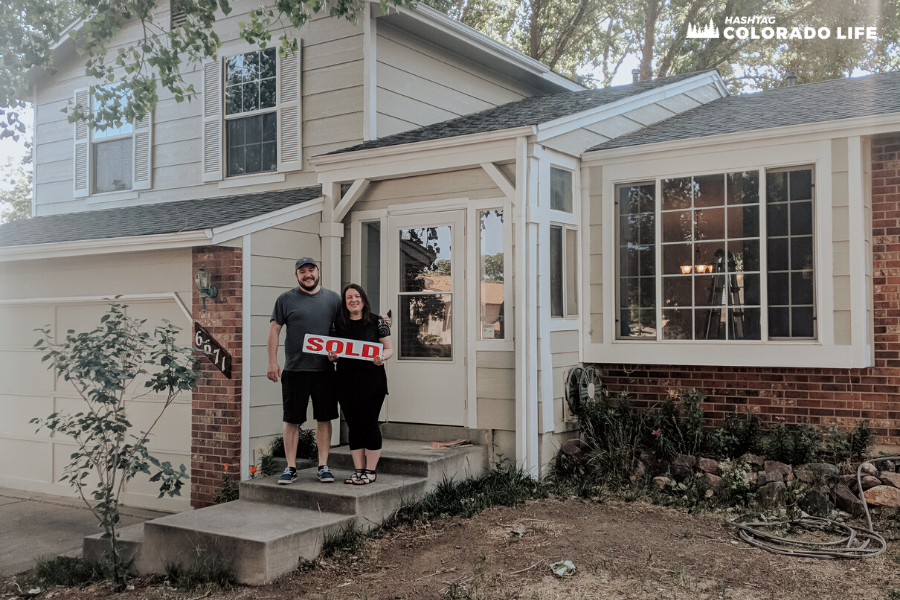 And we have the most amazing views from many rooms in our home!
We feel like we're in the city but it's still surrounded by nature. Everything that was on our wish list while house-hunting we got in our first home.
As you can see, there are many reasons to love living in Colorado Springs and these are just a few to get started.