21 Festive Things to Do in Colorado This December
This website may contain affiliate links and we may be compensated (at no cost to you!).
From the Trail of Lights to the Mile High Tree, there are so many festive things to do in Colorado in December.
Get into the holiday spirit with the Blossoms of Light, Santa's Workshop, or the Snow Sculpture Championships.
Christmas in Colorado is here which means there are tons of fun and festive holiday events happening.
This time of year is special since the mountains are white and cities like Denver have the best light displays.
All are welcoming as they are aglow with lights and other holiday decorations.
There's nothing quite like Colorado in December during the holiday season!
Many of Colorado's festive winter activities are outdoors, so be sure to dress warmly and check the weather before you leave.
If your family is coming from out of town to explore Christmas in Colorado, be sure to pack snow gear just in case.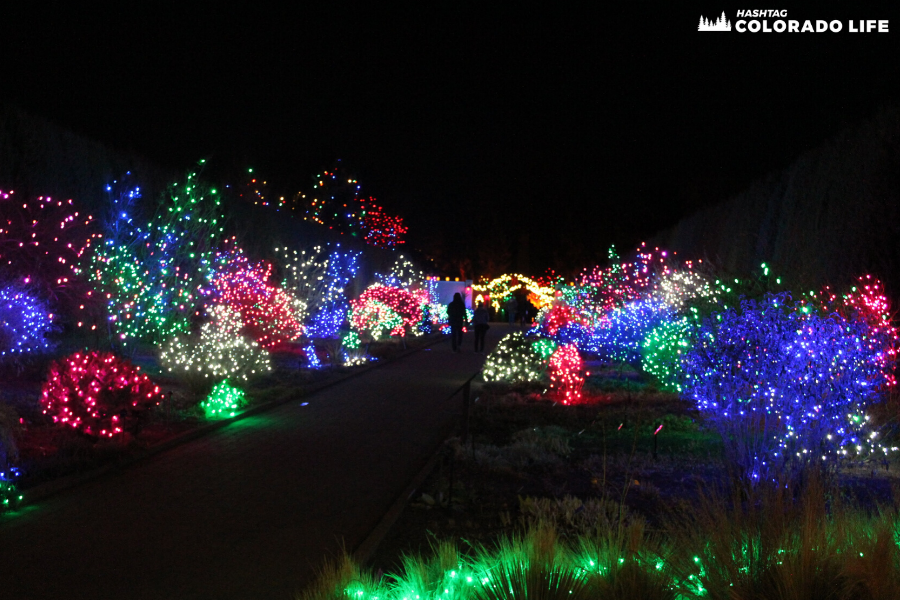 Since there are countless events and celebrations you can attend, we're just going to mention the must-see holiday events in Colorado this season.
In no particular order, here are the top 20 festive holiday events to enjoy Christmas in Colorado this year!
1. Denver Holiday Lights & Sights Tour
Experience the joy and magic of the season with this fun-filled Holiday Lights & Sights Tour in Denver. This is the most festive time of year in the Mile High City and this 2-hour tour has it all.
Embark on a festive evening with unique history and holiday lore thanks to this private walking tour.
Snap some awesome photos of the beautiful lights and sights of the city, including some of Denver's most famous landmarks.
Your tour guide will also explain the holiday traditions and Christmas stories that started right here in Denver.
Plus, a few seasonal surprises along the way!
Click here to book your Denver Holiday Lights and Sights Tour today.
2. Bridge of Lights at Royal Gorge
For the first time ever, America's highest suspension bridge is becoming a winter wonderland.
Opening in late November, the Royal Gorge Bridge is being transformed into an interactive drive-thru holiday lights experience.
The Bridge of Lights display is a spectacular event for anyone looking for a unique Colorado holiday activity.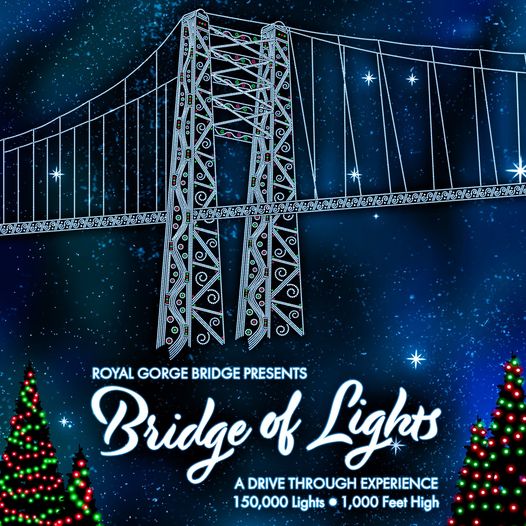 In the past the bridge has been closed to visitors wanting to cross the bridge in a vehicle.
But for the 2022 holiday season guests are allowed to drive across the bridge while viewing thousands of sparkling lights.
Get into the spirit of the holidays as you drive across the historic Royal Gorge Bridge while listening to holiday music playing park-wide.
The Bridge of Lights display will run from 5:30pm – 9:30pm on the following dates:
November 18th – 27th (Closed Thanksgiving)
December 1st – 4th
December 8th – 11th
December 15th – 31st (Closed Christmas Day)
The cost for tickets is $35 per vehicle when pre-purchased online via the Royal Gorge Bridge website, or $40 per car for tickets at the gate.
3. Christmas in Color
This holiday season you can enjoy an epic drive-thru animated light show experience. And it's just one price for an entire car-load of people.
The Water World parking lot in Denver has been transformed into a gorgeous light and drive-thru display.
Sit in your warm comfy car as you drive through thousands of lights, colorful archways, synchronized holiday music, snowmen, and candy canes.
Plus, you can grab your discount codes on Groupon for up to 35% off the regular ticket price.
Tickets are for 1 vehicle full of guests and are either $35 or $55 depending on the package you choose.
Click here to grab the Christmas in Color deal before the price goes up later this season!
4. North Pole, Colorado Springs
This amusement park is all Christmas all the time! Come to North Pole, Colorado for some year-round Santa-themed fun.
For more than 60 years, North Pole has played host to Santa's workshop!
It is also home to the highest altitude ferris wheel in North America with more than 25 rides for kids and grown ups!
While you can come to the North Pole any time of year, there's something extra magical about a visit near the holidays.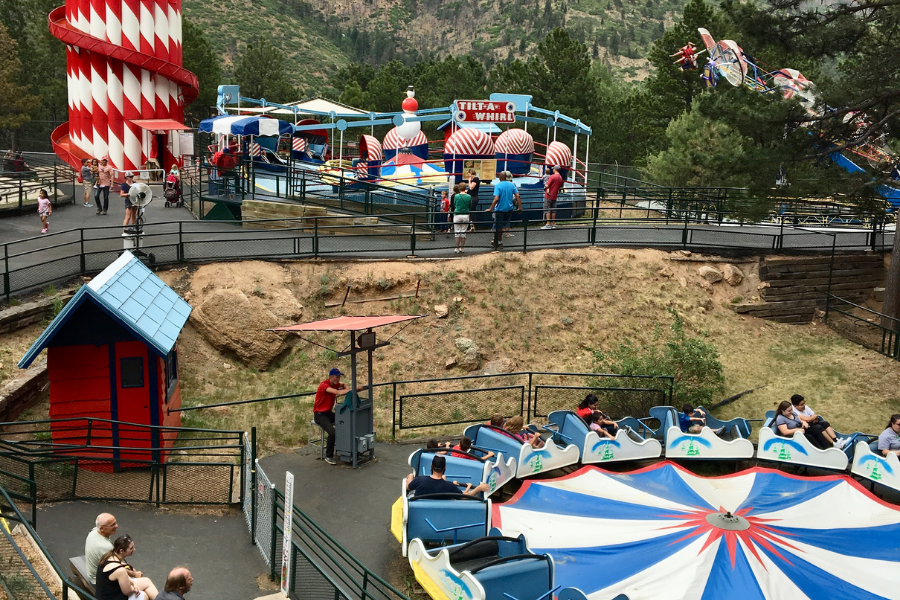 If you're hosting family from out of town this year, this is a great stop to get in the festive mood.
The North Pole, Colorado is open Thursday through Monday and is closed Tuesday and Wednesdays.
Masks are required when going inside any of the buildings and are encouraged to wear when going outside.
There are family rides, child-only rides, and even infant-friendly rides available.
Online reservations are required during the winter season and admission is $20 per person. Children under 2 get in for free but still need a ticket for reservation.
Unlimited Ride Wristbands are available for just $10 each and children under 2 are free.
Admission includes access to all the rides, attractions, and visit to Santa's Village!
The North Pole opens daily starting November 1st, 2022 for the holiday season.
5. Blossoms of Light, Denver Botanic Gardens
Get in the holiday mood at the Blossoms of Light, a dazzling and ever-changing display of lights from the Denver Botanic Gardens.
This 360-degree immersive light experience lights up the gardens and pathways, and it's a must-see for native Coloradoans and visitors alike.
We enjoy visiting the Blossoms of Light every year and it's become a tradition for us. But be prepared with cold weather gear because it can be very chilly outside.
Holiday treats and warm drinks are available for purchase. Or you can buy a souvenir at the gift shop on your way in or out of the gardens.
Tickets cost between $16-19 for members and $18-21 for non-members. Children under 2 get in for free.
Tickets sell out quickly and can only be purchased online.
Dates for Blossoms of Light are open daily starting November 18, 2022 – January 7, 2023.
It's one of our absolute favorite things to do in Colorado in December!
Pro tip: Denver Botanic Garden members get 2 free tickets to the Blossoms of Light every year.
6. Parade of Lights and other local parades
The 9News Parade of Lights in Denver is one of the most popular holiday events in Colorado every year!
For 2022 they are making even better thanks to illuminated floats, giant balloons, and marching bands, with fun activities across the downtown area.
Join in the live action on December 3, 2022 at 6pm along the sidewalks on Bannock Street between Colfax and 14th Street.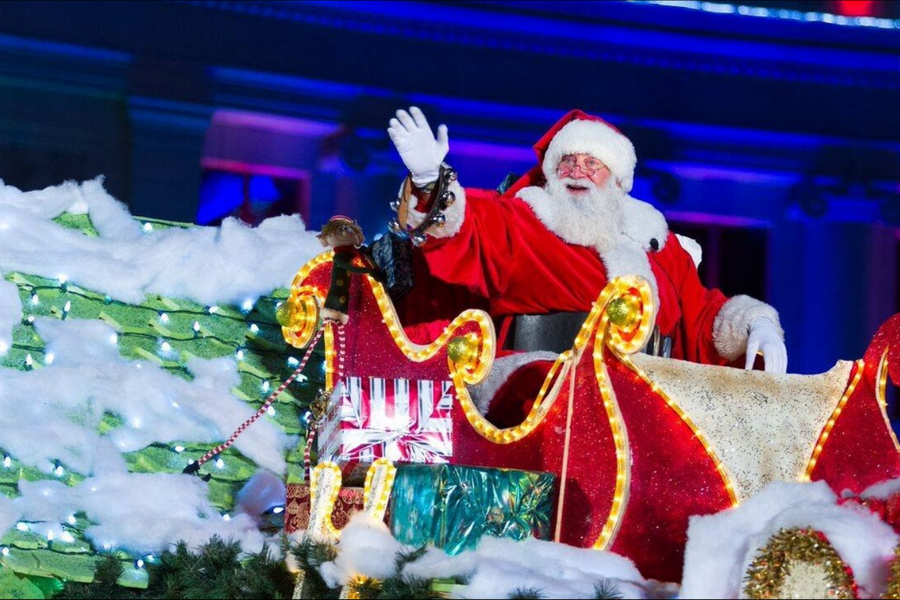 Photo credit: 9News
This is a fabulous family evening event so bring your earmuffs and a thermos of hot cocoa!
If you can't make it to the parade in person, 9News will be rebroadcasting the parade throughout the month of December.
Be sure to check your local news for parades happening in your town all December long in Colorado.
7. Denver Zoo Lights
Zoo Lights at the Denver Zoo is the largest lighting event in the Rockies and features 70 acres or illuminated sculptures and a host of activities and attractions.
Bundle up for this outdoor trek through the animal exhibits and be sure to get your tickets early. Zoo Lights tickets sell out every year!
8. Cheyenne Mountain Zoo Electric Safari
Ever year, the Cheyenne Mountain Zoo celebrates the holidays with an Electric Safari.
Tour the animal exhibits and 85 lighted sculptures across 50 acres and keep warm by the many fires lit throughout the zoo.
The zoo is a trek up and down many hills and you will be at higher elevation so be prepared to be extra chilly!
A visit to the Cheyenne Mountain Zoo is always on our list in Colorado in December because it's a magical experience. We can't recommend this enough.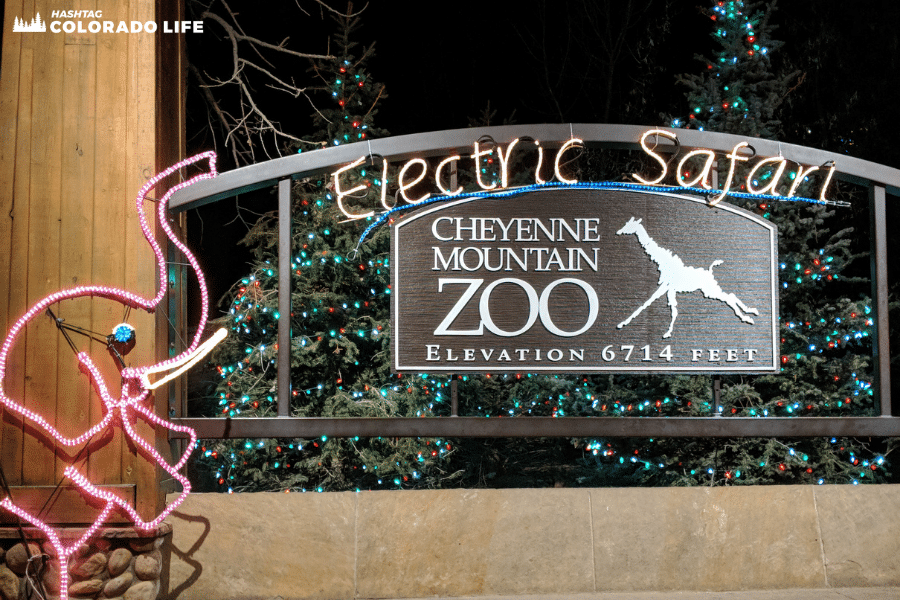 9. The Nutcracker
The Colorado Youth Ballet and Colorado Ballet Society share a 75-minute production of The Nutcracker.
For 2022 this event is hosted at the Pike Peak Center in Colorado Springs.
Over 50 dancers of all ages will bring this Christmas classic to life, and an evening at the ballet makes the perfect activity for kids and adults.
Very young kids may find some of the scenes a bit scary, especially when the toys come to life and the rats battle the soldiers!
General admission tickets range from $22-49 for children 11 or younger. Children ages 2 or under are free but do need a voucher.
Show times are limited and are open starting on the times:
Friday, November 26, 2022
Saturday, November 27, 2022
Sunday, November 28, 2022
10. Santa's Village, Chatfield Farms
All ages will love visiting Santa, Mrs. Claus, and all the reindeer at Santa's Village at Chatfield Farms.
Come for a hayride and a mug of cocoa, watch a movie in Santa's Cinema, or play in a giant snow globe.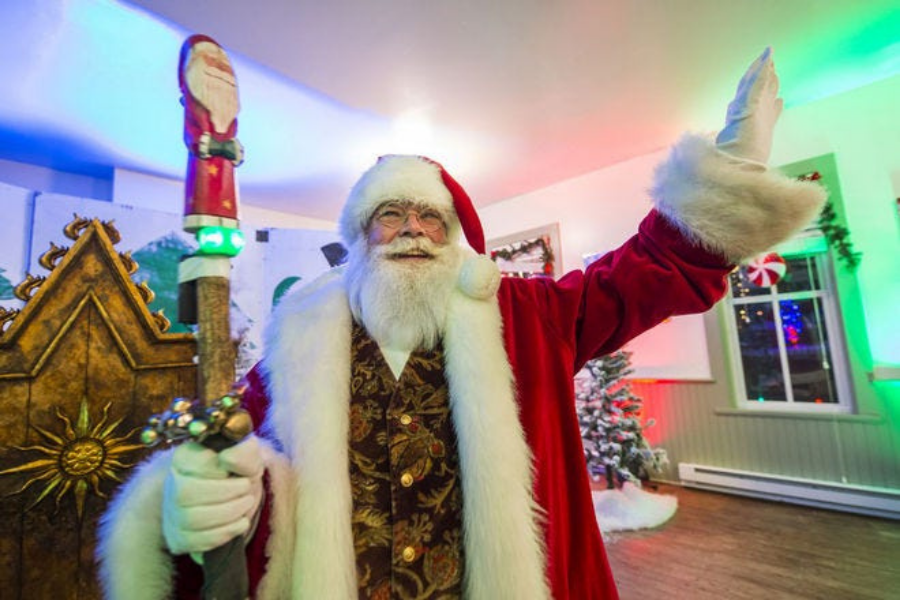 Photo credit: Denver Botanic Gardens
Hosted by the Denver Botanic Gardens, you'll have a chance to walk under the lights displays and drop off your letter for Santa.
This is a super fun holiday event for everyone, and is a popular annual tradition for many Colorado families.
Colorado in December isn't complete without a visit to Santa's Village and workshop!
11. Mile High Holidays, Denver
You're invited to enjoy the holidays in the Mile High city in 2022 with a spectacular Denver event.
See Denver transform into the the Mile High Holidays which is a perfect family outing thanks to gorgeous light displays, the Mile High tree and other winter fun.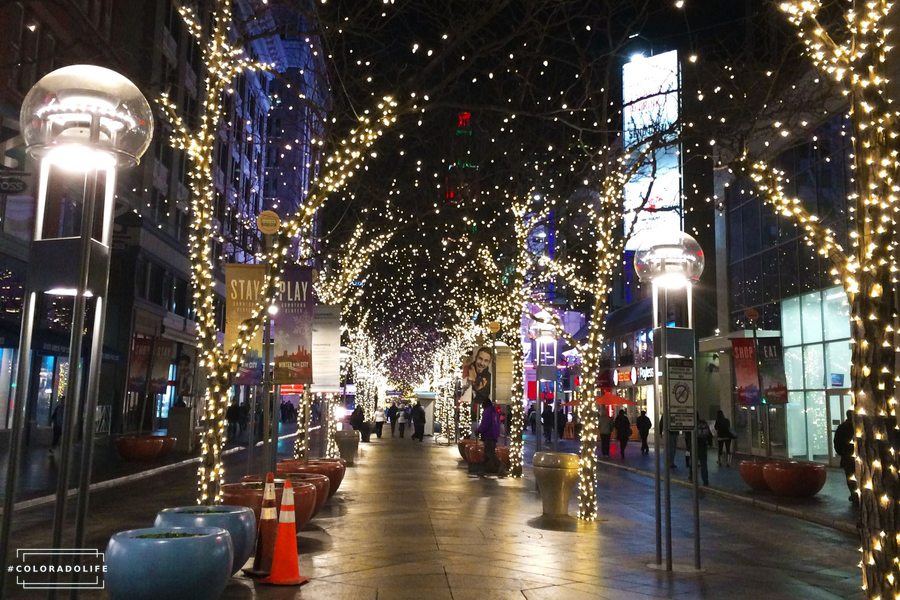 Check out awesome holiday hotel deals or go shopping at the Cherry Creek Shopping Center.
Stop by one of the many museums in downtown Denver or simply enjoy a sparkling night out at the 16th Street Mall.
12. Holiday-themed concerts and musicals
The Colorado Symphony presents A Colorado Christmas at Boettcher Concert Hall in Denver. The date for the 2022 winter season have not been announced yet, but we will update this section when they are shard.
This family-friendly evening will feature traditional Christmas carols, your favorite winter tunes, and plenty of singalong opportunities!
Santa and Mrs. Claus will be in attendance too!
The Denver Center for the Performing Arts presents Dr. Suess' How the Grinch Stole Christmas the Musical.
This heartwarming story is about the Grinch, with a heart two sizes too small, who learns the true meaning of Christmas.
It's narrated by Max the Dog, and is perfect for audiences of all ages.
Throughout November and December, head to the Boettcher Concert Hall for Disney's A Muppet Christmas Carol, in Concert.
This musical depicts Charles Dickens' classic tale of Ebenezer Scrooge's journey through Christmas past, present, and future but with a Disney twist.
13. Trail of Lights, Chatfield Farms
Another thing to do in Colorado in December is hike the Trail of Lights at Chatfield Farms.
This easy 1-mile path is lit up with thousands of Christmas lights and epic lighting displays that's synced to music.
Discover the magic of the holidays on this 1880s Hildebrand Ranch homestead as you walk through the cottonwoods and pine tree paths.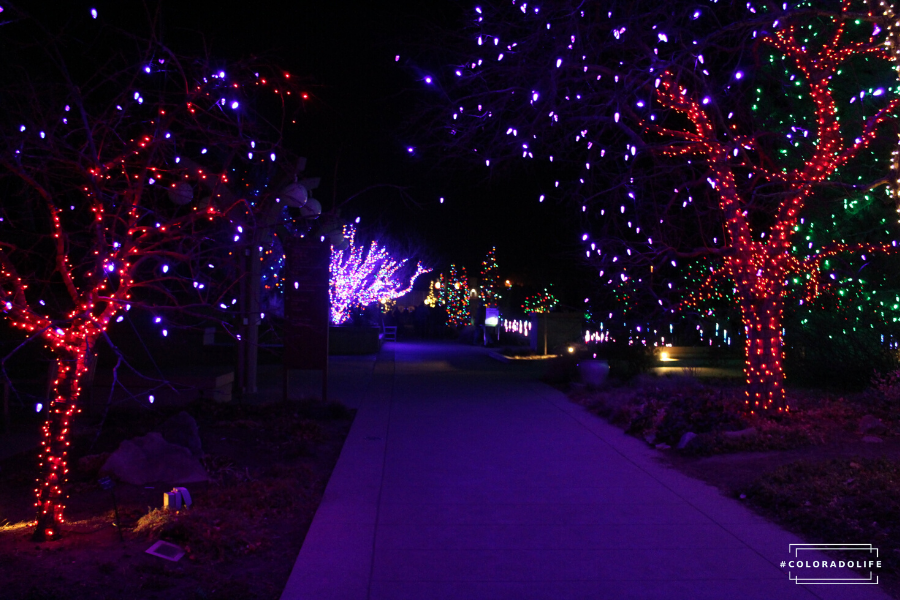 Plus, kids will enjoy the Deer Creek Discover Play Area, which is included with the ticket price.
Hot beverages, nuts, kettle corn, fudge and other holiday treats are available for purchase.
Tickets go on sale starting November 25th – January 1st from 5pm -8:30pm various evenings. But spots are filling up quickly!
14. The Mile High Tree
No list of things to do in Colorado in December is complete without seeing Denver's Mile High Tree. This 110-foot tall, 40-foot wide tree is an astounding sight.
It's located in the heart of downtown Denver on the corner of 16th Street and Welton, you can't miss it.
Every 15 minutes an immersive light show synced with holiday music will play for more than 140 people to see.
You can even go inside the tree to fully immerse yourself into the light display.
The event is completely free, although you will have to pay to park. Drinks and food are also available for purchase.
The Mile High Tree is open every night from 5pm-10pm starting November 18 – December 31, 2022.
15. Neighborhood holiday light displays
Each year during the holidays, local neighbors throughout Colorado install elaborate Christmas lights that are synced with music.
Using a short-range radio transmitter, homeowners can transmit music to your car's radio to match light performances for Christmas lights that are displayed on the house and in the yard.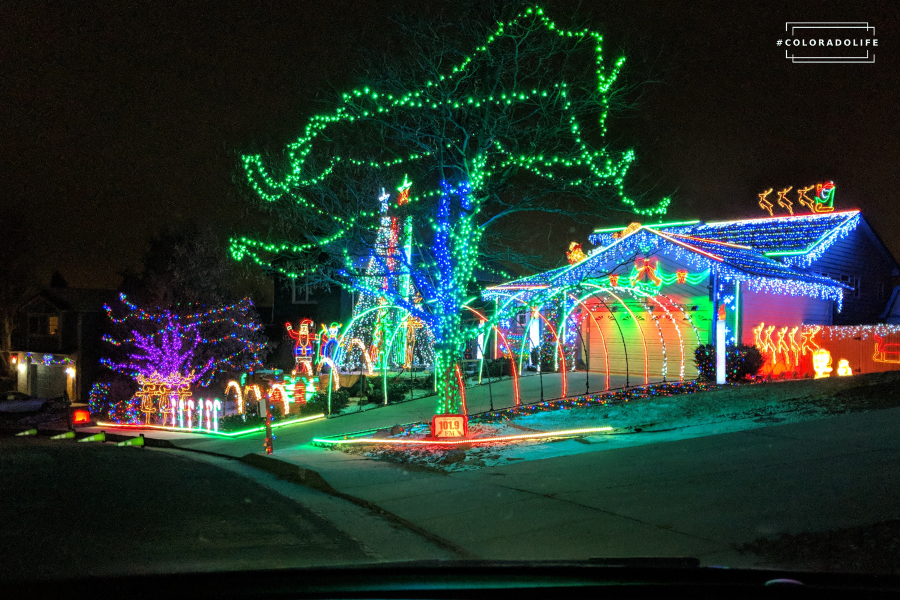 Drive around different neighborhoods within the state for free and tune into the right radio station to listen to music that's synced with elaborately themed light performances.
They're quite incredible!
Check your local news because these houses tend to be very popular local attractions.
(And while this may be a free activity for you, I guarantee it's not free for the homeowner who pays the electric bill!)
16. Georgetown Loop Railroad
Catch the Georgetown Loop Railroad from Devil's Gate Depot for a trip to Santa's North Pole Adventure or to tour Santa's Lighted Forest.
The train adds some serious holiday vibes to their regular train routes and rolls out the sweet treats and festive activities at the end of the loop.
It's perfect for a family adventure!
This year the Georgetown Loop Railroad has reopened and will be running trains in October through January for the 2022-2023 holiday season.
You can review the schedule and book your next Christmas train ride right now.
17. Camp Christmas, Aurora
This over-the-top Christmas extravaganza describes itself as an event "not for the faint of festivity."
Camp Christmas is Denver's newest holiday experience and was created by Colorado-based installation artist Lonnie Hanzon, of Hanzon Studios.
In 2019 it was hosted inside an immersive 10,000 square foot building with custom installations. But for 2022 it's even better!
The event has been moved outdoors and is promised to be one of the biggest outdoor holiday extravaganzas this year!
Similar to 2021, the event is being hosted at the Lakewood Belmar Park and spans six acres.
Drink, walk, take elfie selfies, make period toasts, meet up at the Santa tiki bar, and take pictures with the man himself on Saturdays.
Visitors will take a historical journey through the ages, from ancient Rome to the modern day in a series of extremely decorated scenes.
Camp Christmas is located at the Heritage Lakewood Belmar Park in Lakewood, Colorado.
Enjoy a delicious drink as you discover jokes from 23 different pun trees to collect badges and even win prizes.
The event runs from November 17 – December 24, 2022. This will be a great event for all ages, and tickets are on sale starting at $8.
18. The Broadmoor, Colorado Springs
Holiday season at The Broadmoor in Colorado Springs will take your breath away.
This luxury hotel pulls out all the stops as it decorates with thousands of lights and twinkling displays.
The entire grounds are covered in lights and peppered with outdoor fireplaces complete with s'mores and hot chocolate.
Warm up indoors by heading to the main lobby and checking out the always-impressive gingerbread display. One year they had a life-size Santa Clause.
Next, it was an entire train set with Santa in the train car. And all of the displays are made out of gingerbread and other sweet treats.
And the best part is that a visit to the Broadmoor is free, although food and drinks are extra costs.
19. The Santa Express, Canon City
Experience the magic of the North Pole on The Santa Express at the Royal Gorge Route Railroad.
Bring your PJs and get ready to meet Santa Clause himself. Children and adults of all ages are welcome, but tickets are selling out fast.
Photo credit: Royal Gorge Route Railroad
Have breakfast with Santa or grab dinner on the train while enroute to the North Pole.
When you reach his home, Santa and his elves board the train to deliver bells to all the children on the train!
The train departs daily at four different times every day starting November 19th – December 24, 2022 as well as December 26-30, 2022.
20. Polar Express, Durango
The story of the Polar Express comes alive aboard the Polar Express Durango Train.
Based on the award-winning book, kids and adults will enjoy this magical train ride.
The cast of characters from the popular story of a child's train trip to the North Pole on Christmas Eve, bring the experience to life on this historic steam train.
Passengers will enjoy hot cocoa and a treat on their way to pick up Santa!
Tickets go on sale starting November 18, 2022 to January 1, 2023. Costs for tickets range from $22-85 depending on the night you book and the class.
21. Colorado Railroad Museum
The Colorado Railroad Museum hosts a theatrical production of The Polar Express, and tickets are available now!
Departing dates are available for November and December 2022.
Grab your whole family, put on your pajamas, and enjoy some hot cocoa and cookies as The Polar Express Live takes you on a magical journey.
For anyone ages 3 or older, masks are required to be worn at all times.
Tickets for 2022 go on sale in the summer, so grab your tickets early for this incredible holiday event!
If you're looking for the top events and Christmas activities to do in Colorado in December, we hope this guide gives you some ideas.