8 Hidden Hot Springs in Colorado That Are Totally Secluded
This website may contain affiliate links and we may be compensated (at no cost to you!).
Reaching the most hidden hot springs in Colorado isn't always easy but the views and atmosphere are worth it. These primitive hot springs are located in remote locations and usually require an intense hike to get to.
Plus, many of the undeveloped hot springs in Colorado are completely free to use and access, both for locals and tourists.
If you want to be rewarded with primitive and isolated hot springs locations after a lengthy hike in a secluded part of Colorado, then these best hot springs are for you.
Related: Best Hot Springs Near Denver
1. Radium Hot Springs
This tiny hot spring is no more than a pool that is mainly accessible from summer to autumn.
With the nearest town of Kremmling being nearly 30 miles away, this hot spring is a not-so-hotspot for people.
Radium Hot Springs sits on the eastern bank of the Colorado River and requires either a nearly one-mile hike or a river raft to get to.
There is no maintenance, no paved path and the pool is no larger than a hot tub. In fact, the "pool" is washed out each snow melt every spring and has to be rebuilt by visitors.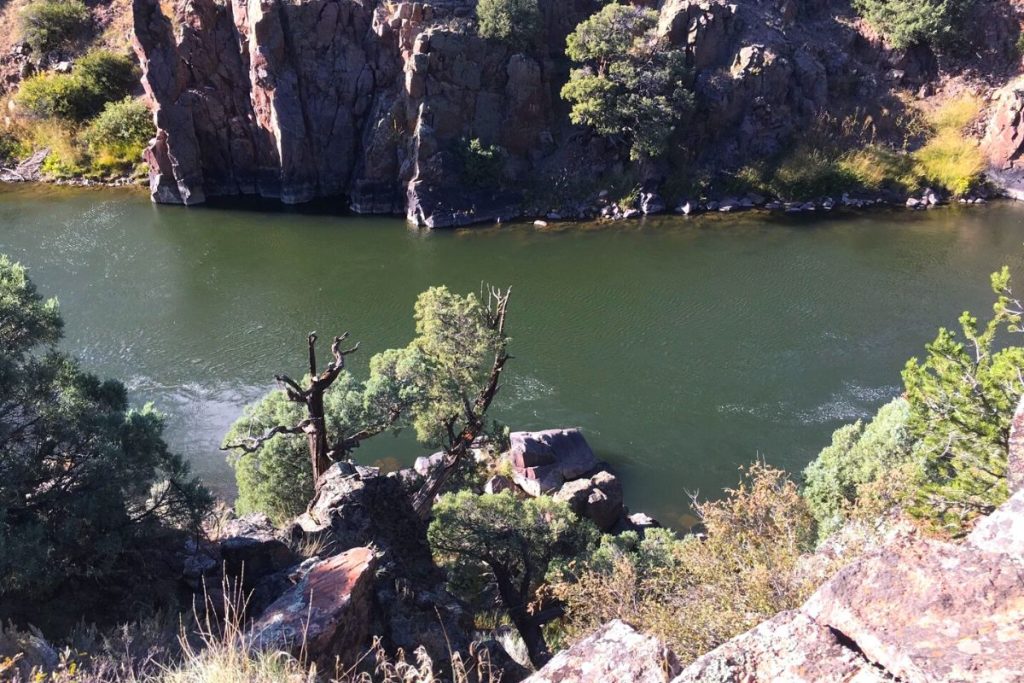 Because of the way this hot spring is situated along the Colorado River, its warm waters mixing with the river means the water temperature varies widely.
Water temps in summer will range from from 85-95 degrees while the rest of the year will be much cooler (did I mention spring snow melt?).
The path from the parking lot is only 3/4th a mile but is rather steep. But making the journey will reward you with a truly natural or dare I say, primitive, experience.
This hidden Colorado hot springs is the kind you would stumble upon hundreds of years ago.
This place is part of nature so there is no cost and can be accessed anytime.
Even though it is secluded, you will seldom find this gem unoccupied by other like-minded people willing to make the trek on a beautiful day.
Location: On the Colorado River near Kremmling
2. Conundrum Hot Springs
Situated within White River National Forest, or more specifically, the Maroon Bells-Snowmass Wilderness area, sits Conundrum Hot Springs.
This secluded and pristine hot spring rises above the clouds at more than 11,000 feet in elevation. It requires an 18-mile hike to get to, which is now joke.
The hike to Conundrum Hot Springs can easily take 3-5 hours depending on your speed. But at least you would know that at the end of the journey, you would have a nice relaxing pool to soak your aches away.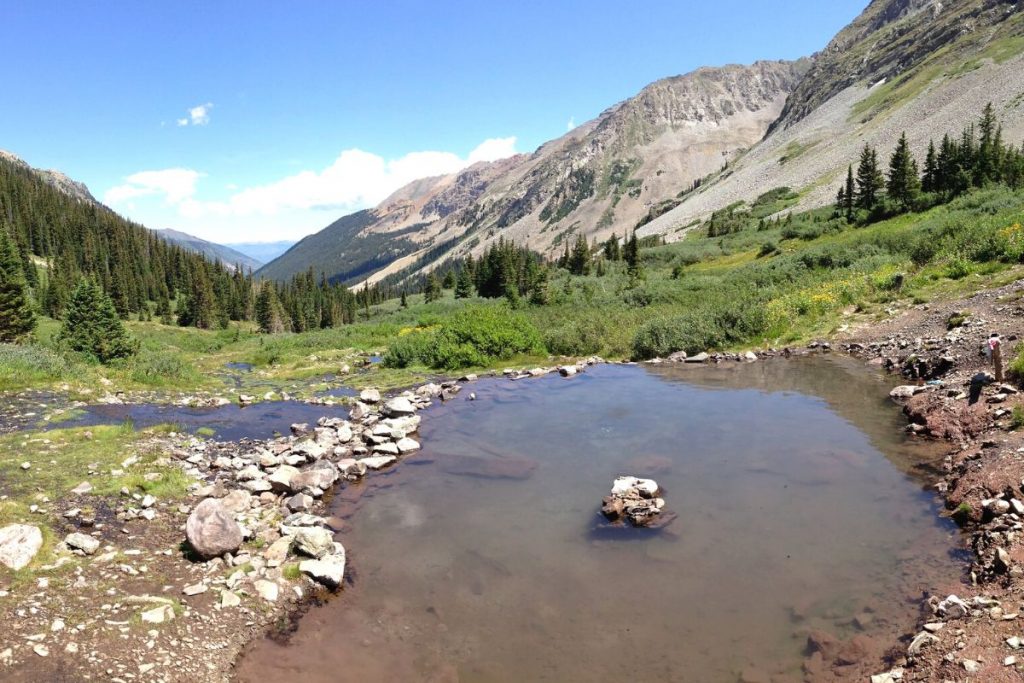 Because this area is such a unique and fragile place, a permit is required to hike and camp out near the hot springs.
Good stewardship and the aim to preserve this treasure and surrounding area is paramount. There are no campfires or toilets and it is strongly encouraged to bring a can of bear mace as this place is truly wild.
The best time to visit Conundrum Hot Springs is between June to Sept when the weather is warmest.
Deep snow usually covers the mountains and makes finding the trail and campgrounds difficult from October through May.
If you are willing and able to make this trek, it is 100% worth it. The Maroon Bells-Snowmass Wilderness area is worth the visit alone.
But sitting atop a mountain, surrounded by snow capped peaks, soaking in geothermal goodness, puts Conundrum Hot Springs high in the running for most unique hot springs venue world wide.
Location: In the White River National Forest near Aspen
3. Rainbow Hot Springs
Rainbow Hot Springs is a primitive and isolated hot springs located just north of Pagosa Springs, Colorado.
After a long hike through the forests of the Weminuche Wilderness Area you'll be rewarded with a soak in the naturally hot mineral-rich water.
Not many people are willing to make this 4.5 mile one-way hike, but if you choose to, it will be worth it.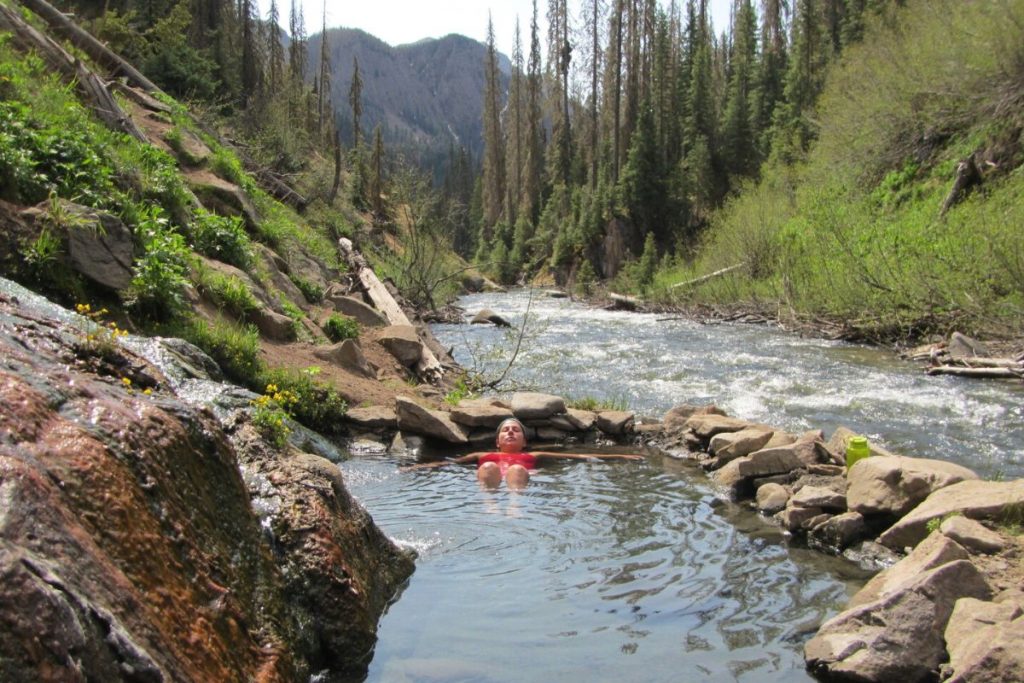 Depending on the time of year, you could have one of the two main pools all to yourself, or share it with a few other hiking enthusiasts.
Water temperatures range from 95-105 degrees with the lower pool being the larger and cooler of the two.
The mineral pools at Rainbow Hot Springs are built along the San Juan River but are not professionally constructed or maintained. So soak and relax with caution but know that this is an undeveloped hot springs in Colorado.
At this secluded hot springs you'll be rewarded with exceptional views and a therapeutic time spent relaxing in the hot water. Not only that but Rainbow Hot Springs is completely free to visit all year long.
Location: In the San Juan National Forest near Pagosa Springs
4. Strawberry Park Hot Springs
Set along a mountain creek near Steamboat Springs you'll find the well-maintained Strawberry Park Hot Springs.
It is one of the nicest hot springs in Colorado with beautiful stone pools and multiple pools of varying sizes and temperatures. The springs at Strawberry Park are fed with natural springs with pools nearest the source getting pretty hot.
Rustic cabins are available in the area to rent or you can use the heated cabin and teepee to change clothes.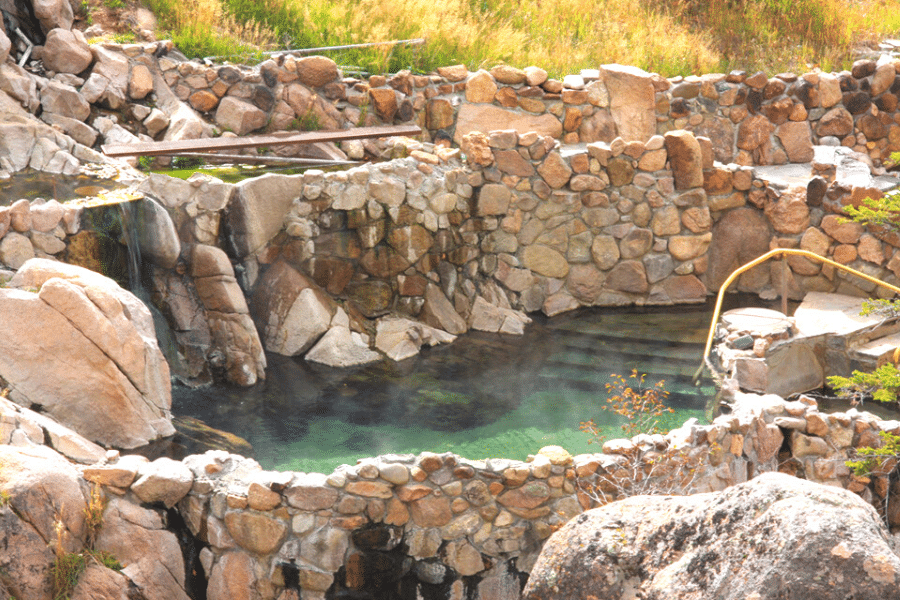 Since the pools are surrounded by a cold pond and local creek, summer is the best time to visit when more pools are open and available.
After dark the springs at Strawberry Park Hot Springs become clothing optional.
The drive up to Strawberry Park takes about 15 minutes from downtown Steamboat Springs. The final road is unpaved and only available via four-wheel drive. It can get quite muddy and slick during the snowy or wetter seasons.
For these reasons, visitors to the hot springs can also take the shuttle from Sweet Pea Tours that runs from the Steamboat Transit Center during summer and winter.
Location: 44200 County Road 36, Steamboat Springs
5. Valley View Hot Springs
Another secret hot springs in Colorado is the Valley View Hot Springs located in the town of Moffat.
This isolated location lies at the foot of the Sangre de Cristo mountain range. It is surrounded by wildlife and a wilderness of trees and plants.
Water temperatures at Valley View Hot Springs are not as hot as some of the other primitive hot springs on this list.
However, if you are looking for warmer water temps, you can access the geothermally and hydro-electrically heated hot tub or sauna which are available at the village.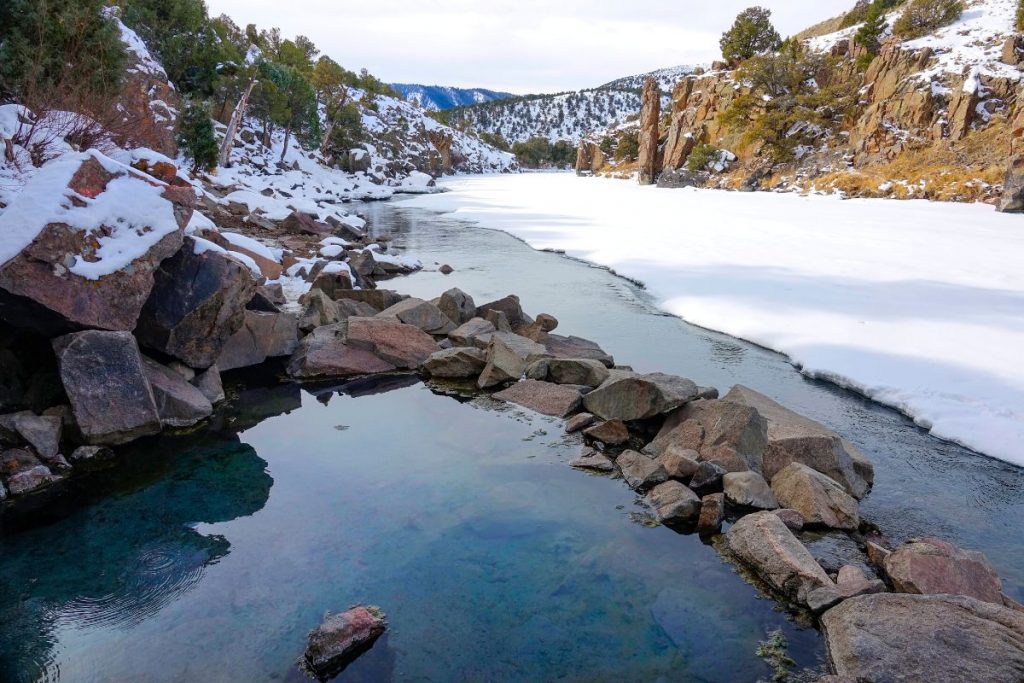 Valley View Hot Springs sits on 2,200 acres of protected land that is part of the Orient Land Trust (OLT), a non-profit organization.
It includes seven or eight pristine hot springs pools, numerous hiking trails and Colorado's largest bat colony.
This one-of-a-kind place is a full hot springs resort with limited amenities including lodging in tens, car camping and rustic cabins. Valley View is clothing optional and many guests go without suits.
Location: 64393 County Road GG, Moffat
6. Orvis Hot Springs
If you want amazing views of the San Juan mountains, check out Orvis Hot Springs. This local favorite offers several outdoor pools to soak in, plus an indoor pool and two private hot tubs.
The mineral pools are fed from naturally hot lithium filled-springs water with temperatures ranging from 100-114 degrees F.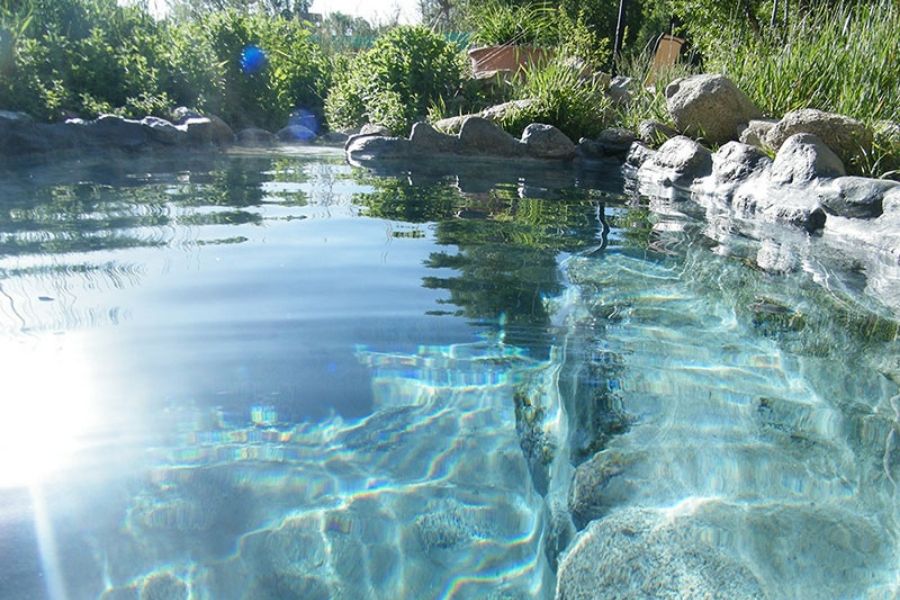 The two hottest outdoor pools are aptly named the "Smoker's Pond" and the "Lobster Pot" with temperatures ranging from 107-114 degrees. If you want hot springs, this is the spot to get it extra hot!
Throughout the day Orvis is clothing optional and is located just 8 miles north of Ouray in Ridgeway, Colorado.
Accommodations at Orvis Hot Springs include camping or RV spots on-site. Or guests can stay in one of the six themed bedrooms for rent on the upper floor of the main lodge.
Location: 1585 County Road 3, Ridgeway
7. South Canyon Hot Springs
If the fancy resort and busy crowds of Glenwood Hot Springs Pool are too much for you, check out the nearby South Canyon Hot Springs.
This undeveloped hot springs is located just 15 minutes from Glenwood Springs and only requires a short hike to get to.
The two main pools are situated on a hillside with exceptional views of the surrounding landscape and Rocky Mountains.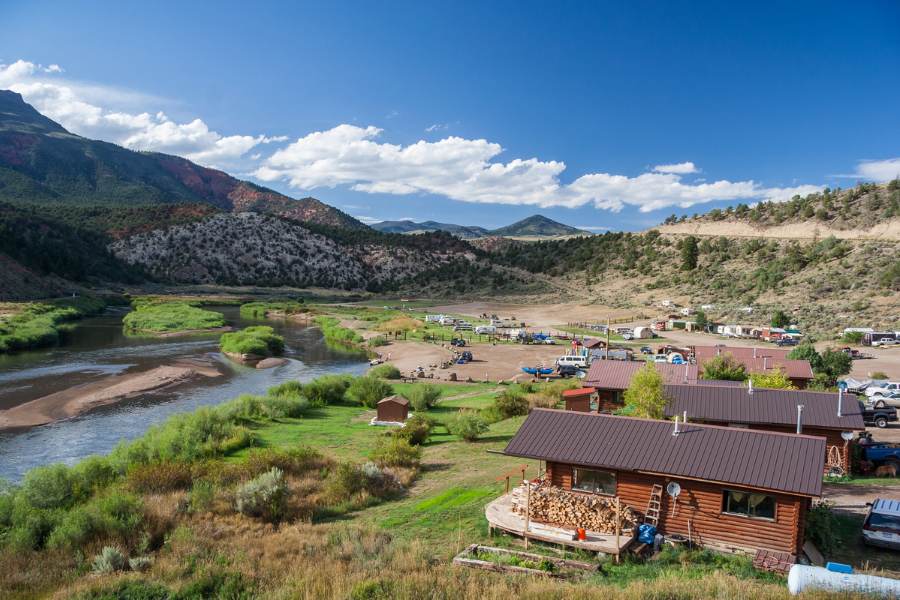 The pools vary in size and shape since they are not professionally maintained. Temperatures have been reported to range from 100-112 degrees.
This secluded hot springs can be hit or miss depending on the water's clarity and how much traffic is roaring on the road nearby.
Depending on what time of day you visit you could have the place all to yourself or it could be filled with lots of locals.
Location: Off South Canyon Creek near Glenwood Springs
8. Penny Hot Springs
Another primitive hot springs choice near Glenwood Springs is the Penny Hot Springs. After a short hike off Highway 33 along the Crystal River near Redstone you'll be rewarded with this hidden gem.
These naturally-fed hot spring pools are free to use and are surrounded by breathtaking views of snow capped peaks and canyons.
The main pool is sectioned off with large rocks to keep the cold water from the river from rushing in. Temperatures of the hot mineral water varies day to day as the pool gets flooded with snow melt or river water.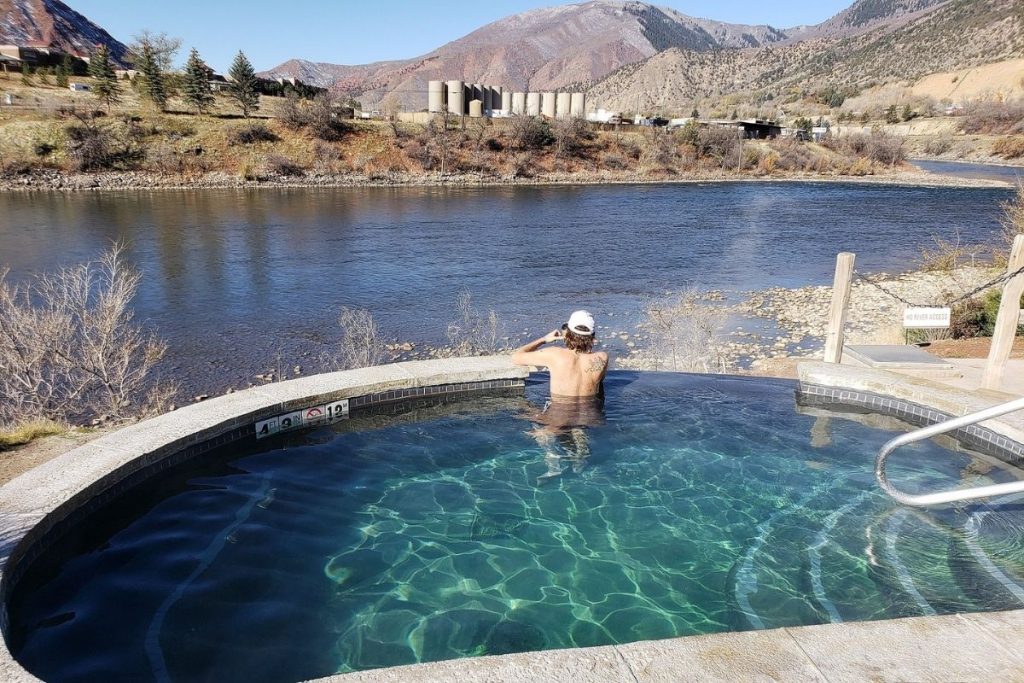 Even though in the past clothing has been optional, a swimsuit is required to soak in the Penny Hot Springs. Although locals have noted that nude hippies will sometimes soak in the hot springs pool, so beware of that.
Location: Off Highway 33 near Carbondale and Redstone
But who doesn't want to relax in a soaking pool after a long day of hiking or cross-country skiing?
We hope this list of the top hidden hot springs in Colorado will inspire your next hot springs experience.
Or if you're looking for the best natural hot springs in Colorado that are professionally maintained or part of a resort, check out our in-depth guide.