11 Cold Weather Tips for Driving in the Snow for the First Time
This website may contain affiliate links and we may be compensated (at no cost to you!).
Driving in the snow for the first time? As the weather gets colder in Colorado and winter really sets in, knowing how to properly drive in cold and snowy weather is key.
Snow starts to fall and as it accumulates the roads become icy and slippery. Road conditions become more uncertain and make it harder for drivers to safely navigate them.
The good news though is there are ways you can traverse the cold weather roads while being accident-free even if you're learning to drive in the snow for the first time.
As a couple living in Colorado, we are sharing our best winter driving tips for cold, snowy, and icy weather conditions.
1. Check the weather and traffic
When planning for a winter driving trip the first thing to do is check the weather on your route.
Most of us check the weather at our destination but it's easy to forget about the weather that's expected while en route.
Traffic is also an important consideration when driving in cold weather. Thankfully, Colorado has an awesome resource that allows you to view live traffic cams across the state.
Use the website COtrip.org or download the free mobile app, CDOT Mobile. You will be provided with more information on road closings, weather conditions, and traffic jams in real time.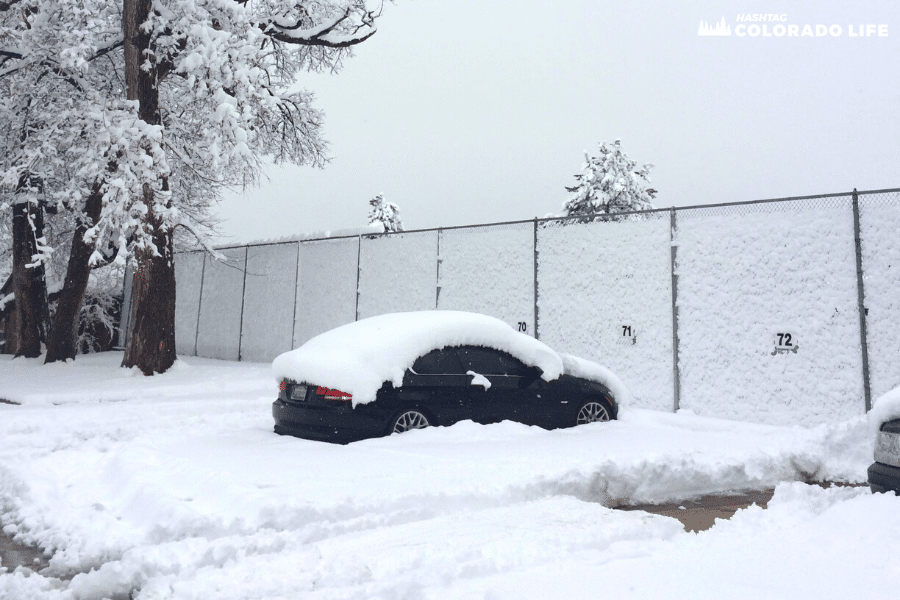 2. Prep your vehicle for winter
Before heading out into the snowy weather make sure your car is prepped and ready for winter.
Get an engine tune-up at the mechanic
Confirm the headlights are working and clear
Have the battery checked and fully charged
Check that the air/heat are in full working condition
Verify that all fluids are refilled
Change out your wiper fluid
Switch to winter wiper blades
Use all-season or cold weather oil
This is just a quick checklist for winterizing your car when driving on snow and ice. But we find they are the most essential things to check.
3. Install the correct tires
In addition to fully winterizing your vehicle it's important to have the correct tires installed.
Snow tires are highly recommended when driving in cold weather versus all-season tires.
All-season tires are not specifically made for cold and do not have the traction your car needs for icy conditions.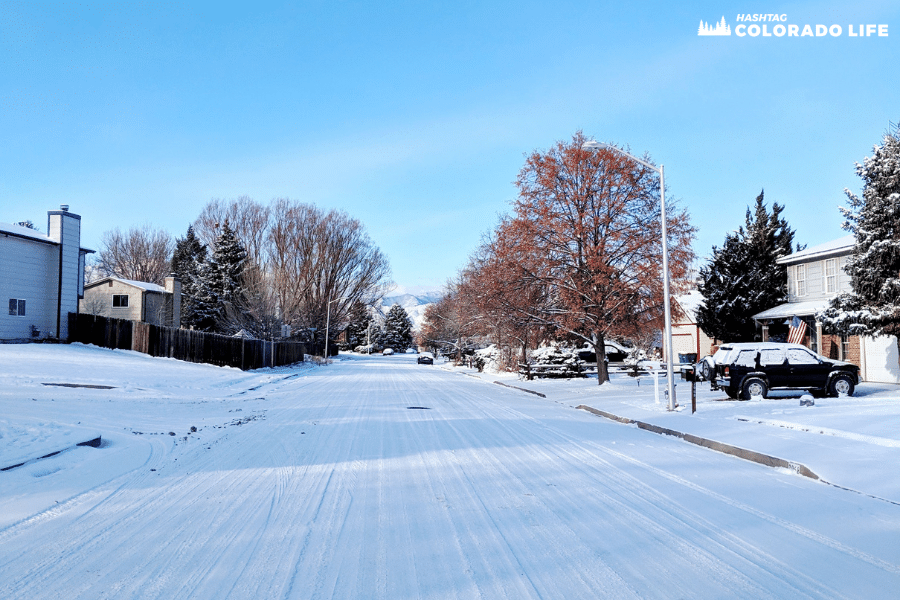 Make sure your tires are also properly inflated and have plenty of tread. If you find that your tires are not getting enough traction while driving, consider letting some of the air out of your them to help improve your grip on the snow.
But do not consider this a long-term fix, as you want to refill the tire pressure as soon as you can.
4. Have a car survival kit
If there is just one winter driving tip that you take to heart, a car survival kit is a must.
Since we are living in Colorado, here are some items we personally recommend to have in your car survival kit.
Flashlight
Sunglasses
Spare cold-weather clothes
Hand and feet warmers
Food and snacks
Bottles of water
First aid kit
Lighter or fire starter
Extra cell phone battery
Jumper cables
Snow scraper
Tow rope
Flares
Hopefully, most of these items will not be needed but in the event of an accident, they will come in very handy.
5. Use a lower gear for better traction
Using a lower gear and slower driving can mean better traction on snowy roads.
Always accelerate and decelerate slowly to avoid skidding and losing control of your car. It takes longer to speed up and slow down on icy roads, so take it easy.
When driving around a mountain town in the winter consider using second gear. The frequent starts and stops can be dangerous but driving in a lower gear will help avoid spinning out.
6. Drive with your lights on
Snow days are typically overcast with dark clouds and sometimes even foggy.
Winter weather conditions like these reduce visibility and make it harder to see the roads and other cars.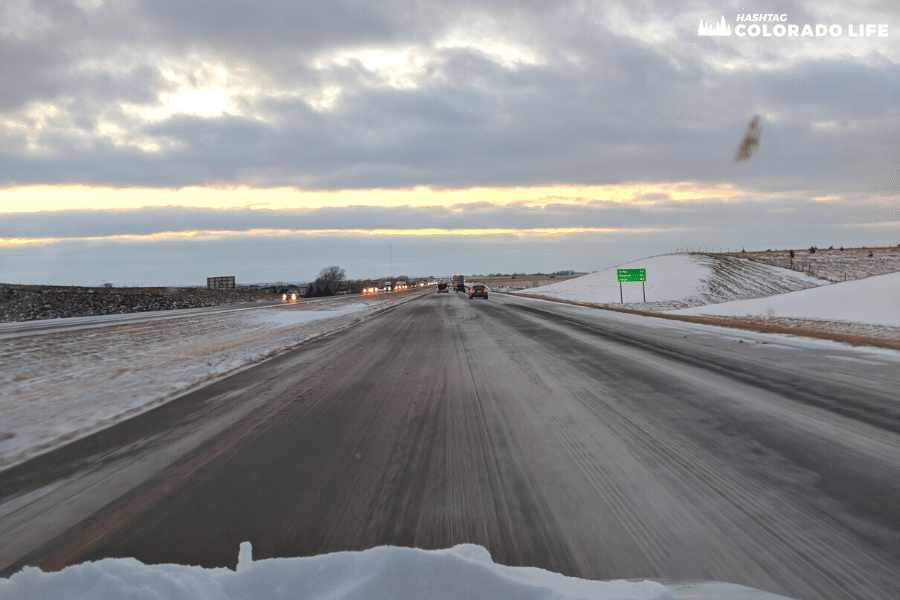 For added safety drive with your lights on, even in the middle of the day. This will help other drivers see you and allow you to see the roads better.
And remember to drive with your low beams active and avoid high beams as they can blind oncoming drivers.
7. Avoid cruise control
Never use cruise control in cold weather conditions or on icy roads. This is one of our main winter driving tips!
It's better to have manual control over the speed of your vehicle.
With cruise control, your car will want to keep up a particular speed and won't be able to navigate the changing road conditions.
Cruise control reduces the reaction time if your car hits a patch of ice and could make it easier to get into an accident.
8. Buy a good snow / ice scraper
This tip is especially important if you are moving from a warm weather state to a cold one like Colorado. A good ice scraper will be a lifesaver in the cold winter months.
Make sure the scraper is solid and can stand up to the cold and additional pressure when used. Plastic can become cold and brittle in freezing temperatures, causing it to break easily.
Because of this, you may want to have a backup snow scraper in your car, or consider something like a chemical windshield de-icer.
It can be used before leaving the house to embark on your journey, or even in the middle of your trip if the weather changes.
It's surprising how much precipitation can accumulate in a short amount of time, so be prepared with an easy way to clear snow off your windows.
9. Practice driving on snow and ice
Learning to drive during the snowy Colorado winters safely takes a bit of practice and skill.
If you're like me and you moved to Colorado from a warmer state like Texas, you likely aren't used to driving on snow or ice.
Take time to practice driving on snow and ice before going on a long distance winter trip.
One tip is to head to a local parking lot as those are not often snow-plowed and can be a safe environment for practicing.
Practice driving in the snow with your vehicle and learn how it reacts to icy conditions.
10. Drive slow and steady
According to the U.S. Department of Transportation, 24% of annual weather-related auto crashes occur on snowy, icy, or slushy roads. And more than 1,300 people are killed on icy or snowy road conditions annually.
The faster you travel in the snow the more likely you are to be involved in an accident due to reduced reaction time.
Take your time and drive slow and steady during cold weather.
Allot for extra travel time when driving to your destination so you don't feel rushed. And don't worry about the "flow of traffic" as safety should be your main concern instead.
On one of our winter road trips we witnessed many large trucks and SUVs whizz past us while driving too fast.
After a while, we began passing many of these same vehicles in the ditches and stranded along the sides of the highway.
Drive at a pace that is comfortable for you and stay safe while on the road.
11. Don't stop and stare
Pay attention to the road ahead of you and avoid stopping and staring at other accidents along the way.
Since drivers are more likely to have accidents when roads are wet or icy, it's likely that you will see accidents along your route.
Don't slow down to view other accidents or try to stop and help. This may lead to you getting into an accident or getting stuck in the snow yourself. Keep your eyes on the road ahead and pay attention.
Winter driving tips to stay safe
The winters in Colorado are nothing short of gorgeous, and it would be a shame not to get out and enjoy the cold weather.
Once you apply some of these winter driving tips and get used to driving in the snow, it will become less precarious.
Make sure you and your car are prepared, stay calm, and drive slowly so you can enjoy all that Colorado has to offer.