8 Best Places to See Christmas Lights in Colorado Springs [2022]
This website may contain affiliate links and we may be compensated (at no cost to you!).
If you're looking for the best places to see Christmas lights in Colorado Springs, keep reading. As someone who was born and raised in Colorado Springs, this is my favorite time of year.
I've collected a list of my favorite annual holiday displays and lighting festivals throughout the Pikes Peak region. Most of these Christmas light tours are within a few minutes drive of the city.
So grab your favorite hot drink and your best holiday music playlist and be ready to take in the festive cheer.
Here are seven of the top places to see Christmas lights in Colorado Springs, including several of my favorites.
Related: The Best Christmas Lights & Events in Denver
1. Holiday Scavenger Hunt in Colorado Springs
Bring your entire family together for a fun night out on this Holiday Scavenger Hunt in Colorado Springs.
Use the app on your smartphone and get ready to seek out traditional and non-traditional holiday items throughout the city.
Get points for each item you find, so it's a great game to play with multiple groups. Score as many points as you can to get first place on the leaderboard!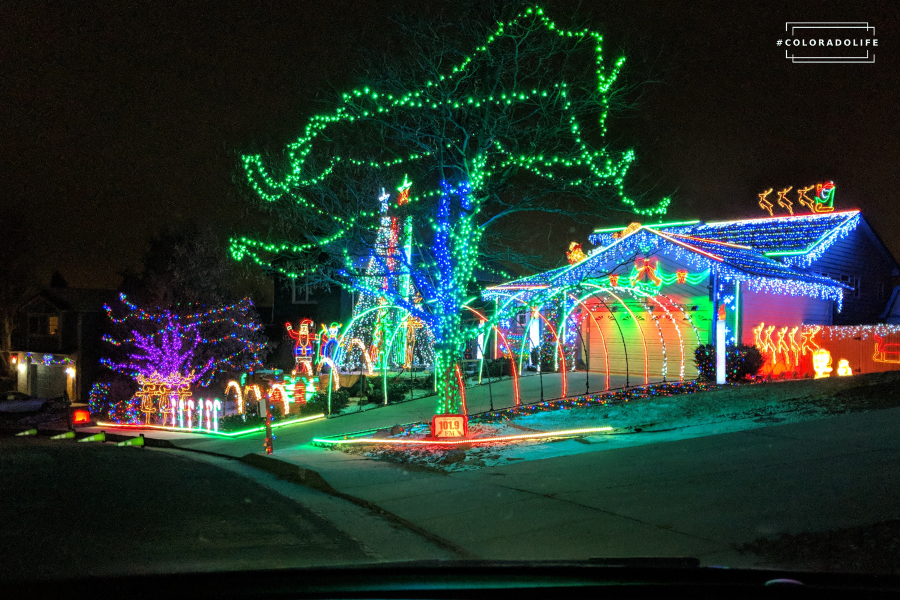 Along the way you'll be asked to do some silly holiday tasks and get to see all of the amazing Christmas light displays.
This is a unique winter activity to create memories this winter season. And right now is the perfect time to book your tour as you can save $2 on each ticket for groups up to 10 people.
This Holiday Scavenger Hunt is great for kids and adults of all ages. So grab your phone and your ticket for a night of lights, sights, and fun for everyone.
2. Magic of Lights, Pikes Peak International Raceway
Every year, Denver hosts the Christmas in Color drive-through but not everyone has time to drive to the Mile High City.
Thankfully, Colorado Springs has its own version thanks to the Magic of Lights! This unique and sparkling drive-through lighting experience is located at the Pikes Peak International Raceway and is more than a mile long.
The spectacular lighting event brings to life amazing lighting displays, holiday scenes, and favorite childhood characters. For 2022 there are even life-sized dinosaurs for Prehistoric Christmas.
Pile your friends and family into the car and pay one price for the entire trip. And the best part is that tickets are valid all season long so you choose the time and day of the week that works for you.
Tickets are valid any time during operating hours. We already purchased our Magic of Lights tickets this year and can't wait!
Check out their website and click the Colorado Springs location for more details. And use code JINGLE to get $3 off your ticket from now through January 1, 2023.
3. Electric Safari, Cheyenne Mountain Zoo
Each year the Cheyenne Mountain Zoo in Colorado Springs hosts a dazzling Electric Safari event.
This electrifying holiday light display is open daily from 5-8:30pm through January 1, 2023 except on Christmas Eve.
Check out 85 different light sculptures, illuminated inflated animals, and even visit with Santa Clause. Then grab some delicious hot cocoa to warm up on a cold Colorado night.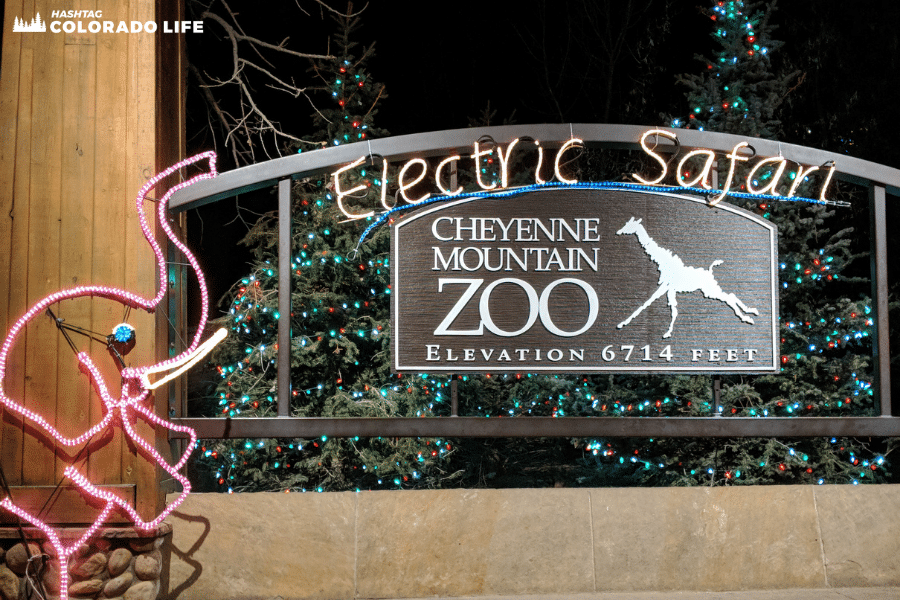 Take a ride on the Sky Ride for an additional price and soar above the entire zoo and city of Colorado Springs. It's a magical (and chilly!) experience like none other this Christmas season.
The Electric Safari in Colorado Springs has been voted the 3rd best Zoo Lights in the country since 2019. For more details and ticket prices, check out the Cheyenne Mountain Zoo website.
4. Festival of Lights Parade, Downtown COS
On the first Saturday in December every year, the city of Colorado Springs hosts the annual Festival of Lights Parade.
And this year makes it the 39th annual event! Join 80,000 residents on Saturday, December 3, 2022 for dazzling displays and Christmas music.
The event will also be replaying on local TV stations throughout the month, so don't miss it.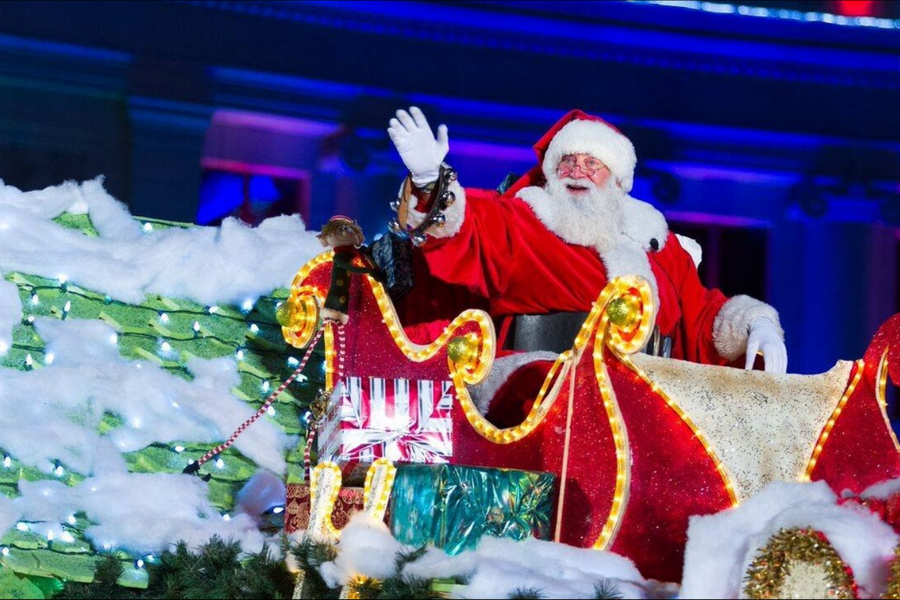 Watch as nearly 100 beautifully lighted floats, cars, displays, and decorated entries drive along the streets of downtown Colorado Springs.
The Festival of Lights Parade is a non-profit organization and is funded by entry fees, donations, and sponsorships. So, come support one of Pikes Peak Region's most beloved holiday traditions!
Be sure to dress warm and get to the parade early in order to grab a good spot. We suggest bringing chairs or blankets to make the most of this event.
5. Bridge of Lights, Royal Gorge Bridge & Park
For the first time ever you can drive over the Royal Gorge Bridge thanks to the Bridge of Lights drive-through experience.
See thousands of lights as you drive your car one thousand feet above the canyon floor. Listen to Christmas music playing throughout the park, and be sure to take a lot of photos.
This historic bridge has been decked to the nines, and is finally open to vehicles since 2013. So, this is an extra special holiday event!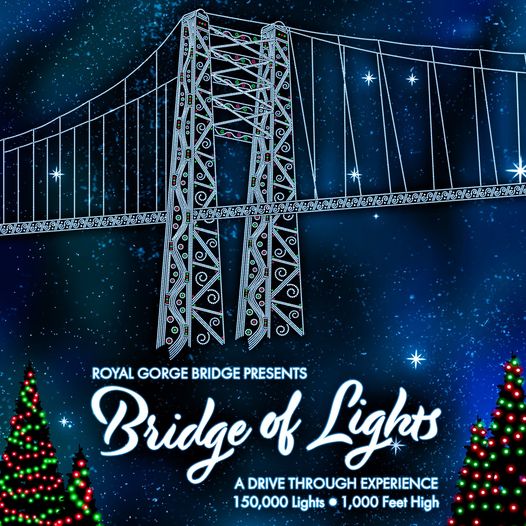 The Bridge of Lights is open most nights through December 31, 2023 from 5:30-8:30pm weekdays and until 9:30pm on weekends.
Tickets are a flat fee per car and can be purchased online or at the gate. Season pass holders can save a bit on their tickets by purchasing online.
Pre-order your Elf Munchies snack packages online when you book your tickets and enjoy cookies, cider, hot cocoa or coffee.
6. Christmas at the Ranch, Flying W Ranch
If you've never been to the Flying W Ranch, this is the perfect time of year to do so. For 2022, you can experience Christmas at the Ranch four nights a week until December 22nd.
The Cowboy Christmas Jubilee event is like no other dinner festival you've been to in Colorado Springs.
Walk through acres of twinkling lights, stunning well-lit rock formations, and a gorgeous modern barn decked out with holiday decor.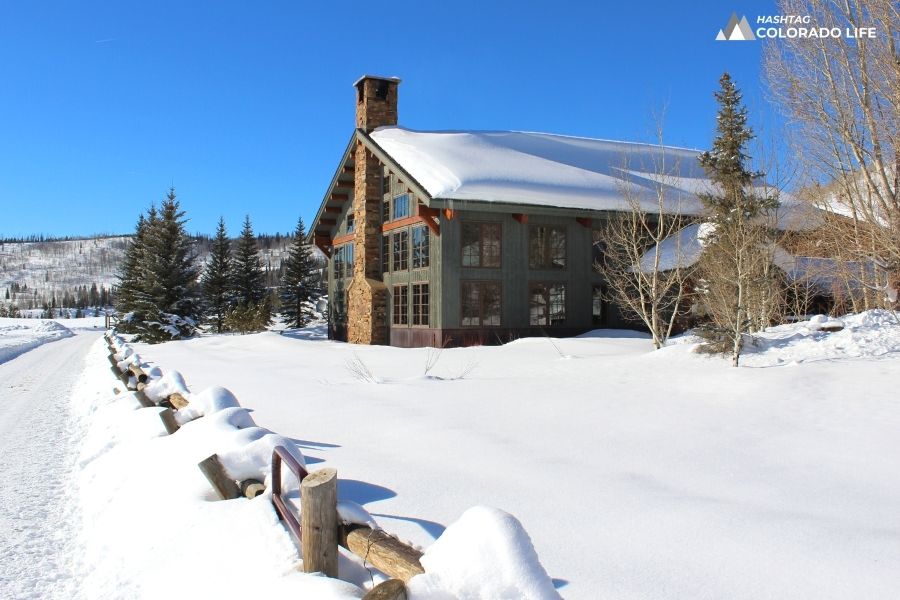 Dinner is served promptly featuring chuckwagon, cowboy-style cuisine. You'll sit and eat like the Colorado cowboys used to many years ago.
But don't worry, the food is hot and delicious. Plus there's always dessert!
After dinner it's time for a musical show performance from the world-renowned Flying W Wranglers. Be entertained as they perform a western holiday jubilee and showcase Christmas carols.
This family-friendly event is perfect for all ages, small groups, special events, or even a romantic night out.
Please note that tickets sell out fast so check out their website for more details about Christmas at the Ranch.
7. Holiday Lights, Old Colorado City
Experience a real hometown holiday setting just like the movies by taking a stroll through Old Colorado City.
This time of year the city is decked out with holiday decor, tree-lined streets that sparkle, and festive boutiques.
The streets are expertly decorated with festive lights, bows, garland, and other Christmas decorations to fill you with holiday cheer.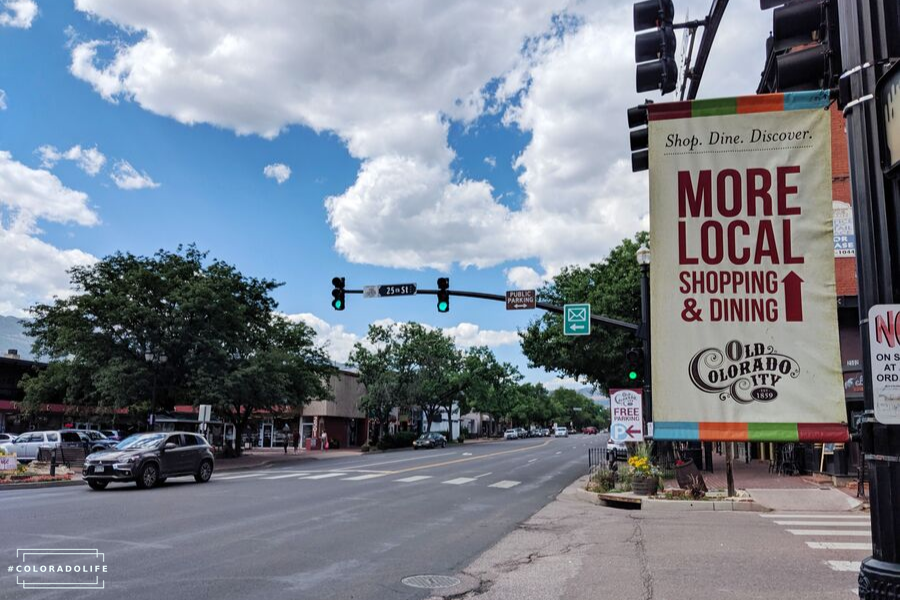 Get your holiday shopping done and support a small local business, peruse an art gallery, or stop for a cup of hot cocoa.
Old Colorado City is home to many unique shops, local restaurants and even a tea house with hundreds of teas to choose from.
As you're out enjoying the best Christmas lights in Colorado Springs, we highly recommend stopping in Old Colorado City for a stroll down main street.
8. Christmas Underground, Cave of the Winds
During the holidays, Cave of the Winds Mountain Park offers a unique event called Christmas Underground.
This fun experience takes place in total darkness only brightened with holiday holidays and Christmas carols.
Enjoy a cave tour that's decked out in holiday cheer, lighted pathways, and a fun time for all ages.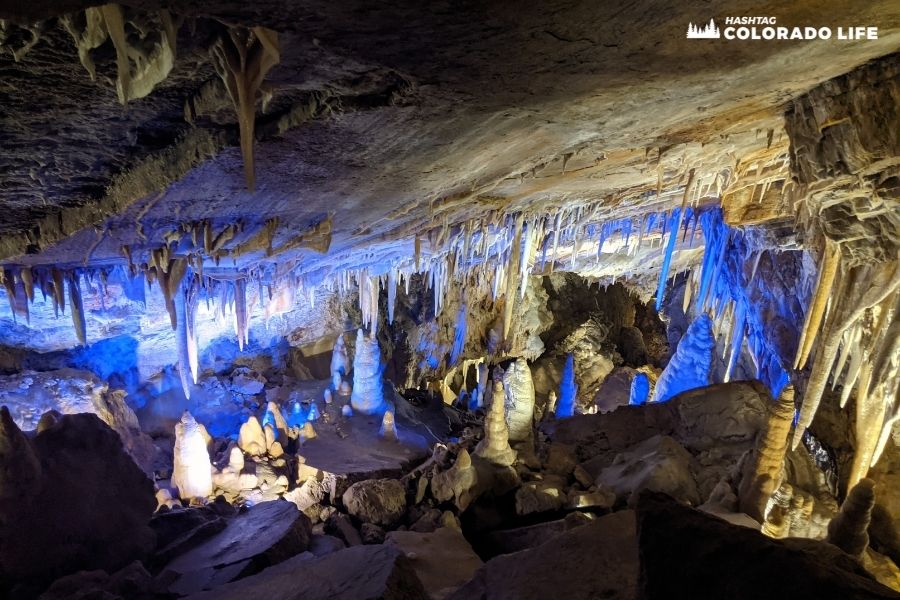 Wear your ugly Christmas sweater, Santa hat, or lighted bulb necklaces. Bring your family and friends and enjoy a fun night out underground.
Come prepared to sing carols and listen to a Christmas story or two. For 2022, the event details have not been released yet but stay tuned.
For tickets, times and other details checkout the event section of the Cave of the Winds website.
I hope this guide to the best places to see Christmas lights in Colorado Springs allows you to enjoy the festive season with those you cherish most.