13 Top Places for the Best Snowmobiling in Colorado This Winter
This website may contain affiliate links and we may be compensated (at no cost to you!).
From first-time riders to experienced snowmobiling enthusiasts, this list of the best places to go snowmobiling in Colorado has it all.
Go on a scenic snowmobile tour for the day or spend a weekend taking in the spectacular views of the snowcapped Rockies.
The state has an abundance of public lands available with miles of snowmobiling trails.
As a local, I'm sharing the best snowmobiling in Colorado and what makes each spot worth visiting.
1. Steamboat Springs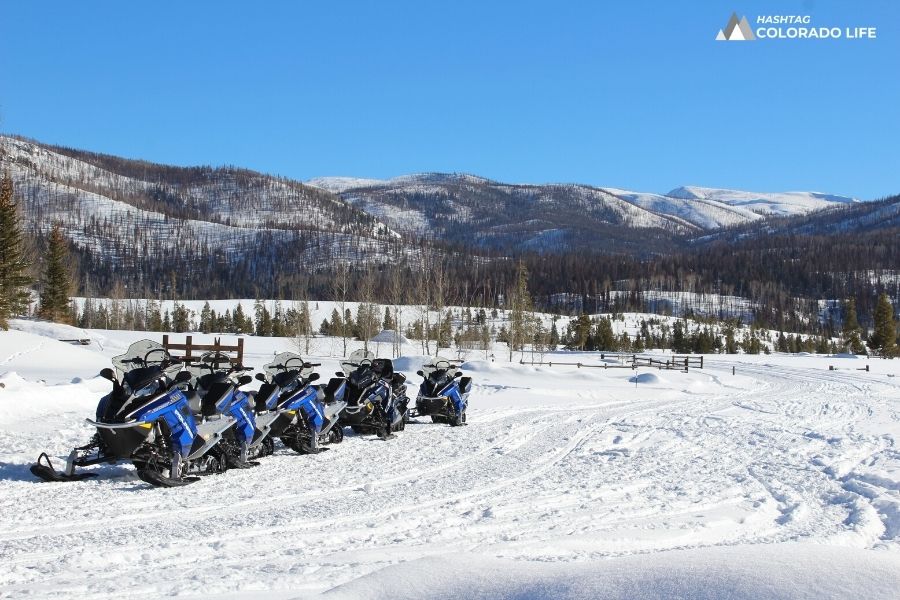 The best place to go snowmobiling in Colorado has to start in Steamboat Springs. East of town is Rabbit Ears Pass which has incredibly expansive and rideable terrain for snowmobiles.
Or you can head southwest of Steamboat Springs to Flat Tops Wilderness Area for even more amazing snowmobiling.
There are also several private ranches nearby, like Vista Verde Ranch, that are perfect for snowmobiling everyday.
Vista Verde is located in the Mount Zirkel Wilderness Area, and is surrounded by more than 1.1 million acres. A perfect spot for snowmobiling to your heart's content.
To stay there are many places to go snowmobiling near Steamboat Springs is an understatement.
2. Breckenridge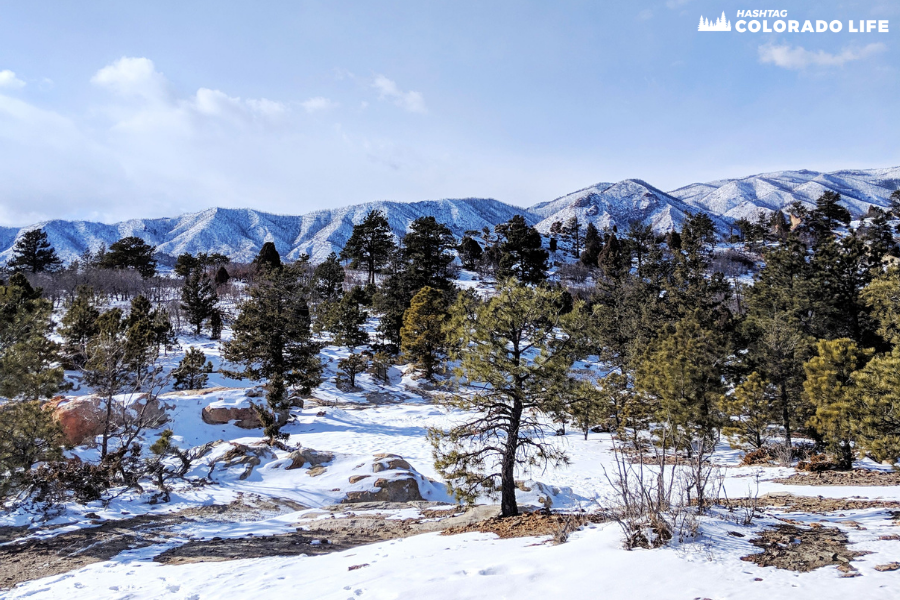 In addition to being a popular ski destination, Breckenridge offers some amazing snowmobiling. You'll find endless trails and forests to explore in the White River National Forest.
This area gets a lot of snow in the winter, so it provides nice Colorado backcountry riding with views of the top of the Continental Divide.
Georgia Pass Road is a great place to go snowmobiling in Colorado where you'll find both groomed trails and backcountry access.
In addition to scenery you'll find in Breckenridge, the Pass showcases fantastic views of nearby Keystone and Copper Mountain.
Breck also has some fantastic spots for sledding or tubing if you're into that sort of thing after your snowmobiling adventures.
Many of the trails surrounding Breck are all at high elevations, and can have huge swings in weather changes. So, come prepared with warm clothes and follow the safety standards.
3. Vail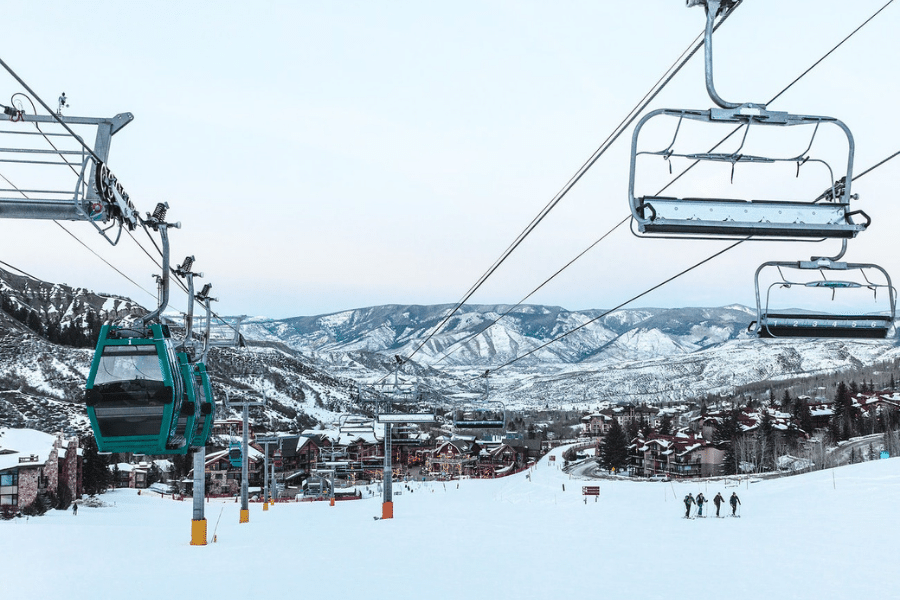 Another incredible spot for snowmobiling in Colorado is the Vail Pass Recreation Area. This area covers 55,000 acres and has nearly 120 miles of trails that are available for motorized and non-motorized use.
Vail Pass Winter Recreation Area is open from November through May and is a perfect destination for snowmobilers, skiers, and all types of snow bunnies.
Weekends in Vail can get pretty busy in the winter. So if you are looking for a less-crowded experience, you may want to visit on a weekday.
In order to access the miles of trails near Vail, you must purchase a day pass for $10, or a season pass for $65.
Or if you're looking for a private snowmobiling tour, Sage Outdoor Adventures offers tours that will take you around the entire region.
As a snowmobiling enthusiast looking for an epic all-day experience, take your pick of trails in Vail, Avon, or Beaver Creek.
4. Winter Park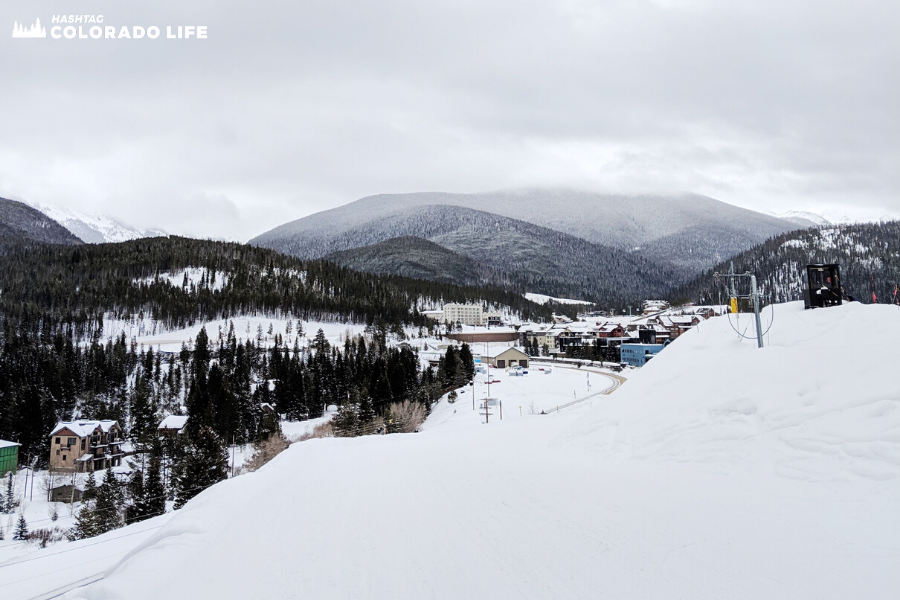 Winter Park Resort and the nearby Fraser Valley offer extensive trails that wind through the forests and open meadows, perfect for snowmobiling.
Located only about an hour and half from Denver, Winter Park is an awesome day trip excursion for snowmobiling.
Enjoy mountain riding through the Arapaho National Forest and take in panoramic views of the Continental Divide.
You'll be more than 12,000 feet in elevation, with fantastic views of the Rocky Mountains for miles and miles.
Another spectacular viewpoint can be seen of Gore Range from the vantage point in Church's Park.
In the evening after a day of snowmobiling, there are lots of other things to do in Winter Park downtown from yummy eats to boutique shopping.
5. Grand Lake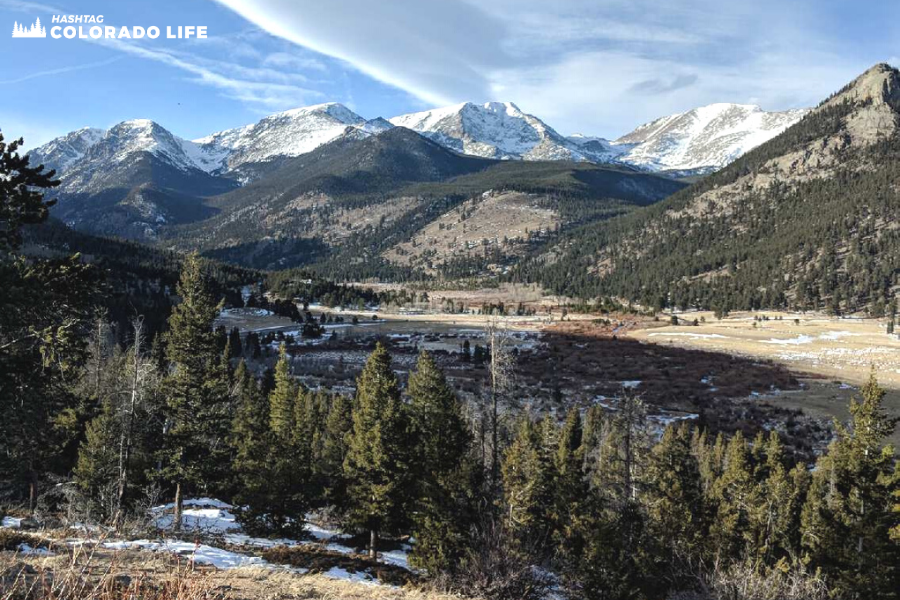 When winter comes to Grand Lake, it makes for a winter bounty that lasts all season long.
In fact, the town of Grand Lake is sometimes called the snowmobiling capital of Colorado. This makes it a great spot for snowmobiling in Colorado and a favorite of locals!
You may even see many residents driving around the town, using snowmobiles in place of normal cars.
The nearby Arapaho National Forest offers 300 miles of snowmobile trails to explore right outside of town.
In winter you'll see gorgeous snow-covered peaks of the Continental Divide and western side of Rocky Mountain National Park.
Grand Lake is a family-friendly place to visit for an affordable winter vacation too. It also offers plenty of things to do in town from delicious restaurants to cozy bars to help you warm up.
6. Sunlight Mountain
Near the town of Glenwood Springs sits the beautiful Sunlight Mountain. As a lesser-known ski resort, this area is not as busy as other snowmobiling spots on this list.
The well-groomed trail of Sunlight to Powderhorn is a 120-mile trail that's the perfect playground for snowmobilers.
Down near Powderhorn Mountain Resort you'll find another 180 miles of trails with powdery meadows and hills for endless riding and roaming.
Then after a cold day on the mountain, you can drive to Glenwood Hot Springs Resort and warm up in the world's largest natural hot springs pool.
7. Meeker
If you're looking for the gateway to nearly 180 miles of groomed trails for snowmobiling, then Meeker, Colorado is the spot for you.
While this area can be a bit challenging, it offers scenery and adventures like no other.
About 100 miles are left untouched, and completely wild for cross-country skiing or snowmobiling. While another 78 miles are groomed to offer something for riders of every skill level.
Rolling hills and open meadows in Trappers Lake, the Flat Tops, and Ripple Creek are maintained by the White River Snowmobile Club.
The residents of Meeker take snowmobiling seriously, and have a plethora of off-road activities available all year round.
8. Crested Butte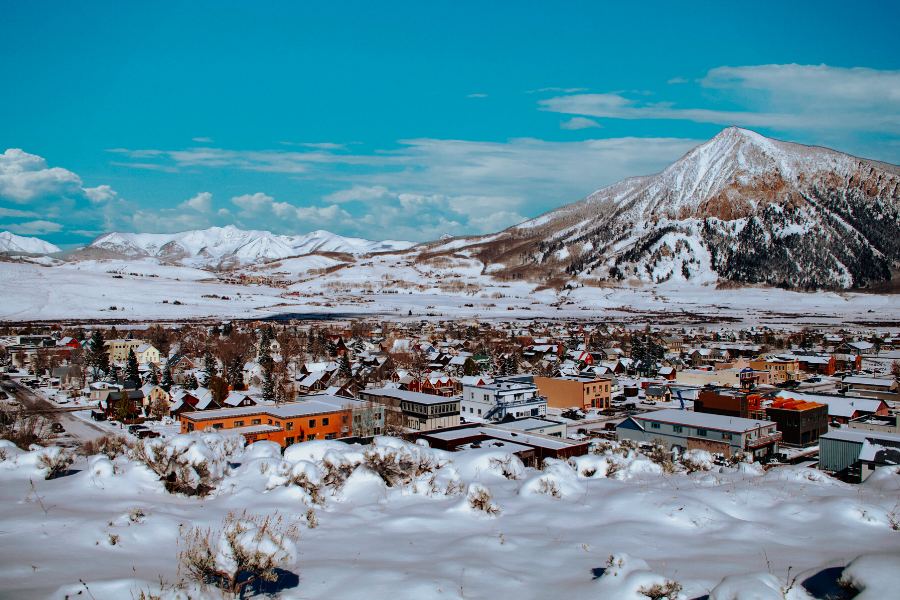 Crested Butte is located in the middle of the stunning Gunnison National Forest with breathtaking mountain views.
Kebler Pass is a prime area for snowmobilers as the area gets great snow accumulation with soft powder trails.
Other nearby groomed trails and open fields for snowmobiling can be found at Ohio Pass Road, Splains Gulch, and Lost Lakes.
In addition to seeing other snowmobilers in Crested Butte, keep an eye out for other cross-country skiers and winter horseback riding.
If you're looking for more secluded snowmobiling spots, pick up a free permit and check out Washington Gulch. These areas are also great for sledding and tubing in the snowy winter months.
9. Pagosa Springs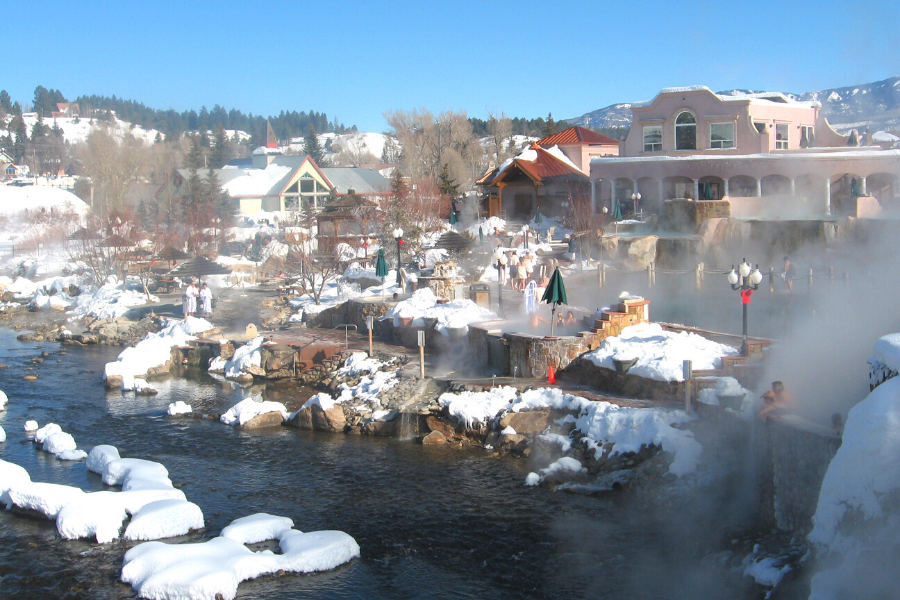 In one of the southernmost parts of the state you'll find the beautiful town of Pagosa Springs.
Home to one of the best natural hot springs in Colorado, Pagosa Springs sees more snow on average than anywhere else in the state.
As one of Colorado's snowiest locations, these conditions make it a perfect spot for the best snowmobiling around.
The Rio Grande National Forest sits between the towns of Del Norte and Pagosa Springs and offers dedicated snowmobile adventure areas.
The trail system near Pagosa Springs is popular with advanced riders as it's wild and reaches deep into the San Juan Mountains.
But if you're a beginner snowmobiler, check out the well-groomed trails at Black Head Peak, Eagle Mountain, or Wolf Creek Pass.
10. Kremmling
The town of Kremmling, Colorado is easily accessible for snowmobiling thanks to being a short two-hour drive from Denver.
Inside Arapaho and Routt National Forests there are more than 300 miles of trails and backcountry riding available for snowmobiling.
The secluded area of Spring Creek offers some of the best riding as the trails are less crowded.
And just 45 minutes away from Kremmling is Rabbit Ears Pass, which is another fantastic spot for snowmobiling.
Make a day trip out of it or spend a weekend riding in the best backcountry Colorado has to offer.
11. Keystone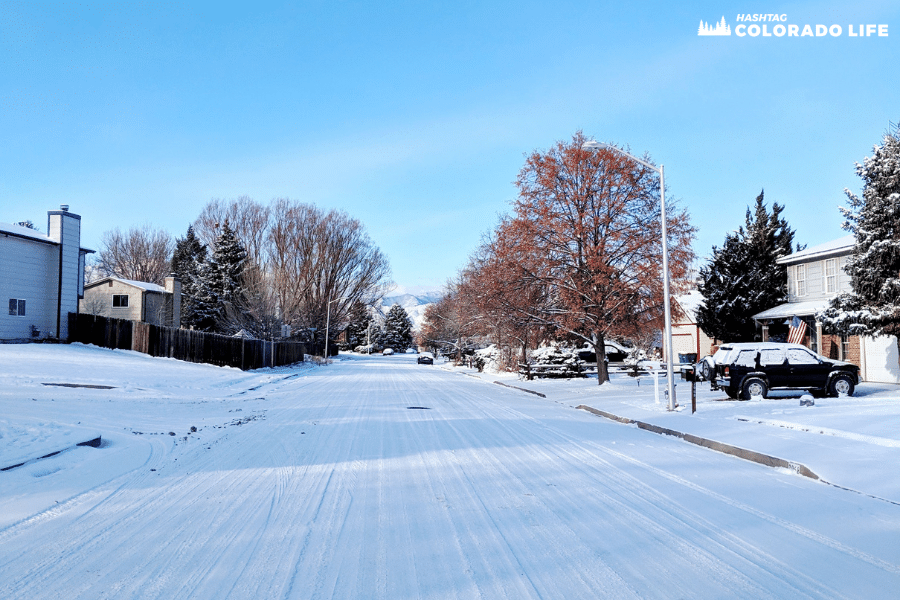 Keystone Ski Resort is already known as a playground of winter activities, which includes some amazing Colorado snowmobiling trails.
The area includes more than 50 miles of groomed trails and 55,000 acres of backcountry terrain perfect for snowmobiling.
Discover the superb trails to experience your own snowmobiling ride, or book a guided tour with a professional.
In addition to snowmobiling at Keystone, the resort features awesome ski trails, a gondola ride, and the world's largest mountaintop snow fort.
The area is also one of the best places to book a memorable winter sleigh ride in the state.
12. Aspen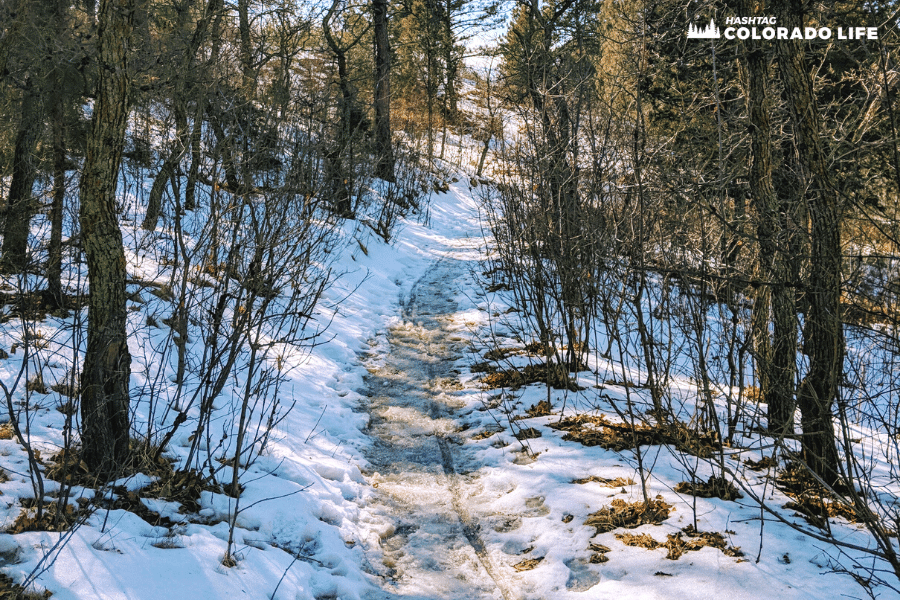 The town of Aspen and surrounding areas include Maroon Lake and Maroon Bells. This area is often described as the most-photographed mountains in the country.
And the snowmobiling trails here do not disappoint. With many miles of snowmobiling tours and trails to choose from, Aspen offers fun for all skill levels.
Independence Pass has an easy 11-mile trail that isn't too busy but the trails are nice for snowmobiles. You will climb an elevation of nearly 3,000 feet though, so be prepared.
Maroon Creek Road features a 14-mile round trip trail with moderate terrain and beautiful views throughout. Be sure to bring your camera!
There are also many places to book snowmobile rentals if you don't have easy access to bring your own.
Not to mention that Aspen itself offers world-class skiing, dining, and entertainment all winter long.
13. Leadville
A lesser-known spot for snowmobiling in Colorado, but none-the-less beautiful, is Leadville. Located just west of Breckenridge, Leadville is the state's highest incorporated city at 10,152 feet in elevation.
The High Riders Snowmobile Club keeps more than 50 miles of trails groomed within Lake County. This offers an abundance of groomed trails perfect for traveling on a snowmobile in winter.
Ride through the East Side Mining District and check out the historic gold rush sites, which are usually only available via 4×4 vehicles in the summer.
If you're looking for a snowmobiling tour near Leadville, check out the White Mountain Snowmobile Tours. You'll get a glimpse of some of the taller mountains and incredible scenery that surrounds the area.
When it comes to the best snowmobiling in Colorado, the state has no shortage of options.
From grand adventures to high country tours or unguided rentals, there's never a better time for snowmobiling in Colorado than right now.