13 Best Denver Cocktail Tours & Hottest Bars for Drinks
This website may contain affiliate links and we may be compensated (at no cost to you!).
Most people associate Denver, Colorado with great local beer. With over 140 breweries in the city, it's easy to understand why.
But the Mile High City offers much more than just beer to offer those looking for an amazing drink.
Maybe you're craving a glass of wine, a delicious cocktail, or a tiki drink. And Denver has some of the best bars around.
Whatever you're looking for you can find them all over this city, you just need to know where to look.
If you're looking for the best Denver cocktail tour, then keep reading. Plus, we share the best bars in the city to sip on a delicious drink.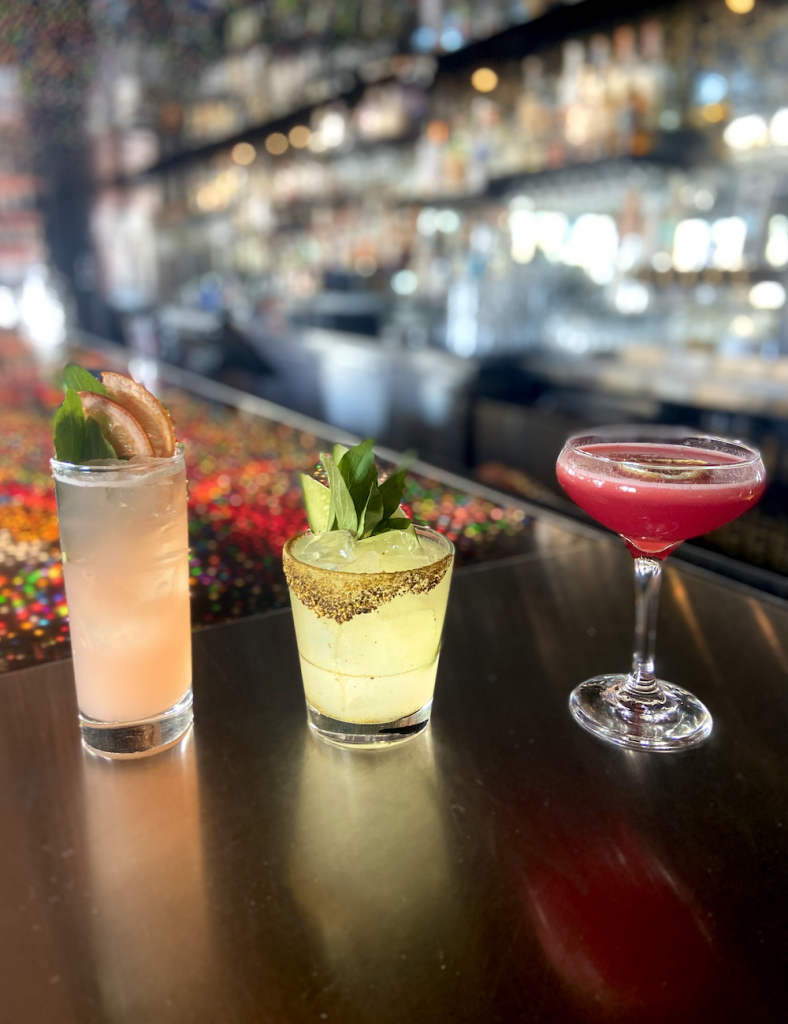 Immerse yourself in Denver's vibrant cocktail scene by joining this small-group walking tour.
You'll explore Denver's cocktail scene while sipping on carefully crafted drinks. Along the way, you'll listen to a knowledgeable guide share captivating stories about the Mile High City's spirited past.
Experience the charm of modern-day speakeasies, historic bars, and local joints. Plus, learn about the fascinating backgrounds of Prohibition-era cocktails.
The adventure begins at Grand Union Station, the grand and historic gateway to downtown. Alcoholic beverages and snacks are included with the price of this Denver cocktail tour.
From there, it's onto LoDo, Denver's lLower Downtown district, with its beautiful brick-building-lined streets and iconic Larimer Square. You'll be introduced to the early history of Denver and its relationship with alcohol.
Then it's off to visit a few of our favorite local bars and learn about each drink's unique ingredients and origins.
Your tour guide will also dispel myths and controversies surrounding some of the most popular drinks on the menu.
This boozy Denver cocktail tour is perfect for cocktail enthusiasts, foodies, and history buffs, and includes alcoholic beverages in the ticket price.
2. Denver Cocktails & Paired Bites
Discover some of the top cocktail bars in Denver on this exciting tour that takes you on a journey through the heart of downtown.
Whether you prefer a refreshing spritz or a serious Butter Pecan Old Fashioned, this boozy adventure offers something for everyone.
You'll begin at the iconic Union Station and continues to the city's oldest hotel, The Oxford Club's Spa & Salon.
This tour includes stops at three of the city's best cocktail bars and restaurants. You'll indulge in four delicious cocktails, each paired with mouthwatering small plates.
You'll delve into the establishment's fascinating history and sample some of its delectable drinks and dining options.
To end the tour you'll stop at the trendy Dairy Block, a historic micro-district located in LoDo, while savoring the flavors of the area's best cocktails and bites.
You'll have the opportunity to explore 15 shops, 19 restaurants, seven bars, a luxury coworking space, and a boutique hotel,
Throughout the tour, a local guide will share entertaining stories about Denver's prohibition era and its thriving culinary scene.
Whether you're a foodie or a drink enthusiast, this tour is an excellent opportunity to make new friends and create unforgettable memories.
Get ready to discover the intriguing history behind the city's most beloved drinks on this Denver cocktail tour with paired bites.
Embark on a captivating walking tour of downtown Denver that delves into the city's fascinating history and flourishing cocktail scene.
Led by an expert guide, you'll explore popular hangouts and stroll along historic streets. Plus, venture inside modern-day speakeasies to sample some of Denver's most beloved drinks.
This cocktail tour also includes a historic walk through the trendy Larimer Square and ambience of Lower Downtown.
Your guide will regale you with intriguing stories and insights about the history and inspiration behind local and international cocktails.
You'll have the chance to savor three handcrafted cocktails and one local snack, all included with this tour for free.
In addition to the tour's included refreshments, you'll get recommendations for other fantastic cocktails, locally brewed beer, and dining options in Denver.
This cocktail tour is the perfect blend of culture, history, and cocktails. It's an unforgettable experience for anyone seeking to discover fascinating backstories of the city.
If you're ready to immerse yourself in the dynamic cocktail culture of Denver, this tour is for you.
Experience the best of Denver's culture, history, and drinks on this engaging cocktail tour led by a friendly local guide.
You'll begin in the heart of the city, at Union Station and then explore LoDo as well as Larimer Square.
Despite its rich history, the area now boasts trendy bars and restaurants and remains a popular spot for locals and visitors alike.
Follow your guide through the historic streets lined with old brick buildings and visit some of their favorite spots.
Stops include one of Denver's oldest bars or a cozy speakeasy, where you'll learn about the city's founding pioneers while sipping on a cocktail.
Along the way, you'll sample an array of Denver's best beverages. From local favorites to international recipes, you'll experience Denver's diverse and delicious cocktail scene.
You might also have a chance to taste some unique local twists on time-honored classics. Plus, your guide will provide an in-depth look at the ingredients, history, and inspiration behind each drink.
Embark on a journey through Denver's rich history and vibrant cocktail culture with this guided tour.
What are the best bars and cocktails in Denver?
Now that you know the best cocktail tours in Denver, here are some of the hottest bars in the city and the top drinks they serve.
Many of these establishments offer cocktail classics as well as a truly local twist on Denver's best craft cocktails. I hope you'll come away with a greater appreciation of Denver and its fun cocktail history.
5. Linger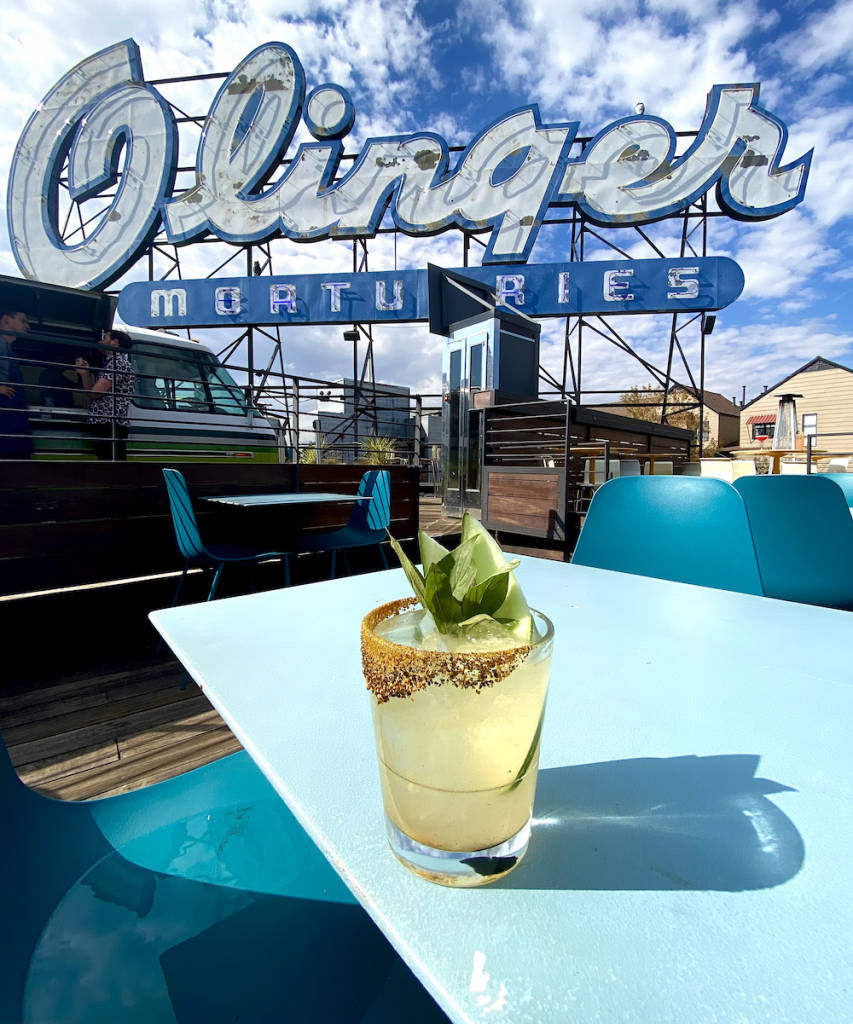 Believe it or not, one of Denver's most popular bars, Linger, used to be a mortuary.
You can see remnants of its eerie past in the casket rollers along the bar. Or in the giant rooftop sign that once read "Olinger Mortuaries", but now reads "Linger Eatuaries".

The Denver restaurant group, Edible Beats, took over the abandoned mortuary building over 12 years ago.
They made sure to keep lots of the original interior like the exposed brick walls and the garage doors that were once used for hearses.
But they've added modern touches too, like their Lite-Brite decorated bar and their hippy van-turned-bar on the rooftop. Linger's extensive drink menu features some of the best cocktails in Denver.
As just one of Edible Beats' ESOP employee-owned restaurants, Linger's bar manager, Devin Perry, encourages bartenders to come up with new drink concoctions every few months to keep the menu fresh and unique.
One of the most popular drinks here is the New Saigon: a bright, refreshing blend of gin, lime, basil, jalapeno, and cucumber, complete with a grains of paradise, turmeric, and black pepper rim. "This drink will never leave the menu," says Perry.
Linger also offers a full kitchen where they dish out global street food with plenty of vegetarian and gluten-free options.
Try a variety of steamed bao buns or the Dahi Puri "Perfect Bites". Indulge in their popular Potato Masala Dosa that has been using the same fermentation culture since 2010.
You also won't want to miss Linger's weekend brunch that features their Bibingka Benedict, Hangover Ramen, and of course, bottomless mimosas.
Grab a seat at the bar or enjoy the view from the rooftop, and keep an eye out for the ghosts that still linger within this LoHi bar.
Must-Try Cocktails at Linger:
New Saigon
Sangria Rojo
Corpse Reviver
6. Ghost Donkey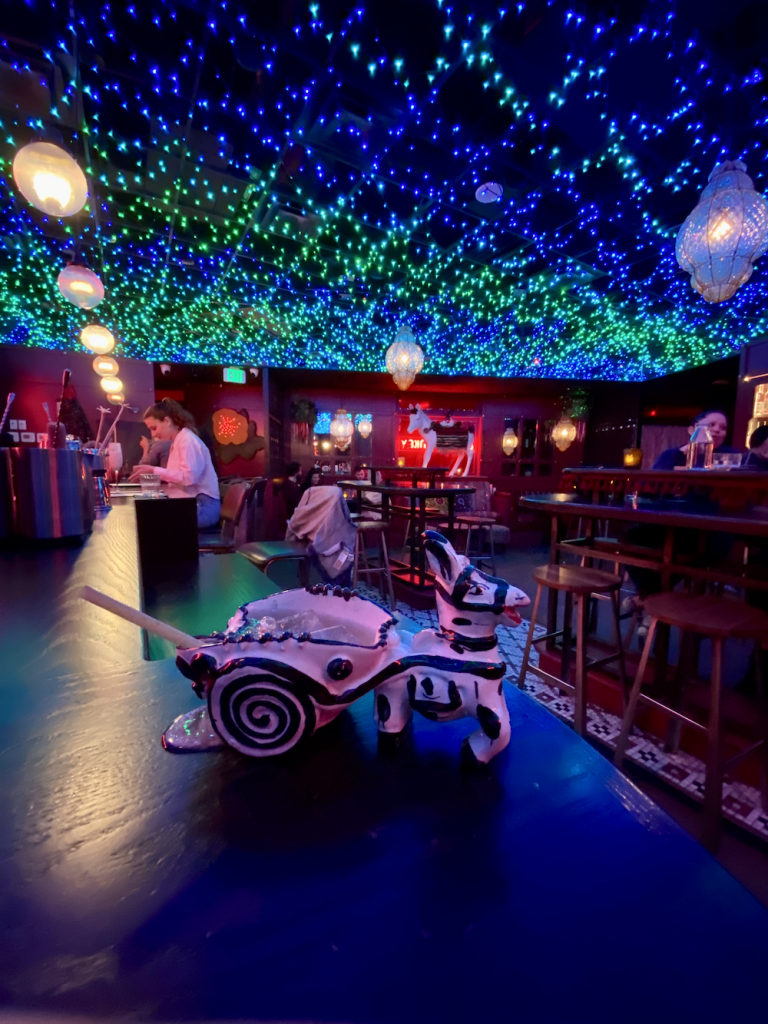 Ghost Donkey, a tequila bar serving Mexican-inspired cocktails in a cozy lounge, started in Manhattan in 2018.
They quickly rose to fame as the 2020 Cocktail Bar of the Year by Imbibe Magazine. Since then they launched multiple new locations in Denver, Las Vegas, Phoenix, and Auckland with openings planned in Omaha and Dallas.
Entering the bar in the LoDo district, I immediately felt transported to Mexico. It was the smell of palo santo, the colorful ambience, the textile furniture, and the incredible hospitality from the staff.
I was welcomed into the bar and immediately served a tasting of three different mezcals — from the 76 they have available. Each drink was served in a vaso veladora, a traditional Oaxaca tequila glass.
I'm not typically a tequila or mezcal drinker, but after tasting these expertly crafted, single village mezcals, I will absolutely be back for more.
Sipping mezcal on its own was a great time, but the mixed drinks took me to a whole other level.
Ghost Donkey's drink menu features all kinds of unique cocktails, from a frozen margarita to ones that infuse roasted poblanos and mushrooms.
If you're hungry, Ghost Donkey has multiple types of nachos for you to choose from. All of which have plenty of melted cheese and traditional Mexican toppings.
And if you're not sure what to drink, just ask! The staff are friendly and knowledgeable, and they'll find a drink that's right for you.
Make sure to stick around past sunset to see this bar come to life. This is when the lights go down, the music goes up, and you may get the chance to make your own margarita behind the bar!
Must-Try Drinks at Ghost Donkey:
Stealth Margarita
Mezcal Sun-Risa
Burro Tropical
7. Williams & Graham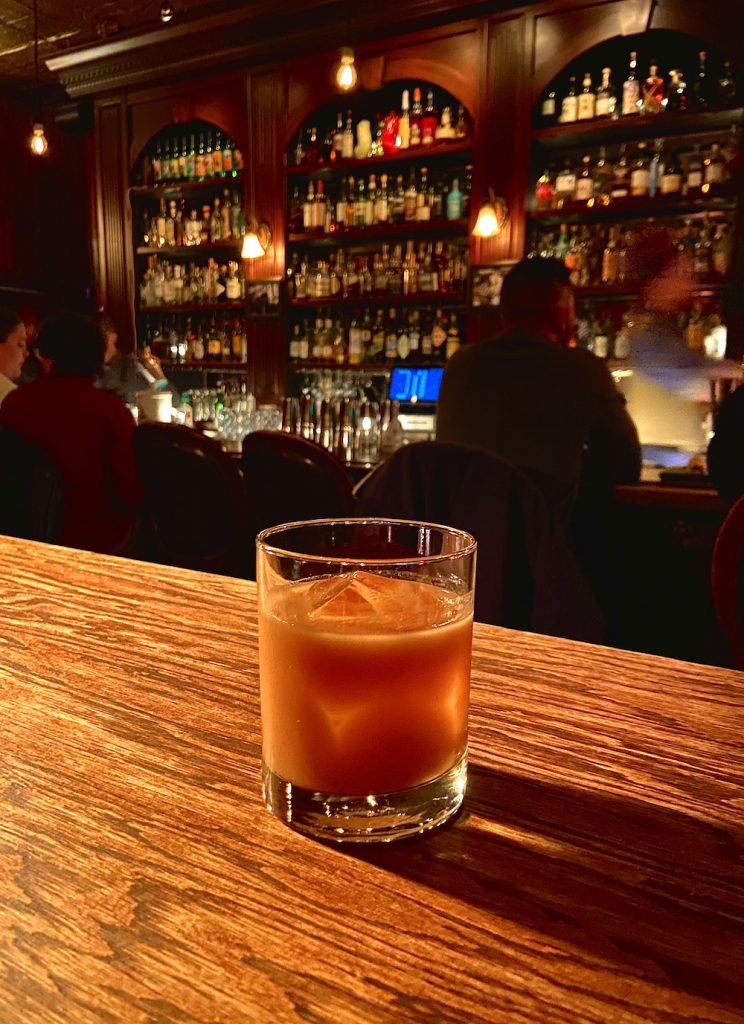 When you visit Williams & Graham, one of the best bars in Denver, you'll step back into the Prohibition Era.
Business partners Todd Colehour and Sean Kenyon opened this speakeasy-style bar back in 2011. Guests have been flocking to the LoHi location ever since.
When you walk through their secret bookcase entrance you'll immediately be transported back in time.
The soft lighting, mahogany bar, and black-and-white photos create a cozy, secluded atmosphere that's perfect for a romantic date night evening.
To add to the ambience, Williams & Graham has kept the original wood flooring and tin ceiling from the building's original inception in 1905.
Williams & Graham offers a carefully curated list of drinks, from sake to beer to wine, and of course, all sorts of creative cocktails.
When the bar first opened, Kenyon created the Blackberry Sage Smash (a cocktail made with Woody Creek Rye, blackberries, sage, lemon, and sugar). Since then it has become a staple that will never leave the menu.
The bartenders at Williams & Graham are incredibly knowledgeable and passionate, crafting truly unique cocktails with the change of every season.
While you're sipping on a handcrafted drink, enjoy food from their bill of fare like the Roasted Bone Marrow served with bacon jam, and toasted ciabatta.
Or order their Royale with Cheese, a fresh burger topped with foie gras torchon, bacon, black truffle "caviar," white cheddar, Soleggiatti tomato, and 15-year balsamic.
Reservations here are strongly encouraged, though walk-ins are always welcome.
Must-Try Cocktails at Williams & Graham:
Blackberry Sage Smash
Any of the seasonal libations (these change often, and once they're gone, they aren't coming back).
8. Deep Roots Winery & Bistro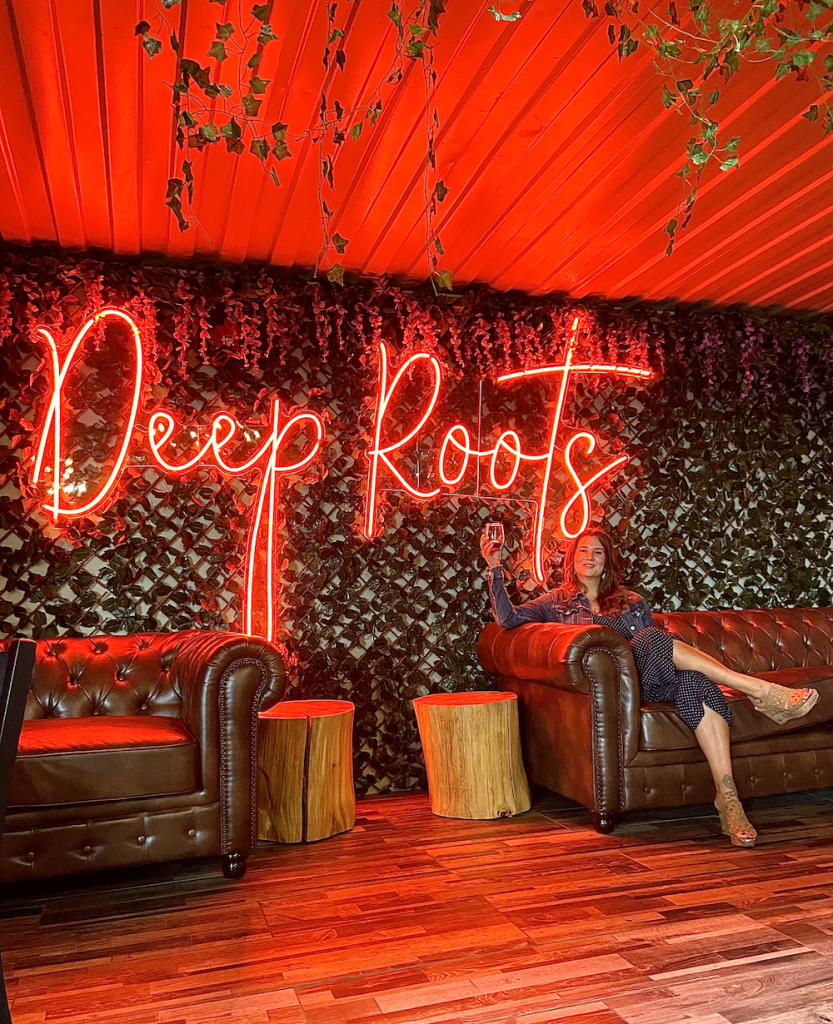 Looking for a gorgeous spot to enjoy quality wine paired with delicious bites? Head to Deep Roots Winery & Bistro in Denver's RiNo district.
Started by husband-and-wife team, Teara & Steve Walters, Deep Roots specializes in expertly crafted wines made with California and Colorado-grown grapes.
Their team creates small batches of wine throughout the year, hand picking any grapes that don't belong to ensure the best quality product.
Steve's background in nuclear science inspires all sorts of innovative creations like their Red Velvet Port (a cabernet franc ruby port infused with Ghirardelli and Godiva chocolate).
Or check out their 2019 Syrah (a spicy and robust bouquet of leather and white pepper with a heavy finish of ripe plum and tobacco). The tap room is full of nods to Steve's love for science, like the Sputnik lights and the Periodic Table of Wines.
Meanwhile, the business name was inspired by Teara's family and their long-time love of wine.
Teara started stomping grapes with her grandfather in the 90's, and crafted the food menu that's filled with pasta, pizza, and charcuterie boards.
All of the food pairs perfectly with a glass (or bottle) of wine. The Deep Roots family has grown quite a bit over the years to include a diverse crew of wine lovers.
In addition to their wonderful menu and company culture, Deep Roots is also an Instragamer's paradise. The tap room is filled with refurbished shipping containers, cute swings, neon lights, and plenty of perfect spots for a photo opp.
Grab a glass of wine, a bite to eat, and get ready to take tons of photos!
Must-Try Wines at Deep Roots Winery:
Barbera
Blood Orange Cab Franc
Pinot Grigio
9. Hell or High Water Tiki Bar
If you love ghosts, booze, and amazing bar décor, then you're in luck! Hell or High Water's uniquely designed establishment is the most haunted bar in Denver.
This small bar is tucked upstairs behind its sister business, Honor Farm, a bar that embraces the Halloween spirit all year round. Definitely stop here and grab a drink on your way through.
Walking up the stairs to Hell or High Water, it's like you've stepped into a flamboyant pirate's haunted dream. Everywhere you look you'll find all sorts of intriguing knick knacks that will make you do a double-take.
For example, the abundance of skeletons and birds, dozens of phallic-inspired sculptures, a dilophosaurus head from Jurassic Park sticking out of the wall, and of course, their resident mascot, Gary—a snail with a penis head.
No matter where you sit (at the bar, at a table with friends, or on a swing), you can admire the décor all night long.
This female-owned and haunted bar (the ghost's name is Lydia) offers a variety of rum-based and agave-based tiki drinks. And they have clever names like Pervy Scurvy, Rum Inside Me, and Gaytanic.
Each drink has been carefully crafted and named by the owners themselves, who have been in the service industry for years before finally opening their very own bars in 2022.
Honor Farm and Hell or High Water host all sorts of events throughout the year, including trivia nights and monthly burlesque shows.
I highly recommend visiting on a Sunday for a delicious brunch paired with COCKtails and a drag show.
Hell or High Water's owners know that their bar's vibe isn't for everyone, and that's okay. Just know that if you do leave them a 1-star review, they'll most likely show it off on their website with pride.
Must-Try Cocktails at Hell or High Water:
That's Gonna Stain
Rum Inside Me
My Last Malort
10. Death & Co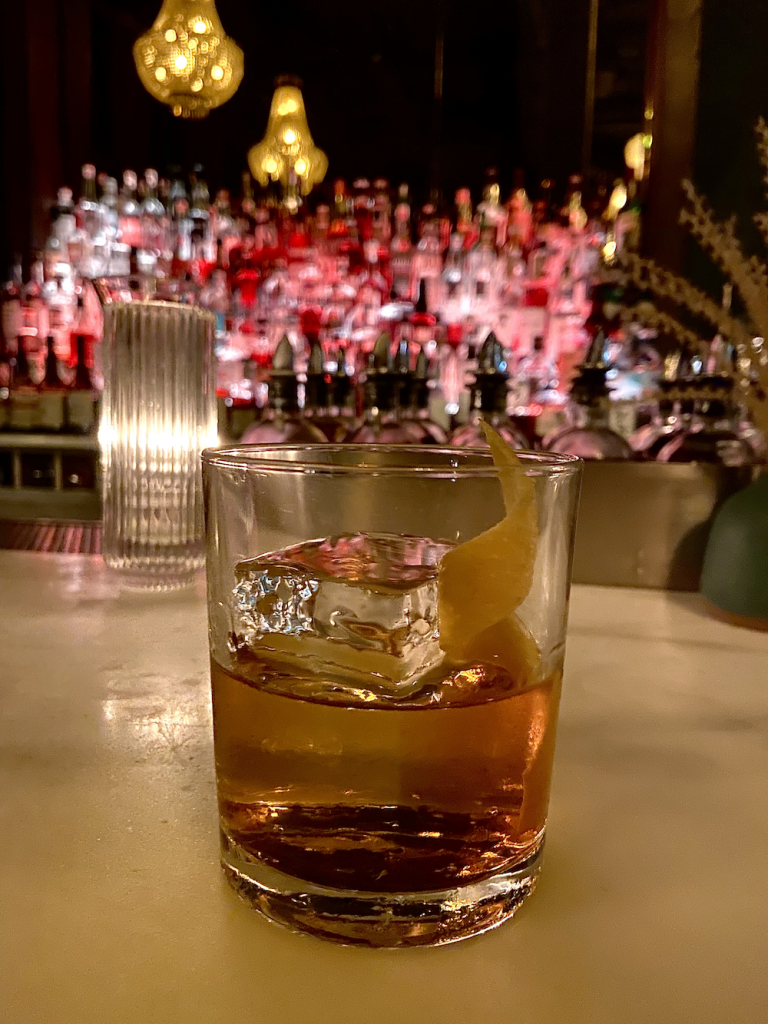 Started as part of the modern cocktail renaissance in 2006, Death & Company, won the Best American Cocktail Bar and World's Best Cocktail Menu within four years of opening in New York.
Twelve years later, when the owner of Denver's Ramble Hotel asked David Kaplan if he could establish another Death & Co in their spacious first floor, it was a no-brainer.
The open-concept space functions as a coffee shop during the day, with fresh brews from Colorado's Queen City Collective coffee roasters.
As day turns to night, Death & Co closes its thick velvet curtains and turns down the lights to create an intimate and moody bar setting.
Meanwhile, the upstairs hosts Suite 6A (a nod to the original Death & Co location) which is a cozy, tucked away space for smaller parties.
During the summer months, the outdoor Garden shares a vibrant, yet sunny setting that looks out on Denver's RiNo district.
The bartenders at Death & Co take great pride in their work, crafting brand-new and unique cocktails year-round to accommodate the seasonally changing menu.
With over 30 cocktails to choose from, it's easy to find something you'll like. A great alternative to the popular espresso martini is the Wizard in Black, a rum drink made with sweet vermouth, banana, cold brew, and angostura bitters.
For old-fashioned lovers who want a citrusy twist, enjoy the Papillon, a cocktail made with Old Grand Dad Bonded Bourbon, Novo Fogo Tanager Cachaça, Amrut peated single malt, pineapple, pamplemousse, angostura & tiki bitters.
Best of all, this popular bar gets its name from a Prohibition Era poster that illustrates the Devil's Toboggan — a ride that starts with saloons and gambling, but quickly ends in a dark grave with Death & Co.
Cheers to being able to freely drink and enjoy some of the best cocktails in Denver!
Must-Try Drinks at Death & Co:
Papillon
Wizard in Black
Disco Tiger
11. The Red Barber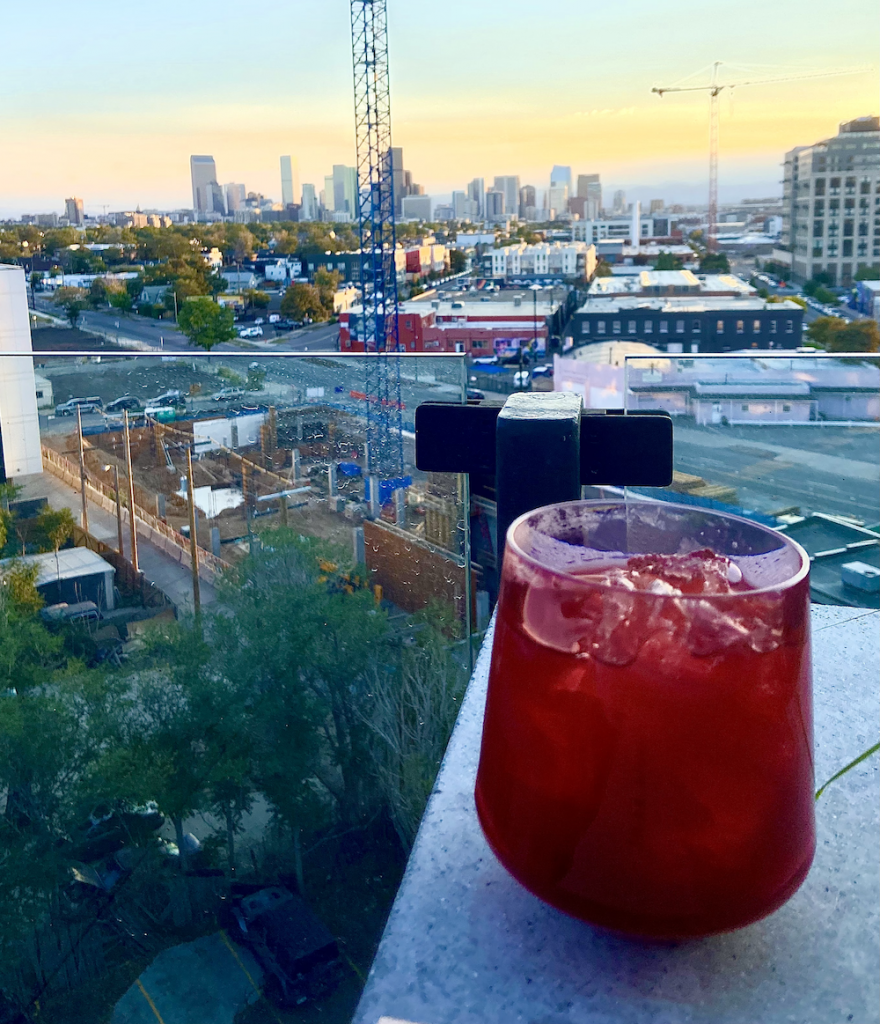 To enjoy a great cocktail while soaking in the Denver skyline, head to The Red Barber rooftop bar in the RiNo district.
Situated on the top of the Catbird Hotel, this 3,300 square foot oasis functions as Denver's backyard daydream. There's always something fun happening at The Red Barber!
They host sensational seasonal events, live music every Friday, and daily happy hour specials that include $6 Old Fashioneds, $5 glasses of red or white wine, and $10 snack packs.
This fall, The Red Barber has gone all out with their festive frights and delights.
Take a photo atop the hay barrels in their rooftop pumpkin patch, join their Halloween Bash & Costume Contest, and sip on their Blood Bag Sangria that is literally served in a blood bag (it tastes much better than it looks).
Though their drink menu changes throughout the year, The Red Barber maintains a great selection of local beer as well as red and white wine options.
I can personally confirm that their King Estate Pinot Noir is incredibly delicious with its bright acidity and ripe dark cherry flavor.
No matter what you drink, you'll certainly love the 360-degree views of the skyline, mountains, and cityscape at one of the most fun bars in Denver.
Must-Try Cocktails at The Red Barber:
Blood Bag Sangria
Frozen Pumpkin Spice
Corpse Reviver
12. The Welton Room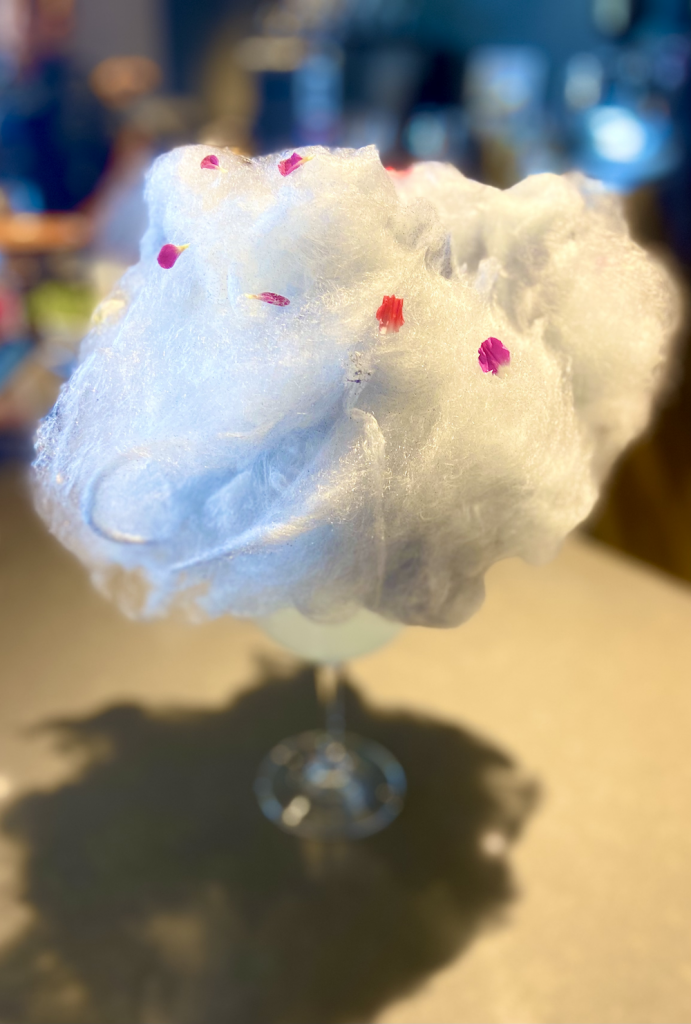 When was the last time you had cotton candy? When was the last time you had cotton candy on a martini?
That's just one of the modern drinks served at the craft cocktail scene that is Denver's Welton Room.
The Los Angeles owners are bringing molecular mixology to the Mile High City in their upscale casual bar in the Five Points neighborhood.
With drinks that feature all sorts of delicious garnishes like popsicles, edible flowers, and of course, cotton candy, your drink becomes a journey.
Enjoy a cocktail with all of your senses as you soak in the beautiful furniture and sparkling chandeliers.
The Welton Room's cocktail menu changes with the seasons, but you can always enjoy the Fruit De La Passion made with vodka, passion fruit puree, ginger, and orange.
Or if you're looking for a light and creamy pick-me-up, try their espresso martini with fresh whipped coffee.
Keep your eye on the Welton Room this winter, as they expand their business into a larger space next door.
The new bar will have double the space and will offer modern American shareable plates with an international twist.
The current location will still function as one of the best downtown Denver bars, but will become the Monkey Lounge at Welton Room.
Must-Try Drinks at The Welton Room:
Cotton Candy Martini
Fruit De La Passion
Espresso Martini with Whipped Coffee
13. Bigsby's Folly Craft Winery & Cellar Door
What do you get when a rocket scientist and a marketing expert pursue their passion for wine? A gorgeous urban winery that produces expertly crafted wine called Bigsby's Folly Craft Winery.
In 2017, husband and wife, Chad and Marla Yetka, purchased a historic building in the RiNo district.
They wanted to keep the look and feel of the original 1886 building, with the exposed brick walls, high ceilings, and rustic wooden beams.
Their own craft winery stands out against the many brewpubs and craft distilleries in the city. This is why I added it to this list of the best bars in Denver.
With their head winemaker in Napa Valley, most of their wine is produced in the wine country but is kept fresh and ready to be served on tap at Bisgby's Folly.
Some of the top selling wines are their Everyday Porch Pounder (a Bordeaux blend), Cabernet Sauvignon, and Rosé of Grenache.
And once a year, they use fresh-picked grapes from Palisade to create an authentic Colorado wine in their very own taproom.
The 700+ wine club members can enjoy a full growler of wine every month for only $20.
Meanwhile, dog lovers can purchase treats for their pups and feel good knowing that all proceeds will go to Morris Animal Foundation, a non-profit organization near and dear to the owners' heart.
Come enjoy a glass of wine, small bites from their in-house kitchen, or celebrate an event in their gorgeous taproom.
Must-Try Wines at Bigsby's Folly Craft Winery:
Everyday Porch Pounder
Cabernet Sauvignon
Rosé of Grenache
That's it for this list of the most fun bars in Denver! I hope these recommendations have given you some ideas of what you drinks you want to try next.
From Denver's oldest bars to the dark recesses of a subterranean speakeasy, this list for the hottest bars and top Denver cocktail tour has it all.
From a delicious libation to incredible concoctions, the Mile High City is full of history with creative cocktails to match.
I hope this list gives you a brief introduction to choosing the best Denver cocktail tour as well as plenty of recommendations for the top bars in the city.